The idea that you should have to spend a lot of money on a phone is a bit of a myth, and these days the mid-range is a great place to shop. But how much is too much for that category?
Samsung's Galaxy A7 pushes the limits of the mid-range, asking $799 for what is essentially a slightly less impressive Galaxy S7. Does it succeed, or should you just go with the more expensive model instead?
Design
Before you can get stuck into a phone, it's important to get stuck into its design, and fortunately, that's an area Samsung has really been thinking about.
After manufacturing plastic phones for years, it shook things up in the S6, and it hasn't looked back. Even previous A-series phones from Samsung had adopted the plastic look previously, but this time, it's full-steam ahead, bringing the flagships metal frame and glass front and back to a mid-range device.
And for the most part, you shouldn't have reason to complain, with a solid design the likes of which is just larger than previous models, and no camera bump on the back.
It's simple, comfortable, and not as slippery as you might think, and that's all right by us. It's even water-resistant, something more phones should adopt.
Features
Under the hood, Samsung has equipped a bit of hardware that isn't old but also isn't terribly new, finding the middle ground between the chips used in the 2015 Galaxy S6 and the 2016 Galaxy S7.
Instead of seeing the flagship processor from each, you'll find a new chip here, the Samsung-built Exynos 7880, an eight-core chip that is paired with 3GB RAM and 32GB storage, the latter of which you can upgrade with a microSD card if you so choose.
Out of the box, the Galaxy A7 arrives with Google's Android 6.0 "Marshmallow", a little out of date given Android 7.0 "Nougat" has been around for a good six, but still acceptable, especially if the update is just around the corner (which we've heard it is).

Beyond the processor tech, you'll find a set of cameras and connectivity options designed to appeal, especially as the mid-range begins to fight hard in these areas from other competitors.
Over on the camera side, Samsung has brought over a 16 megapixel camera, (possibly from its Galaxy S6, it wouldn't say), with the front also getting a megapixel count hitting the same number. Yes, dual 16 megapixel cameras can be found here, a shift in forward-facing cameras for Samsung, which has sat at 5 megapixels max for a few years now.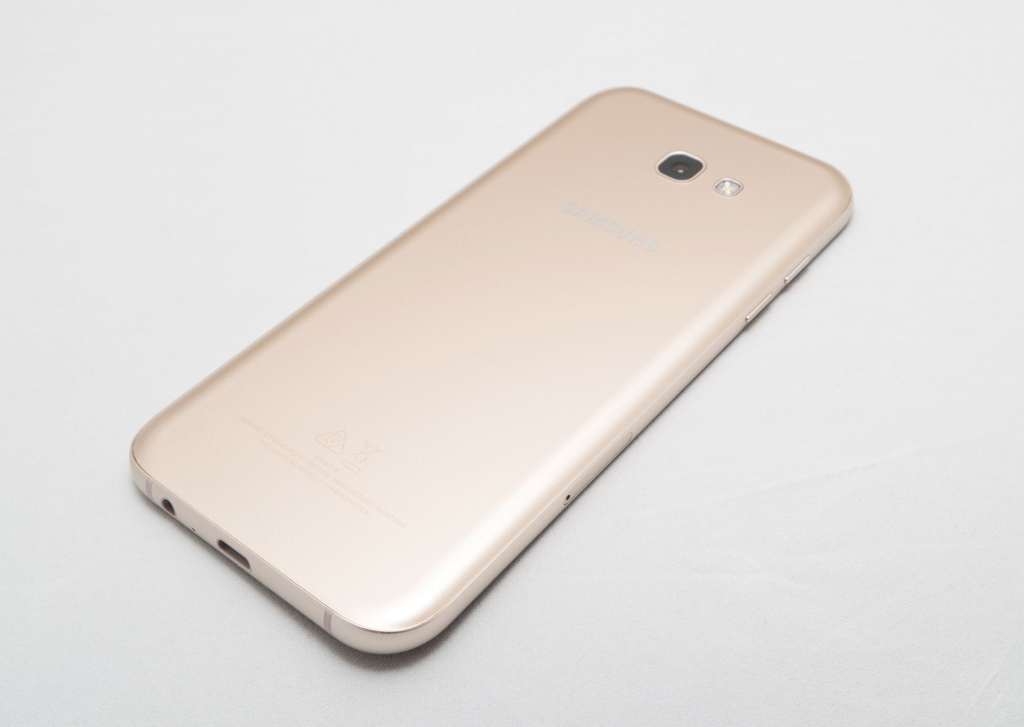 Connections are a slightly change for the mid-range, too, supporting 802.11a/b/g/n/ac WiFi, Category 6 LTE with speeds as high as 300Mbps (theoretically), Bluetooth 4.2 with A2DP and LE, GPS, and even the technologies needed for mobile payments, an area the mid-range generally misses.
That's two specific technologies for mobile cashless payments you'll find here, with Near-Field Communication working on Android Pay, while Samsung's own Magnet Strip Technology (MST) makes an appearance for Samsung Pay. Now you just need a bank to support the technology, but that's a different story altogether.
All of this sits under a 5.7 inch Full HD 1920×1080 display supporting a pixel clarity of 386ppi and in a phone that measures the same thickness of the Galaxy S7 and made from the same glass and metal materials.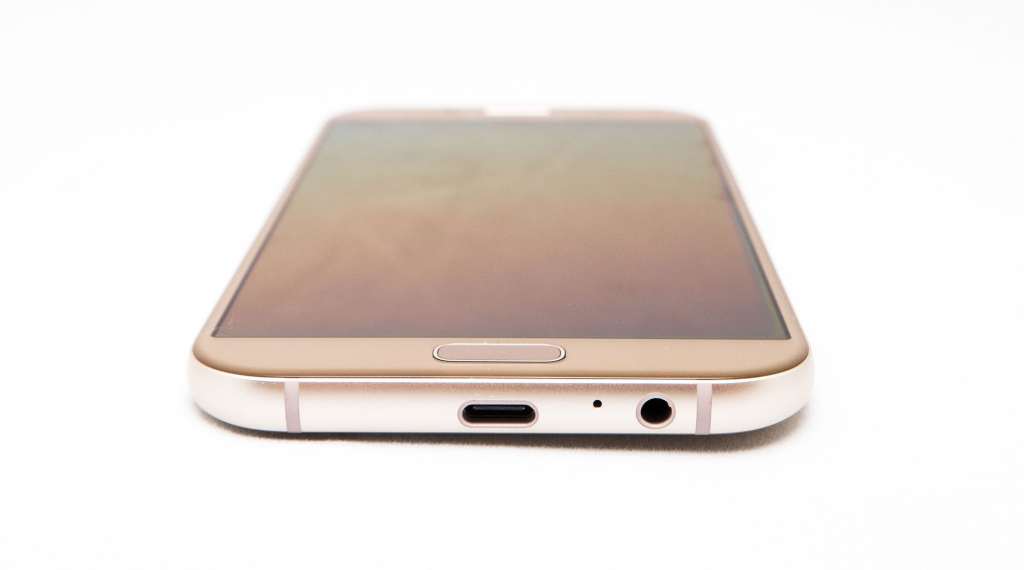 A fingerprint scanner sits at the bottom of the screen also working as the home button, flanked on each side by light up soft-buttons working for back and multi-tasking.
The only ports that can be found on this phone are the USB Type C port at the bottom alongside the 3.5mm headset jack, and the battery in the Samsung Galaxy A7 is rated fo 3600mAh and is not removable.
In-use
Now that we've gotten the technical stuff out of the way, let's get stuck into the real phone: how does the A7 work?
Unsurprisingly, the answer is "quite well", as Samsung tackles what it knows best and delivers a phone that offers the best of Android with the light skin that Samsung's TouchWiz has evolved into.
Overall, it's a highly pleasant experience, with a look that doesn't veer too much into looking un-Android, though keeping things with that relatively reduced TouchWiz experience Samsung has gradually developed over time.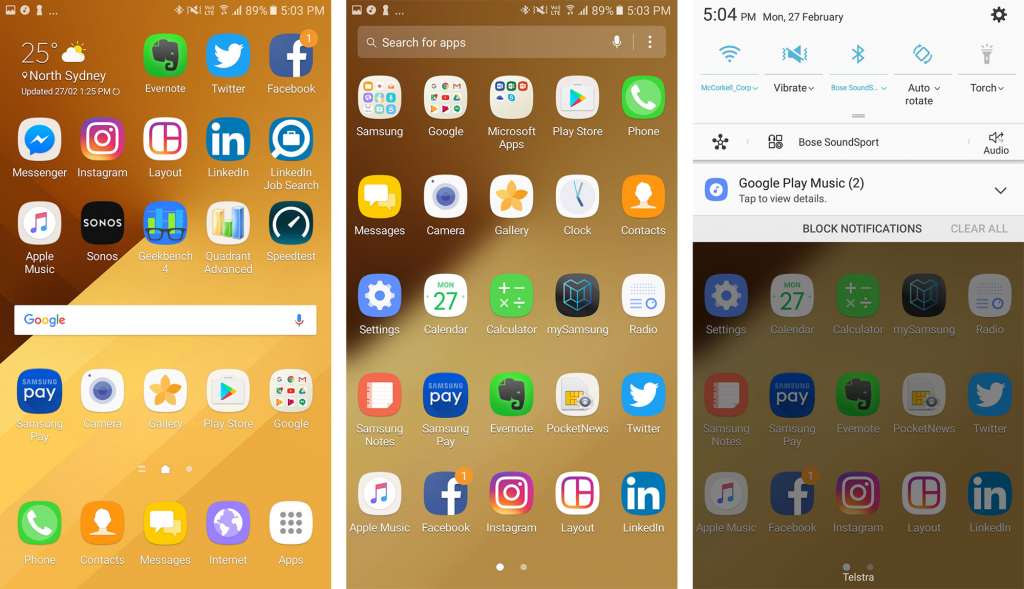 And you still get actual soft buttons in this phone, with back and multitasking flanking the home button down below, with home also acting as a fingerprint sensor.
Granted, the sensor could do with a bit more work, as it is quite clearly not as fast as what's in the S7, though it is nice to see Samsung rolling out a fingerprint sensor for the mid-range.

Performance
It's also nice to see the mid-range offer a relatively strong performance, with that not-quite-old, not-quite-new Exynos 7880 chip humming along nicely, providing fairly solid results even if they don't quite match up to the flagship siblings.
While the benchmarks aren't the greatest, they don't need to be, and the eight core processor can seriously handle its own, coupled with 3GB RAM nicely and a decent amount of storage that can be upgraded, too.
As a result, you may find a skerrick of lag here and there, but it's not enough to make a serious dent, and overall, Samsung has built a well-rounded phone.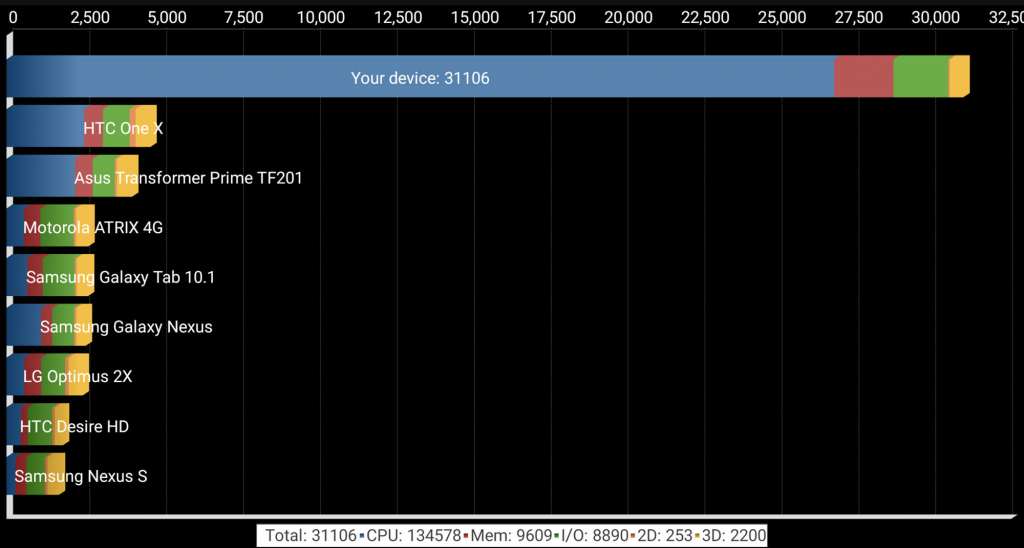 There's even a decent mobile chip at work here, with a Category 6 LTE modem built in for those 4G speeds.
That said, while the 4G modem should be able to see speeds as high as 300Mbps down and 50Mbps up, we were only able to see speeds at most of a good 47 to 60Mbps, though this is network dependent so not necessarily the fault of the A7 handset.
Overall, though, decent performance for a mid-range phone, and one that could easily make other envious of.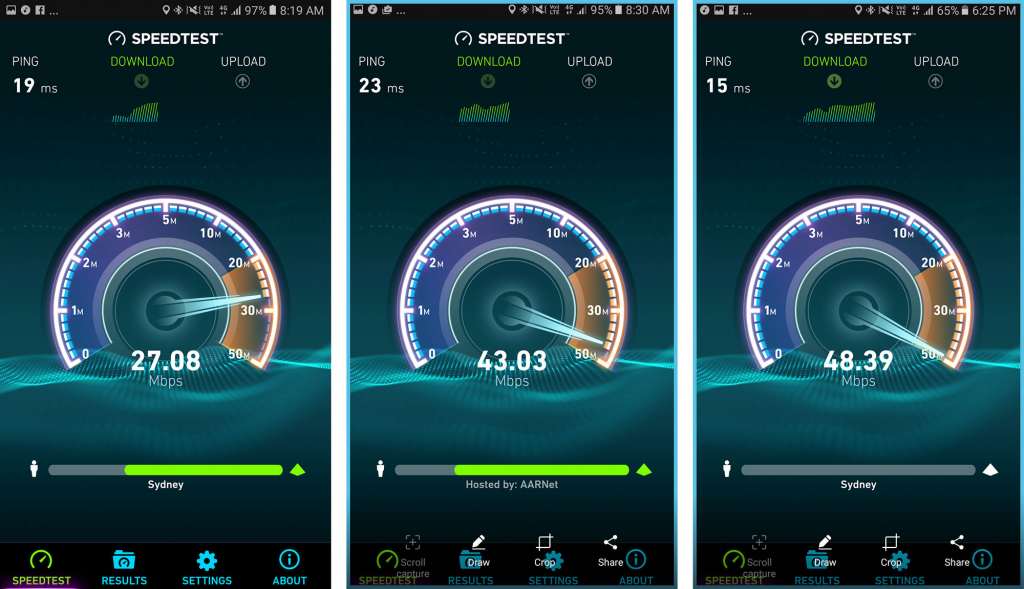 Camera
With decent performance also comes a decent camera, and while it's clear Samsung hasn't just appropriated the sensor from the S7, the cameras shipping with this model aren't bad either. Mostly, anyway.
In daylight, they check the boxes quite well, delivering some vibrant colours, decent white balance, and enough clarity to be happy with what you load on Facebook.
Bring the camera into lower lighting, however, and things don't feel quite as solid, with the 16 megapixel camera feeling a little shaky and not quite as bold. Images can be okay here, but we'd probably fire the flash on hold on to something, or just get as much of the light as you can in the image.
Overall, not a bad camera, though clearly not a flagship camera, and given the S7's placement (and the S8 not far away either), we're not super shocked by that.
At the front, the 16 megapixel camera isn't bad either, in many ways feeling like a bit of a clone for what's on the back, except for your face, something we don't have an issue with.
Basically, if you like selfies, you'll like what Samsung has provided in the Galaxy A7 this year.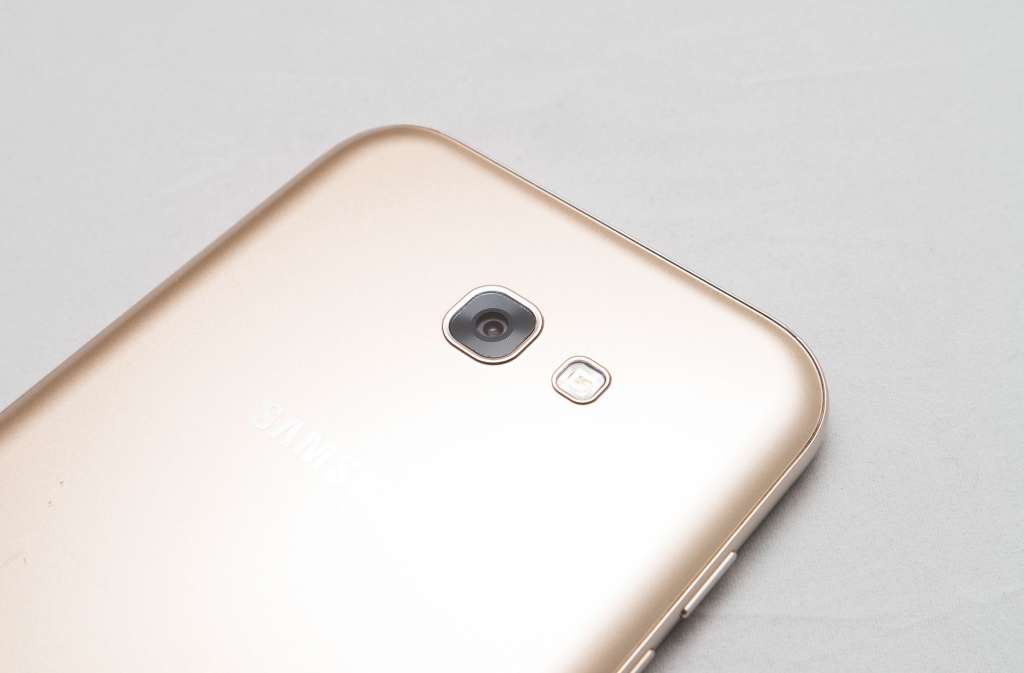 Battery
One area Samsung doesn't have any real struggles is that of the battery, and with the A7 rocking 3600mAh of life alongside a 5.7 inch Full HD screen, we found the phone pulls ahead of the S7 Edge in battery life quite well.
Overall, we found a battery life of a day and a half edging into that of two days, with that extra end of the work day capable of you pulled back on what you did at the time.
Yes, that would be a solid 36 to 42 hours of performance talking on the phone, taking and writing messages, tweeting, Facebooking, listening to music wirelessly, connecting to a wearable, taking pictures, and generally using the phone.

That's a solid result, and one that has an edge on Samsung's actual "Edge" phones, thanks in part to the lower resolution screen used on the handset.
No huge dilemma, the only difference that brings is that it's both not as sharp and can't play with Samsung's Gear VR platform, but that's about it.
Given the differences, we suspect that's something few people will have a problem with whatsoever.
Value
So what needs work? Well, as great a phone as the A7 is, Samsung makes it very difficult to call it a mid-range phone, especially at the $799 price it's targeting.
We get it, by the way, we really do: in an age where a smartphone can cost $1500, it stands to reason that the mid-range of something like that would be closer to $800.
That makes sense when you look at money, but smartphones have for a long time been priced on the $100 to $1000 scale, and mid-range generally meant, well, the middle: from $400 to 599.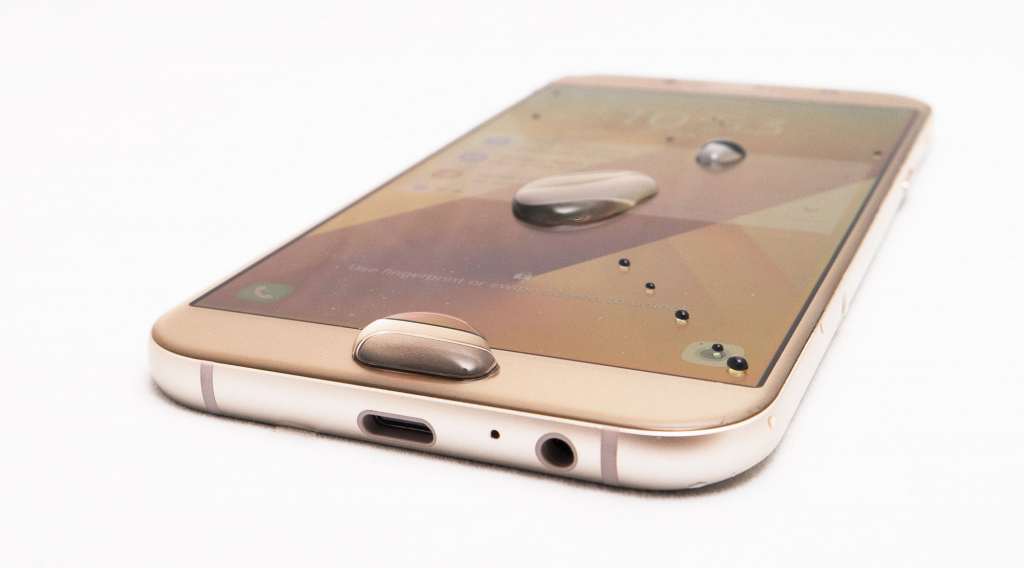 At $799, Samsung's A7 is well and truly out of that area, and not to harp on about it, but price is a critical issue, especially when you can find a grey market Galaxy S7 for a little lower than the A7's price. That's the flagship phone for near or less.
The obvious argument here is grey market (imported) versus white (purchased locally), but it's an argument few consumers will really understand, with the real point being intended for flagship versus intended for mid-range, and the S7 wins regardless.
Final thoughts (TLDR)
That price dilemma makes the A7 that much harder to recommend, because while Samsung has made what appears to be the perfect mid-range mobile, it makes a mess of the math with a monetary minefield.
If Samsung were to drop the price, we could totally see the Galaxy A7 as the mid-range phone to get, delivering pretty much everything that made the Galaxy S7 excellent except for the ultra high-res screen and support for VR.
But everything else makes the phone a standout: the Exynos processor pushes the phone's performance very well, there's a way of upgrading the 32GB storage over microSD, the operating system is relatively up to date (and we're told Android 7.0 "Nougat" shouldn't be too far), the camera is good, the mobile performance is solid, and hey it even comes with water resistance in a body that doesn't feel the slightest big rugged.
That's a solid sizable package, even if it's one the price lets down.
If you can find it for a little less, then absolutely we'd say the A7 checks all the boxes, but it just needs a little ironing out on one more.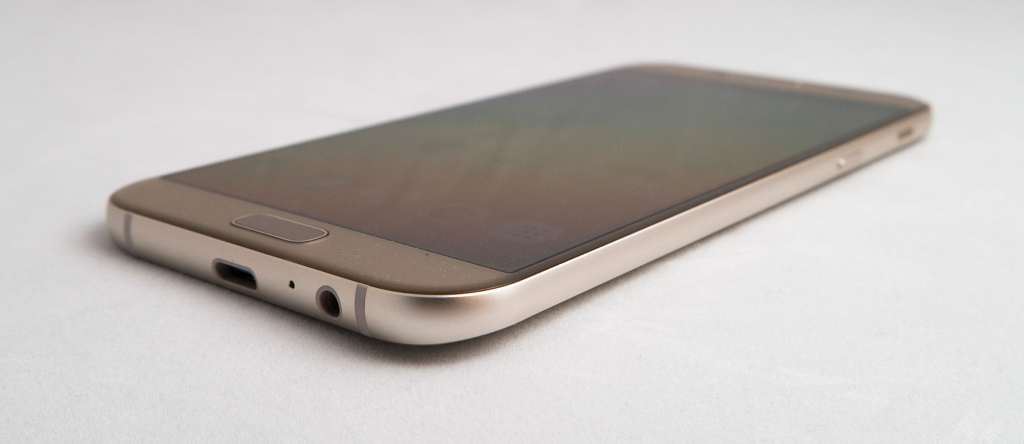 Comfortable design
Water-proof build, just like the Galaxy S7
Great battery life
Acceptable camera
A mid-range phone with both Near-Field Communication (NFC) and Samsung Magnetic Strip Technology (MST)
Expensive for what it is
Fingerprint sensor feels slow in comparison to the S7's
Runs Android 6.0 "Marshmallow" out of the box