Need to take your music with you from room to room, but don't want the obligation of setting up a new speaker in that room? Sonos has moved with the times.
The multiroom audio concept is practically something Sonos started, but it's one that tends to come with a cost. Provided you're good with paying for a speaker in each room, you can have audio synchronised or completely different in each room, controlled from one interface.
Think of that as your phone, tablet, computer, or even voice as the ultimate DJ, telling a Sonos system what you want played, where you want it played, and having it happen.
Sonos is arguably the better of the multiroom technologies, though it's not the only one, and it's a system that does come with some caveats, notably being a lack of portability. Speakers in the Sonos system can work on your wireless network or a Sonos mesh wireless network, meaning they don't need to rely on a network cable, but they do still need to be plugged in for power.
In a day and age where wireless speakers are reliant on small batteries and allow them to be taken on the go, this is a bit of an annoyance, because it means if you want to take music in the backyard or somewhere else where you might not regularly go, you need a speaker nearby, too.
You could always unplug one of the smaller Sonos speakers and plug it back in nearby, but then you'll have this stray cord somewhere else denting the vibe. It's just not that convenient.
Fortunately, change is coming.
This week, Sonos has announced a way to take your multiroom audio with you, developing the Sonos Move, a wire-free battery-based speaker, effectively packing a Sonos One into a smaller and more portable design.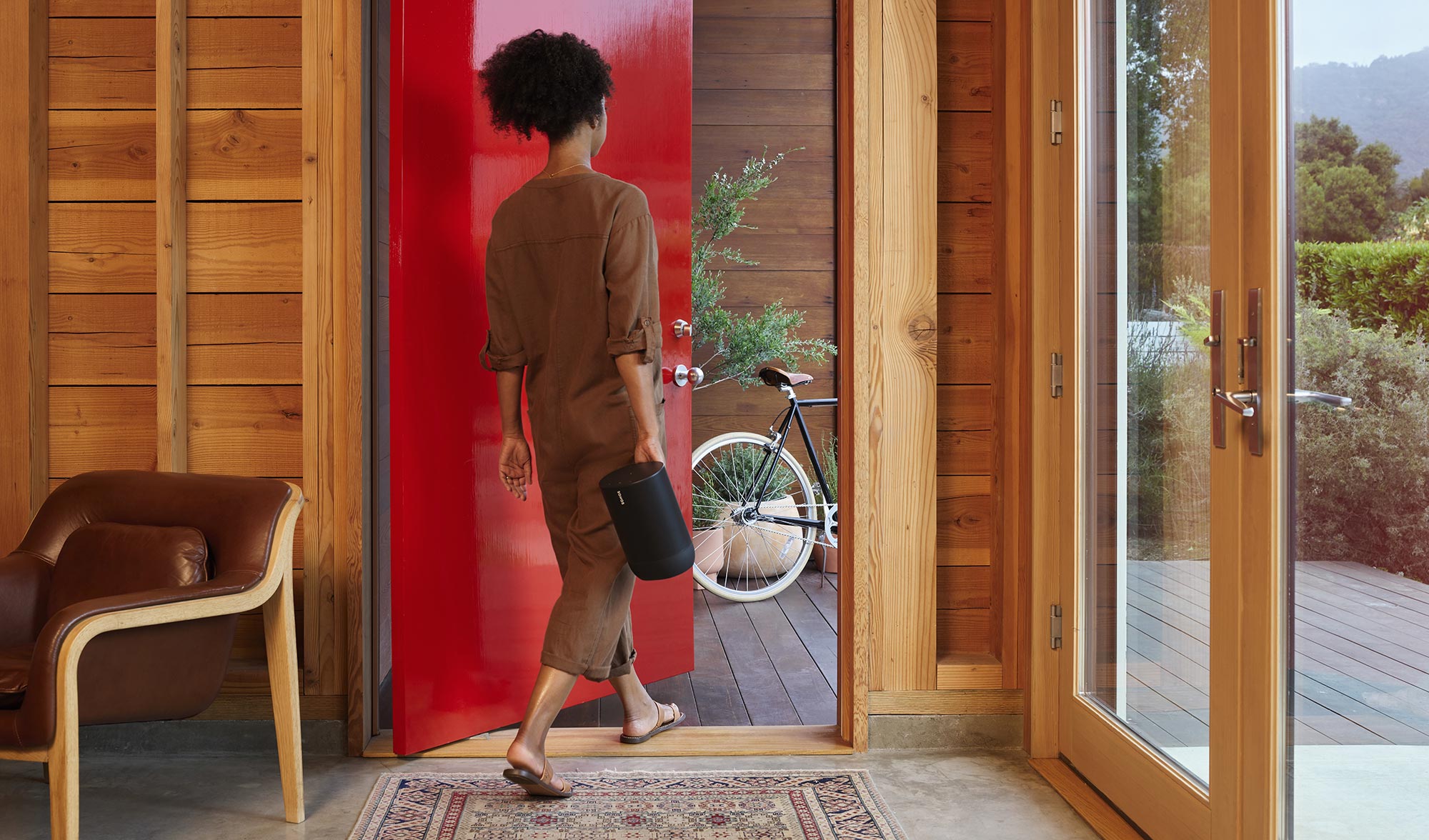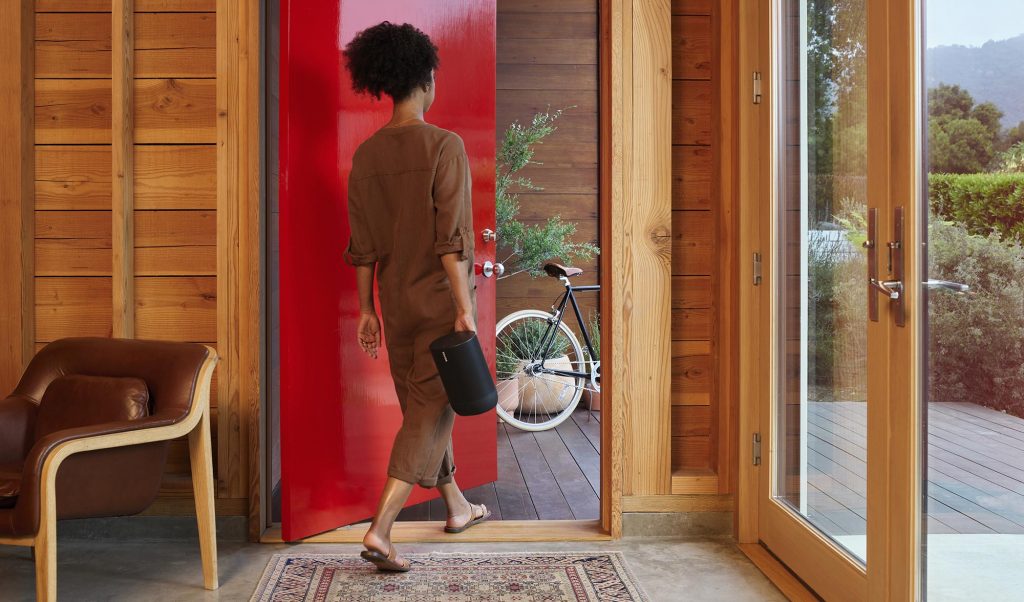 It's not quite the same as a Sonos One, and even features something the Sonos One doesn't, with an IP rating of IP56. That means the Sonos Move can survive small amounts of water, such as light rain, enough for you to realise that "it's raining, time to go back inside" and not worry that your speaker will stop working shortly thereafter.
Sonos says the Move speaker also has a durable exterior, helping it to withstand bumps and falls, as well as extreme temperatures, playing sound with the audio quality people have expected from the Sonos range. It even supports Sonos Trueplay to tune itself to the environment based on what's around it.
The Sonos Move battery is apparently good for up to ten hours of play time, and there's an indoor charging base to keep it always charging when it's inside. Plus Sonos has left its support for smart assistants built-in, meaning you get both Google Assistant and Amazon Alexa, allowing you to talk to either.
There has also been some focus on the wireless networking capabilities, and Sonos has apparently worked to deliver a large wireless range.
However it's not the only way to play music on the Sonos Move speaker, with Bluetooth supported, as well.
In a way, it feels that Sonos is trying to get the Sonos Move to be that one speaker you rely on for everything. You could use it at home in places where a Sonos multiroom system won't typically reach, like the backyard, or you could take it out with you to the park.
The price is where things get a little tricky, with the Sonos Move carrying a higher price tag than you might expect. While the Sonos One is $299, the Sonos Move is just over twice the price at $649, making it one of Sonos' more expensive speakers.
That price, however, comes with the versatility the others may not quite have, and means you may not have to try to find speakers to match your setting, bringing the one you need as you go from place to place.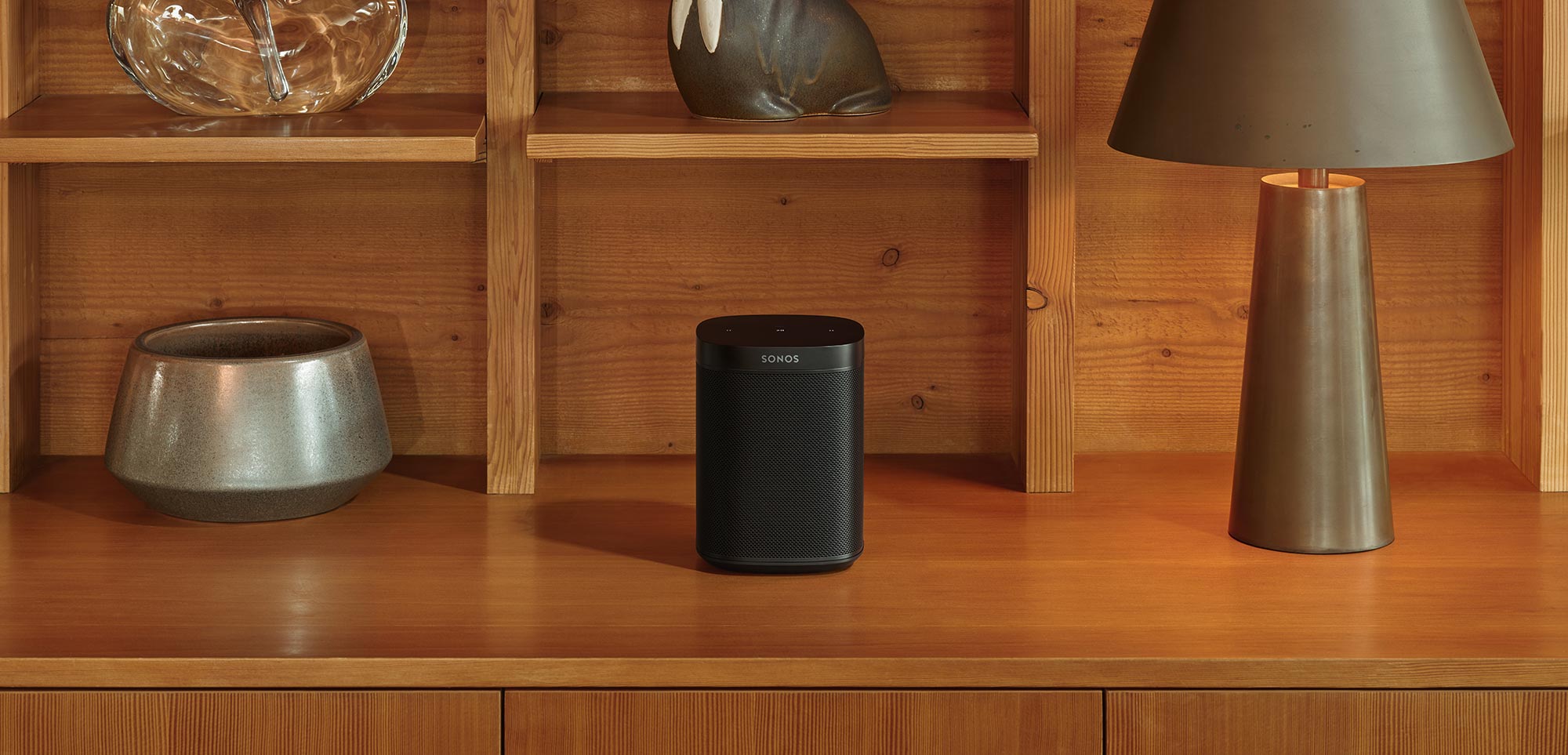 It's not the only addition, mind you: there's also a less expensive Sonos One in the Sonos One SL, removing the microphones in a $269 speaker that effectively replaces the Sonos Play:1.
Sonos is also introducing a replacement to the Connect device in the Sonos Port, a product that allows you to turn any speaker and any source into a Sonos setup. Think of it like a receiver for Sonos, but made more for folks looking to tweak and modify their home sound to the next level.
At $599, the Sonos Port isn't going to be for everyone, but does mean people with older speakers and vinyl may find the Port more useful for sending that classic sound all around the house, and maybe even the outside. You'll find this one in stores early next year.
The other Sonos additions start from September 12, which will see the Sonos One SL hit retail for $269, while the Sonos Move will be released in Australia on September 24 for $649.