There's a new phone or three on the way to Australia this week, and it's as big as big could be. What's the Galaxy Note10 range like?
This week, Samsung's Galaxy Note range turns ten. We've seen quite a few over the years, and it's one of Samsung's most intriguing phones overall, because it not only delivers flagship performance, but aims to encourage productivity.
Most smartphones can help productivity, thanks to their connection to email, office applications, and large screen, but the Galaxy Note range tends to go above and beyond. It's not just a big screen that makes the Note, but rather the reliance on a pen.
The Note's "S-Pen" — we think the "S" means "Samsung" — was originally there to let you take notes on the Galaxy Note's big screen, much like how people would carry around notepads in the day.
In recent years, Samsung has expanded what the Galaxy Note S-Pen can do, and while it can still be used for writing, it can also be used to translate on-screen text and trigger the camera of the phone. That means instead of being forced to touch the screen to fire a photo, you can use what is basically a wireless cable release with the S-Pen, meaning photos can be more composed and selfies can be triggered from either the front-facing or the main camera.
This year, the S-Pen will gain new features, too, such as better text translation that works inside Microsoft Word, as well as augmented reality art that can you draw over people and suspend in space through the phone.
"AR Doodle", as it's known, is a cute addition with a slightly unfortunate name, but one that will mean Instagram Stories and other social shares can be animated with some rather cute additions, thanks to the S-Pen.
And it's not the only change coming to the Galaxy Note 10 range.
A computer experience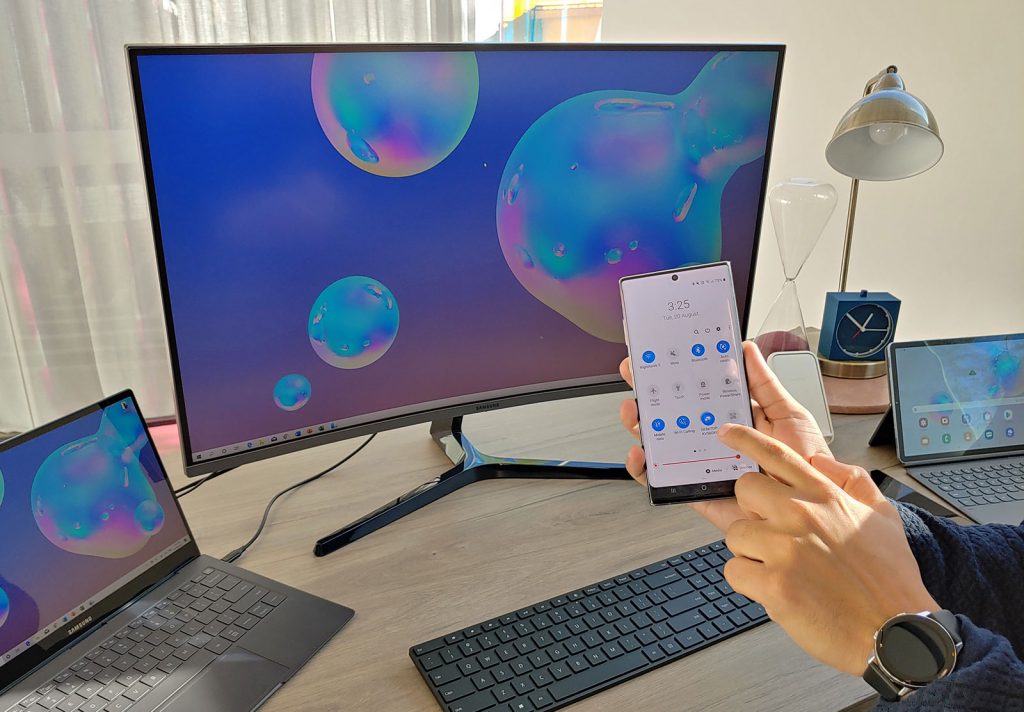 There's also a built-in DeX mode, making Samsung's Desktop Experience (DeX, get it?) more usable for people who want to plug their phone into a computer. The whole thing can plug into a PC or Mac using a cable to bring phone apps to the desktop, and essentially means the apps and games you play on your phone can also be played on a computer.
Windows PCs will see a wireless version for sharing photos and files, but right now, it appears to be Windows only.
Samsung Australia demonstrated the concept with its upcoming Galaxy Book S, an ultra-light laptop that runs on a Qualcomm Snapdragon chip and features 4G built-in. While that Snapdragon chip is new, Samsung says you won't find Windows 10 S here, meaning it should run regular Windows apps as downloaded from the web, including Google Chrome and Adobe's Creative Suite.
It's not the only place you can expect to find Adobe on Samsung devices, either.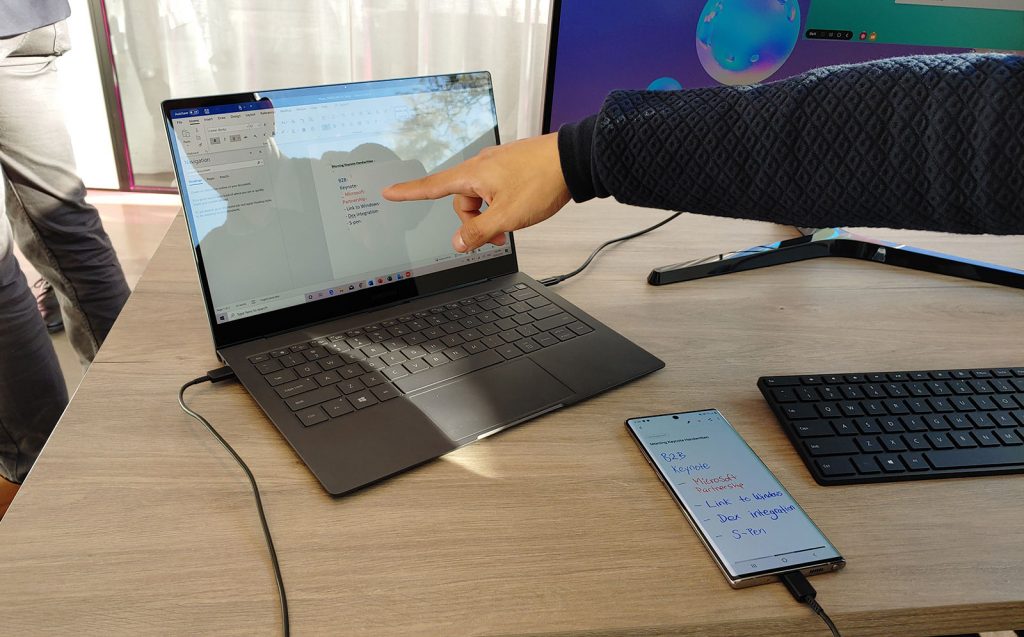 Video editing on the go
Photos and video are a major part of a big phone, but the Galaxy Note gets a little more oomph. There's support for Adobe Premiere Rush alongside the several cameras on the back, three on the Galaxy Note10 and four on the Galaxy Note10+
The camera effects look very interesting on the range, including a way to separate foreground and background in life effects, an improvement on Samsung's "Live Focus" mode that it uses for portrait style images.
One of Samsung's other features looks very interesting, with a zoom microphone that improves the sound of a subject as you zoom into it.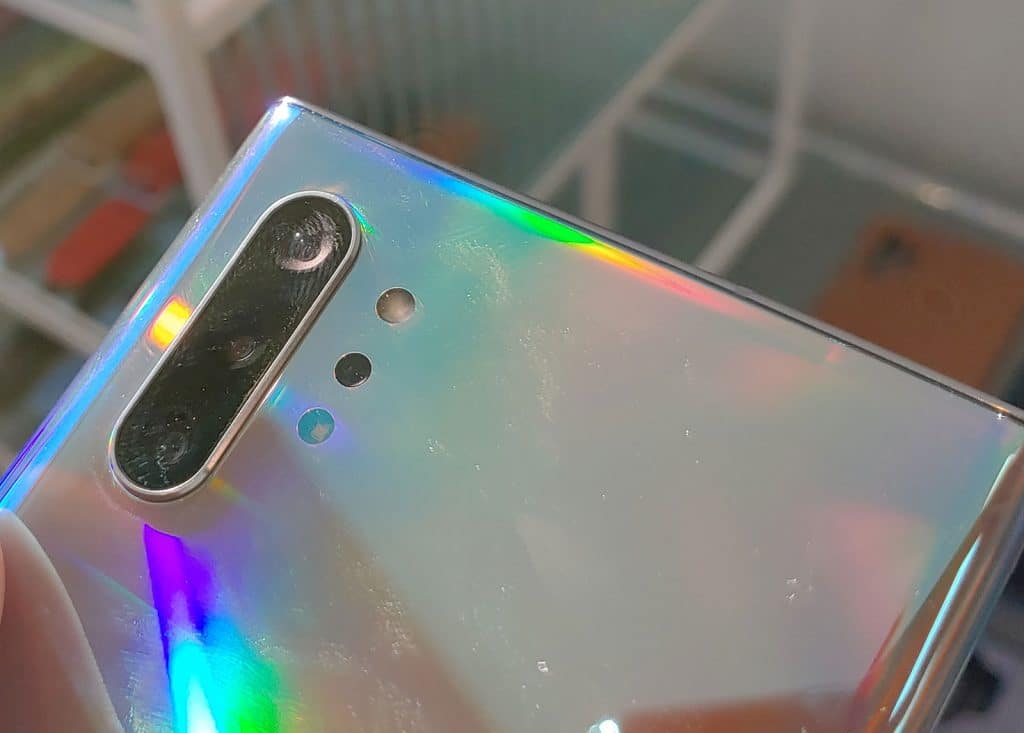 Hands-on with the Galaxy Note10 and Galaxy Note10+
The phone's other major changes are on design, with the Note range shifting away from the look of the Galaxy S10 earlier in the year, and adopting something slightly different.
As per usual, the screen takes up most of the front, but you won't have to deal with that off-centre look in the Galaxy S10 range where the selfie camera sat in the top right corner, throwing off the style.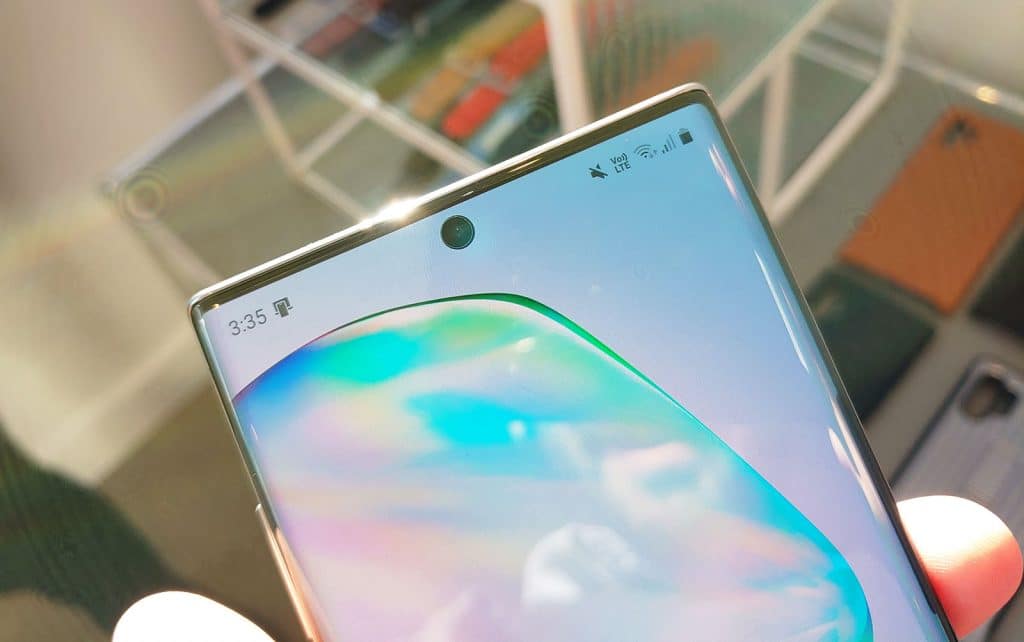 In the Note 10 range, that's gone, replaced with a camera at the top in the dead centre. It's like a tiny spot sitting in the middle of a picture perfect screen, removing the notch, the shelf, and just basically making the camera a speck in the display.
The phone itself is still large, but now thanks to that all-encompassing screen that is notch-less manages to look even more impressive.
There is definitely an obvious size issue, mind you. The Galaxy Note10+ is closer to being like the existing Note sizes, thank to its 6.8 inch screen and minimal bezels, but the standard Note10 is even easier to hold, dropping back to 6.3 inches and making the whole thing just that little bit smaller.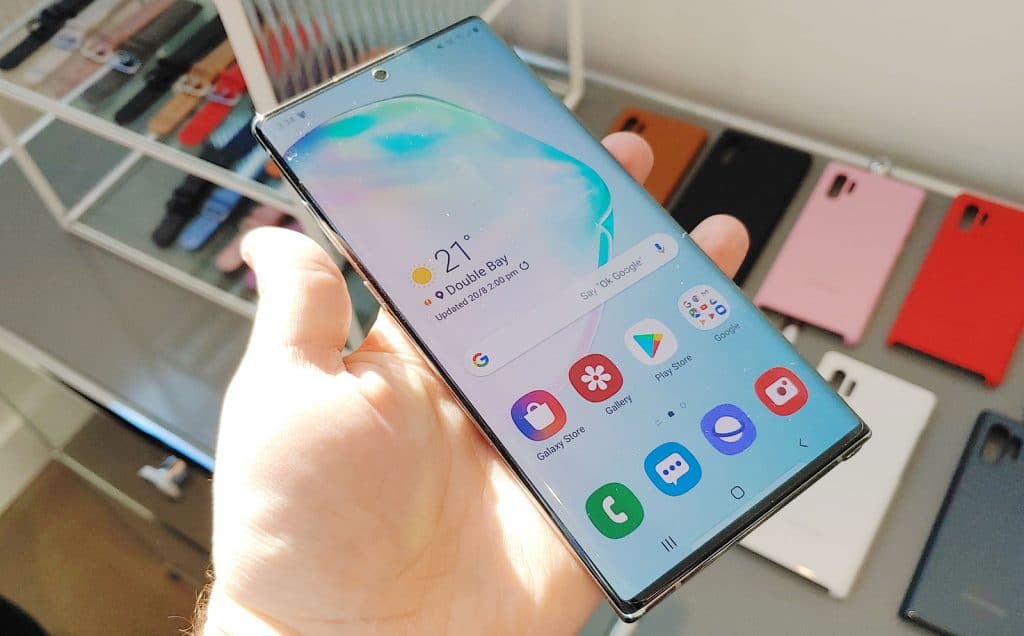 If you're looking for the best cameras, the Note10+ is the one to pick, with this one sporting a depth camera on top of the wide, standard, and telephoto camera, plus more memory and storage.
Technically, the Note10+ really seems like the one to get, unless you need 5G in which case the Note10+ 5G is it simply because it's a Note10+ with 5G support.
Battery life is, however, something we don't have, and won't until we complete a review, however our expectation is a day given the specs and high-end screen resolution, with closer to two possible if you cut back on resolution, performance, and features.
We'll know soon enough, though, so stay tuned.