If you prefer a bigger computer, Apple's bringing back the big screen, as it updates the 15 inch MacBook Pro to a slightly bigger 16 inch MacBook Pro.
It has been some time since Apple had a really big laptop. Apple has offered 13 and 15 inch notebooks for quite a while, and there were even 11 and 12 inch variations some years ago (12 inch just last year, even, before the standard super-thin MacBook was retired this year). But the bigger 17? That has been gone for a while.
A 17 inch computer is a seriously big machine, and there aren't many companies that make 'em that big anymore. You can find 17 inch laptops in the workstation and gaming parts of the market, typically because of the massive amount of screen real estate and large graphics intended for both. Whether you're a workstation pro building 3D graphics or a gamer relying on them, you want more screen and more graphical power, and typically 17 inch computers get you there.
But 17 inch computers can be unwieldy, and very difficult to cart around. They tend to weigh a lot more, and so aren't suitable for selling the next generation of computers, where everything is super thin, powerful, and impressive.
So there's a bit of a compromise coming, as Apple redefines what big should be in the notebook space.
It's coming in the 16 inch MacBook Pro, what appears to be a replacement for the 15 inch MacBook Pro, which gets a similar body, but new insides, a new keyboard, and a new size of screen.
New tech, new screen
The new machine is built for folks who need more power, and so it comes with a minimum of six core processors, jumping over the minimum of quad core chips that were featured in the 15 inch MacBook Pro.
The new chips are Intel's 9th generation Core chips and boast some improved speeds alongside a change to the thermal design to dissipate heat better, plus a minimum of 16GB RAM for every MacBook Pro 16 configuration. And there's also a change to storage, with a minimum of 512GB SSD on offer, with a maximum of 8TB solid state, the largest amount a laptop has ever seen. You'll need a decent amount of money to grab that, but it means a positively huge amount of fast storage is possible in the 16 inch MacBook Pro.
Graphics also see an improvement, with the Radeon Pro 5000M series used, though with different options depending on the model you choose and how much you want to spend. We're told up to 8GB RAM is possible for the graphics, improving performance not just in games, but also for video editing and 3D development. That's workstation needs and gaming needs semi-sorted.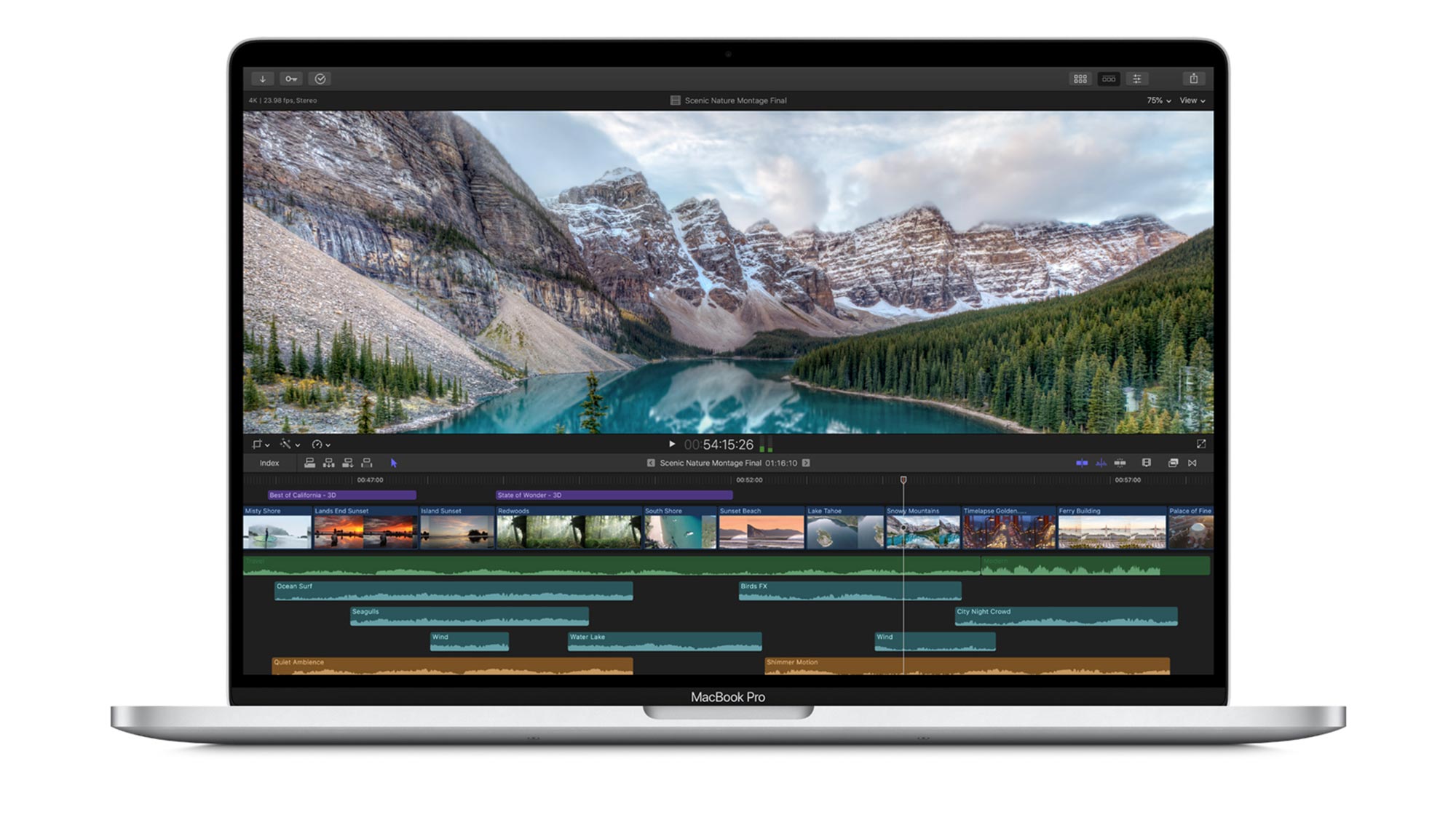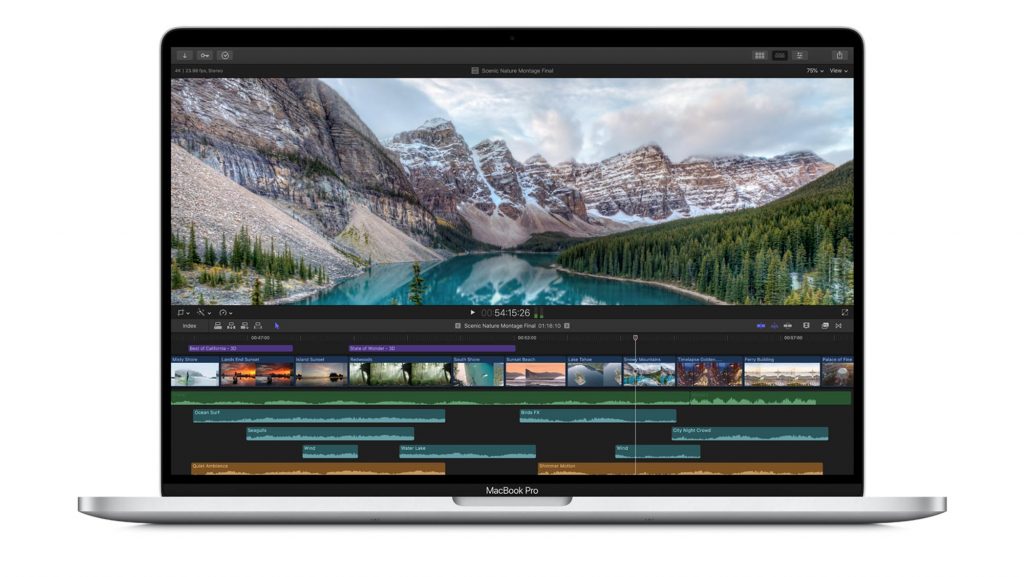 Apple has also made improvements to audio, with a new speaker system made up of six speakers and an Apple-patented force cancelling woofer system to cut back on unwanted vibrations in audio. Meanwhile, a microphone array helps quell hiss in recordings, though we doubt it will necessarily take over what a professional microphone can do.
While that's going on under the hood, Apple has replaced the screen of the 15 inch, using a 16 inch screen instead.
The new display of the 16 inch MacBook Pro is a little over half an inch bigger than the 15.4 inch screen of the MacBook Pro 15, minimising the bezels slightly while also featuring more pixels, jumping from 2880×1800 to 3072×1920. That screen is still going to feature the P3 wide colour gamut for creatives, and it fairly bright, too.
Even the battery sees a change, upgrading to the largest size for a Mac notebook yet, which Apple says should see up to 11 hours of use, though not likely when you're pushing the processing or graphics power hard.
The other major change is the keyboard, one of Apple's more controversial parts.
New keyboard
While Apple has pushed its butterfly-mechanism keyboard over the past few years in its MacBook Pro range, it has been a move that has been lamented. Even though it has surprisingly decent travel and action, the mechanism itself wears down surprisingly quickly, and keys cease to function, forcing repairs faster than you might expect.
Given Apple once had one of the best keyboards in the laptop space, this move has caused numerous complaints, and so Apple has been working on something else.
Apple is calling it the "Magic Keyboard", which is marketing speak for refined scissor mechanism with a rubber dome. Or long story short, it's a different keyboard that features a small amount of travel (1mm) and what should be just as comfortable a typing experience with less chance of it breaking. Fingers crossed.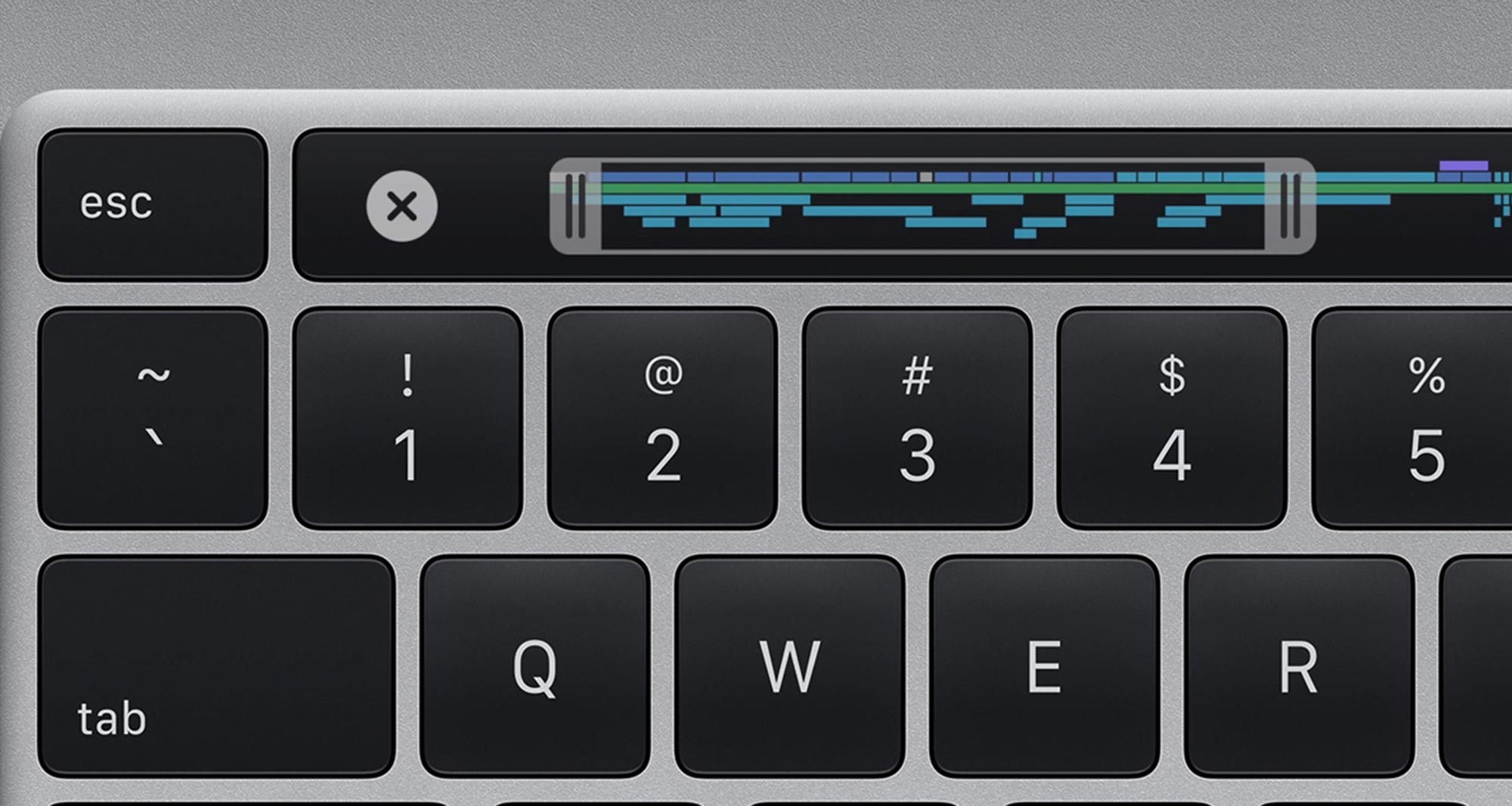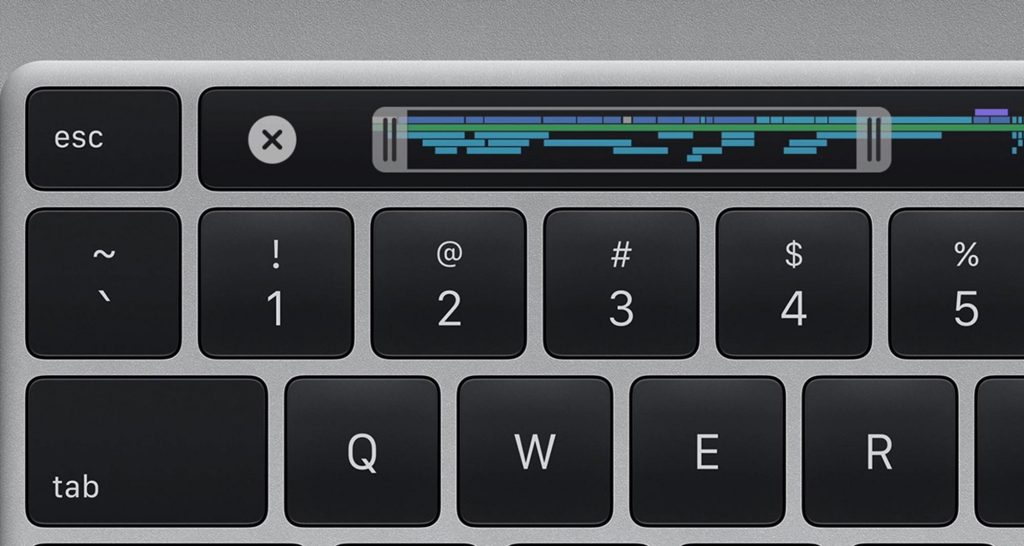 There is another change to the keyboard, as Apple brings back the escape key (esc). Previously part the OLED Touch Bar, a return to the escape key means a key that is otherwise more vital than you might expect returns to the keyboard, while the Touch Bar that still has yet to be fully embraced by developers is a little shorter and doesn't have to take over a function key still commonly relied on.
Apple has also changed the configuration for the arrow keys, as well as the Touch ID fingerprint sensor, which is separated and clearly different.
New price
All of this comes at a price, though, with a minimum price of $3799 for the Apple MacBook Pro 16, and that's the minimum.
Granted, the spec on the 16 inch machines is pretty strong, with the $3799 MBP 16 grabbing a six-core Intel Core i7, 16GB RAM, 512GB storage, and Radeon Pro 5300M with 4GB RAM. Push it to $4399 and you'll find an eight-core Intel Core i9, 16GB RAM, 1TB of storage, and the Radeon Pro 5500M with the same 4GB.
Depending on how much you have to spend, you'll find you can configure the 16 inch MacBook Pro, though best be aware, it can get pricey.
You'll find it shortly in Apple stores and retailers, and from the looks of things on Apple's website, it's a direct replacement to the MacBook Pro 15, so you may also find a few of those going at a slight discount shortly, too.