Don't know how to do all the crazy stuff in Photoshop's image editing or Premiere's video editing? You may not need to with the Elements 2020 range.
We still have a few months before it becomes 2020, but that doesn't mean companies aren't thinking about releasing products with the "2020" name, and features for the new year.
In fact, Adobe's "Elements" range is already there, jumping the line with new features for folks who want their software a little ready for the future, complete with some technology that kind of makes it look like it's in the future as it is.
The Adobe Elements software has always been a beginner's take on some of Adobe's more complicated software.
Essentially, if you've always wanted to learn Photoshop but never had the time, or perhaps you wanted to do some video editing but the skills eluded you, this was the range. There are always plenty of other tools out there, mind you, and Snapseed for photos (iOS, Android) and iMovie for videos (iOS, macOS) are obvious options, but Adobe's Elements range were built to provide a little more. They were actually built to cut down some of Adobe's more complicated technologies and bring them to anyone.
And by anyone, we mean "anyone", because the software just has you bring your photos and videos, and then has you choose what you want done.
This year, that kicks in with even more gusto than previous years, as Adobe's AI technology "Sensei" delivers more automation for its users, offering some fast changes to photos and videos that might take a little longer and need quite a few skills if you decided to do them manually. Granted, folks using Photoshop and Premiere in the professional versions (Photoshop CC and Premiere CC) will have more control in their proper versions, but that may not matter. Customers with Photoshop Elements 2020 and Premiere Elements 2020 will see some of the same capabilities without necessarily needing the skill set.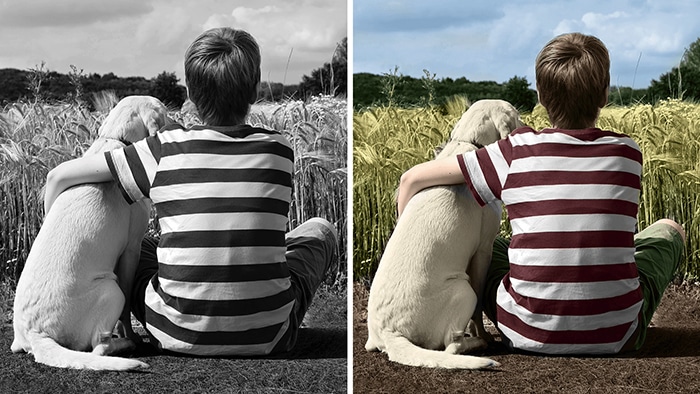 Those capabilities are definitely interesting this year, with Photoshop Elements 2020 offering beginners the ability to colourise black and white photos quickly and to de-colour photos quickly, going each way and either restoring old photos or providing visual pop to new ones.
Brushes can also let you paint cute little spots onto a scene, while Adobe's Photoshop Elements 2020 also sports a depth of field controller, which can separate the foreground from the background and soften it to simulate being captured in portrait mode.
Likely using a similar technology, Adobe's Photoshop Elements 2020 now also sports one-click subject selection, essentially allowing you to cut out the foreground from the background and place it somewhere else, like on white. There's also a guide edit mode that can make unwanted parts of your image disappear, essentially a content aware replacement for perhaps stray people or powerlines out of heads, cleaning up a photo so you're focusing on the right part of the image.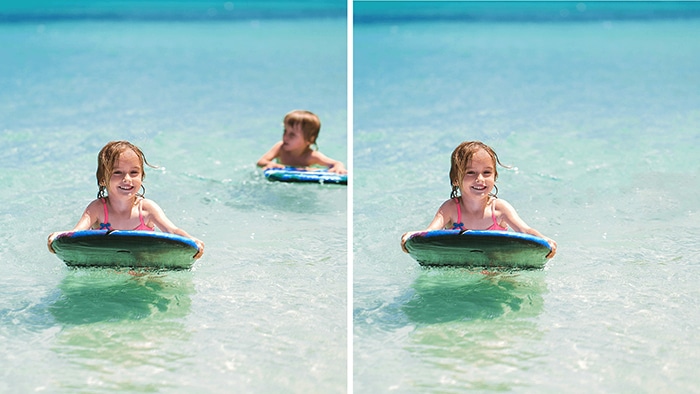 Photoshop Elements 2020 isn't all Adobe has in store, with the video editing tool for beginners that is Premiere Elements 2020 also out, and bringing some video expertise to folks that may not have it.
Some of the changes this year include the ability to animate skies in videos to make the imagery more eye catching, and to turn a portrait video shot on an iPhone (or any other phone) into something a little nicer, killing the black bars by filling the frame with a softened version of what's happening in the video, not too dissimilar from what some news programs do with vertical video.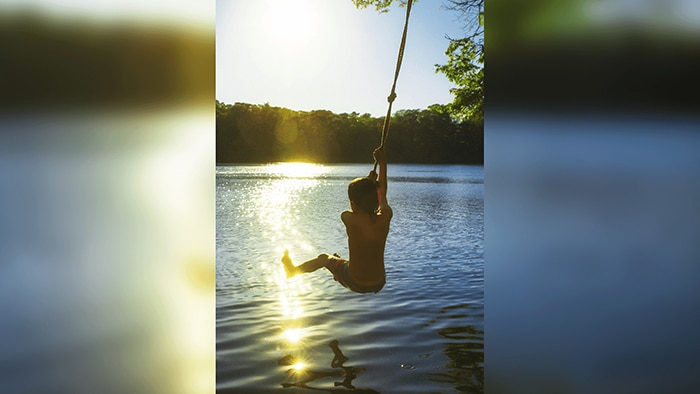 Premiere Elements 2020 can also cut back on noise in video, softening the noise output while appearing to sharpen the output so it looks a little clearer. Noise in videos typically kicks in when the camera doesn't have enough light to work with and has to bump up the ISO significantly, and this works to smooth some of that out.
There's also a bit of file support on each, with Adobe's Elements 2020 range able to edit HEIF photo files, something that Apple's iPhone range makes from its "Live Photos". Not all software can, and invariably, even the proper version of Photoshop can struggle with photos from a recent iPhone.
You'll find these updates online and at stores shortly, with prices just under $150 for one or around $220 for both, available for macOS and Windows.