There are more computers with Windows on it than any other operating system, and they're all about to receive new features, which means you can expect a download shortly, as well.
If you have a Windows 10 computer in your life, there's a good chance you can expect an automated download in the very near future (unless you've changed something intentionally and want those updates to roll out in your own time).
This week in the first few days of May, Microsoft is rolling out the "Windows 10 April 2018 Update", a name that may feel a little late, but aims to get Windows 10 up to scratch with a major update aimed a little ironically a time.
While it's May, the update is a big one for Microsoft, and adds a "Timeline" feature to let you see what you were searching for or working on for as long as 30 days ago. Think of it as a history screen not just for your web searching, but for your work as well. If you were doing it using Microsoft Edge on your phone or tablet, or Office 365, that will sync to your computer.
We're checking to find out whether this will be compatible with apps that weren't made by Microsoft, because it would be handy if perhaps all Windows apps worked with this system, and not just those included with Windows and made by Microsoft, which wouldn't surprise us if that's the case.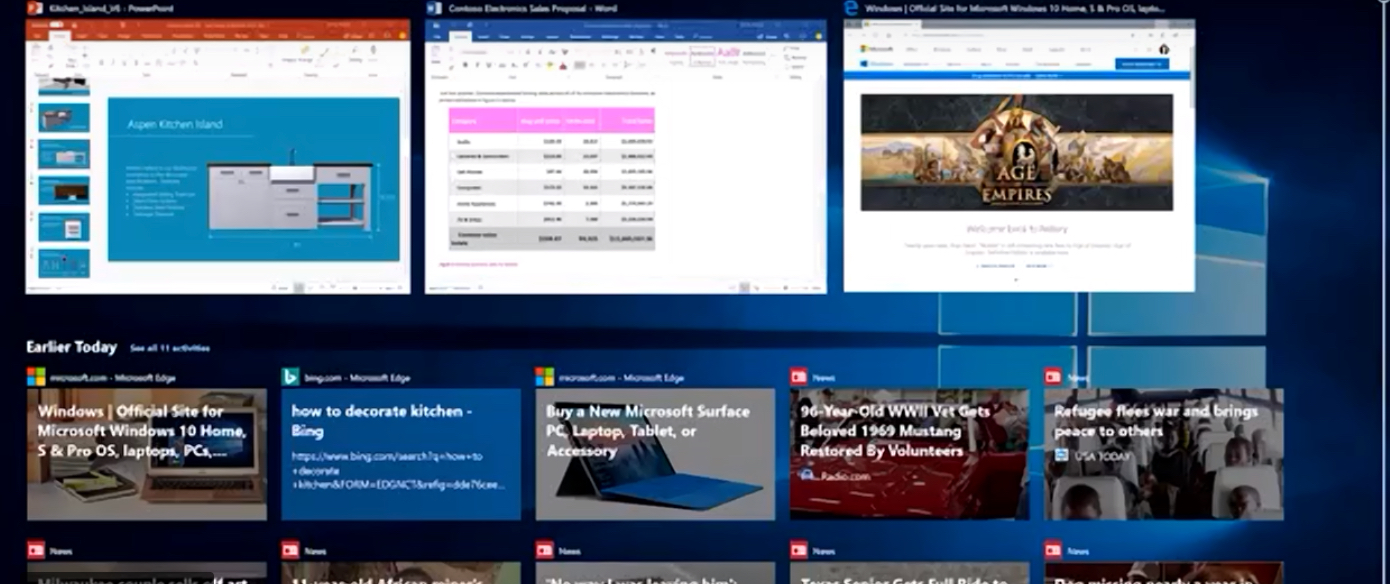 Looking back at what you've done is one way to improve time, and it's supported by another, with Focus Assist developed to turn off notifications when Focus Assist is switched on. A new button in the actions sidebar where you control (that can also be scheduled in settings), Focus Assist will lock out notifications for a set amount of time.
The computer will still technically get them, but the Focus Assist option will only let through urgent notifications, meaning Facebook, Twitter, and other notifications have less chance of interrupting you as you work.
There's also support for diction in the April 2018 Windows 10 update, allowing you to drop your cursor in any text field, press the Windows+H key, and then start talking. That's no doubt built from how Microsoft has been developing its voice assistant Cortana, and means that like Apple's macOS computers, there's now a way for you to talk to write.
Microsoft also tells us its Edge browser has been updated, and it (finally) has the ability to mute tabs that play sound, much like Chrome and other browsers, while PDFs and books get a full-screen reading view to cut out distractions, while shopping payment is saved for auto-filling of forms.
While Edge's enhancements are welcome, you can't help but think they're a little late, especially as other browsers have included this functionality for a reasonable amount of time.
Fortunately, it's your choice on what you want to use. We just hope the one feature that grabs us — Timeline — works with more than Edge and Office 365.
The update is rolling out automatically from May 8, and has been available to download from April 30 to all Windows 10 PCs.