Not everyone has the NBN, but that doesn't mean high-speed connectivity is necessarily out of reach. In fact, Australia is doing pretty well as far as mobile speeds go, with Telstra rolling out the gigabits.
One of the best things about mobile connectivity is how fast it can get you online, and in a day and age where that sort of thing matters, the speed at which you can get your crazy cat videos and other important productivity matters is a part of why we connect.
While crazy cat videos don't make up a large portion of what we download, we still want that connection online to be as fast as it possibly can, and it's something newer 4G modems all aim to deliver.
In the world of mobile devices — phones, tablets, and mobile modems — that's where the whole "category" numbering comes from, and the higher you go, the more connection speed you get.
For instance, the cheaper 4G phones tend to run with Category 3 and 4 4G, meaning speeds as high as 150Mbps down and 50Mbps up. Mid-range 4G phones tend to offer Category 6 which is 300Mbps down and 50Mbps up, and slightly more expensive phones offering Category 9 or 12, offering 450Mbps and 600Mbps down.
To get the real speed in megabytes — a term we all understand — you device by 8, meaning a max of 600Mbps down is a maximum of 75 megabytes down.
That's fast, but 4G can go one better.
In fact, with the launch of Category 16 LTE last year, Australians could for the first time achieve a theoretical maximum of 1000Mbps, meaning 1 gigabit was possible, and a good 125MB per second. To put it simply, if you can hit that 1Gbps mark, you'd have a Game of Thrones episode in high definition in a minute.
This year, hardware manufacturers are pushing the limit even more, offering 1.2Gbps from Category 18 modems, though you'll need a fairly impressive telco to get that speed out.
One of Australia's largest telcos has, however, heeded the call, and has started getting more than just Sydney and Melbourne onto its gigabit-capable 4G network. According to Telstra, gigabits LTE deployment is now underway in the Perth CBD, while it already exists in Brisbane and Adelaide up to a 2 kilometre radius, while both the CBDs for Sydney and Melbourne support gigabit connectivity at up to a 3 kilometre radius.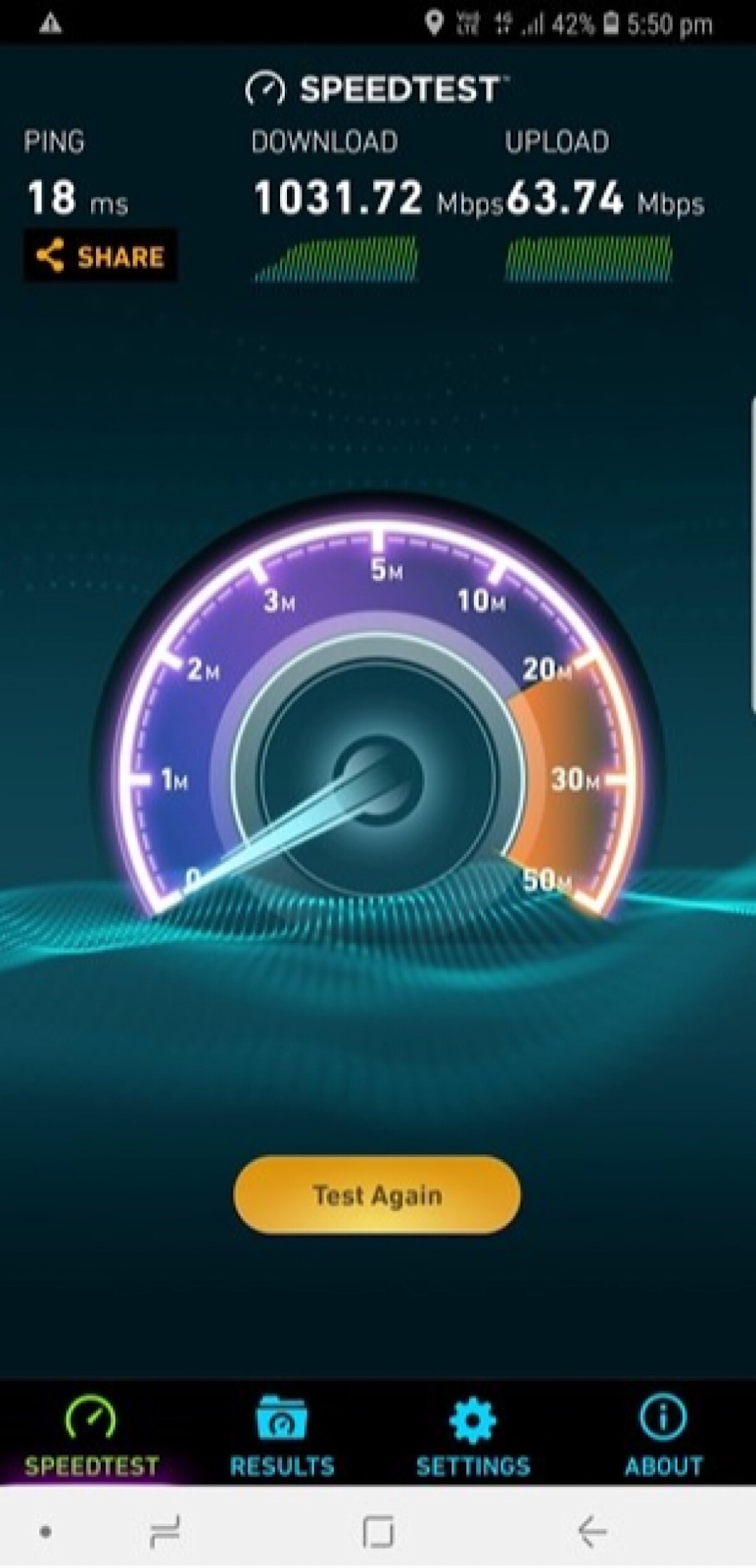 That means that if you have the right hardware in your position, you should be able to get some very fast speeds from your modem provided you're in the right part of town at the right time of day, something Telstra tested this week and found 1Gbps was possible in Sydney.
"Cracking the magic gigabit mark on smartphones is an exciting milestone," said Kevin Teoh, Head of Mobiles at Telstra.
"As smartphones evolve and we move into the 5G era, there will be a new raft of sophisticated features that are enabled by reliably fast data speeds," he said.
"High-quality augmented reality, virtual personal assistants that anticipate needs and virtual doctors that monitor vital signs are just some of the technologies that are on the horizon."
As to how you get those speeds, Telstra says there are quite a few factors at play, including "location, distance from base stations, terrain, user numbers, hardware/software configuration, download source and upload destination", but if you get lucky, you could see those blistering gigabit speeds, and they're just the beginning.
Recently at Mobile World Congress, Telstra successfully tested a Category 20 LTE modem, achieving 2Gbps speeds, or to put it in a way people will get, a staggering 250 megabytes per second and a full gigabyte in merely four seconds. Yikes!
Those speeds aren't likely to eventuate until at least next year, but until then, gigabit speeds are on offer for devices offering Category 16 and Category 18 modems, with last year's Galaxy S8 and S8+ (as well as the HTC U11 and Sony's Xperia XZ Premium) hitting the former, while the new Galaxy S9 and S9+ achieve the latter. That should satisfy you for some time.