Well that didn't take long: LG's partnership with Meridian has already borne fruit, and CES will be the showcase, just as we expected.
Next week is CES, and it's pretty much the showcase to set the expectation for what's going to happen for the world of technology. In fact, anything and everything that will happen in the next six months will likely be seen in the coming days, and for some companies, there's no reason to wait.
LG is one of them, continuing a tradition set by the company to pre-announce products before the big event, with this week talking about the AV giant's big focus on sound.
And this year, there is one of those, as it turns to its recent partnership with the UK's Meridian for improvements to audio quality, also involving Dolby Atmos technology in the developmental process.
That's something the two companies have been working on in the SK10Y, a speaker that screams "sky" in the name almost likely because of how it takes advantage of psychoacoustics technology to create a bubble of sound, leveraging Meridian's Height Elevation Technology to fire sound up using a couple of top speaks from the SK10Y's soundbar and create Dolby Atmos' 3D spatial sound.

Like other Atmos soundbars, LG's SK10Y will rely on 5.1.2 channels of sound, with the 5 channels in the main soundbar technology (from what we understand), the .1 from the subwoofer that goes underneath and in your room on the floor somewhere, and the .2 sitting on panels along the top of the soundbar to fire sound up. In fact, while LG's SK10Y will fire the sound up, it will also be controllable, with a user-adjustable volume able to make it possible to optimise the sound based on the height of the ceiling, creating a sound bubble made for your room and only your room.
Support for Google Assistant will also be built into the LG SK10Y, so you can talk to it much like you would with the Google Home, and that appears to be a common thread with Google's assistant technology also appearing in another LG speaker, the LG ThinQ.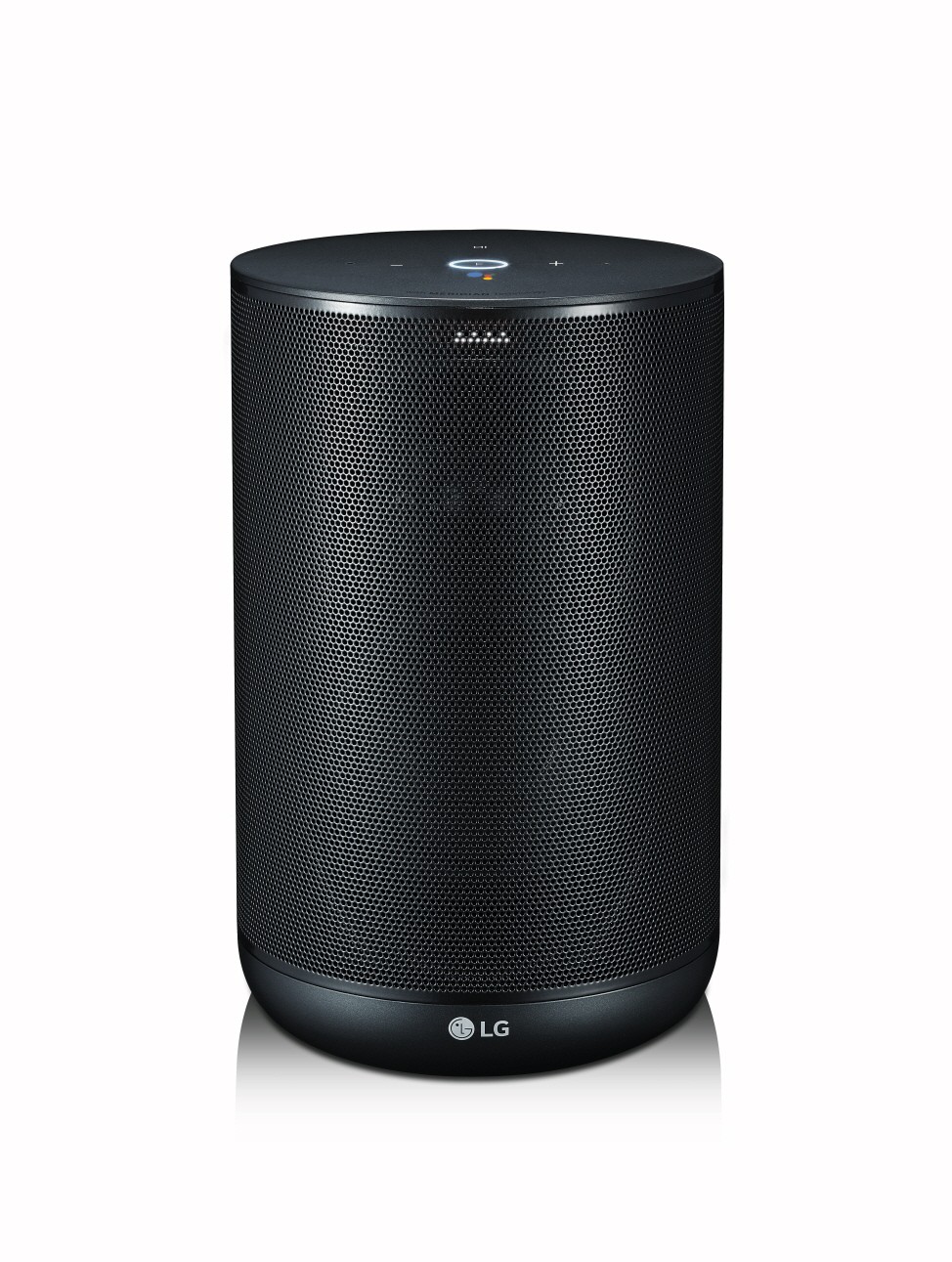 We're not going to say this one will win an award for original design because it's basically another cylindrical speaker, but it will be packed with as little more than Google's standard smarts, talking to LG's smart home appliances of which it should have a few of this year.
For instance, if LG releases its air purifiers this year, LG promises the ThinQ will be able to act on the command of "OK Google, talk to LG, turn on the air purifier". Presumably, if LG's air conditioners are released as smart air conditioners in Australia this year, the same will be true.
As for the sound technology, LG says Meridian Audio has helped make the ThinQ high resolution, even compatible with hi-res audio files like FLAC, something LG has been throwing into its devices since it released the G2 smartphone back in 2013.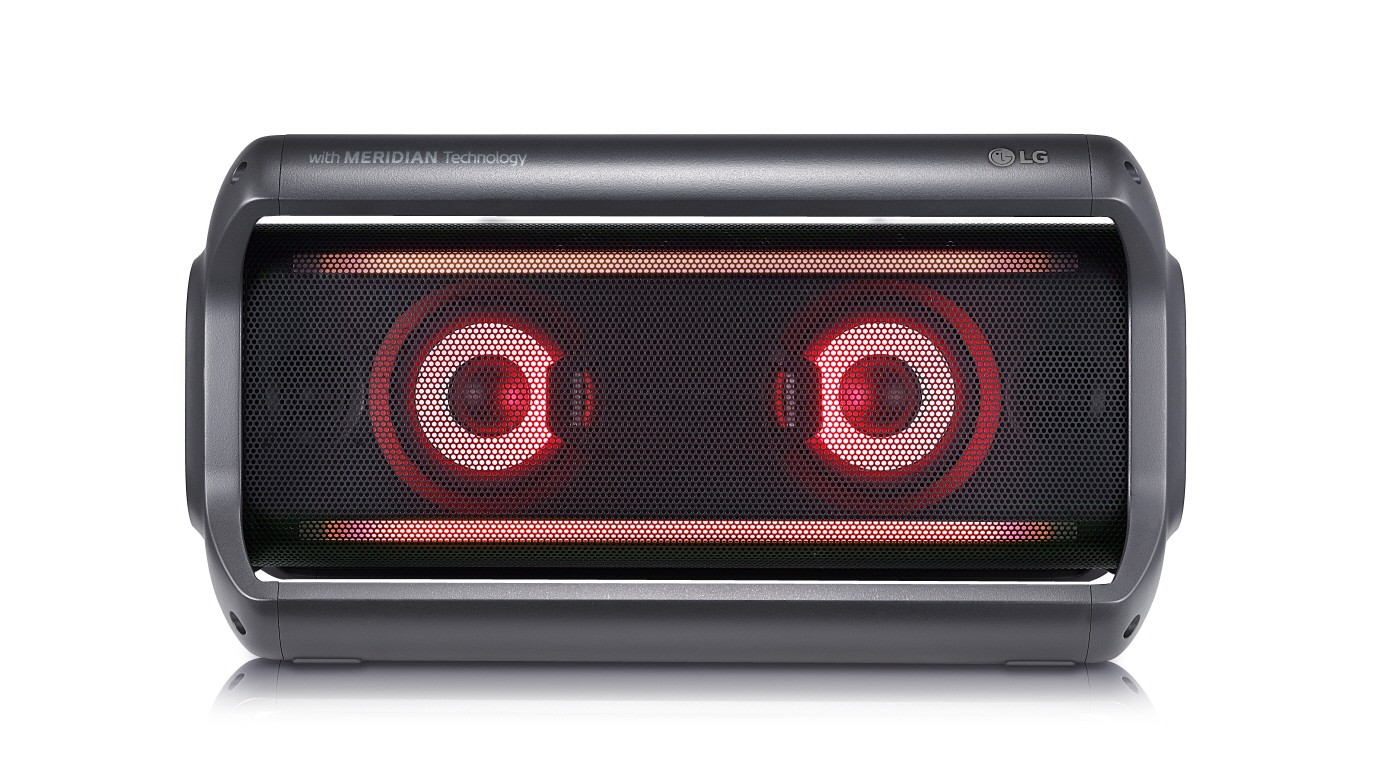 Meridian will be lending its hand to other speakers for LG, and the news is that most of these will be about big sound, whether it's a small Bluetooth speaker with a bit of lighting and a lot of audio in the PK series, or LG's party machines with karaoke modes, lights, bass, and what the company describes as "DJ capabilities".
"Sound technology has come a long way since LG introduced the first radio to Korean consumers almost 60 years ago," said LGs' Seo Young-jae.
"At this year's CES, I'm confident audiences will be impressed with the amount of technology we've introduced into our audio products without compromising on sound quality."
We seem to be pretty fussy on great sound, so we'll just have to see for ourselves when we go eyes- and ears-on at CES next week.