Australians have quite a few choices for streaming movies on their TVs, and if they have a library card, they just might get one more for free on Telstra TV.
Watching TV has been forever changed by the likes of Netflix and Stan, but there's one thing that these services don't quite have on regular TV services: they're not free. While a coast of $10 to $20 per month isn't likely to break the bank, you may not want to pay for films that you can get for free.
That's a little like books, because libraries give you the option to borrow books without having to pay for them, so surely something like that should exist for films?
Good news: it does, and it was even started by an Australian.
It's a service called Kanopy, and while it won't cost you anything, it does require a library card, connecting to the library membership of public libraries so you can watch movies for free, much like how you can borrow books for free, too.
This week, the service has joined up with the likes of Telstra, which means it can offer an app directly for Telstra TV, though it's not the only place you can find Kanopy's app, available on iOS for iPhone and iPad, Android for Android phones and tablets, Apple TV, and with support for Chromecast on supported devices. The addition of Telstra TV means that more people will find the service, particularly those who might have just viewed it as yet another Stan or Netflix, which it isn't.
"The addition of Kanopy to our ever-growing content catalogue and suite of apps is just another reason why Telstra TV is so popular with Australians, with over a million devices in market," said Rebecca Haagsma, Director of Product Development and Innovation at Telstra.
"Kanopy's selection of free, thought-provoking film, documentaries and TV series from around the world is an example of how institutions like libraries and media are adapting to the changing ways we all consume information today," she said. "There's no better time to pick up a Telstra TV, and to check if your library is participating."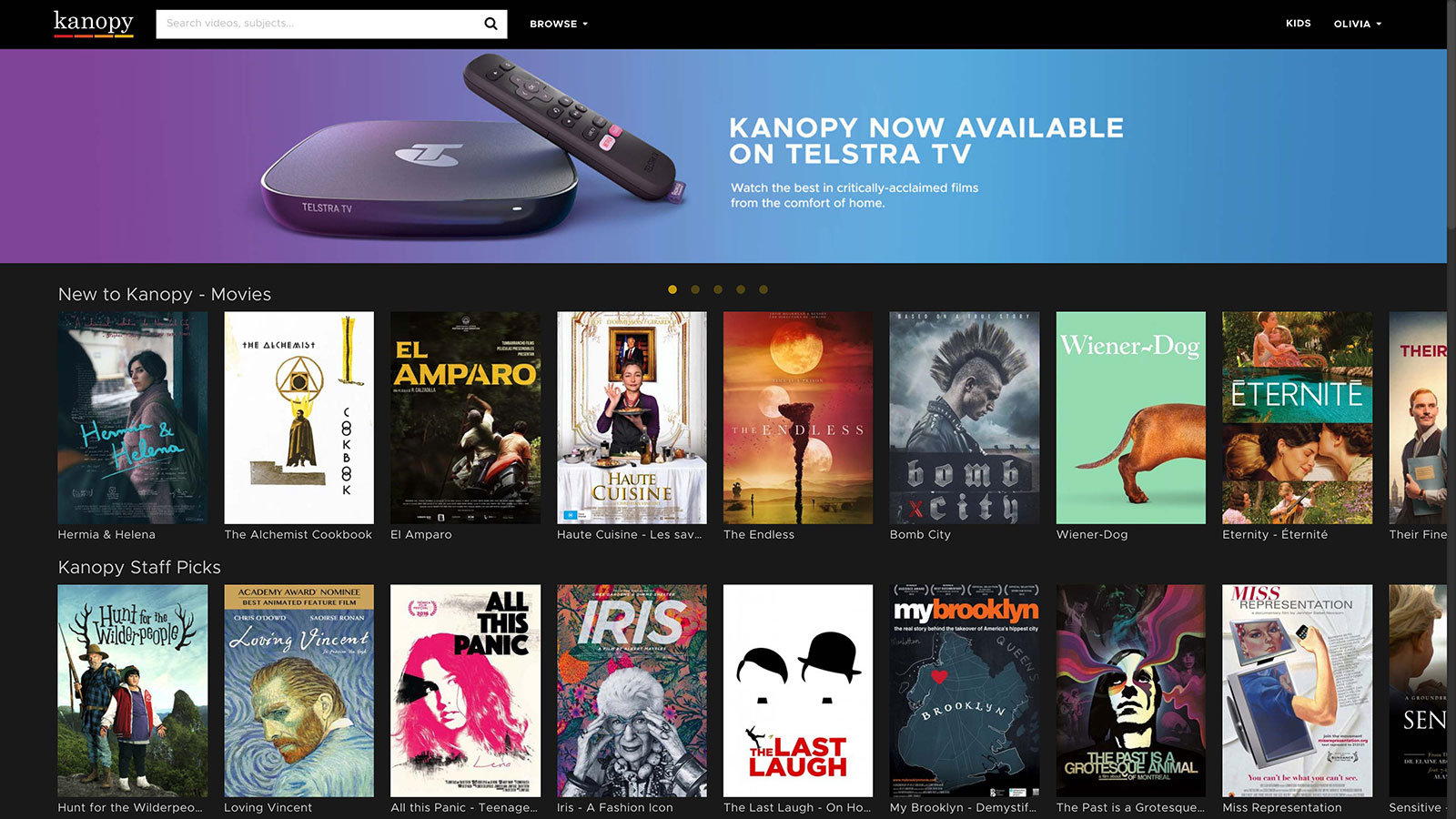 One thing of note is that Kanopy isn't like your regular streaming service, and won't stock the latest Game of Thrones or Westworld, showing films that are independent, award-winning, educational, documentary, or from things like the Criterion Collection.
You'll find titles such as Kedi, Loving Vincent, Carol, Man on Wire, and quite a few Aussie movies, too, including Lion, The Dressmaker, and The Babadook. There's a selection for kids as well, including Babar and ABC's Play School.
You will need that library membership to try the service out, though the good news is that is the only requirement, with a current library membership from a partner public library or university required for Kanopy membership activation.
However, the good news is that many Australian libraries offer online library memberships, meaning you can check if something local or national offers the ability so you don't have to go in and get the membership in person.
There's a solid list of libraries from Wikipedia, and once you have the membership, you can check out the app.
"Partnering with Telstra, the leading telco provider in Australia, means that even more Aussies are now able to watch thousands of thoughtful films for free, right from their living room with their Telstra TV," said Kanopy's CEO, Olivia Humphrey.
"Kanopy's core mission has always been to provide access to enriching content to viewers. Kanopy's Telstra TV App and our partnership with libraries across Australia means people can stream a huge selection of amazing indies, documentaries, and classic films you can't find anywhere else," she said.
Kanopy's app is available now for Telstra TV, as well as other devices.