There's a new bank in town, and it's one that sits above the rest, literally, as cloud banking takes off.
You may be struggling waiting for your bank to jump onto the smart platform bandwagon, because there are definitely some hold-outs, but their unwillingness to join up doesn't necessarily have to mean you're stuck on solid ground.
As more banking options arrive, the choices widen, and you can start to experiment with other brands.
One such newbie is turning up this week, arriving in ther auspiciously named "Up", a banking platform that removes the brick and mortar bank locations of old, replacing it with an app and your money in the cloud entirely.
Available for iOS and Android, Up is part of what is being called a "digital bank", in that it is a bank specific to being used online in a digital world. There's no branch for you to walk into, nor is there a teller to smile at you.
Rather, there is only an app, as well as integration of that app and services into a wearable you might own.
The technology works on Android and iOS, and extends to some of the smart payment platforms on those devices, with Apple Pay supported on Apple's iPhone and the Apple Watch, Google Pay support on Android and wearables where NFC is included (pretty much any phone that costs over $500), as well as the lesser known Fitbit Pay and Garmin Pay used on Fitbit's and Garmin's wearables respectively.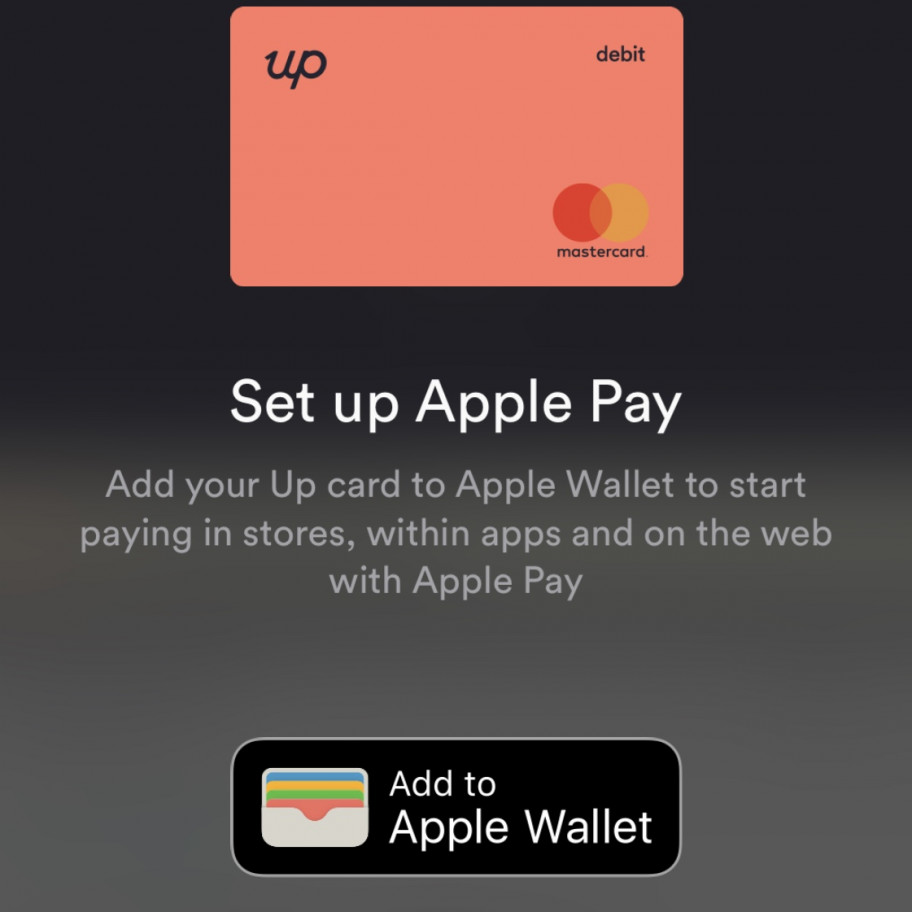 With one of these devices, you can essentially pay for things, using money stored on the account that you've sent over to it. To do that, you'll still need to log into your old bank to start, using the BSB and account number to make it happen.
Up's people told Pickr that transfers from most banks should take 1 to 2 days, while transfers from Bendigo bank will be practically instant, and there's a good reason why: Bendigo and Adelaide Bank are partly behind the scenes here.
"Bendigo and Adelaide Bank's strong track-record provides us with credible banking authority, coupled with the creative licence to design Up in the most 'non-bank' way possible. It has meant we can offer customers a new way to manage their money ahead of everyone else," said Dom Pyne, Co-Founder of Up, and of the company that developed the technology behind the bank, Ferocia.
"There's been a lot of chatter about new-age banking alternatives arriving on the market. But the team has just been focused on actually getting one live," he said.
"Up exists to simplify peoples' lives and help them to create financial freedom through technology, innovation and creativity. We are immensely proud of the enhanced customer experience that will help people spend wisely and save effortlessly."
We had a bit of a dabble with Up this week, and it's an interesting concept. Not something we've experienced much of before, the digital bank concept offers a fairly easy and ubiquitous sign up, making it all accessible via an app.
Granted, digital banking (also called "neobanking") isn't unique to Up, and exists in numerous other platforms and services, though few are up and running in a meaningful capacity.
Testing out Up, we found a relatively easy way to integrate Apple Pay and Google Pay into our lives, especially as Up has support for MasterCard through those services. The app and service did take 24 hours to kick in support, though once it did, the connection to our phone and wearable was easy, and we were able to use transferred money to buy things quickly, something St George still hasn't managed to do.
Overall, we get what Up is doing, and after the teething issues are worked out, it could be a really interesting option, especially for those of us crying out for our older banks to wake up and get with the program, or in this case, the app.