Two big full-screen iPhones available, one more to go, as the more budget focused single-lens iPhone X gets priced and dated for Australia.
If you've been itching to get the new iPhone but didn't like the prices of either the new iPhone XS or two-thousand dollar iPhone XS Max, Apple has another option coming, and coming quickly.
Around a month after the other two iPhones made their retail debut, Apple's other more wallet-friendly model is arriving, hitting Apple Stores and telcos from Friday, October 26, bringing many of the same features shared with the more premium XS and XS Max, but in a slightly different body.
What makes the iPhone XR different?
While the iPhone XS and iPhone XS Max are focused on a premium metal and glass body with two lenses and screens sized either 5.8 or 6.5 inches respectively, the iPhone XR sits more in the middle, offering a 6.1 inch screen that uses an LCD screen instead of the OLED technology used by the XS models.
That technology change helps to cut back on the price, as does the shift to one rear camera instead of two. However, while you won't be able to optically zoom, Apple is relying on the same A12 Bionic processor with its Neural Engine to get similar performance, and leveraging this to get the phone to make portrait-style images without the need for a second camera, likely similar to what Google's Pixel can accomplish with only one camera.
Like its newer siblings, there's also no fingerprint sensor here, adopting the infrared technology of Face ID, while keeping the body similar, offering IP67 water-resistance, a glass front and back, and aluminium bands compared to the stainless steel used in the XS and XS Max.
iPhone XR pricing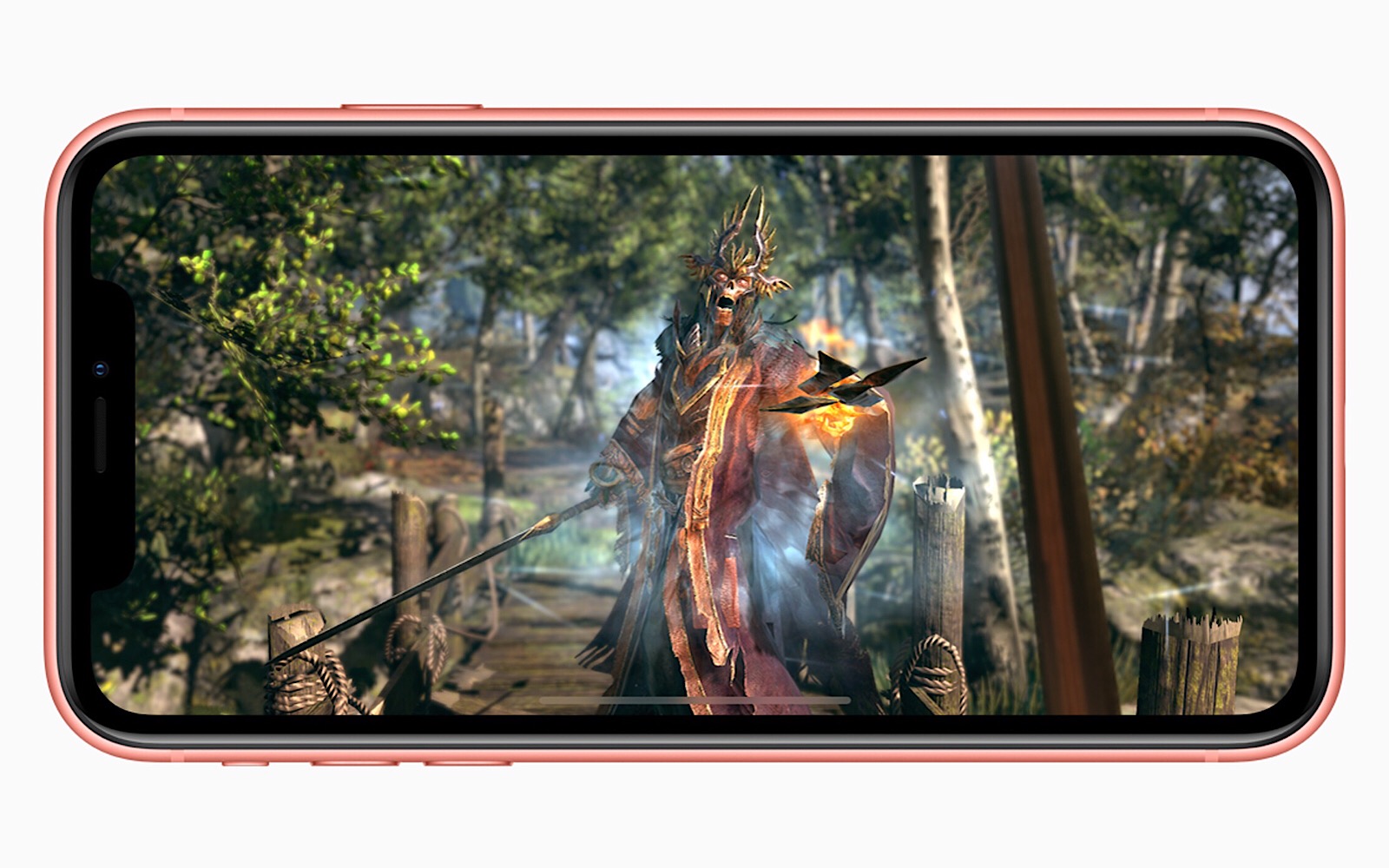 There's also a different choice in storage, and this helps to shape the price, ideal for folks who may not see $1500 as the best point for a phone. Granted, the iPhone XR is still relatively pricey, but it's a price that doesn't carry as much heft as its XS siblings.
In fact, with a starting price of $1229 for 64GB, the new iPhone XR is certainly offering something else, undercutting its 64GB iPhone XS siblings by a good $400 in the 5.8 inch model. You'll pay more for the 128GB and 256GB models, but comparatively, you'll still save, with 128GB costing $1299 and 256GB fetching a $1479 price tag in Australia, all under the $1500 tag that flagship phones are so regularly hitting these days.
You'll also get a choice of colours, something iPhones haven't really offered many of outside of silver, black, gold, and rose gold for ages. In fact, the colours here are black, white, blue, yellow, coral, and a red variation for its charitable (Product)Red option.
Availability of the iPhone XR is from October 26 with pre-orders happening right now, and while you can get the phone outright, telcos will of course have them, too.
The iPhone XR on Telstra, Optus, and Vodafone
Unsurprisingly, Australia's biggest telcos will have the latest release from one of the world's biggest phone manufacturers, as the iPhone XR heads to more than retail.
In the Telstra world, the iPhone XR starts at $84 per month for 3GB data monthly on a 64GB iPhone XR, with Telstra having you choose based on phone value, different the cost of phone repayments based on the plan option.
For instance, Telstra's take on the 64GB iPhone XR includes a $35 monthly cost on its $59 3GB iPhone plan, while the $119 120GB plan includes a mobile repayment of zero dollars over the space of 24 months.
As a heads up, it's best to check the terms of Telstra's deals carefully, as you might be leasing the phone, rather than renting to buy it at the end. Telstra's iPhone XR page seems to default to the "Lease" section of the page, which is less expensive, but means at the end of the plan, you won't own the iPhone XR, and will essentially be forced to rent a new phone when the terms are up.
Over at Optus, the approach is pretty consistent, shifting people to the leasing program and not one where you get to own the product at the end, unless you offer to buy the phone at market value, which seems a little like a cop out.
However, you may find Optus' deals a little more useful, with the lowest offering a 64GB phone with a minimal 4GB of data for $77 per month including the $32 phone payment over two years, while Optus' $105 plan includes a staggering 100GB plus 100GB extra data with the iPhone XR handset repayment down as $0 for this one.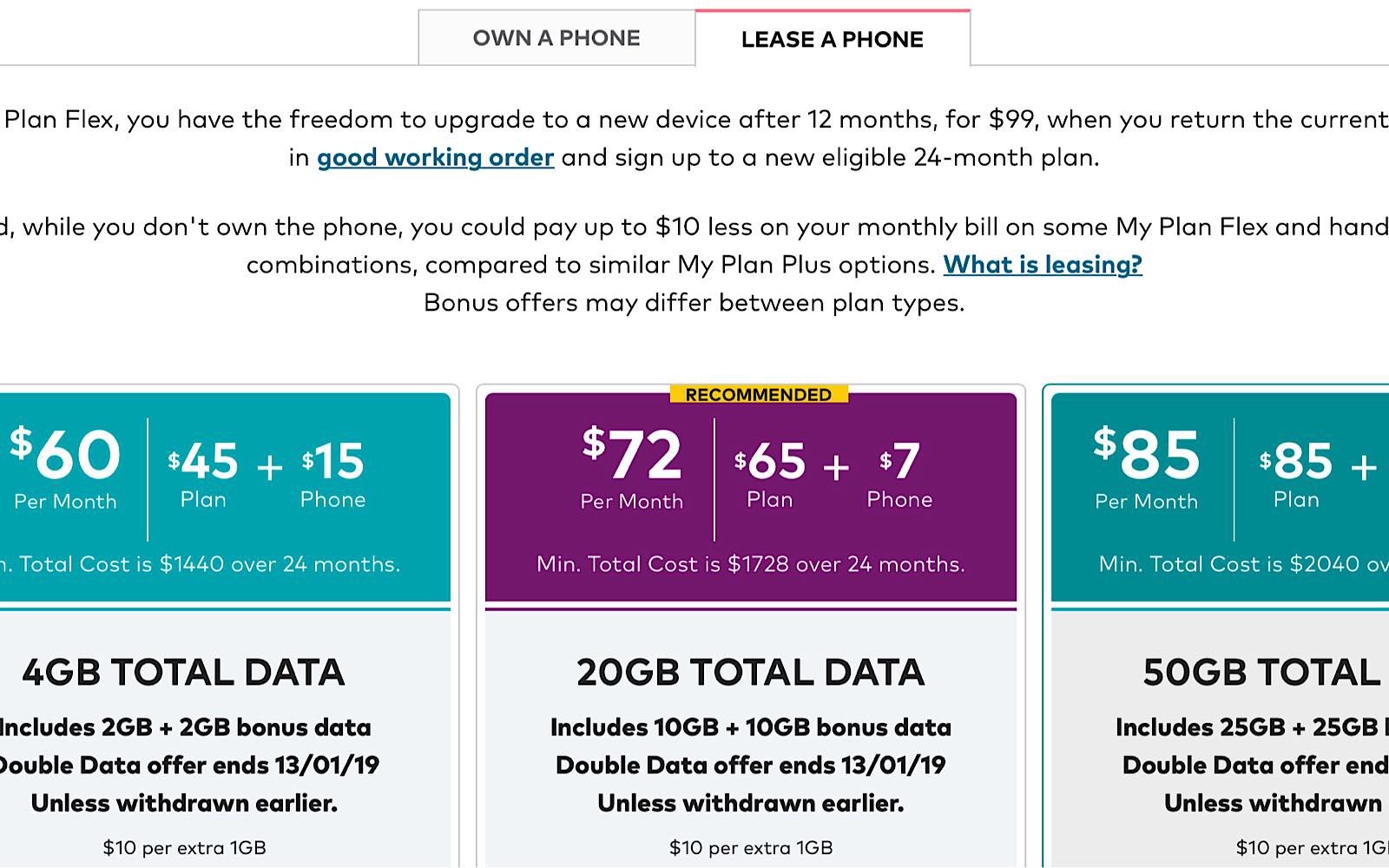 And in the world of Vodafone, we're hearing plans that will allow customers to separate the handset repayment from the plan, while also opting for payment terms including the fairly standard 24 month term, while also offering 12 and 36 month plans, too.
If you choose to run the phone for a shorter 12 month plan, you'll be paying at least $102.41 per month for the device cost on top of the plan, starting as low as $35 monthly, though the cost of the iPhone XR gets lower if you run the phone for 24 or 36 months, shifting down from $51.20 or $34.13 respectively before plan cost.
In essence, you could get a 64GB iPhone XR for $75.13 per month if you went a three year plan and included 20GB of monthly downloads.