There wasn't just one new phone in Australia this week, as Motorola joined the fray with a few variations on its on-going "G" theme.
You may remember the name "Motorola" for its "RAZR" steel-etched keyboard flip phone concept back in the day, but more lately, it's a brand that has become known for competitiveness, specifically when it comes to the smartphone.
While it has a player or two that aims to compete with the likes of the iPhone and the latest Galaxy S-whatever, it also works hard to make the lower price points below the $500 mark more palatable, building devices for the mid-range and more budget-based price points.
Its "G" series is an example of this, and after announcing that a couple of new models would be coming back at Mobile World Congress in Spain only months ago, Motorola's Australian division has this week confirmed that, yes, they would be coming to Australia, too.
Specifically, there are two models arriving at three price points, and if that sounds a little confusing, hold up, we'll explain.
We'll start with the big one first, because the Moto G5 Plus is the one that will likely draw the attention.
Designed to offer a big-screen experience for people not after a big price point, Motorola's G5 Plus (XT1685) arrives with a 5.2 inch Full HD display protected by the slightly older but still fairly resistant Gorilla Glass 3 from Corning, and a slight layer of water resistance to the whole body, though not enough to go swimming with (think of it more like minor spill resistance).
This fairly sizeable screen is encased in an aluminium body designed to keep things strong, while the inside arrives with either 3GB RAM and 16GB storage or 4GB RAM and 32GB storage. There's a slight price difference here, with the latter and bigger variety being found for $449 at Motorola's website, while the smaller 16GB option will be found in Australian retail (Harvey Norman, JB HiFi, Officeworks) for $399, though it's important to note that regardless of the model, you're not locked into the storage, with expansion available via a microSD card.
Google's Android runs on this Snapdragon 625-powered device, and there's also WiFi, Bluetooth, Near-Field Communication (NFC), a fingerprint reader, support for two SIMs (nanoSIM) which is handy if you travel, a 3.5mm headset jack, and unsurprisingly two cameras.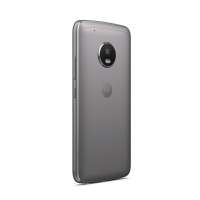 In a nice change for the mid-range, Motorola's G5 Plus will capture 4K Ultra HD video from the rear camera, with that same camera supporting 12 megapixel images using dual autofocus pixels and a low-aperture of F1.7, a bunch of jargon that suggests the camera should perform better than Motorola's previous G series cameras. There's also a 5 megapixel camera up front for those selfies.
And for the most part, this package looks like it could be a serious and strong competitor for the mid-range, particularly with two varieties giving other mid-range players like Oppo, ZTE, and Huawei some strong competition.
Early reviews tracked by Pickr suggest it's not bad at all, and it won't be alone in release, accompanied by a smaller variation, the Moto G5.
While the name suggests similarities, the non-plus G5 is a totally different model, with a lower processor (Snapdragon 435), less memory at only 2GB RAM and 16GB storage (though it still has support for a microSD card), a smaller screen at 5 inches Full HD, a lack of Near-Field Communication, and a totally different 13 megapixel F2.0 camera on the back with no 4K capture (only Full HD) while the front-facing 5 megapixel camera stays the same.
You'll still find a fingerprint scanner here, and you'll still find WiFi, Bluetooth, and 4G internet just like the other model, as well as a design using metal, but the G5 is made to be more of a budget variation of the Plus, and its price tag show, retailing this week from $299 at Harvey Norman, The Good Guys, Officeworks, and Motorola's website.
And Pickr is tracking all of these, with both the Moto G5 and the Moto G5 Plus in the system for any comparative needs you wish to see. Curious how they compare to the mid-range gem that is the Oppo R9s? Take a gander, because the mid-range is surely heating up.