If there's one company that has nailed the iPad keyboard over the years, it's Logitech, and now the new iPad Pro will get another keyboard from the brand.
The iPad has been around for six years, and ever since its introduction, accessory and peripheral makers have been looking for ways to add a keyboard to its tablet design.
That's one of those accessories that brings the tablet to full circle, shifting the "post-PC" concept that the iPad represented back to a form of PC, as it makes its way back to notebook by turning a great touchscreen computer into something you can type faster and more comfortably on.
Remarkably, the later generations of the iPad have fast enough screens whereby you can type quickly on the touch display and not have it miss a beat, but the comfort of real keys if something many of us will always seek out. Fortunately there are and have been a lot of choices over the years, and quite a few have been made by Logitech.
Long before the iPad Pro's physical connection allowed the company to make the very excellent Create keyboard for the 9.7 inch variant of that tablet, it made several varieties, including one this journalist relied on to write a good year or two's worth of material, the Fold Up keyboard for the iPad, which relied on a neat pull-out keyboard that came out from underneath the iPad and connected a keyboard before your very eyes.
So Logitech has a history in dabbling in iPad keyboards, and it doesn't appear to be letting up for the new iPad Pro and its difference screen size.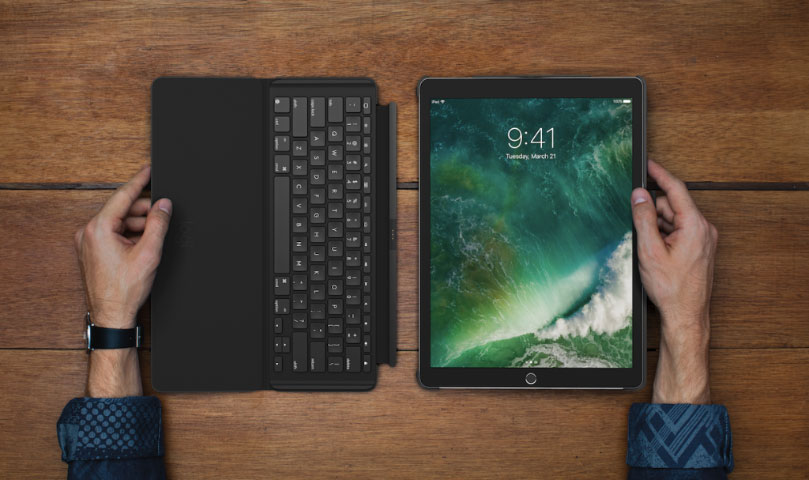 In fact, this week Logitech has announced the Slim Combo, a two-part case for either the 10.5 inch or 12.9 inch iPad Pro that includes an iPad case and a physical keyboard, connecting together by way of magnets, with the former holding the case and including small hinges and a stand to hold the tablet up, while the keyboard is completely detachable allowing you to choose if you want to type or just stand the iPad up.
That's one area where we're not sure Apple's Smart Keyboard could win in a fight, as the keyboard has to be out for the stand to work, unless you change over to a regular folding Smart Cover, something that doesn't really require any work but does require another spend for an extra accessory.
"In the past, you were bound to a workspace with a PC, and used your tablet for quick messages or entertainment when you weren't in the office; that's not the case anymore," said Michele Hermann, vice president of mobility at Logitech.
"To be a pro today, you need the power of the PC, but more easily available whether you're on a train, at the park, in a meeting or wherever you need to be," said Michele Hermann, Vice President of Mobility for Logitech.
"The Slim Combo unleashes the power of iPad Pro to bring you the future of personal computing," she said, adding that it's "a future that's easier, faster and more fun".
We're not going to beat around the bush on this one: we're expecting it to be good, not just because Logitech has a long history with accessories, but also because the most recent keyboard, the Create 9.7, was just that good.
Long after the review went online, we continued using the keyboard, and its physical keys made it a solid option for typing on the go, so we have to hope Logitech has taken what made work in that model and applied it here.
We're told the Slim Combo relies on a full-side keyboard with backlit keys, suggesting Logitech has taken what previously worked and applied it here, so we're hoping, but we'll be sure to get one in and review it alongside the iPad Pro 10.5.
If you can't wait, however, you'll find the Logitech Slim Combo available now, with the 10.5 inch model fetching $199.95 while the 12.9 inch variant will cost $229.95.