Microsoft has been doing some sprucing up of its Surface line this week, making an announcement in a week we expect will be big for people who create, with the company's first all-in-one made for more than just the basics.

If there's one thing Microsoft hasn't been shy about with its Surface line, it's been channelling the creative types. Originally launching with a magnetic stylus and not letting go of the technology or the idea, the Surface machines released by Microsoft aren't just about revealing a future where styluses make touch a little easier or let you sign for things, this is about digital creation on a big scale.
We've seen the Surface get bigger and bigger over the years, too, jumping from 10 inches to 12 and then to a 13 inch laptop, but now the Surface is about to get even bigger again, with Microsoft engineering a 28 inch version of the Surface concept, making it an all-in-one computer for the desktop built to work with mouse and stylus alike.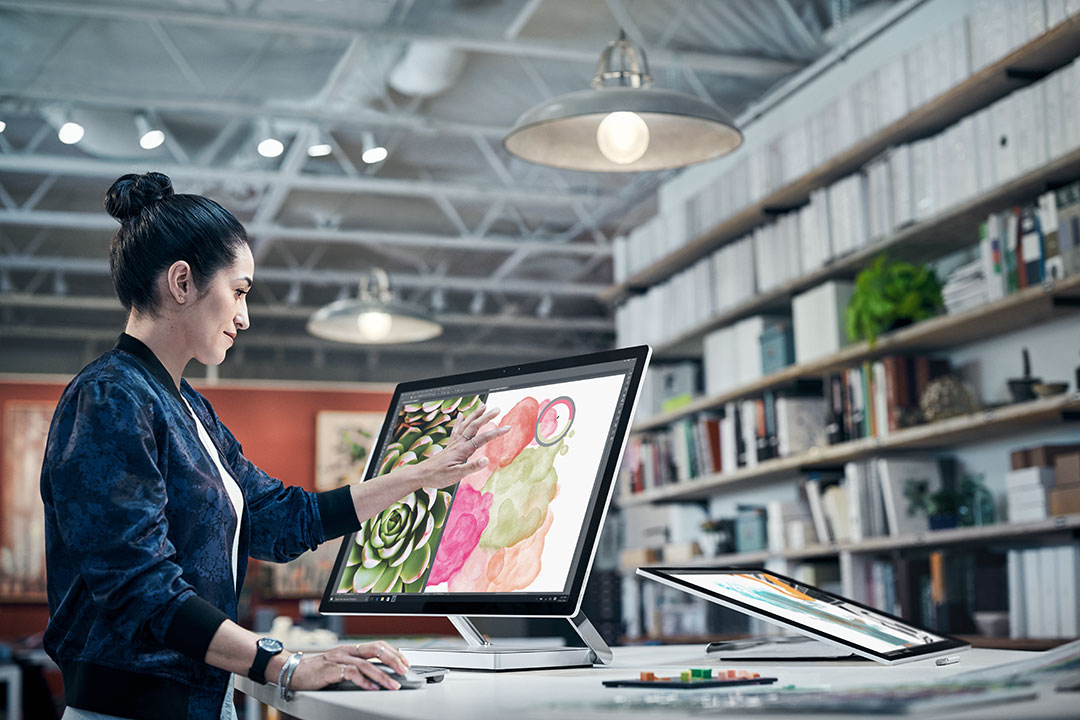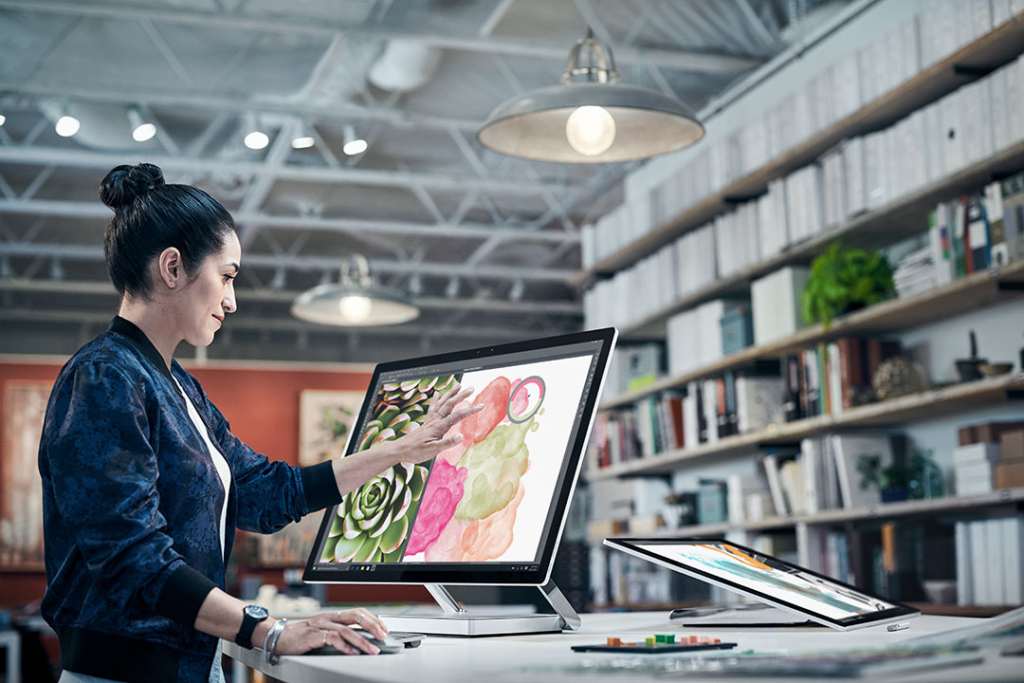 A little more than a mere all-in-one, Surface Studio appears made for content creation, adhering to the ideas that Microsoft has been talking up since it started really working on the Surface idea of drawing, sketching, and using a Windows system for a whole ton of creative interaction.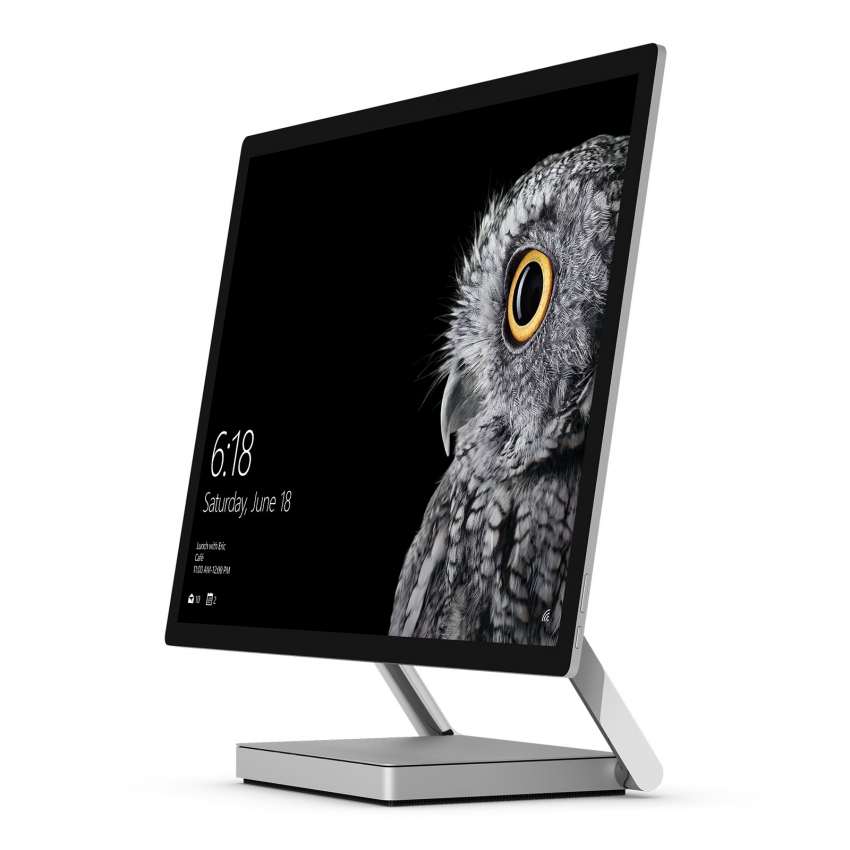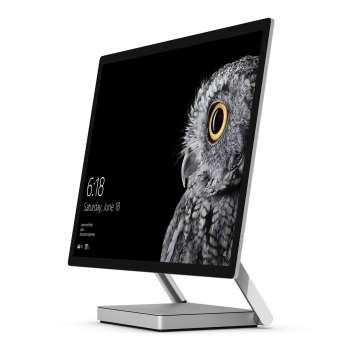 As a result, the screen isn't just your stock standard monitor, with resolution that pushes past the 4K resolution (3840×2160) to provide 4500×3000, delivering 13.5 million pixels at 192 dpi in the less common 3:2 aspect ratio. Much like Apple's Retina iMac, the screen is also colour calibrated, delivering support for more colour than most displays offer via the P3 colour space, and working across sRGB, DCI-P3, and Vivid P3-D65, geeky ways of saying "colour accuracy if you really depend on it".
Just like previous Surface machines, this screen is all touch, allowing you to prod, pick, point, and swipe with up to ten points of simultaneous touch, something that is quite standard these days, while also supporting Microsoft's Surface Pens.
An all-in-one is more than its screen, too, and Microsoft is making sure there's enough grunt here, equipping quad-core Intel 6th generation processors — "Skylake" chips — with up to 2TB storage, up to 32GB RAM, and graphics chips supporting up to 4GB RAM.
The processor is a touch surprising, especially with Intel's 7th generation "Kaby Lake" processor out, though in a desktop like this, we're not necessarily sure the newer chips will result in all that much extra grunt, so to speak.
That said, with Nvidia's GTX965M and 980M graphics chips on-board, Microsoft is suggesting VR compatibility with the all-in-one isn't going to be a problem, with these GPUs apparently strong enough to drive the HTC Vive, and given that Oculus is now working to make its Rift run with a little less oomph, we'd say there, too.
Perhaps the most interesting aspect of the Surface Studio is how Microsoft plans to make it not like a regular all-in-one, but more like a desk you can use.
Remember, this is a 28 inch screen, and so while you can sit facing it and use it, that won't help you if you plan to draw sitting upright.


To assist with actual content creation, Microsoft has built what it calls a "Zero Gravity Hinge", which is to say it's a unique hinge for an all-in-one computer designed to be easily adjusted, shifting from the upright desktop mode to a lower studio mode sitting at a 20 degree angle for easier sketching.
At $2999 USD, this isn't a cheap desk-based computer by a long shot, but we're not shocked by that given what's inside and who it appears to be made for, with the creative types the focus here. We're really expecting a local price closer to the $4000 mark when it does arrive, which we anticipate will be in 2017 for Australia.
Dial in a new way to control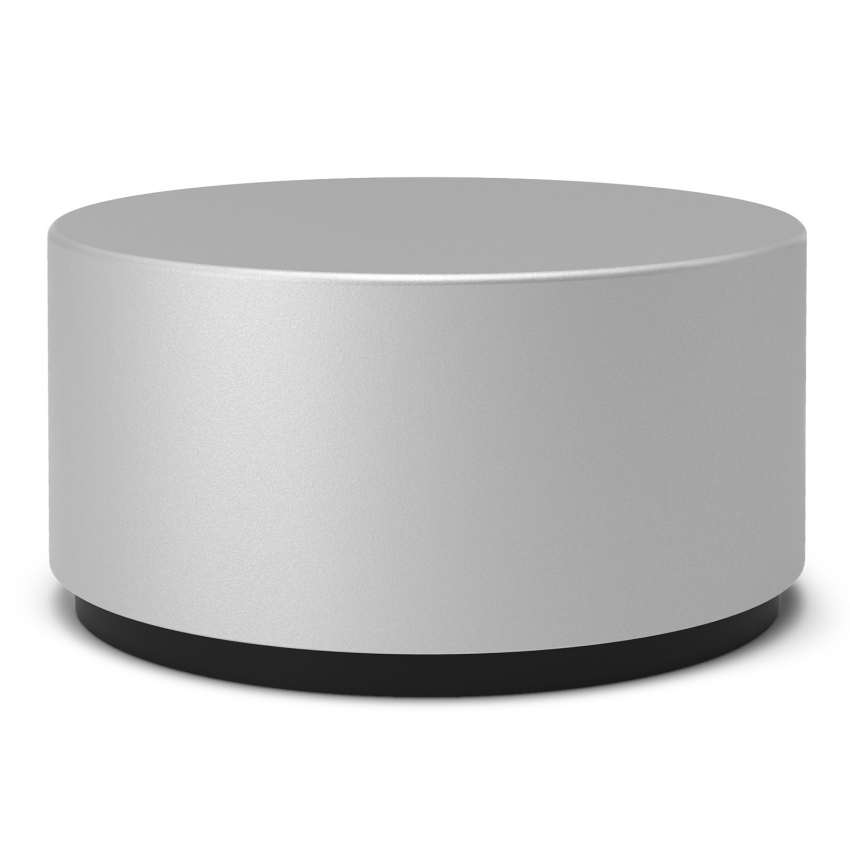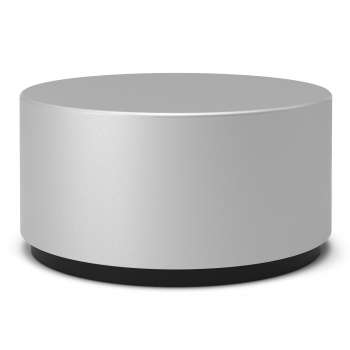 A big touchscreen requires a new way of getting in close and controlling, and Microsoft has been busy building an accessory specifically for this purpose.
Called the "Surface Dial", it's wireless peripheral that uses Bluetooth Low Energy (LE) to talk to either a Surface Studio desktop or the Surface Pro 4 and Surface Book computers (sorry Surface Pro 3 and below folk) to provide a little more precision on the screen.
Think of it as an extra mouse in the hand you're not as dependent in, with applications able to customise what the Dial does in apps catering for a good 3600 points of precision.
In a way, we're reminded of the Space Orbit mice used by people working in the 3D world, except this is specifically a dial that runs on two AAA batteries and works offers a bit of adaptive haptic vibrating feedback so you're not just spinning a wheel.
Surface Studio users will see the best benefits from this, with the screen's "PixelSense" technology detecting the position and presence of the device, essentially acting as a three dimensional controller to what's on screen dependent on where you place it.
Microsoft hasn't quite elaborated on this, but based on what we're reading of the technology, think of it as a tool that lets you reach through the Surface Studio screen and fiddle around directly with what you're working with.
Microsoft's Surface Dial is listed with a US price of $99, suggesting it should be under $200 when it lands locally in November.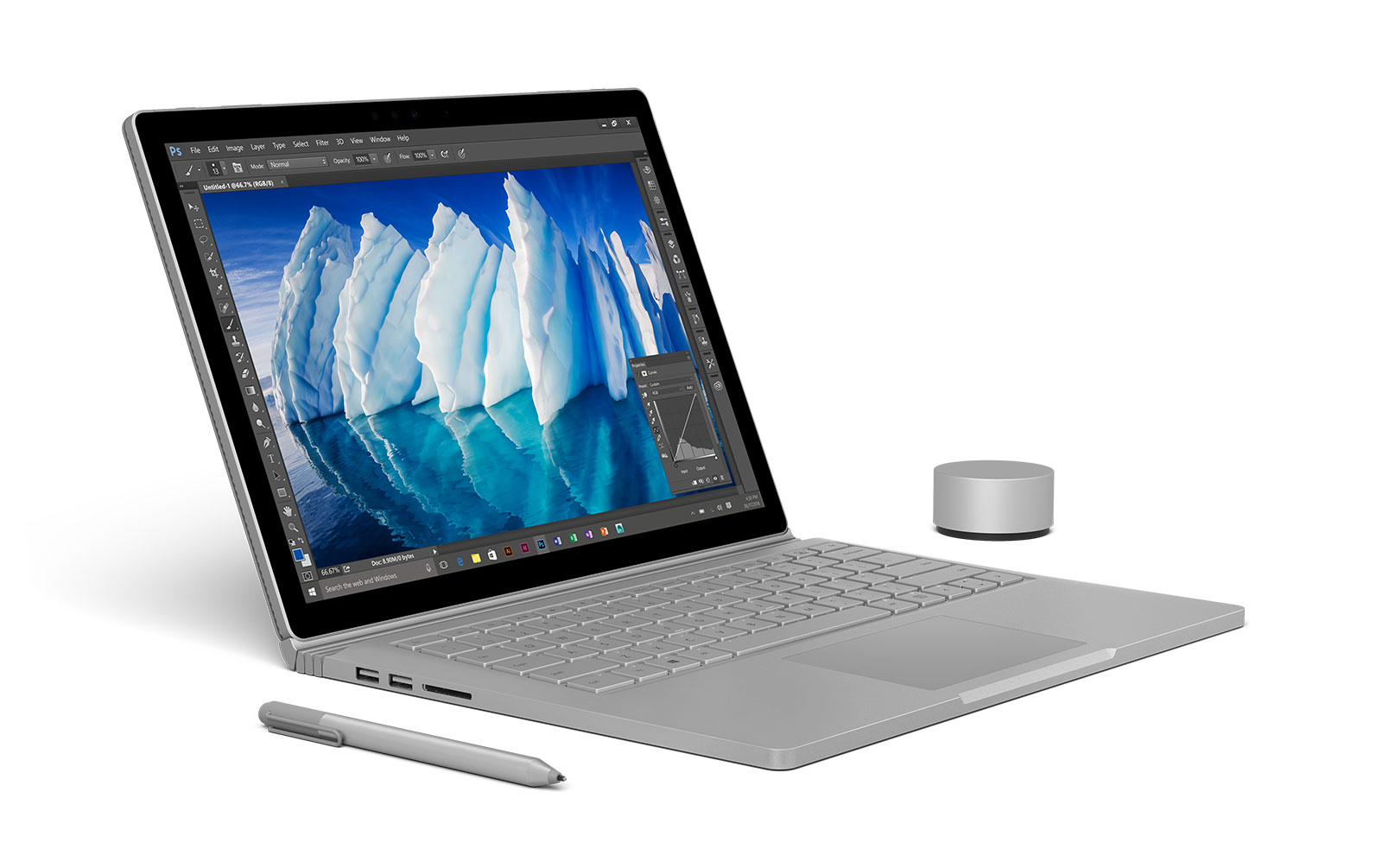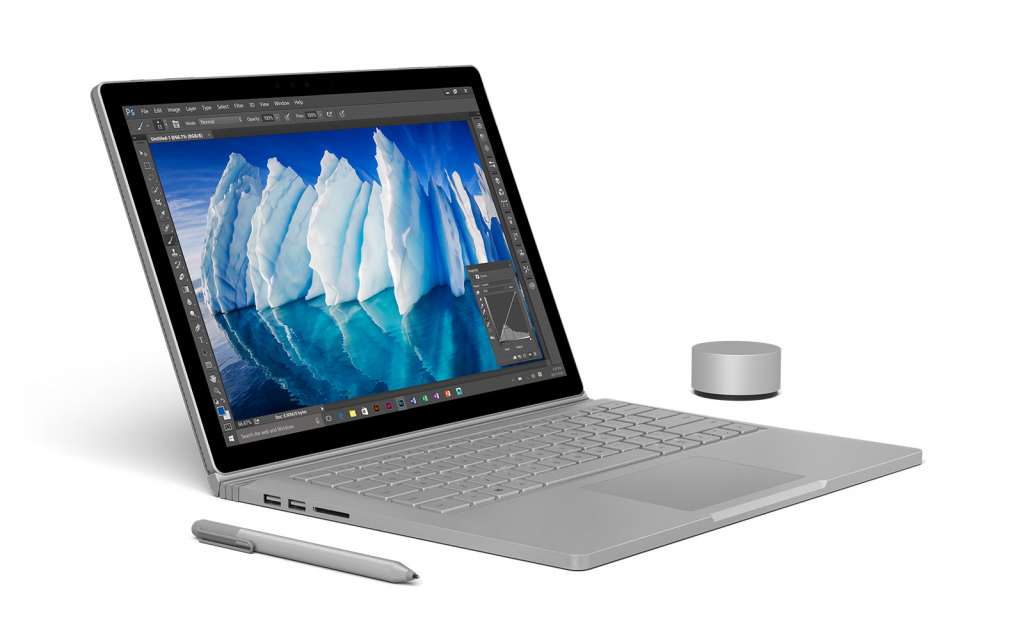 Accessories, accessories, accessories
Accessories has always been an area that Microsoft has executed well, at least from this writer's point of view, producing some of the better keyboards, mice, trackballs, and gaming controllers long before the brand started dabbling in its own computers.
There haven't been as many of late — a fold-up mouse to go with a fold-up keyboard, as well as the "optional" Surface TypeCover that make the thing more usable than merely a tablet — but from the event this week, we're seeing a renewed push back into the hardware category it has always excelled in.
Announced this week, the accessories that will aim to make your acquaintance are just like they used to be, as Microsoft returns to keyboards with a choice between ergonomic and standard.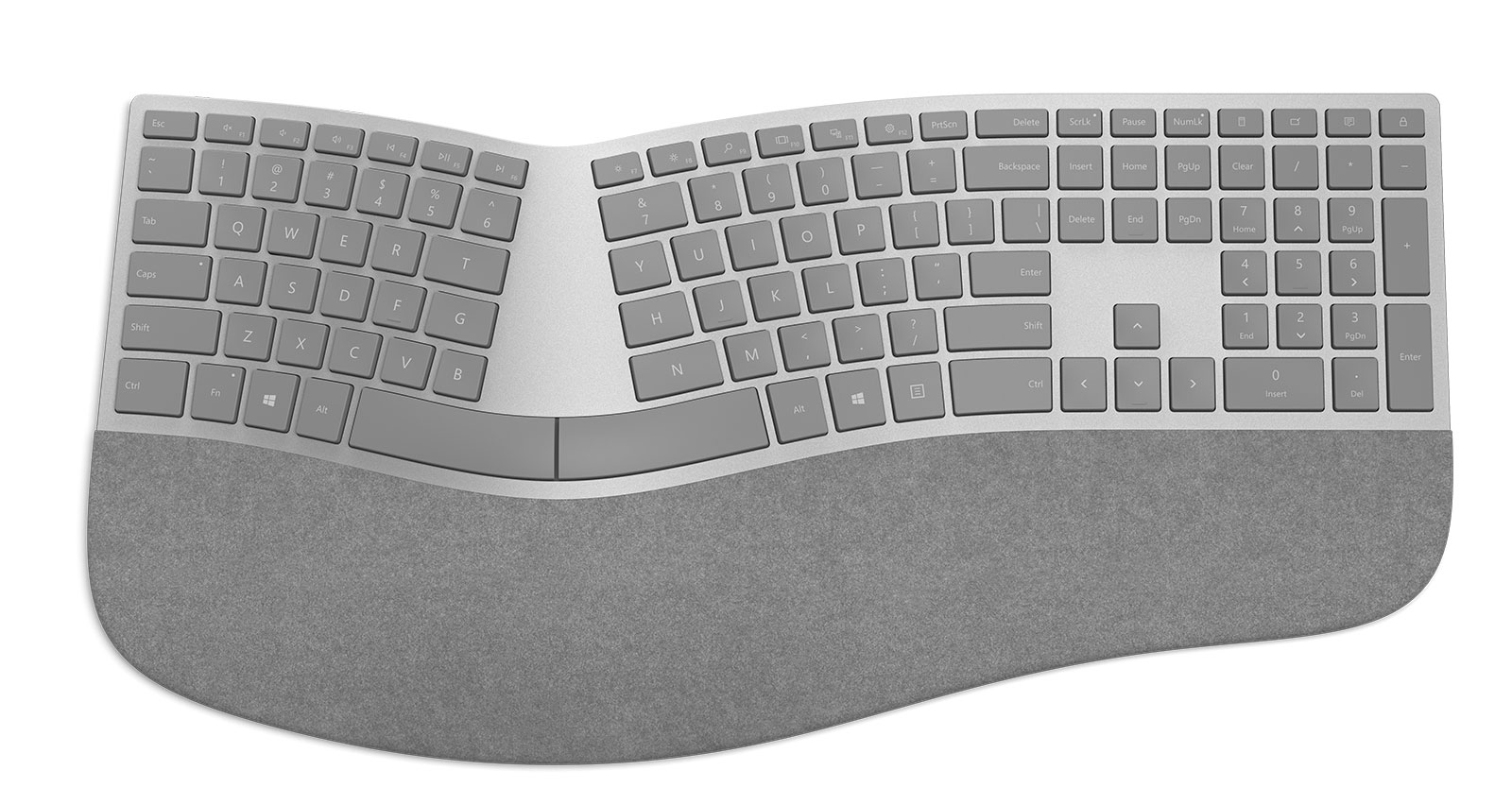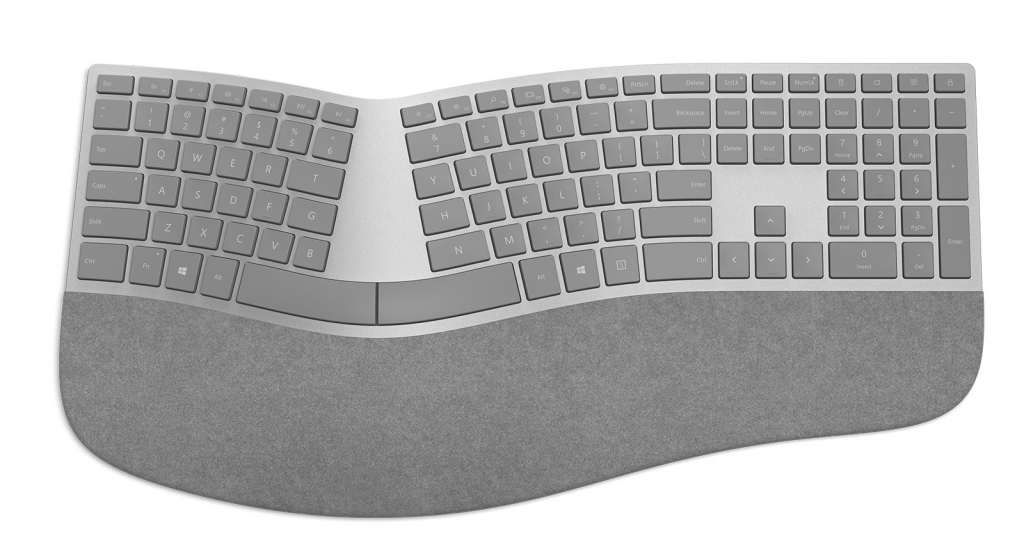 Yes, the split keyboard is back, and it wil even provide a comfy cushion for your wrists using the Alcantara material Microsoft used in its special edition Surface TypeCover keyboard released last year.
If you've never seen one of these keyboards, the idea when they first came out was to make a more comfortable typing experience where your hands were positioned inward to meet each other, resulting in less wrist strain overall.


Most probably haven't typed on one, and for the past 15 years or so, the ergonomic keyboard has largely been absent, with Microsoft producing one ever five or six years.
But it's back, and is now made to work with Bluetooth. This writer loved his when he was but a wee boy, and is looking forward to a return.


If that's not your thing, a standard keyboard has also been made, which Microsoft claims has "thoughtfully engineered travel, height, pitch and spacing [to] help improve your typing speed and accuracy".
It's always nice to be thoughtful.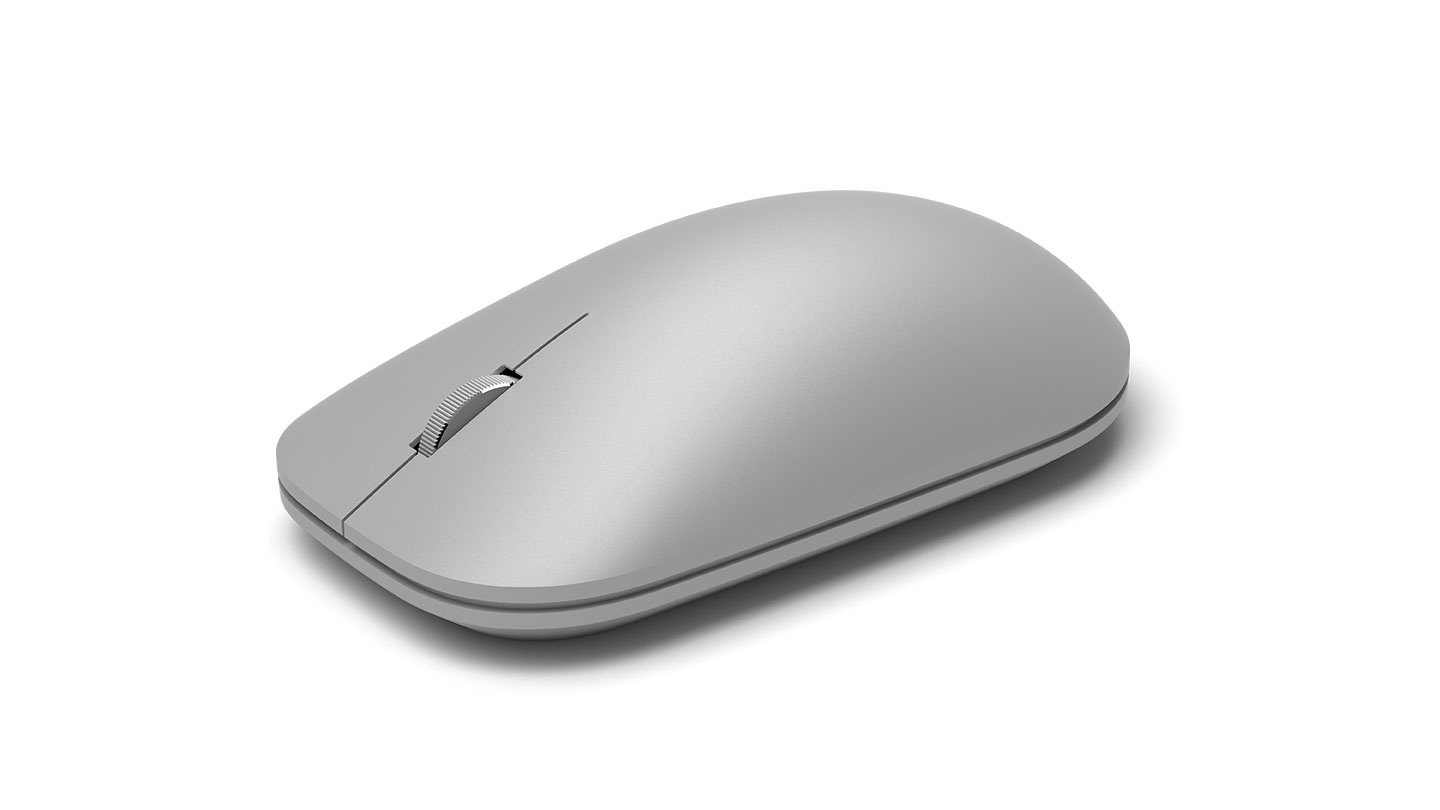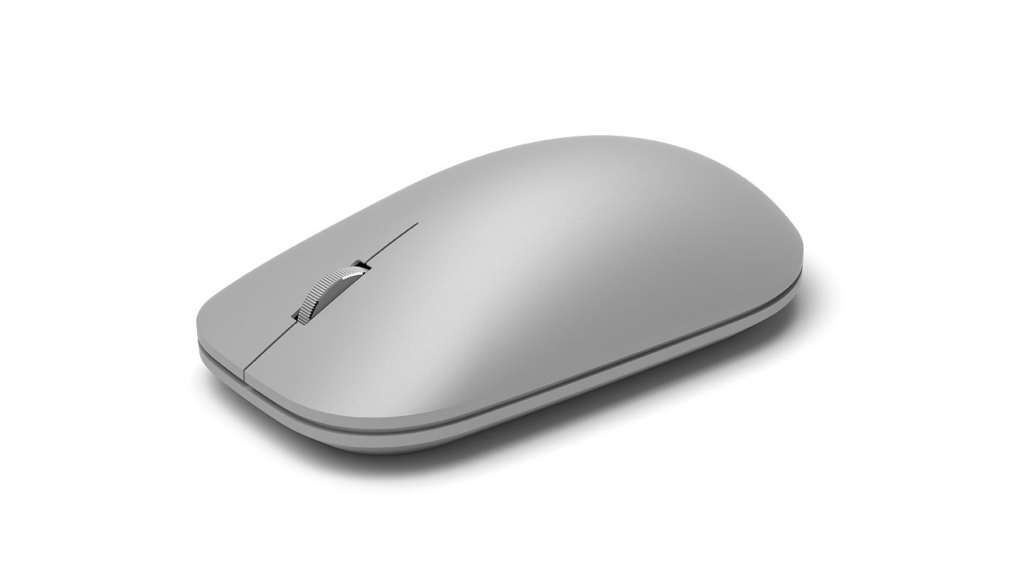 The standard Surface keyboard will also be joined by a standard Surface mouse, a pretty ho-hum basic mouse that doesn't appear to offer much outside of a metal scroll wheel, though we hope it's more than just the stock standard generic mouse it appears to be.
Surface Book gets grunt
One of the last products to get an update in the Surface line-up is that of the Surface Book, and this is getting a rather curious update, with a new Surface Base.
The Surface Book is one of those rather unusual laptops, where instead of including the guts of the system in the bottom of the computer where the keyboard is, most of the processing and storage technology is in the screen, because first and foremost this is a tablet.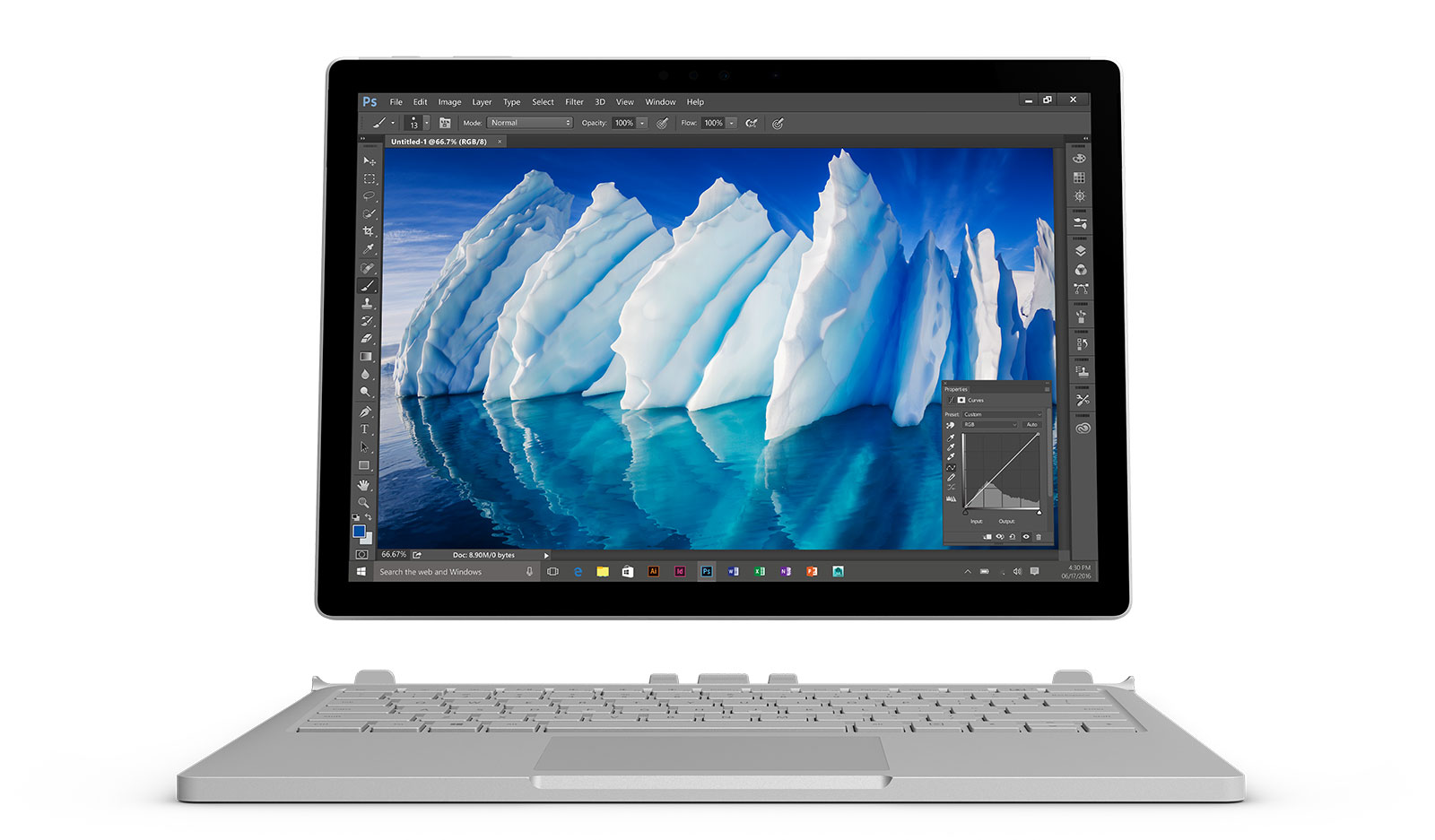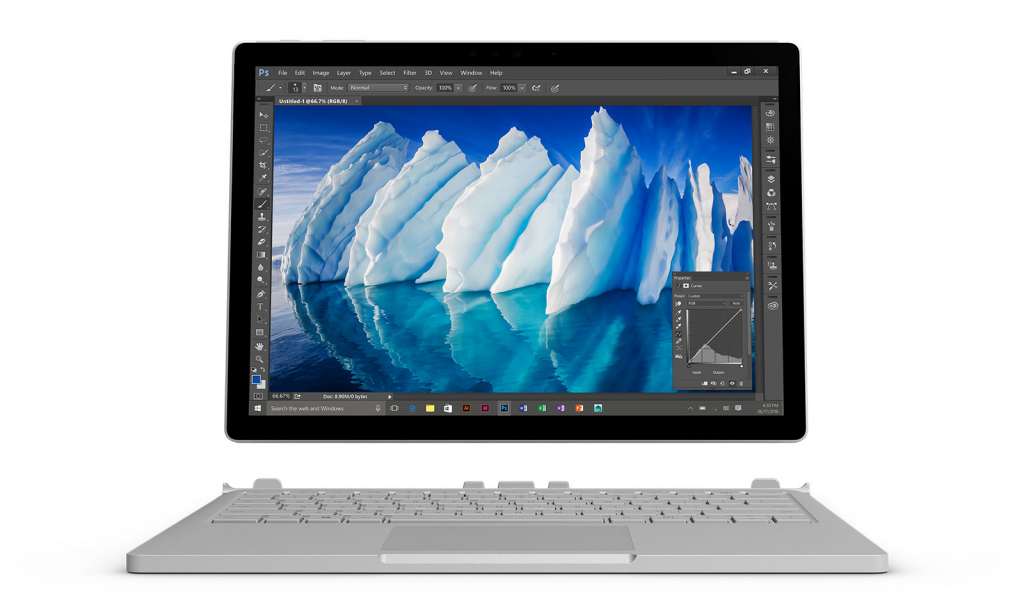 The bottom section of the Surface Book — the keyboard and mouse — has always been a battery and possibly a graphics processor, and for this week's update, that is what's primarily getting an update, with Nvidia's GeForce GTX 965M with up to 2GB graphics memory.
Now called the "Performance Base", we're not sure if this will be interchangeable with the previous generation of Surface Books — in theory, it should be, but theories don't often play out in reality, so we're checking — but just in case you feel you need a new machine, the Surface Book will now have a new Intel Core i7 variant that comes with a whopping 102W power supply, almost 40W difference from the 65W the previous model used.
Pricing in Australia hasn't been announced yet for the new Performance Base or updated Core i7 variants, but we don't expect these to be cheap when they land in November.