You've probably heard of the hyper resistant plastic "Kevlar", a tightly wound material used in body armour and bullet-proof vests. Now it's inside Lightning cables, too.
One of the bug bears of owning a device — any device: phone, tablet, laptop, game controller — is that you need to charge it, and while charging it is fine, the cables will inevitably break.
You pull on them, tug them, squeeze them into little wiry balls, and after all that tension and all that stress, sometimes they just become ineffective.
They break, and yet they look completely normal, but the insides are worn and frayed and stresses and dead, and they call it a day, even if they appear completely fine.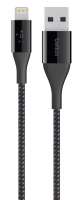 This week, Belkin may have found a solution to this method of cable death with a re-engineering of the cable from the inside out. Utilising the specialty plastic "Kevlar" — yes, the one inside bullet-proof armour — manufactured by DuPont, Belkin's Lightning to USB cables in the "Mixit" range may actually be better, stronger, and faster, the practical bionic man of the cable world.
"With the growing dependence upon mobile devices, a steadfast charging option that can keep up with our busy lifestyles is becoming a necessity for Australian consumers," said Josh Caulfield, Head of Product Management for Belkin in Australia and New Zealand.
"We are thrilled to be working with DuPont to create even more durable, reliable charging options for Australian consumers," he said.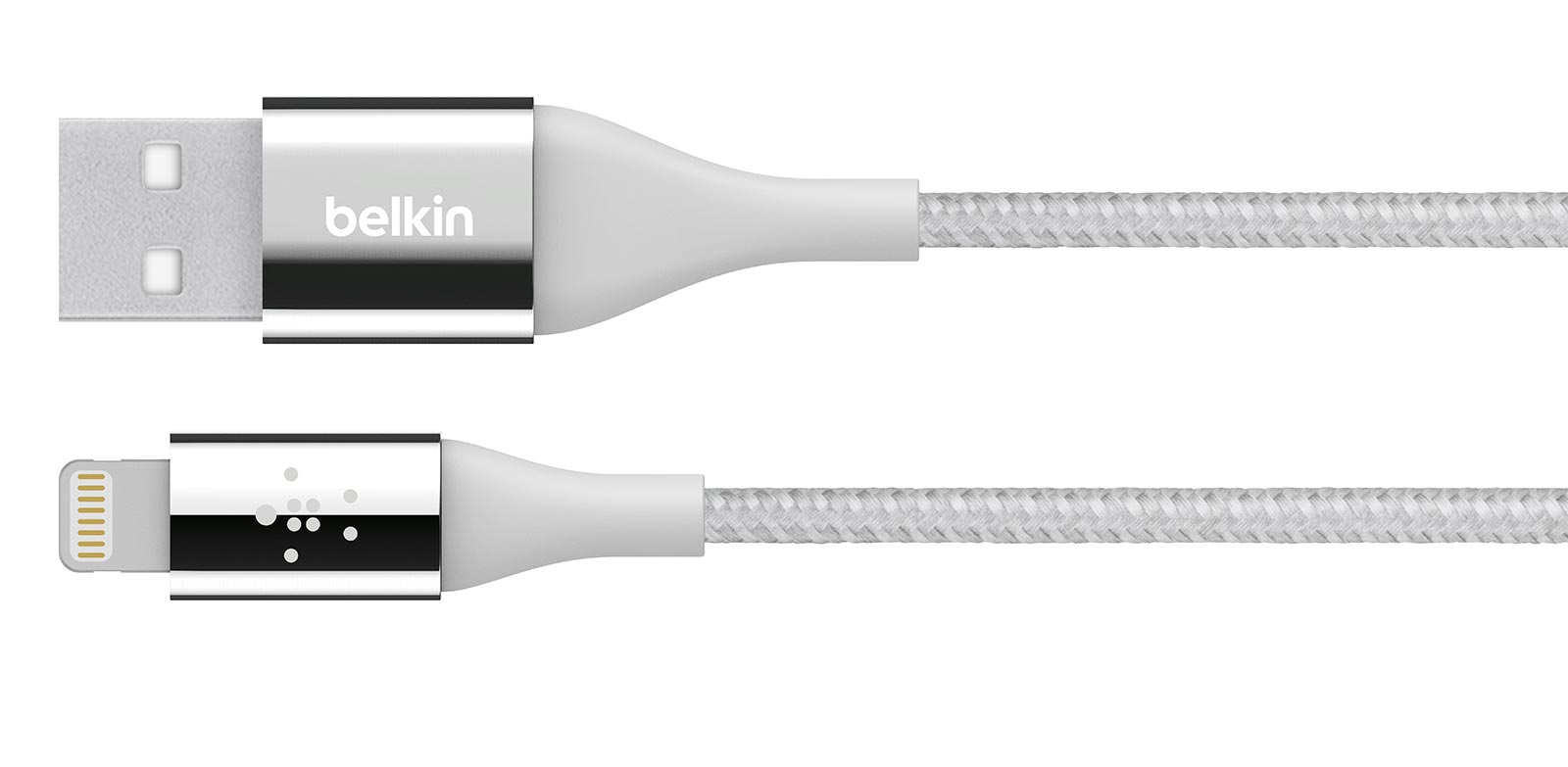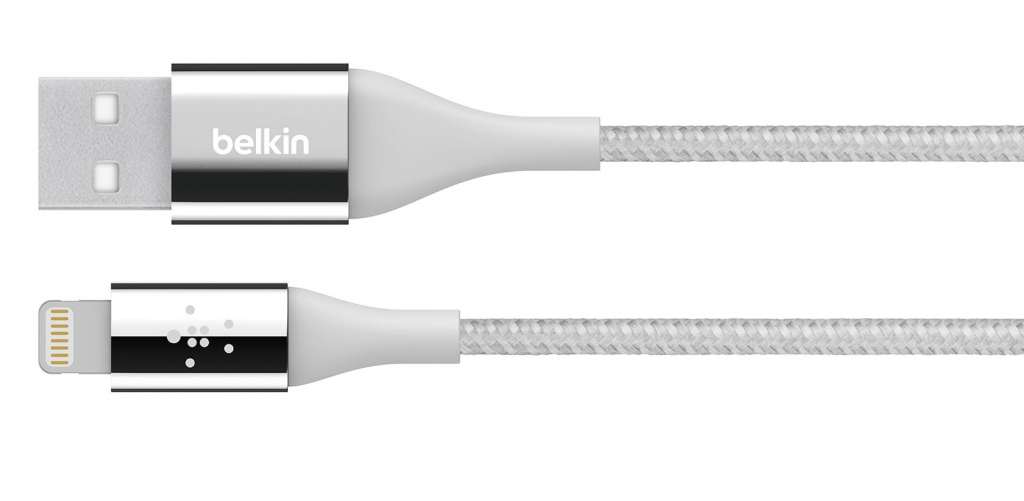 So how does DuPont's Kevlar work to make Belkin's cables stronger?
According to a spokesperson from Belkin, Kevlar is used as a reinforcing agent to strengthen the conductors and improve the integrity of the cable, essentially helping the rest of the inside of the cable to resist against strong tugs and rolled coils.
Kevlar is just one part of the package, and Belkin tells Pickr that another element provides insulation and extra flexibility, with fluorinated ethylene propylene (FEP) protecting the wires from the elements while reducing friction when the cables are bent, rolled, tangled, and rubbed together through coiling.
Another component — Mylar — is used as a form of shielding around the wires to help reduce external electromagnetic interference, which is then covered in another plastic cable and then sheathed in double-braided nylon acts, which acts as the cable jacket and is the part you grab, providing more protection and strength for the wires inside.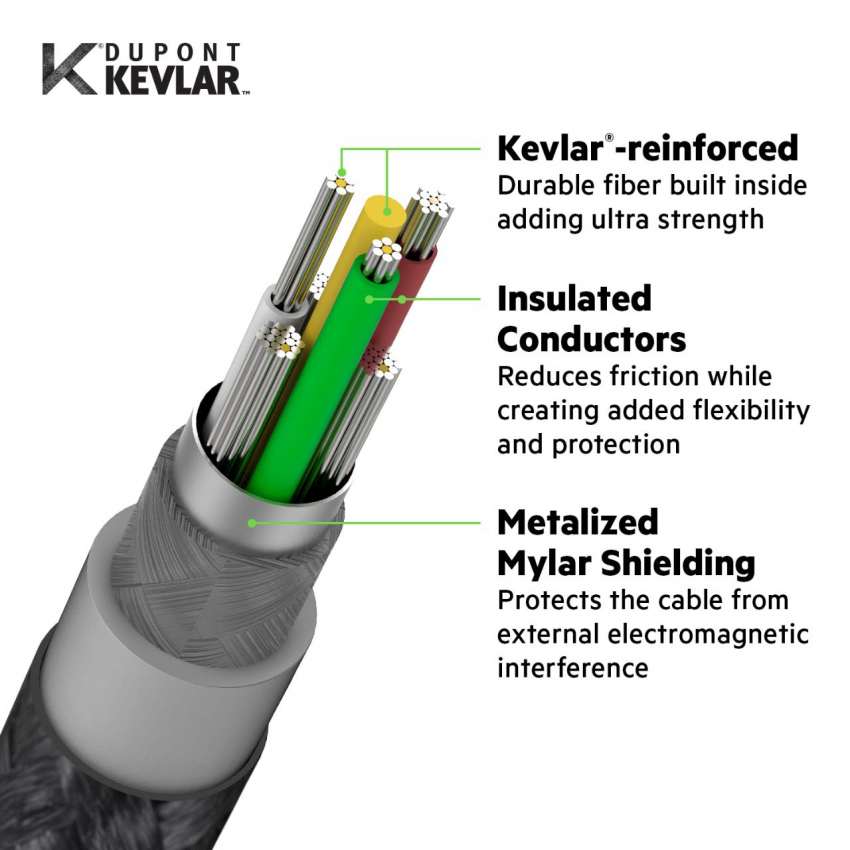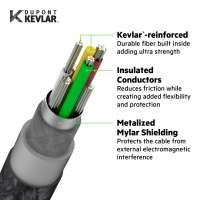 "Ultimately, it is not just the Kevlar but the entire build and materials used that enables this cable to be so durable," said a spokesperson for Belkin.
"The Kevlar is there to protect the cable from stress of pulling and bending as it reinforces the conductors inside the cable. This is then also further enhanced and protected through insulation of the conductors which provides added flexibility and reduces friction when the wires rub together," they said.
It seems there's more at play than Kevlar alone, and while you can't necessarily say the new Belkin Mixit DuraTek Lightning to USB cable is bullet-proof, you can say it is more life resistant, as your tugs and pulls and bends and wraps and bundles and coils and squeezes and all aren't something to be afraid of, with a guarantee from Belkin to withstand over 5000 cycles in a 180-degree cable bend test.
That's more than most people can normally do through regular squeezing and rolling, but it's good to know all the same.
Belkin has said that its hyper-durable Lightning cable for iPhone and iPad is just the start of its relationship with DuPont for Kevlar-based cables, and that USB Type C and microUSB cables should be on their way soon, as early as next year.
For now, you'll find the Belkin Mixit DuraTek Lightning to USB cables in a variety of colours for $39.95, with the cables landing at JB HiFi, Harvey Norman, The Good Guys, and Myer.