Microsoft's "Surface" brand has helped turn the tablet on its head, but with its latest take, the tablet isn't the main focus. Now it's to make a laptop with a touchscreen, and the result is something that clearly feels like a Surface laptop.
Design
How does Microsoft start by turning the Surface tablet into a laptop? Probably by looking at the one laptop it has in the market, the Surface Book, a laptop that takes the bottom end of a laptop with a keyboard and mouse and connects it with a 13 inch tablet.
For the Surface Laptop, however, Microsoft has slimmed things down even more, scaling back the hardware to be slimmer because whereas the Surface Book needs the hardware in the screen for it to still be a tablet, the Surface Laptop is purely a laptop albeit one with a touchscreen, so the hardware can go back to the under section, just like on a regular laptop.
And that's what you need to think of the Surface Laptop as — a regular laptop — because that's what it is.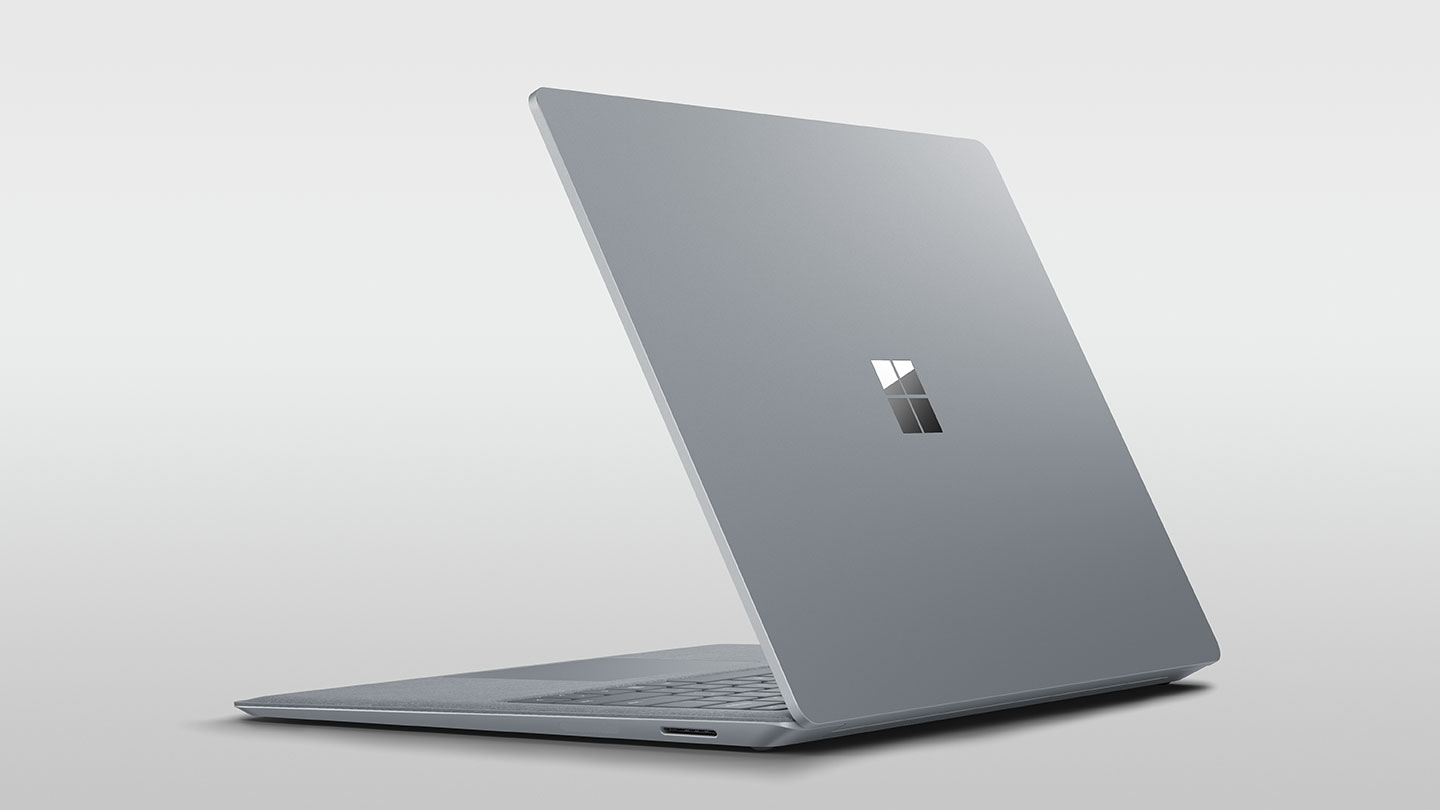 However, this regular laptop borrows some of the design elements that made the Surface tablets what they are, from the metal shell to the silver reflective Microsoft logo to the use of facial-login in Windows Hello complete to the optional fabric keyboard, only it's not so optional here.
In fact, unlike its Surface sibling, the TypeCover keyboard is part of the design, with Microsoft opting for the luxurious Alcantara option, coating the keyboard in this fabric while providing a nice spacious island-key keyboard for you to type on, while a trackpad sits below.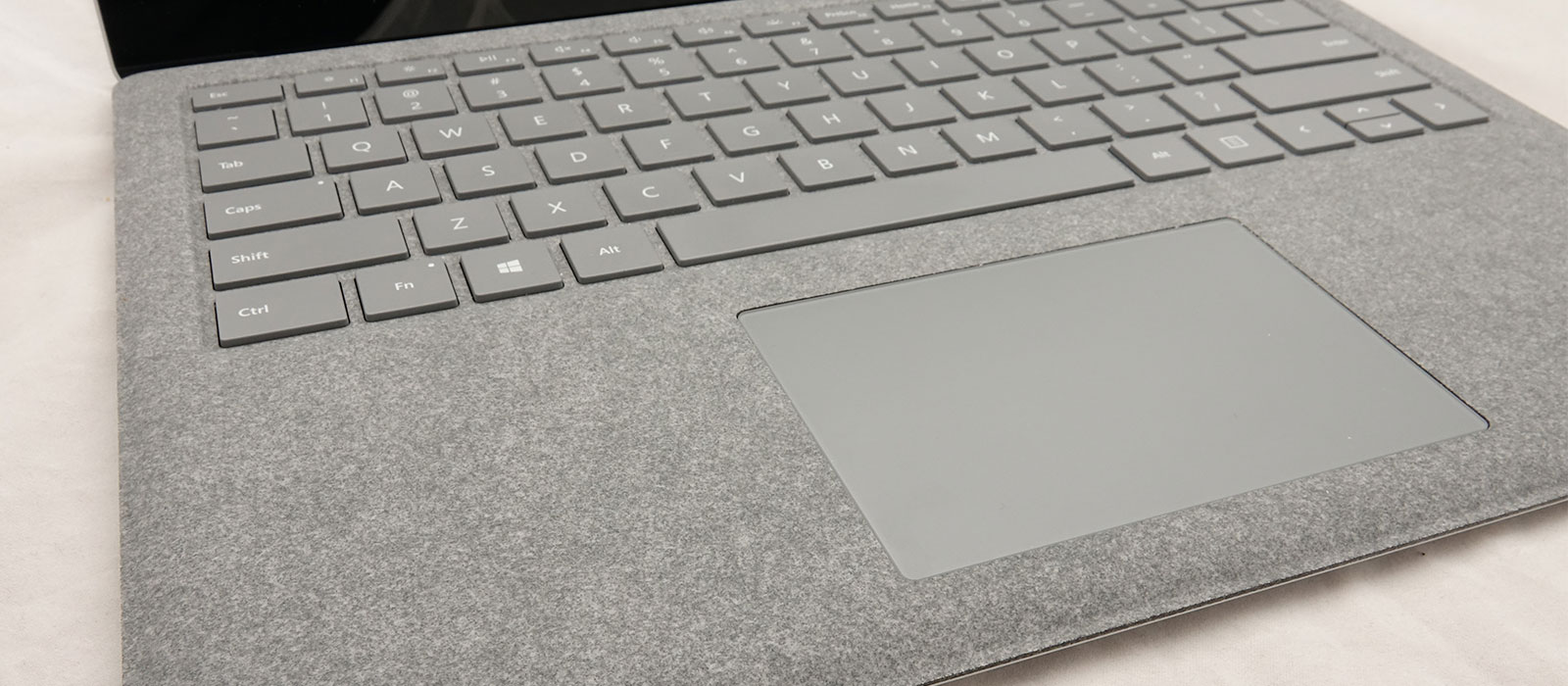 Features
Inside the Surface Laptop, Microsoft hasn't skimped, though depending on the system you buy, you will get a different system.
Choices of processor run the gamut of seventh-generation "Kaby Lake" variations of Intel Core i5 to Core i7, with anywhere between 4GB RAM to 16GB RAM, and 128GB SSD to 1TB SSD, all arriving with Microsoft Windows 10 S, a new version of Windows 10 made specifically for the Surface Laptop.
This sits under a 13.5 inch PixelSense display sporting ten-point multi-touch and a 3:2 aspect ratio, delivering 201 pixels per inch and a resolution of 2256×1504, a little bigger than your standard Full HD screen, but not quite as powerful as say a 4K Ultra HD display.
Corning's Gorilla Glass 3 protects this display, and it is Surface Pen enabled, even though it doesn't come with the pen. An ambient light sensor and Windows Hello compatible face scanning camera are both built in here, the latter of which can help you to sign into Windows using only your face, a feature we wish more computers supported.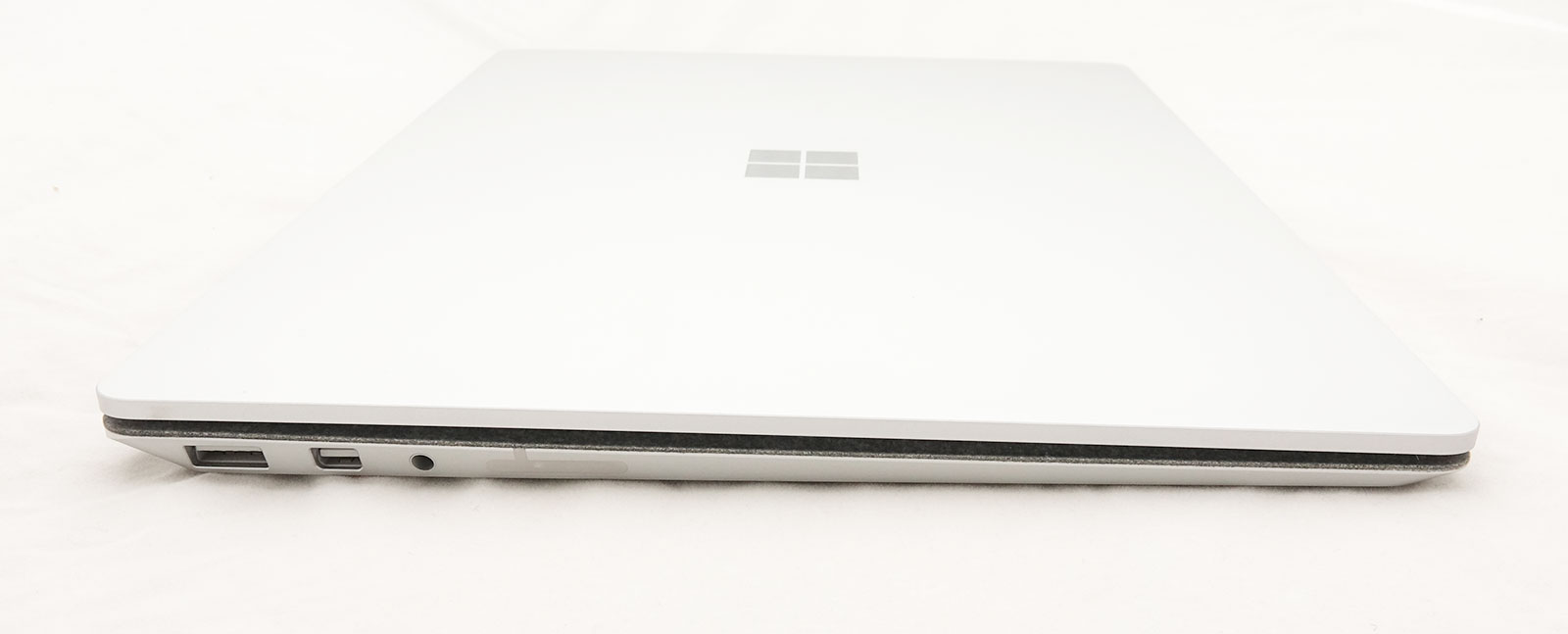 Connection options are fairly standard these days, with wireless catered for over Bluetooth 4.1 and 802.11a/b/g/n/ac WiFi, while wired is handled over a Mini DisplayPort, a full-size USB 3.0, a 3.5mm headset jack, and Microsoft's Surface Connect port for charging. Sadly, there is no USB Type C port on this computer, nor is there an SD card slot.
All of that is stuffed into a very slim aluminium made to be 14.48mm thin, with options for colours ranging from burgundy, gold, blue, and the regular silver look of platinum, with these changes affecting the colour of the fuzzy Alcantara keyboard layer.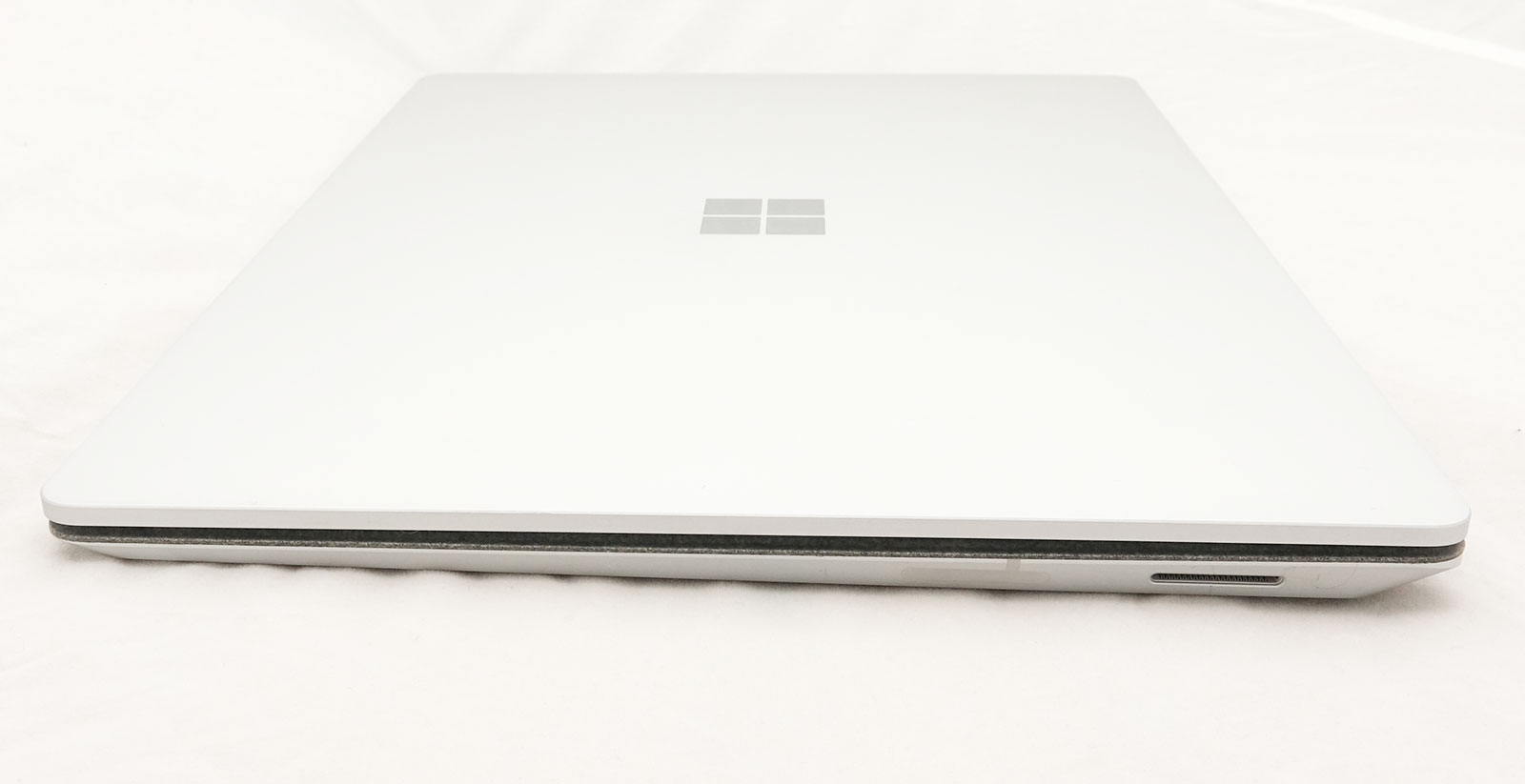 In-use
When it comes to using Microsoft's Surface Laptop, you'll find there are two different levels of what constitutes "in-use": there's the "in-use" with the operating system it arrives with — Windows 10 S — and the "in-use" of the operating system you can switch to shortly after finding out the limitations of Windows 10 S.
A fairly new thing for Microsoft, Windows 10 S is the company's test for what can happen when it creates an OS that offers all of the excellence found in regular Windows 10, but with virtually none of the susceptibility for security flaws and viruses that Windows generally arrives with.
Getting to that point has required a bit of a cheat from Microsoft, too, because instead of bolstering security to the point where the included version of Windows is like a paranoid person's dream, what Microsoft has done is basically lock Windows up and hide the key. In Windows 10 S, you can't install anything unless it comes from the Microsoft Windows Marketplace, the online App Store for Windows that no one actually uses, except owners of the Surface Laptop because they technically aren't given much of a choice.
That means if you want apps on the Surface Laptop, you have to find them through the Microsoft equivalent of the App Store, something that has always been a bit of a sore issue because it doesn't usually hold much, let alone many of the downloads you may be making, even for the high school and university market Microsoft is trying to make with the Surface Laptop argument.
If you are for instance a creative type and you need Adobe's programs, you'll be stuck here, as neither Photoshop, InDesign, Illustrator, or the Creative Cloud executable can be found on the Microsoft online app marketplace. What if you're a developer and want Unity or even Microsoft's own Visual Studio? Stunningly, you're out of luck on both, as neither exist. We're not shocked Unity doesn't, but Microsoft's own development platform is missing in action on a Microsoft online app service, which just beggars belief.
And hey, what if you need something else, like say Google Chrome or Logitech's drivers for linking mice across computers? Again, you have no chance here, because neither exist on the official Microsoft App Store equivalent, and if they don't exist, your install won't either.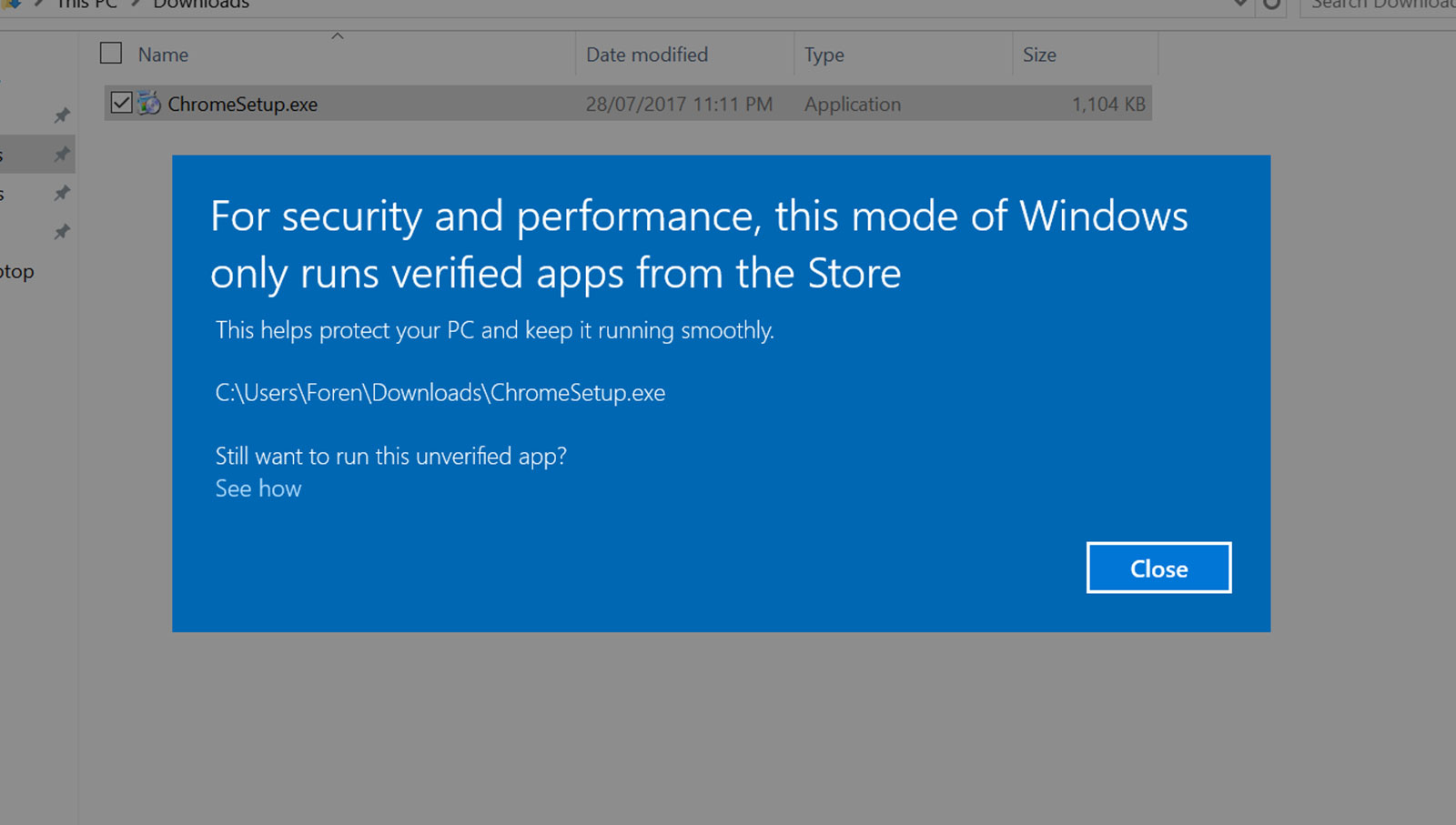 So the "in-use" argument gets murky quickly when you try to use the Surface Laptop the way it arrives out of the box. Fortunately, Microsoft didn't throw away the key to fixing it, they just merely hid it.
If you want, you can turn back time and switch the Surface Laptop back to a simpler time when things worked, removing Windows 10 S and replacing it with Windows 10 Pro. Bizarrely, you can't go back once you've made this change (unless you like going back to the beginning and doing a factory reset), because this is a one-time thing, and Microsoft has said you'll only be able to make the change to Windows 10 Pro for free until December 31 (2017), which honestly seems like the sort of thing it will extend simply because Windows 10 S doesn't feel like a viable option for anyone looking to actually use a computer like this.
Simply put, if you want the ability to install anything you want — really anything at all — you need to take this step, to switch to Windows 10 Pro, which thankfully doesn't take long to make the transition.
The simple problem with Windows 10 S is that simple app-related problem, because with a remarkably small selection of apps available on the Windows 10 app marketplace, your hand is forced.
Once you go to regular Windows, you lose that excellent security that 10 S guarantees, and it's not hard to see how it does it: by locking you out from installing anything of your choosing, it also locks you out from installing any security exploits. On the one hand, this is both good and bad, but we'd have to say the lack of control it delivers makes Windows 10 S frustrating, since outside of using Microsoft's mediocre Edge browser and a few other apps, leaving the laptop in its out-of-the-box Windows 10 S configuration will leave you with a laptop that does virtually nothing, possibly less than nothing, even.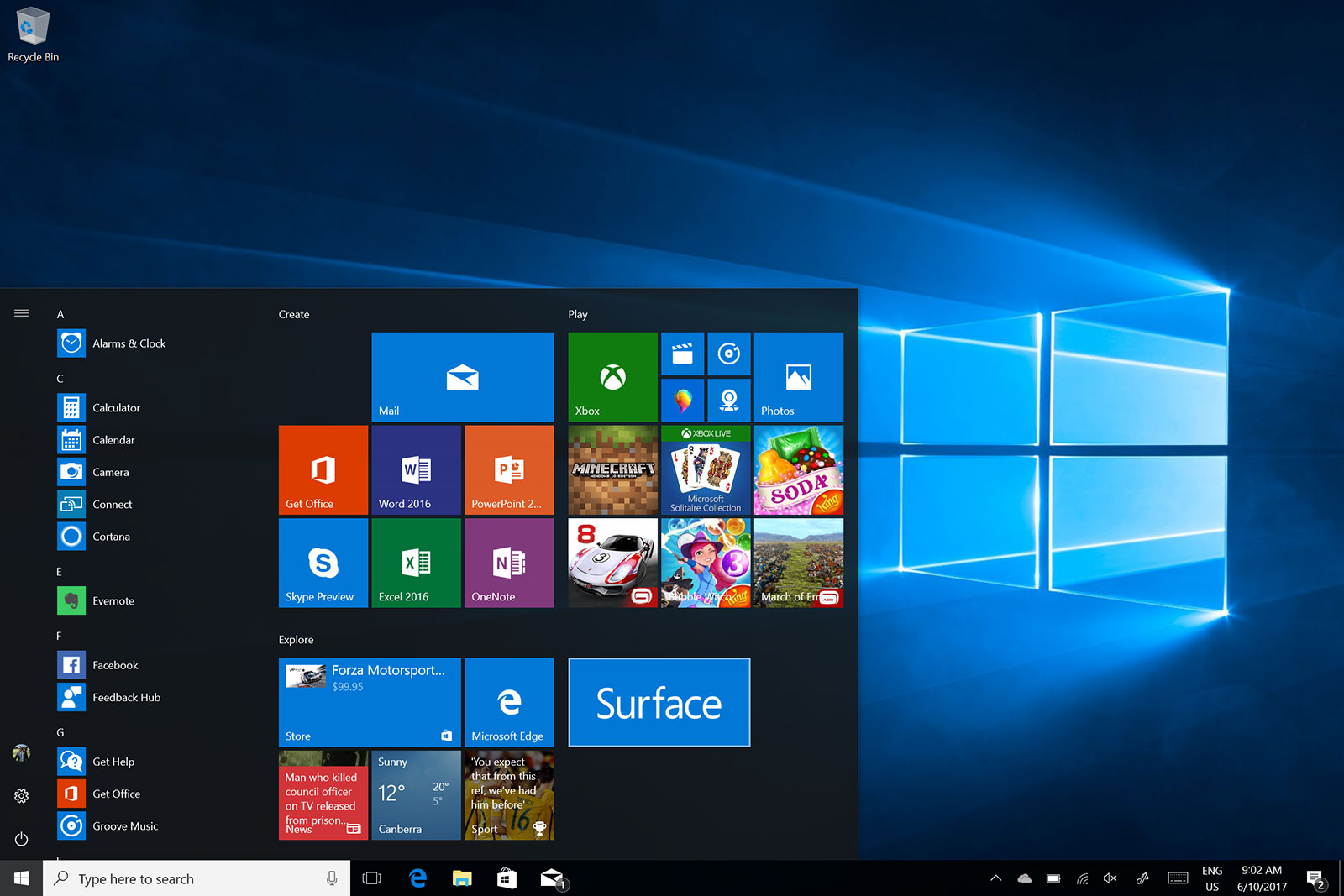 Performance
Switch it into regular Windows 10 and the machine will wake up and smell practically everything you've ever wanted a PC to do, because Microsoft has set this thing up to sport the features.
With a fairly recent Intel Core processor under the hood, Microsoft's Surface Laptop handles pretty much anything you can throw at it, provided it's not workstation-grade.
We it perfectly capable for pretty much the bulk of the work we needed it for, handling Adobe's Photoshop and productivity tools, while also being capable enough to take on a little bit of programming if need be.
Essentially, when you remove the roadblock that is Windows 10 S from the software and open it up to all the application support Windows typically has, the Surface Laptop is a joy to use, allowing you to get the most of the unique design features, like that lovely 13.5 inch touchscreen and the keyboard and mouse, the latter of which definitely warrants a mention.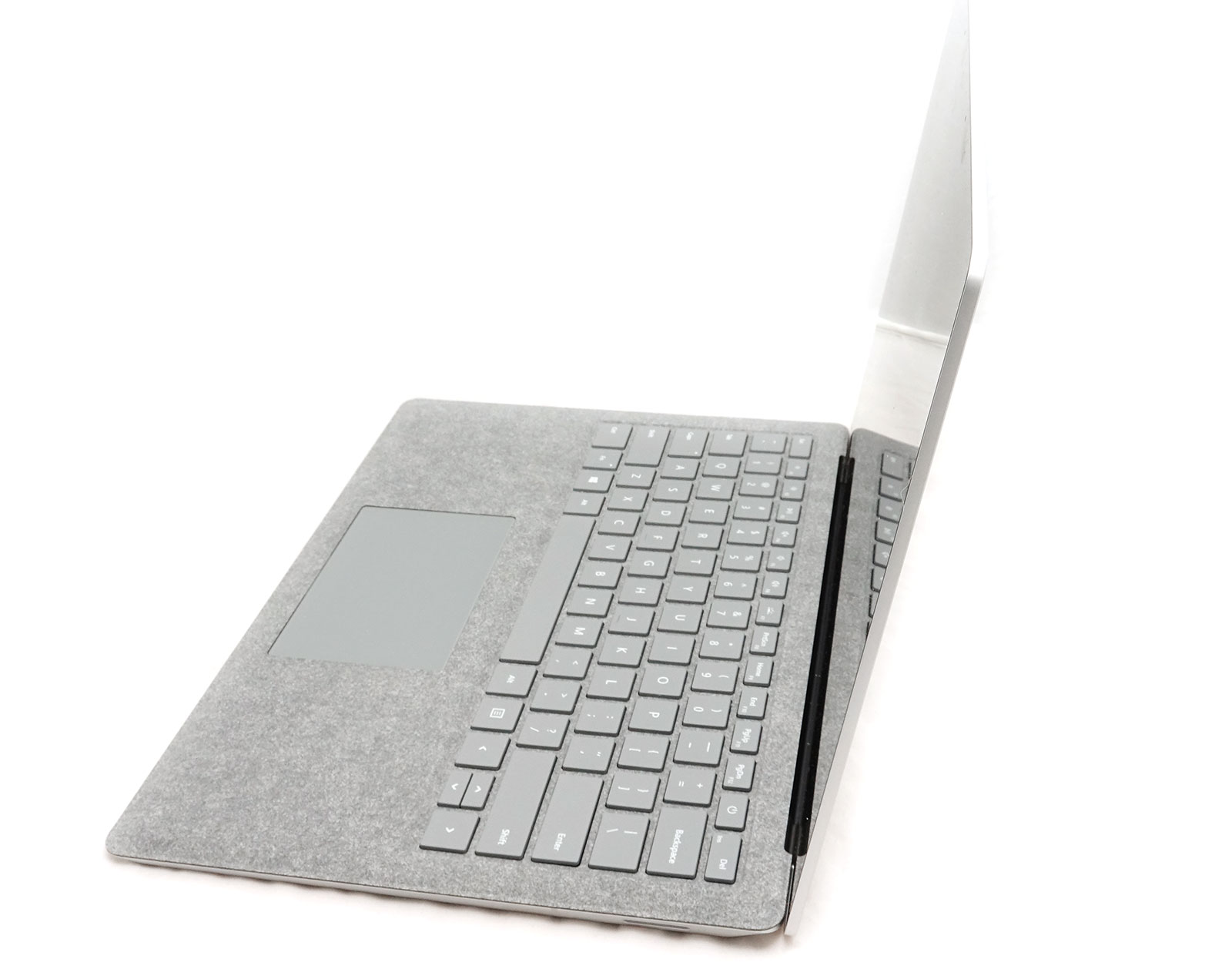 Keyboard and Mouse
Despite its short time building laptops, one area that Microsoft can totally be trusted in is that of thge keyboard and mouse, and the Surface Laptop is a pure delight to use.
While there's a fair amount of spring in the keys, the travel is comfortable — not too shallow, not too deep, despite the size — the focus on the keyboard isn't really on the strength of how good a typer it is, but rather how it feels on the wrist, and the result is nothing short of delightful.
You know how premium laptops tend to go for metal in their design, and offer a cool metallic finish that keeps the wrists cool, especially on a winter's morning? Well the Surface Laptop is very different, going instead for a fuzzier look and feel, thanks to the Alcantara fabric atop the surface of the Surface Laptop keyboard.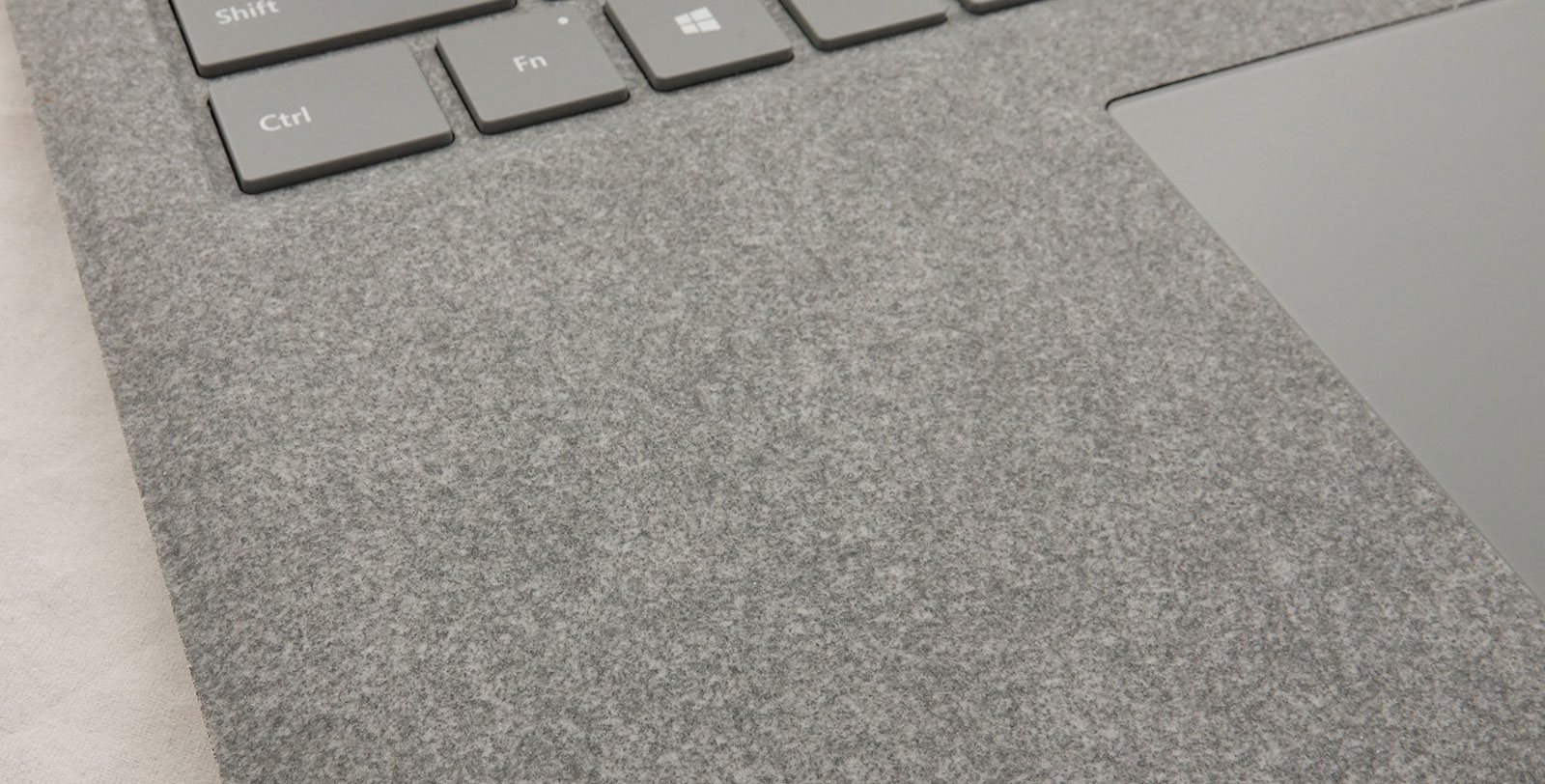 We've seen it used on the Bose QuietComfort 35 II headphones and on Surface TypeCover keyboards before, but used on the Surface Laptop, it just works beautifully, providing a look and feel that is literally unmatched for any laptop we've seen prior.
Even the mouse is solid, offering a touchpad surface area not so dissimilar from the space-bar's width, making it more than usable for click-and-drag affairs.
And if that's not enough, you still get a lovely touchscreen to take advantage of, because while the Surface Laptop isn't a tablet, you can't really take the Surface touchscreen concept out of a Microsoft Surface product, so it has just been left in.
Bonus, we guess. You may not use the touchscreen, but it's there if you need it.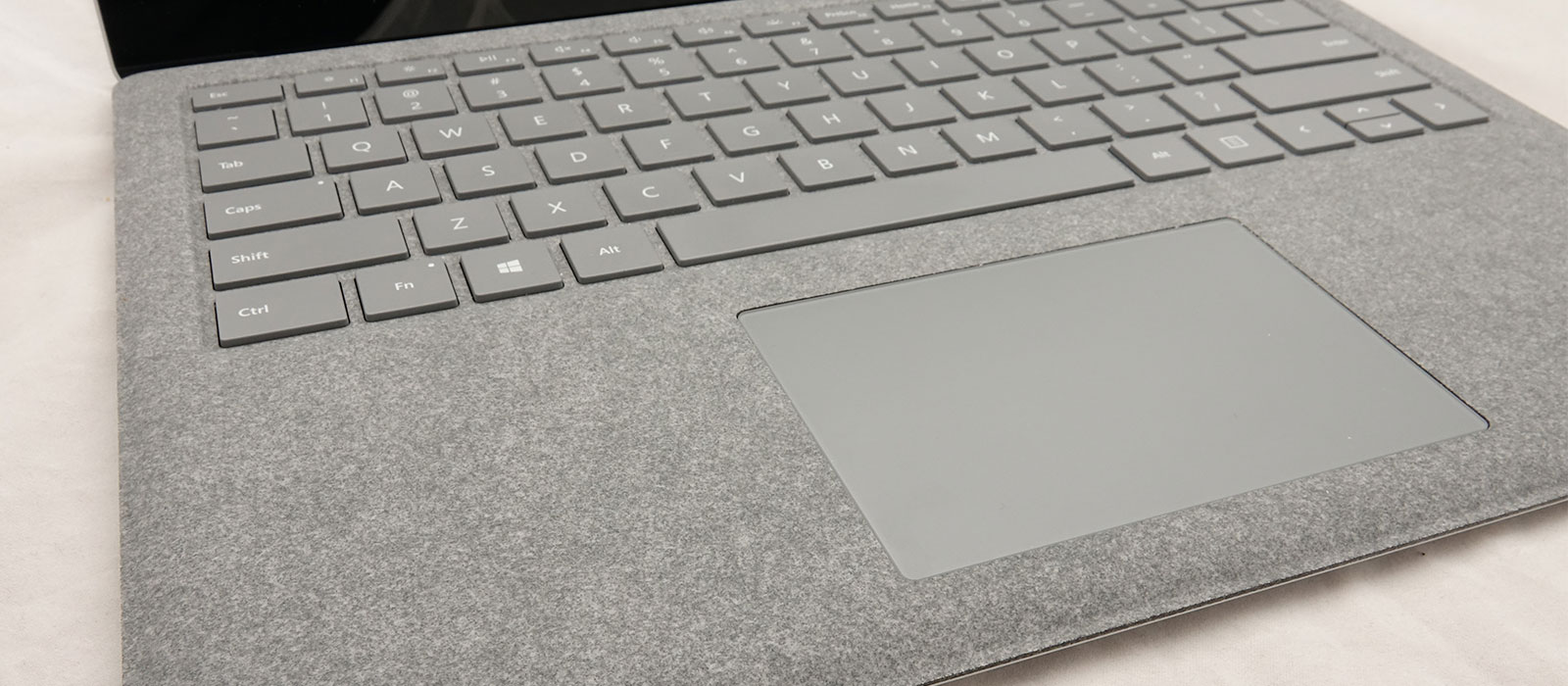 Battery
Also useful is the battery, which for the size can offer a good six to ten hours with WiFi on and productivity apps in use and quite a few tabs open in Chrome.
As with all computers, it's really what you do with it that makes the battery life different. While Microsoft works with a benchmark based on video playback, pointing out it can hit up to 14.5 hours of video playback, your time will vary based on your activities, and while we found the Surface Laptop could handle the likes of Adobe Photoshop and such quite well, it also understandably into the battery life.
Sufficed to say, we found the Surface Laptop could survive a workday of actual work, and if needed, you could bring that small charger around. It's the same charger Microsoft has been using for Surface products since the Surface 3.0, with the flat magnetic plastic proprietary connector.
Value
Microsoft's Surface computers have rarely been cheap, that said, and the Surface Laptop doesn't really change that.
While the company sports a variant starting from $1499 locally, the 4GB RAM in this model makes us wonder why anyone would bother, with the real model you should consider starting from $1999 for a Core i5 with 8GB RAM and 256GB SSD, or a Core i7 variant with 8GB RAM and 256GB SSD for $2449.
At those prices, Microsoft's thin and light Surface Laptop is clearly targeting the 13 inch MacBook Pro crowd, and folks who are wondering why Apple hasn't installed a touchscreen in their thin-and-light portable powerhouse. Technically Microsoft has the upper hand on price here, making the Surface Laptop fairly compelling given the hardware inside appears to be quite competitive.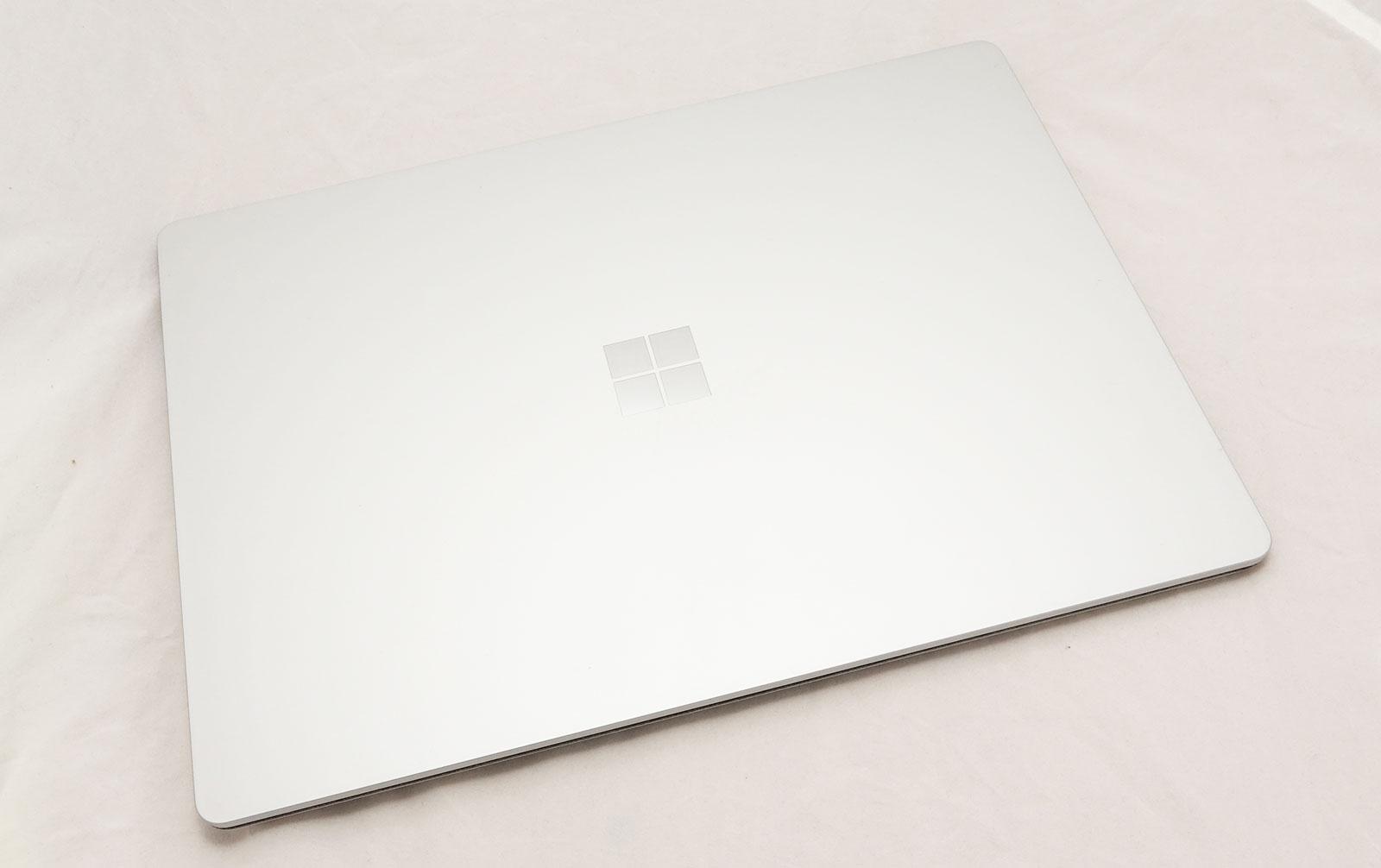 What needs work?
For the most part, however, Microsoft's take on a metal marvel made to be minimalistically minute is a magnetic make of a machine, and one that will keep you warm and fuzzy on the keyboard and yet also cool thanks to that case.
So what needs work on the Surface Laptop?
We've already called it out once in this review, but Windows 10 S is a strange beast. It's kind of like a creative way of handicapping what you can do while restricting security in a positive way.
It's a genuine shame, too, because Windows 10 S makes a lot of sense: it's kind of like a version of Chrome OS in that it limits bad things from being able to be run, stopping viruses and other security nasties from needing to be executed from an executable, and effectively giving you a controlled system.
But Microsoft hasn't really made it all that supported, and so Windows 10 S is in a similar predicament to Windows Phone OS, and that's kind of dead in the water, too.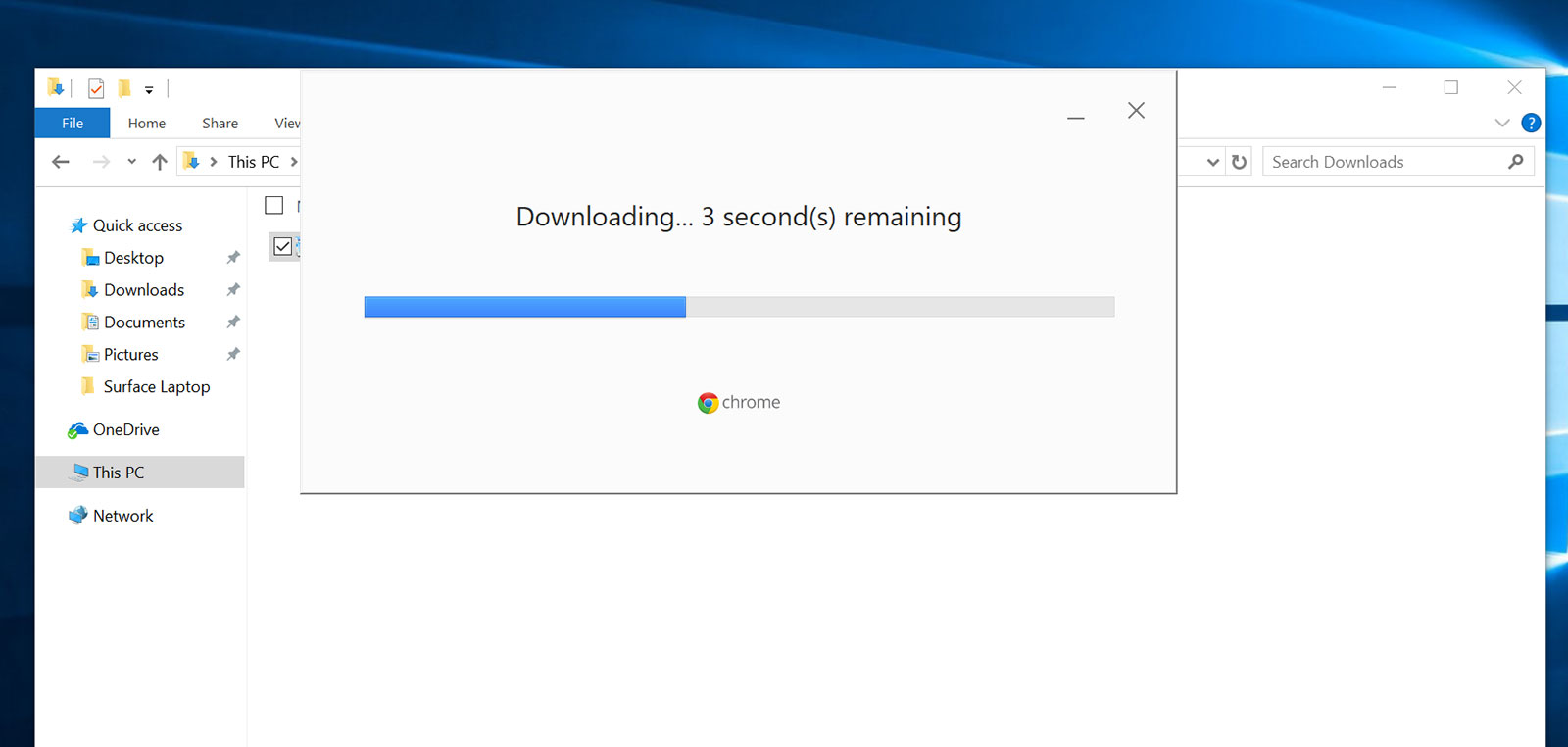 It's particularly telling how little developers have embraced the Windows Marketplace since Windows 10's launch in 2015, but even since the Surface Laptop's launch earlier this year, we still have pivotal apps for the university crowd missing in action.
No Adobe Illustrator or InDesign, no Unity, and not even Microsoft's own Visual Studio applications. Whether you're an artist, a graphic designer, or a programmer, you're going to need at least one of these, and buying this computer solely for writing seems kind of, well, silly.
To put it more directly: Windows 10 S makes sense, but it just has nothing going for it right now.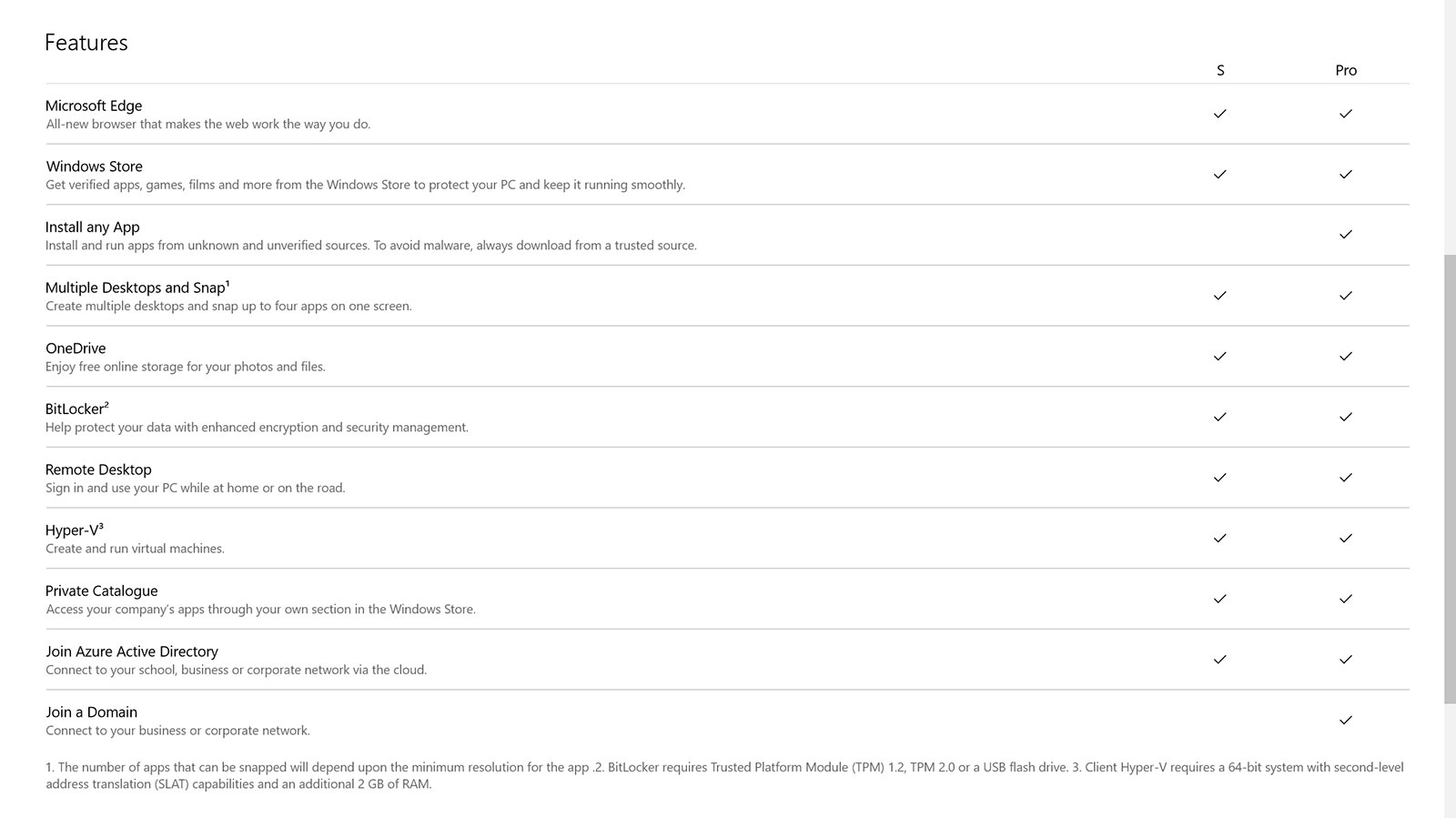 Once you push past the weird choice that Windows 10 S is and replace it with standard Windows, the Surface Laptop starts to become a better option, though it still has a few things that need to be fixed.
For instance, WiFi seemed a touch sluggish compared to what we've experienced on the Surface Pro and the Surface Book, losing connection in places that were at the very end of our area, while the other two Surface models didn't struggle in the same way.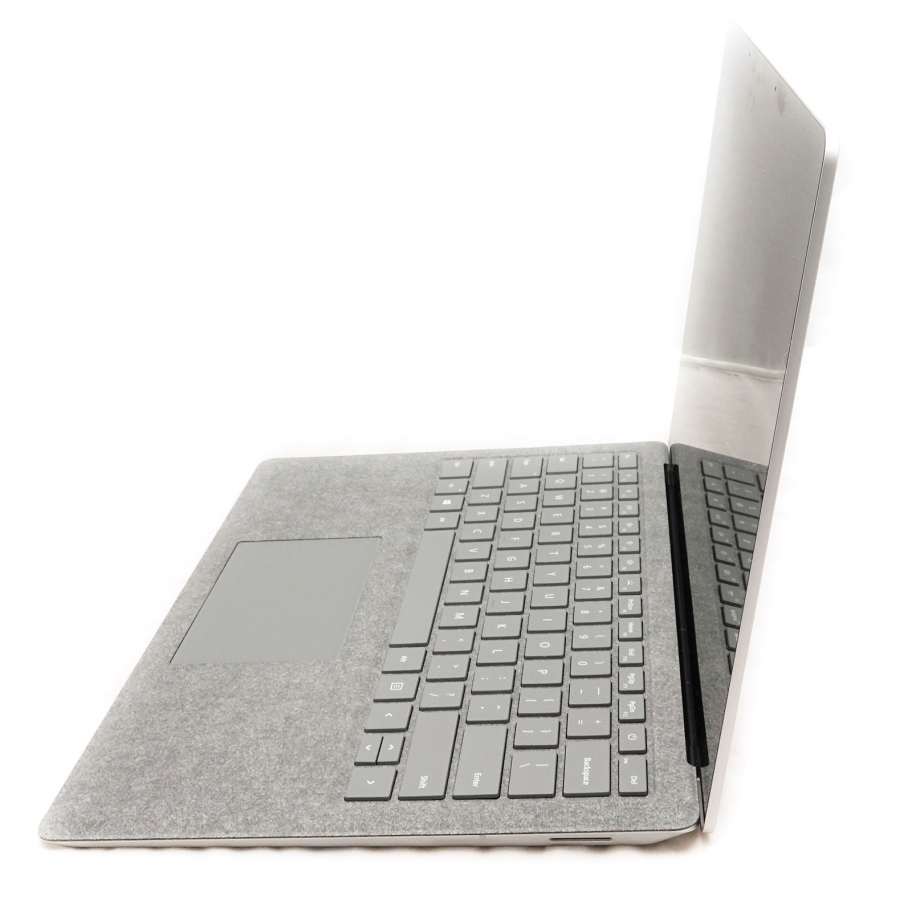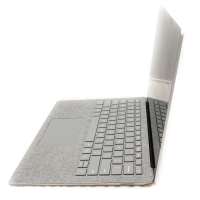 Likewise, we wish Microsoft had included a little more on the connectivity options, with only one USB port, no way of expanding through a microSD slot or pulling images over an SD card slot, and no support for the USB Type-C or Thunderbolt 3 standards.
If we're truly honest, the lack of USB Type C is truly confusing, because here is a laptop yearning to be future-proof, and it's just not there yet.
There's one other thing, with the aluminium casing still very susceptible to scuff marks and scratches. Seriously, we tried keeping this thing in as pristine a condition as possible, because we know what's our other Surface computers look like, and it just happily picked up the most minor of marks. That's the thing about metal finishes: some companies know how to do them — Apple and Dell for instance — and some just don't.
Sorry Microsoft, but this thing needs to be tougher. You can't scratch a MacBook or an XPS this easily.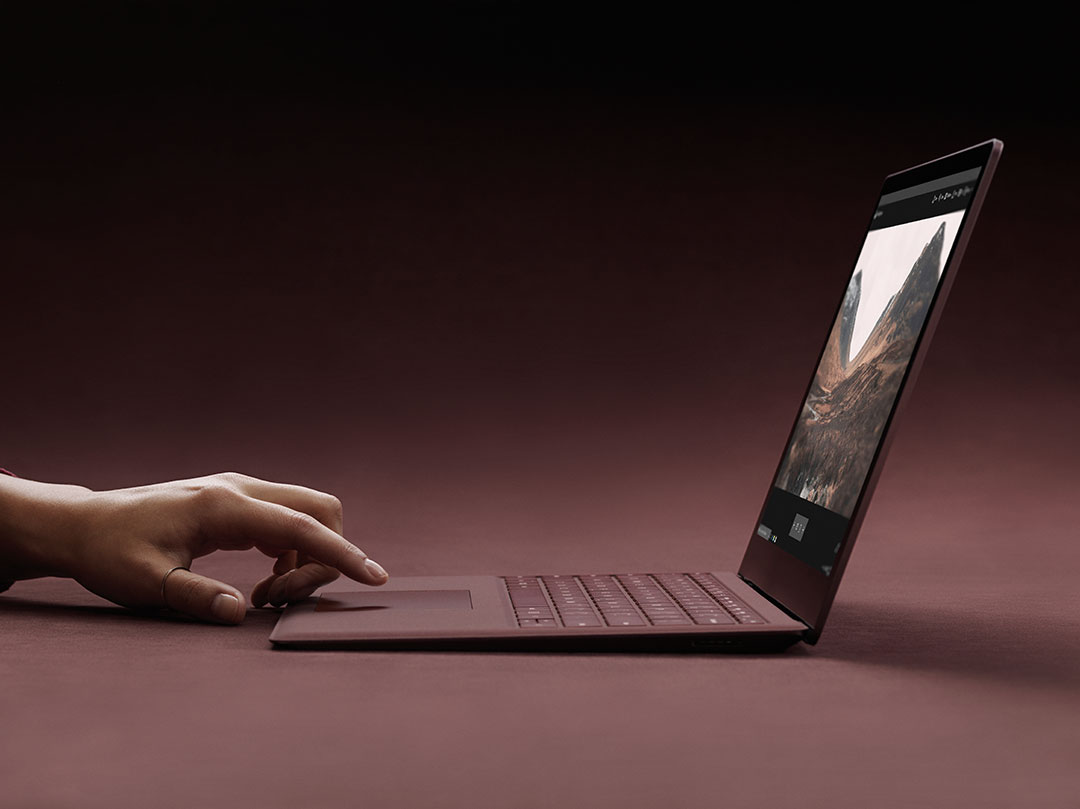 Final thoughts (TLDR)
If you don't mind a scuff or two and love the idea of warm and fuzzy keyboard, Microsoft's Surface Laptop is a solid option, provided you get rid of Windows 10 S ASAP and make the move to Windows 10 Pro.
We get it, Microsoft, we really do, and grant you that Windows 10 S is a good idea. Except that it's also not useful long term, unless you're happy spending a minimum of $1500 on a computer that doesn't really do much at all, save for surfing the web and checking email. And since that's no one, it's kind of a waste.
The simple reality is that as good an idea as Windows 10 S is for security reasons, it lets consumers down by lacking the available marketplace for applications, making it all kinds of pointless.
Fortunately you can upgrade easily, and that makes the Surface Laptop better and compelling.
If you love the idea of a thin and light machine and happen to love Windows, the Microsoft Surface laptop is an intriguing choice.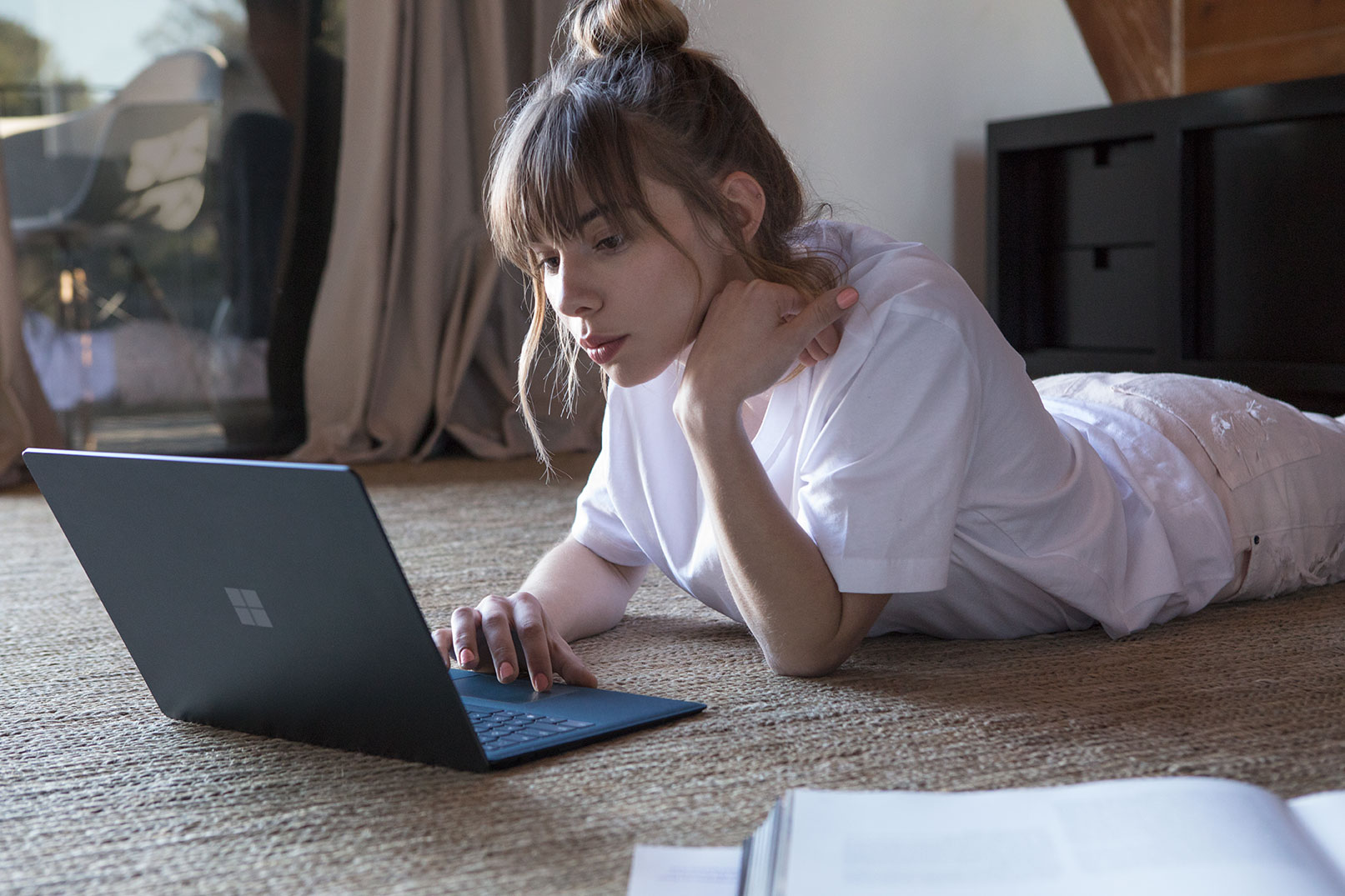 The good
Slim design
Includes the excellent Surface touchscreen
Excellent keyboard and trackpad
Supports Windows Hello face-based login
You can remove Windows 10 S and switch back to the more useful Windows 10 Pro
The not-so-good
As good an idea as Windows 10 S is, it's just not practical
Only one USB port
No USB Type C or Thunderbolt
No microSD or SD card slot
Easily scratched