Quick review
Fujifilm Instax Mini 12
The good
So easy to use, even kids can get the hang of it
Surprisingly durable
There's a little mirror on the lens to use for selfies
The app is a fun addition
The not-so-good
Film/paper isn't cheap
"Close-up" mode doesn't do a whole lot of anything close... certainly not macros
The retro style of an instant image returns with the Instax Mini 12, and it's packing a new feature to make it modern: an app. Does it reinvent the idea and make it new?
Cameras are everywhere these days and we all have one — at least one — but making images more fun typically means an app, and maybe a nod back to the past.
In fairness, there's something fun about old cameras, about film and prints and such. It's not digital… it's different.
Of course, these days retro cameras are hot property, and making images look more retro is a thing people love. Whether you dabble with VSCO or emulate the look with Instagram, retro images are a style that you can easily pull off on a phone.
But it's just not the same.
Digital retro isn't the same as real retro, and that could be something to give Fujifilm's retro-licious Instax instant camera a bit of an in with people today. In fact, the latest model, the Instax Mini 12, comes with another feature, sporting an app to make the instant photos produced by the camera even more shareable.
Is this what the formula needs to reinvent the instant camera, or is it yet another app you don't need or want on your phone?
What is the Instax Mini 12?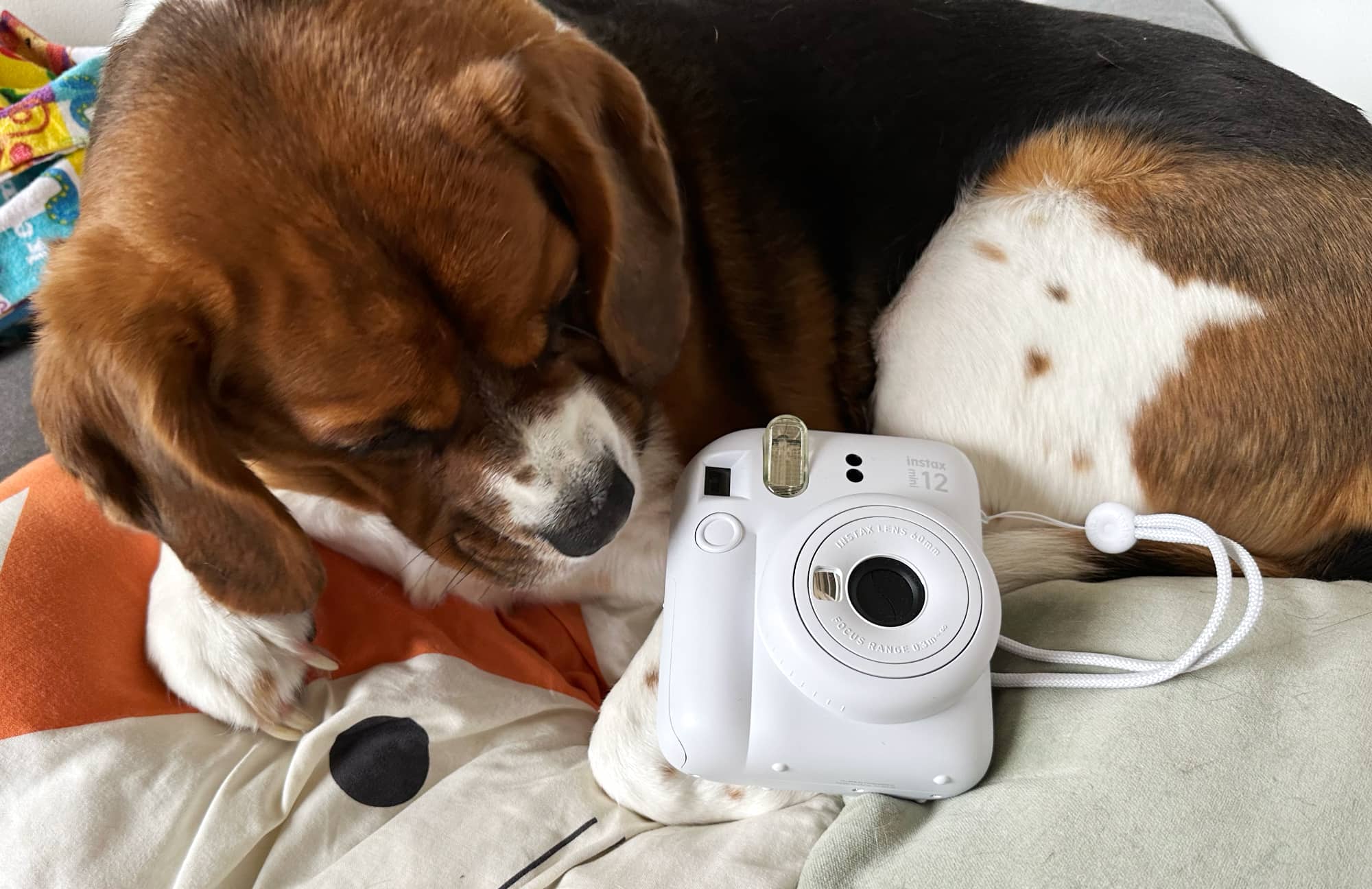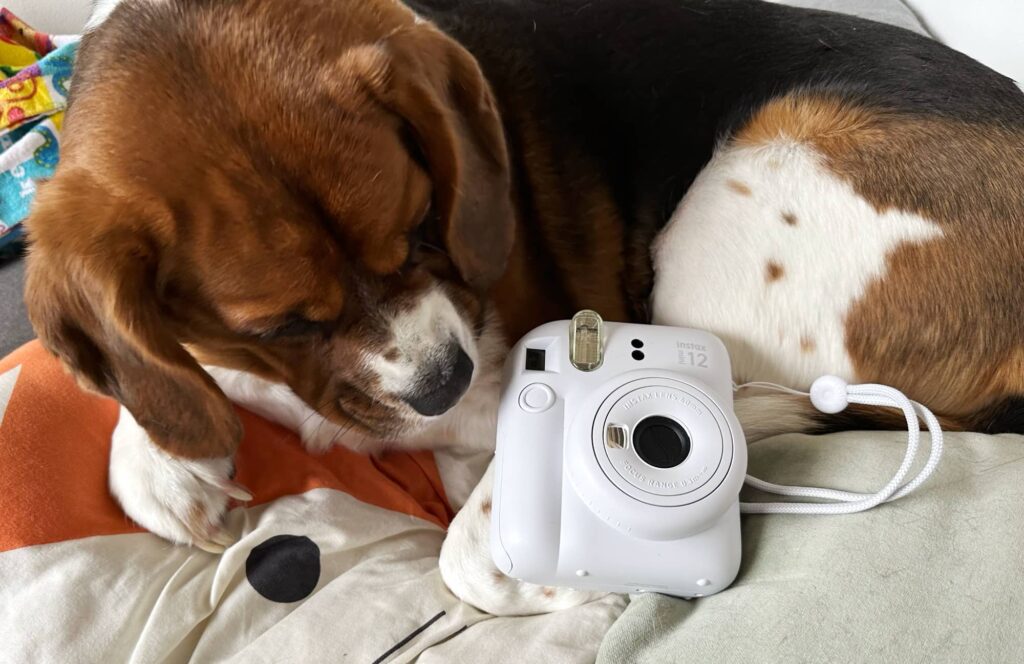 An evolution on the old Polaroid, Fujifilm's Instax Mini takes the idea of an instant printing and makes it smaller.
It's a revival of the instant photography format that has existed for so long, but with a bit of a twist: there's an app you can use to make those shots more than just the instant prints that appear on the side, turning them to something you can share, as well.
The camera itself is basic enough, arriving in a big hunk of plastic with a rangefinder-style of lens, looking through the plastic body, complete with a little lens magnifier that kicks in when the lens is set to a close-up setting.
In-use and ergonomics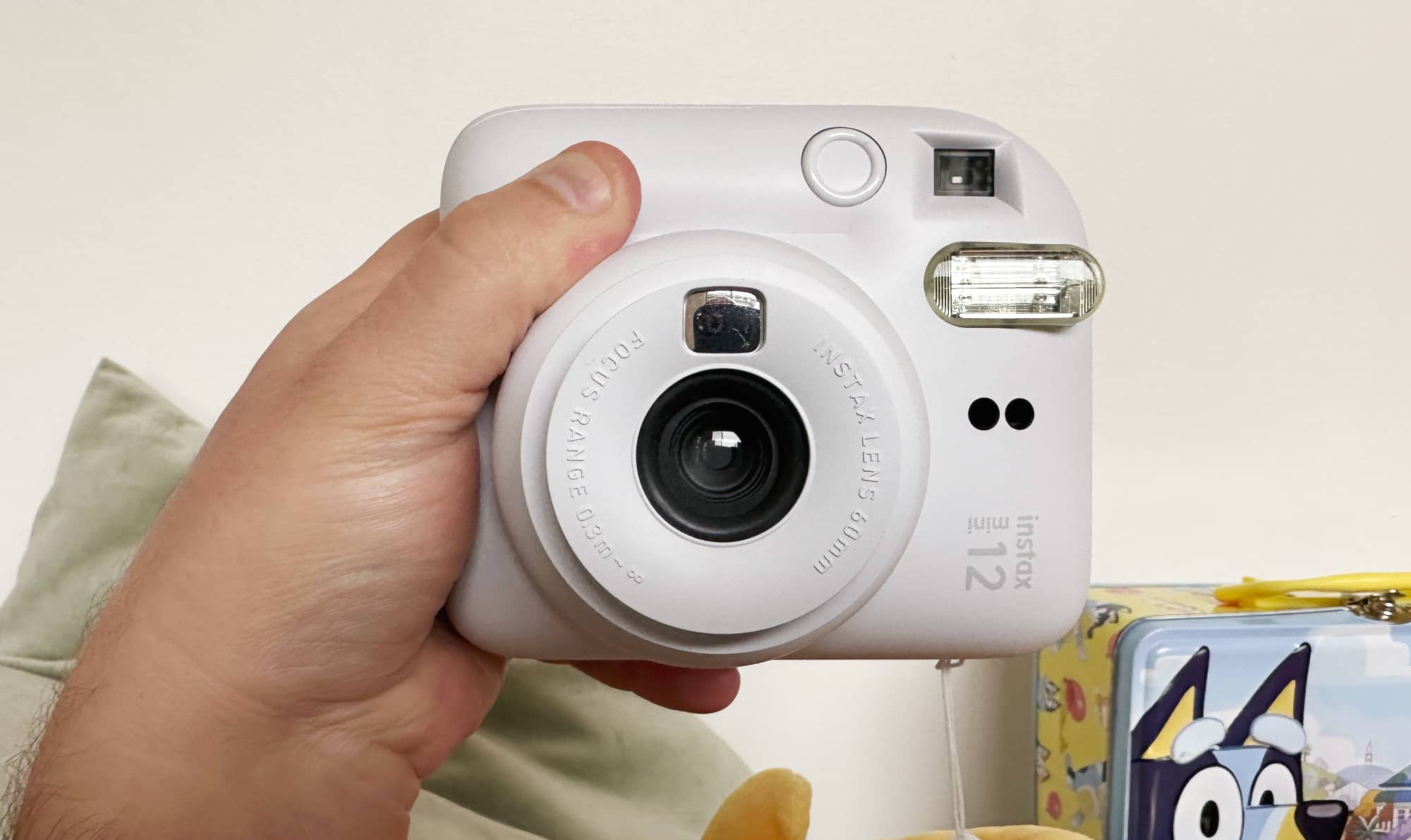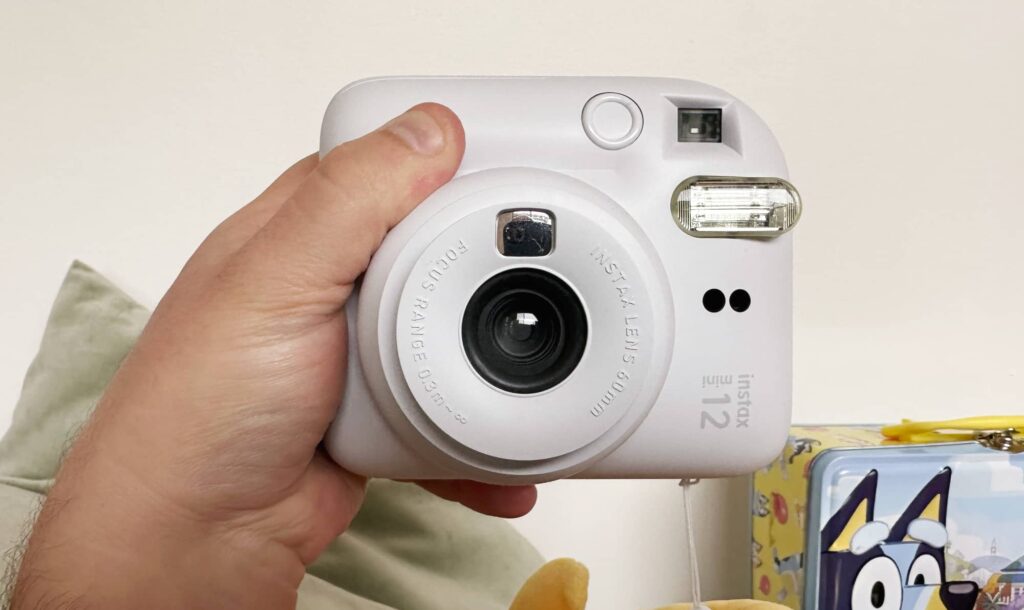 Holding the camera is easy enough, though it's a big camera and fortunately comes with a little strap you'll definitely want to attach immediately.
There aren't a lot of ergonomics for the Instax Mini 12, and that's kind of not the point. This camera is meant to be fun, playful, and features really only two points of usability: the shutter mechanism at the top which is big and a small mirror on the lens to help you see yourself for selfies.
Fujifilm has given you a little more to work with, thanks in part to where all the other controls are: on the lens.
You'll turn the Instax Mini 12 on by rotating the lens from "off" to "on", and if you want a little more length in your selfie shots, you can bring the lens a little bit closer with the aptly named "close up".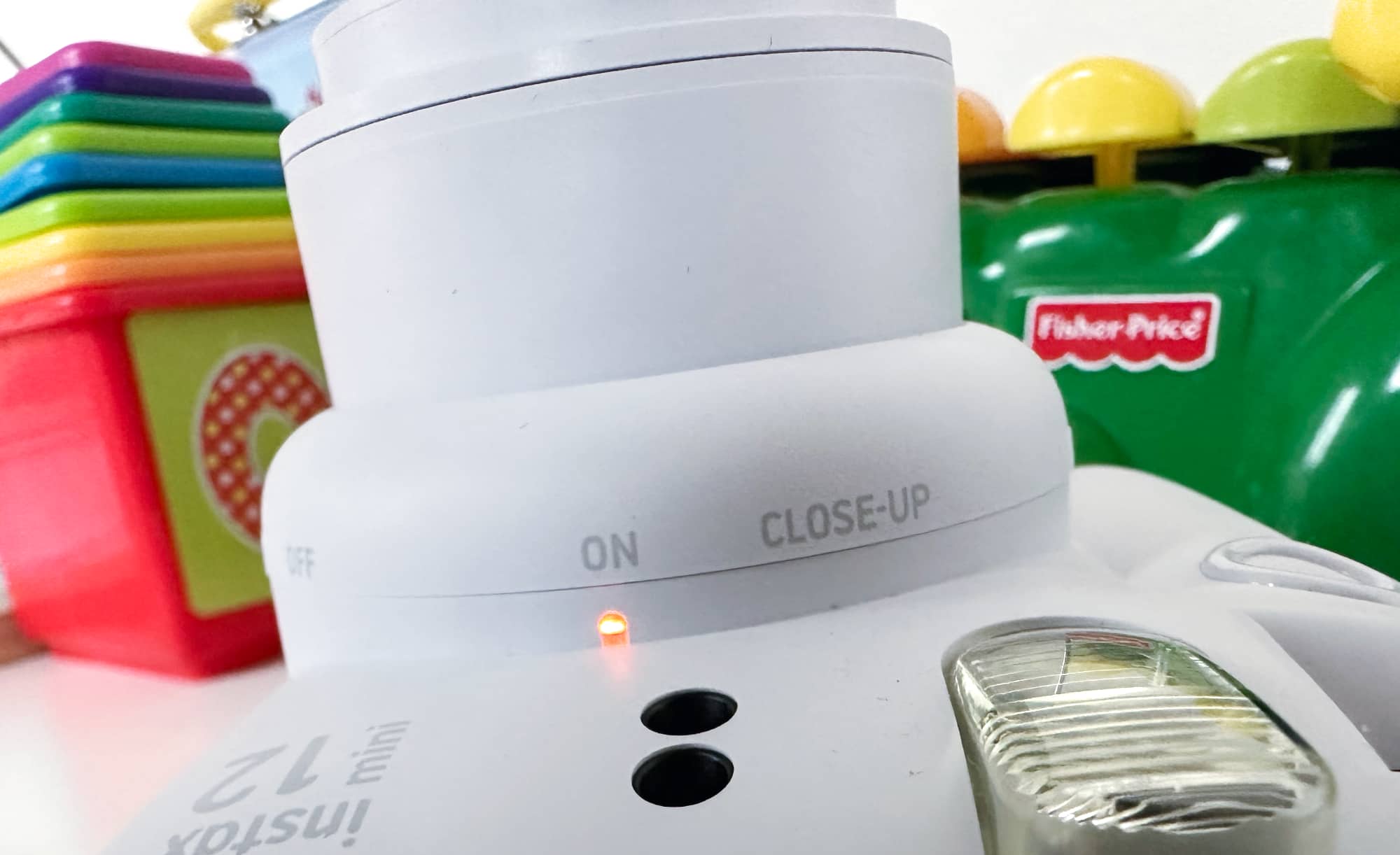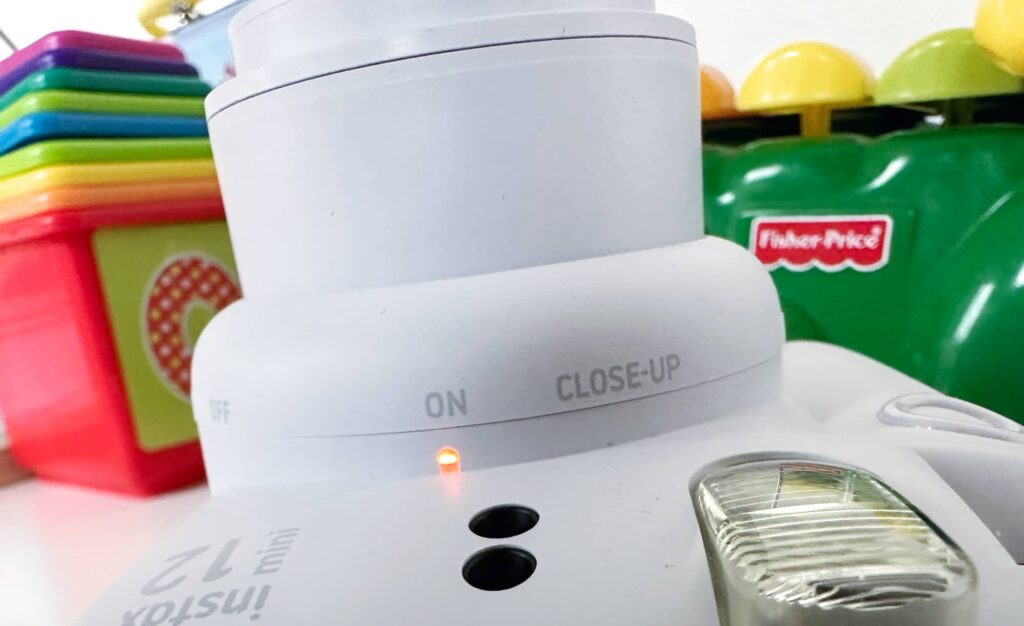 That's it. That's the controls on this camera, and it's about as easy to use as it gets. Twist the lens, hold the camera, make sure it has film (by checking the film counter on the back), and fire the shot. Easy.
It's also surprisingly durable, something we discovered when the five year old accidentally dropped the camera a couple of times.
We wouldn't recommend going out of your way to durability test the Instax Mini 12, as it probably won't survive intentional beatings, but it can survive a drop or two, making it ideal for kids learning to use a camera, as well.
Image performance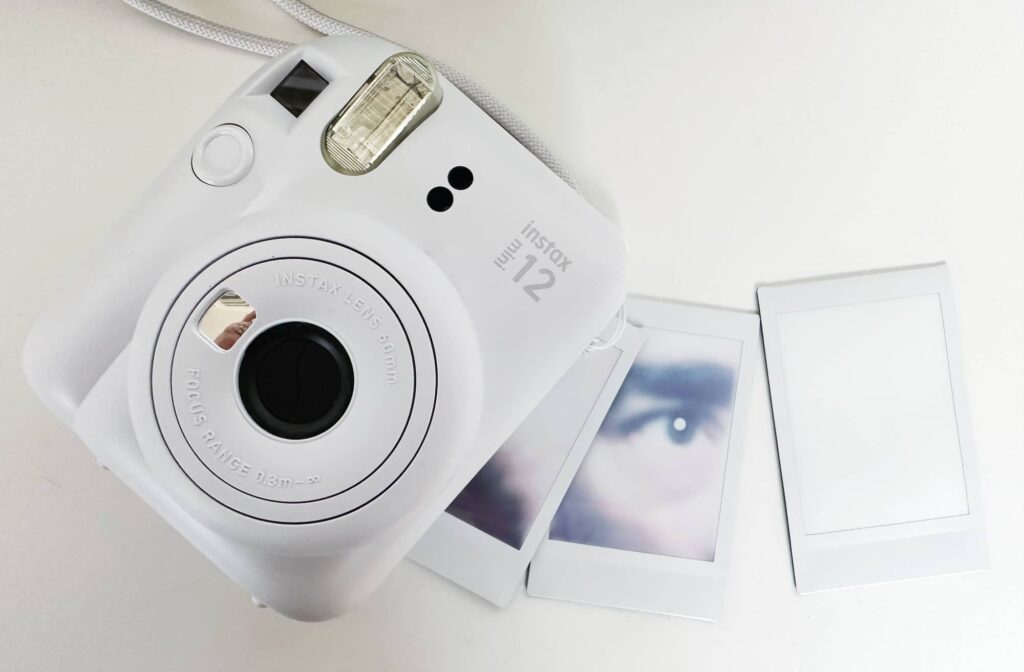 However, you might want to forget about the whole idea of "image performance", because as this is an instant film camera, there isn't really any performance as such.
Images captured on any of the Instax Mini models are very much like a Polaroid classic, in that they come out on a piece of instant film measuring 5.4 by 8.6cm featuring a centre window of an image measuring 4.6 by 6.2cm. In short, it's just that: a short and small window on what you just captured, with an entirely analogue print waiting for you.
How the image turns out will depend on what you shot, how close the automatic flash was to the subject, and the type of film you're using. But since most Instax film appears to be ISO 800, the results will really only going differ on the frame, and Fujifilm sells a variety of those. You can get it in block colours, with love hearts, or just stick with the ordinary white frame.
App
The good news is you're only really limited by the frame you're using in a physical sense, because Fujifilm has made an app to go with its Instax Mini, and really that's the way Fujifilm has made its technology more relevant for today.
While you could always use a phone or tablet to snap a picture, what makes the Instax Mini so endearing is that retro print you get at the end. Wait 90 seconds and it'll appear, ready for you to scrapbook or give to friends.
To make this even better and more socially useful, Fujifilm's Instax app has an app which is one part image scanner and another part scrapbooking feature.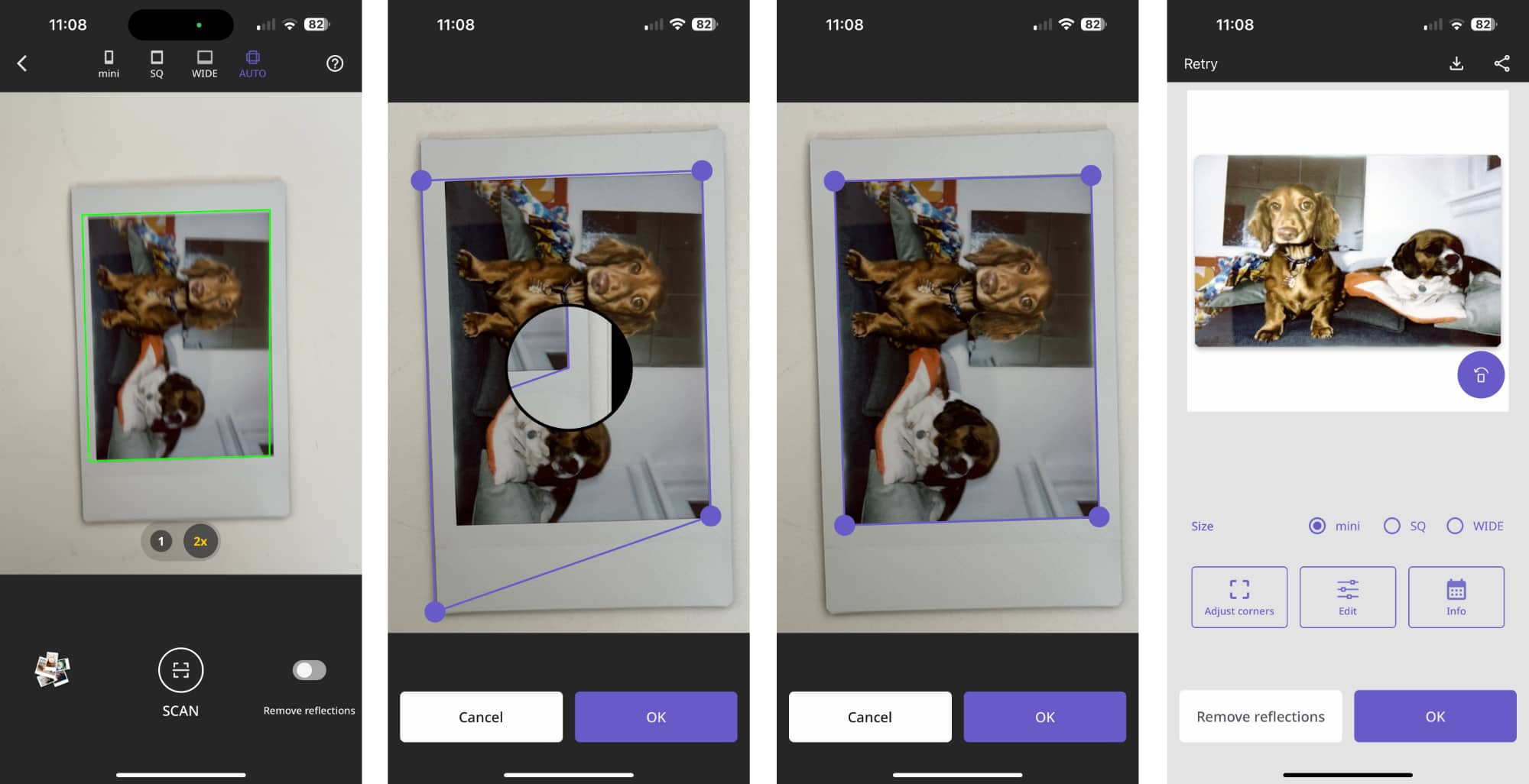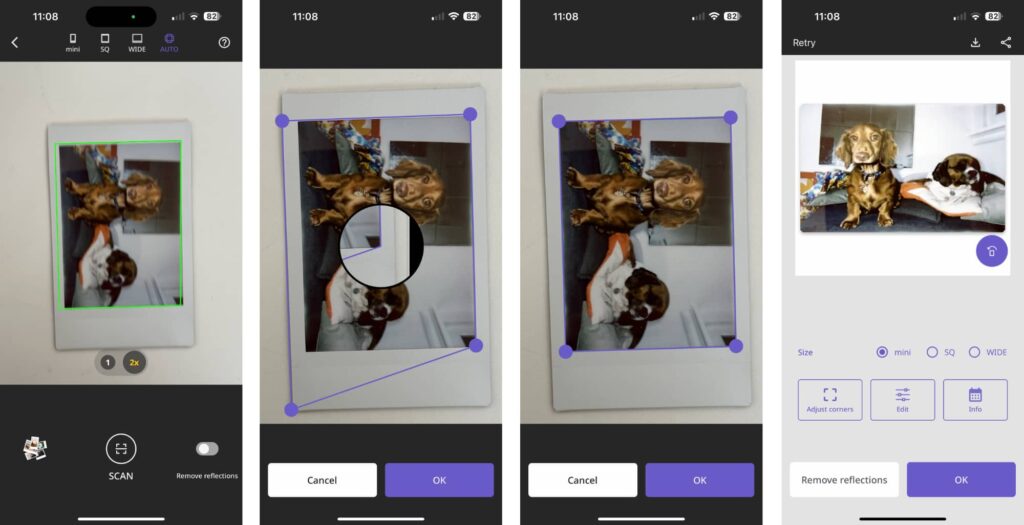 It's pretty simple to use: download "Instax Up!" and you'll find a way to "scan" your image, which takes a picture of the printed Instax Mini film, and either automatically finds the corners and edges to crop your image, or has you do it yourself. Sometimes it's good, but sometimes you'll be better, and there are some image tweaks and edits you can apply.
Once you have the image, you can easily share it as you normally would with any other app, or you can build a sort of scrapbooking landscape of Fujifilm Instax images you've captured, moving the photos by holding them down, rotating, or even letting the app randomly throw them around for you. There's a choice of backdrop images or colours, or you can use an image for the background of your own choice.
Overall, Instax Up is a neat addition to bring the Instax idea into the modern era, giving folks a way to make social images fun for the smartphone crowd.
Instant gains an app and that's a good thing. You could, of course, just use the camera on your phone if you wanted, but you'd miss out on the auto-cropping, which helps to make this app worth having if you have the camera in the first place.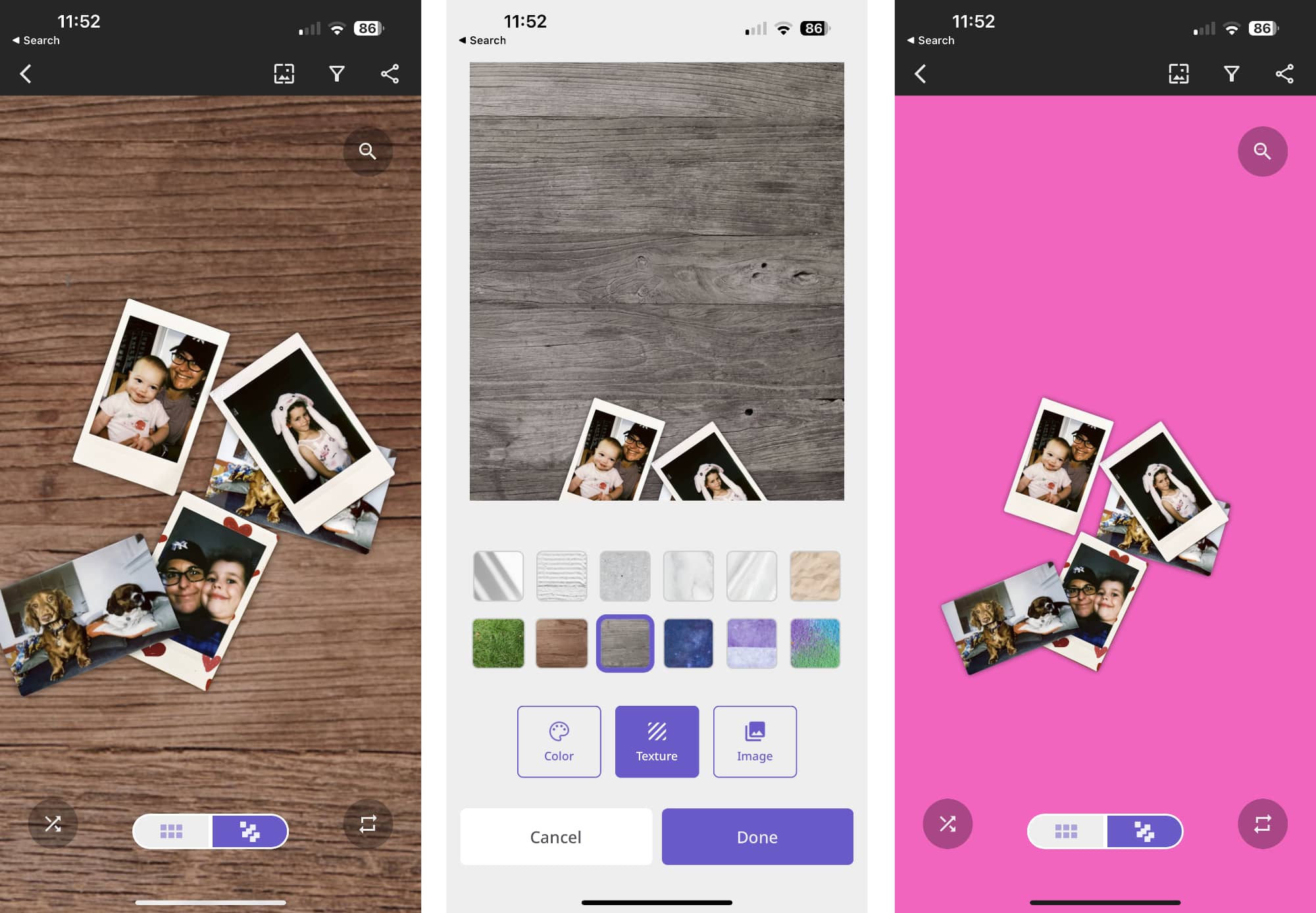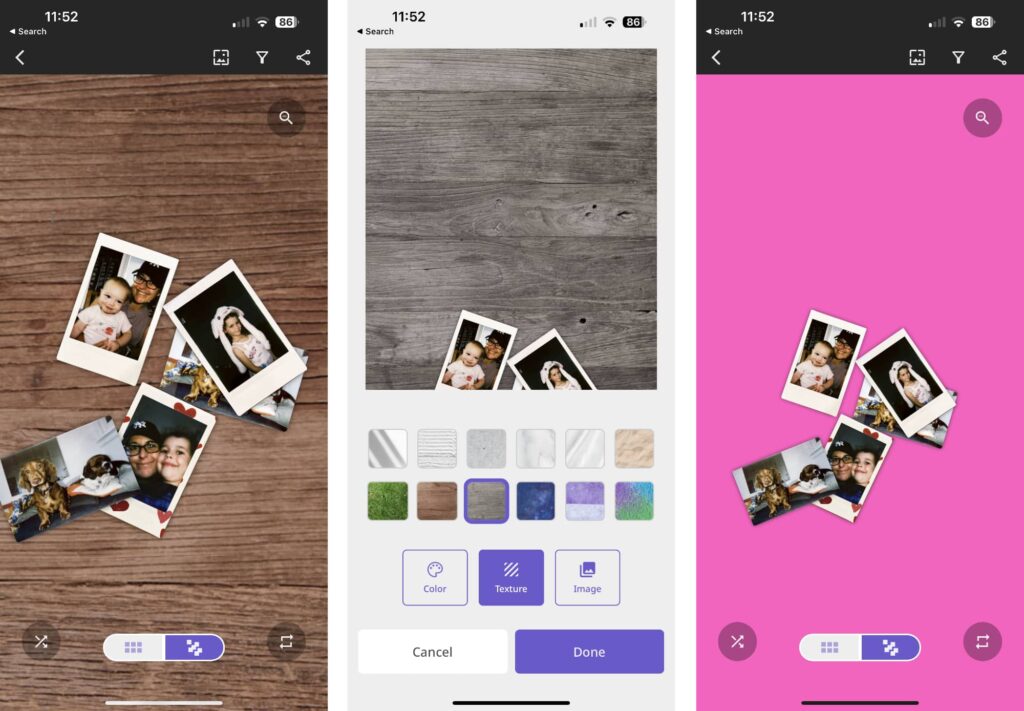 Battery
There's also some good news with regards to battery life, because this camera almost never needs to be charged. Granted, it does need batteries, with two AAs waiting for you in the box to keep it running.
Throughout our review period, we didn't end up needing to change said batteries, and suspect you'd be fine for intermittent captures over the space of several months. There's not a lot of power being exerted here, with the batteries really just driving the flash and film mechanism.
Everything else happens in the film, which takes roughly 90 seconds for the image to appear, but a little longer maybe for it to feel like all the chemicals have balanced out the contrast. No batteries needed for that.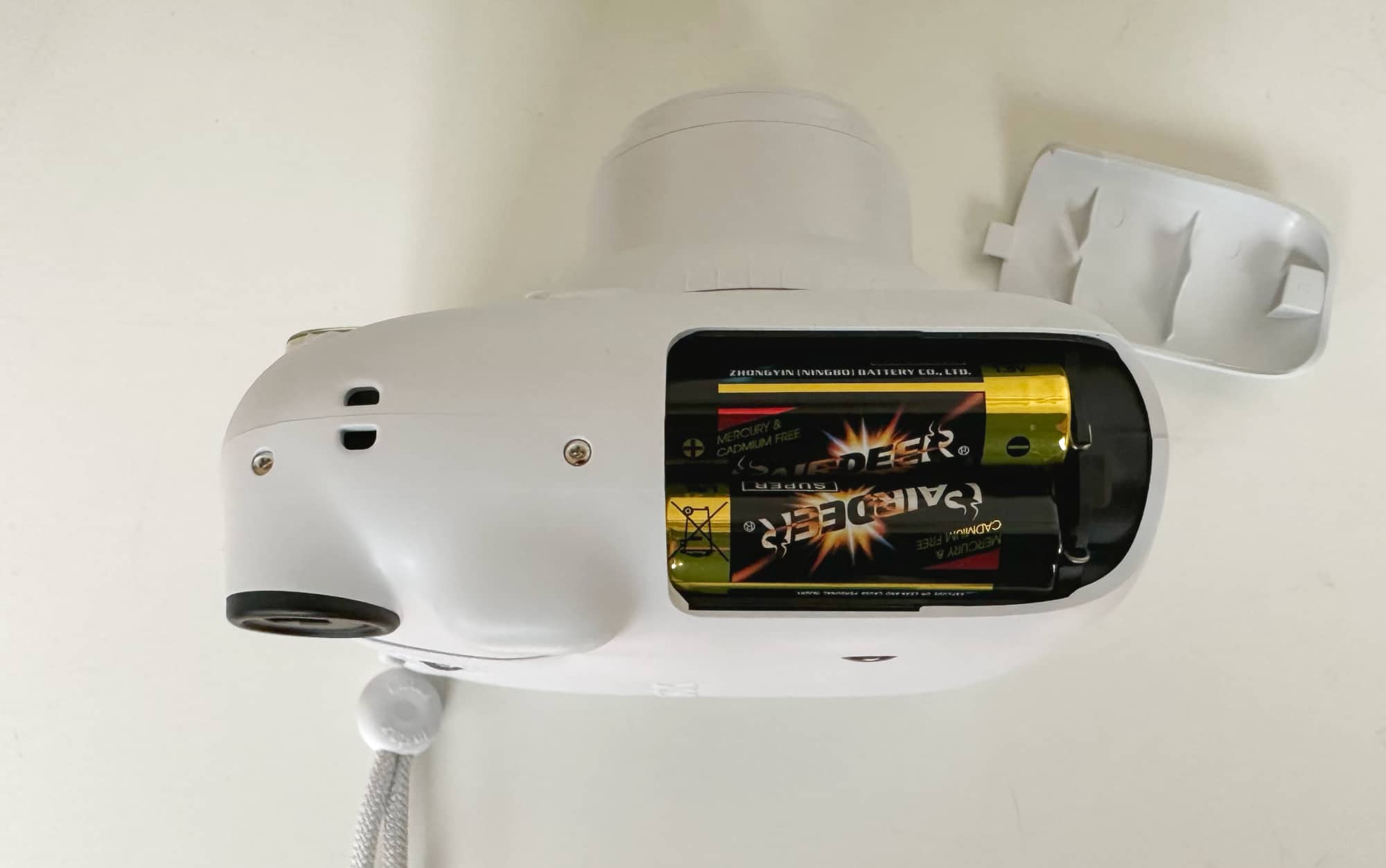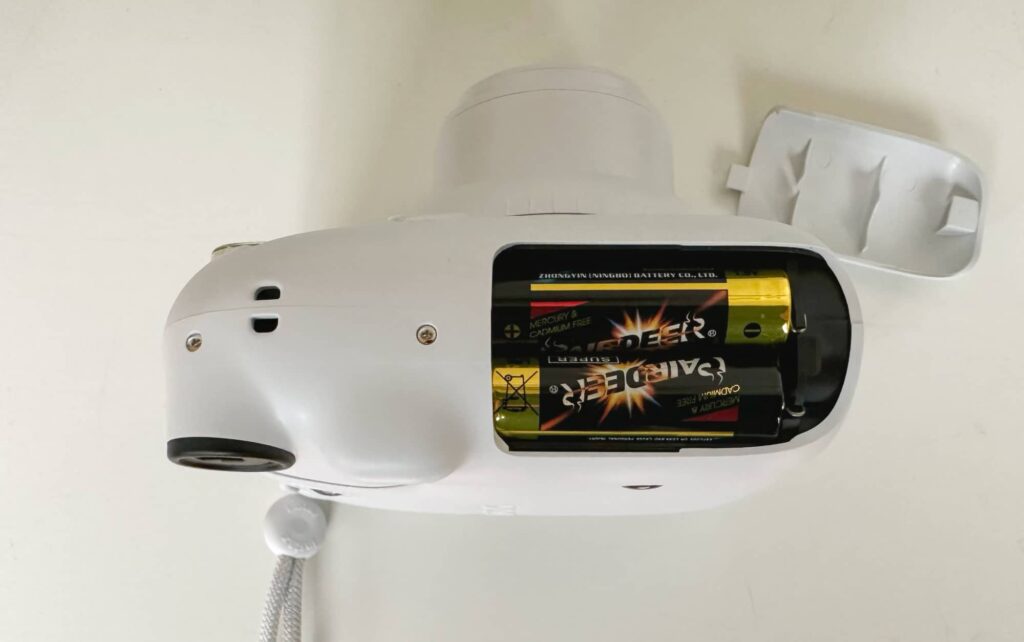 Value
There's also the matter of the cost, though that's an area that may require some consideration.
At $119, the Instax Mini 12 isn't what you'd call an expensive camera, and it's definitely fun. The bubbly plastic shape makes it stand out, the bright colours are pleasing to the eye, and the total absence of electronics means anyone can just pick it up and get stuck in.
Provided, that is, they've loaded some film. You need to do that before you do anything else, and that's where the cost of the Instax Mini 12 rises quickly.
The cost of consumables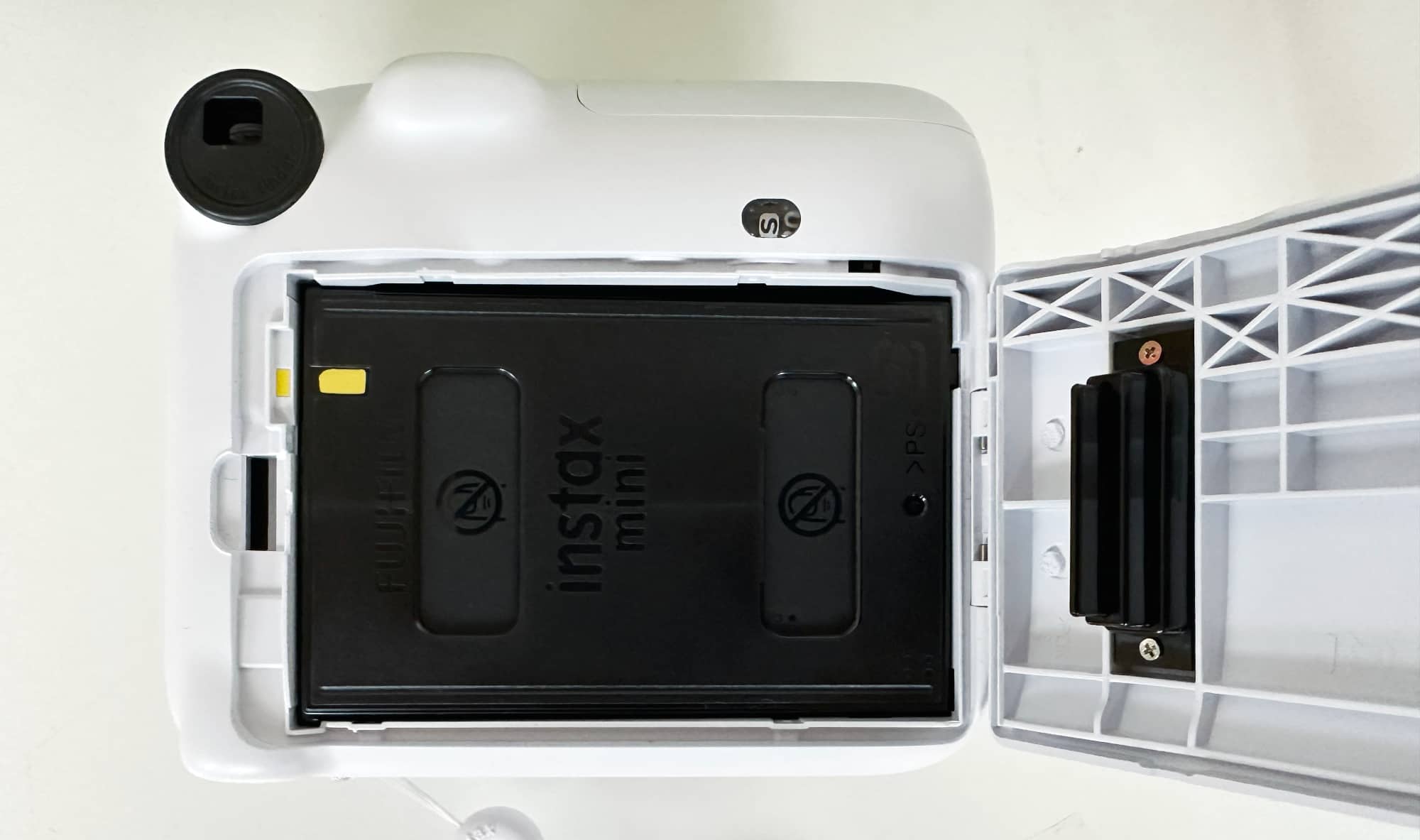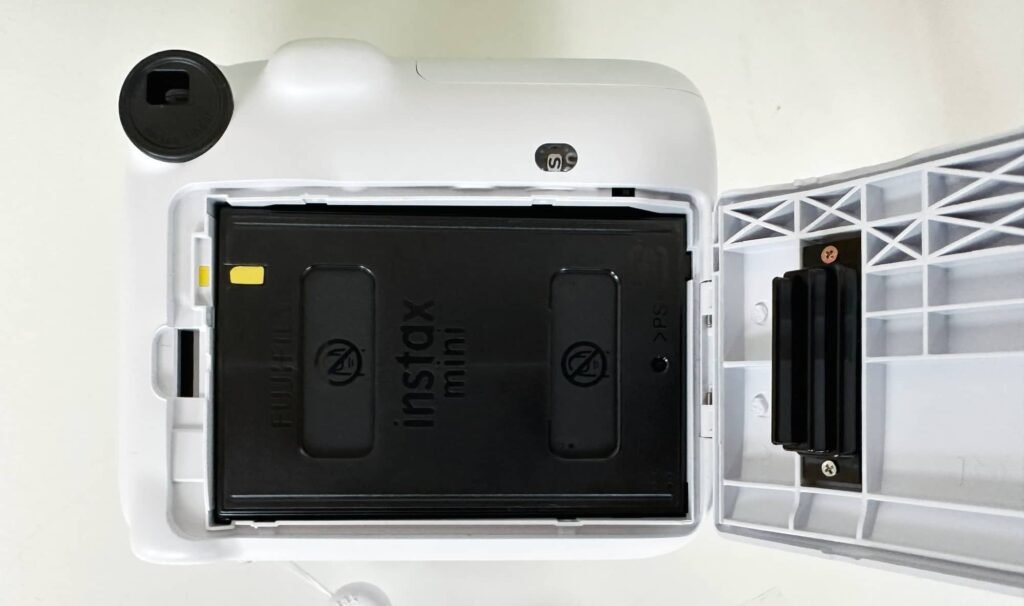 Depending on the type of film you get (and where in Australia you buy it from), you're looking at around $20 for 10 shots or $65 for 60. That essentially means you're going to pay between one and two dollars per photo, so really, you want to make these count.
And because the Instax Mini 12 only works with its film, it becomes one of those things you have to buy if you want to use it.
This isn't like the free-for-all that owning any other type of camera delivers. Rather, this is a camera for a purpose: taking photos that you want to share, making it a party camera or something for the social crowd.
It's fun, sure, but the results ain't cheap.
What needs work?
While the cost is a little jarring, if we're honest, the cost of every film-based camera comes with that problem. It's not cheap to be retro, and whether you decide to buy a film camera in 35mm or 120, you're also going to be charged a pretty penny for film and development, too.
Old school isn't cheap, so know that going in.
Our main issue with the Fujifilm Instax Mini 12 is more the promise of "close-up" on its camera lens, because it's not really that close at all. It really feels like it should be a macro lens, but the results aren't reliable enough for a close-up macro shot in any situation. It's more just a little bit closer in focal range, but there's not enough to matter outside of a selfie.
After fiddling with the close-up mode and wasting shots on blurry images, we're not entirely sure what the Instax Mini 12's "close-up" mode is supposed to be for. It gets you so marginally closer that it's really only there for selfies, much like that mirror on the lens, and feels like a bit of a waste overall.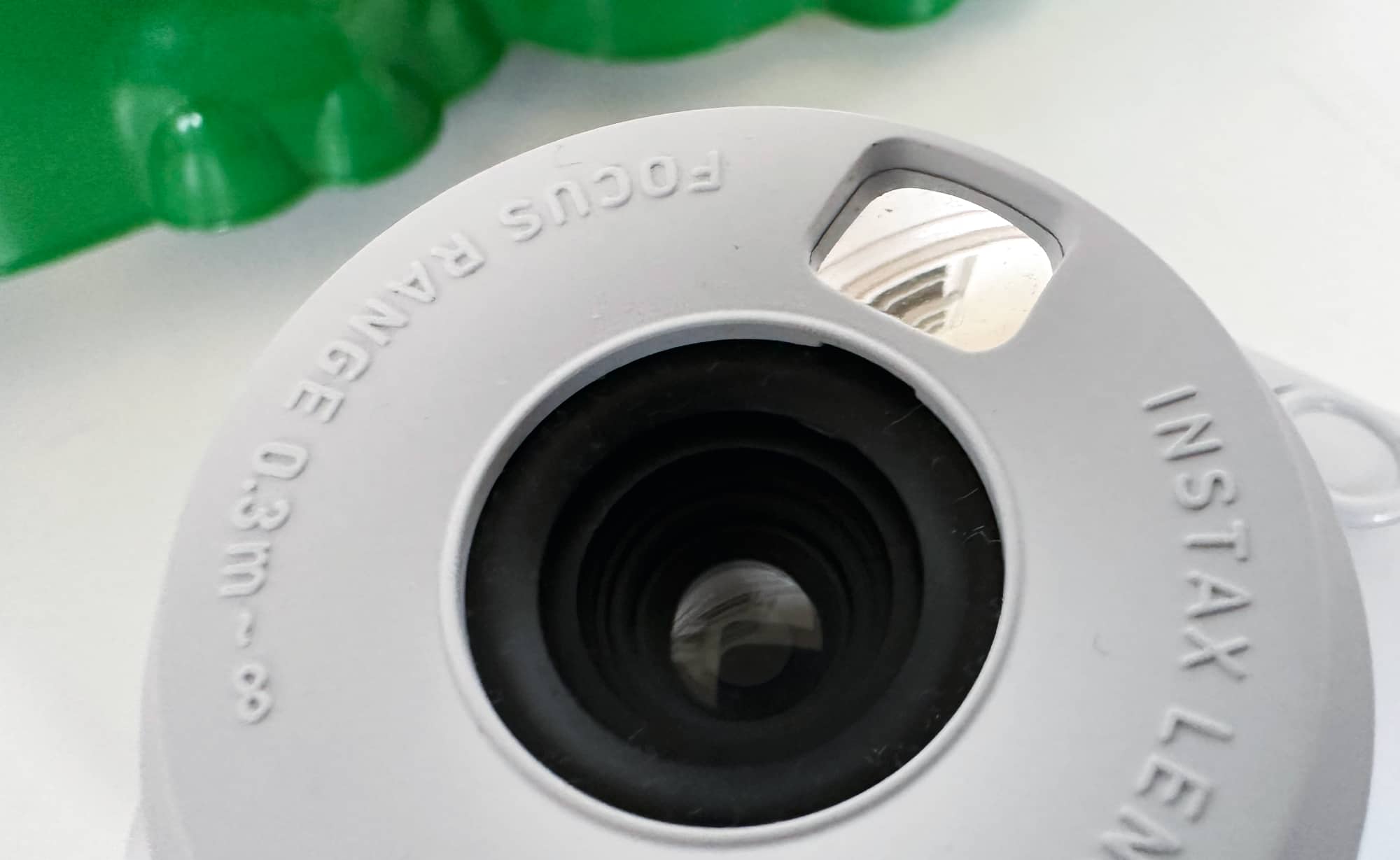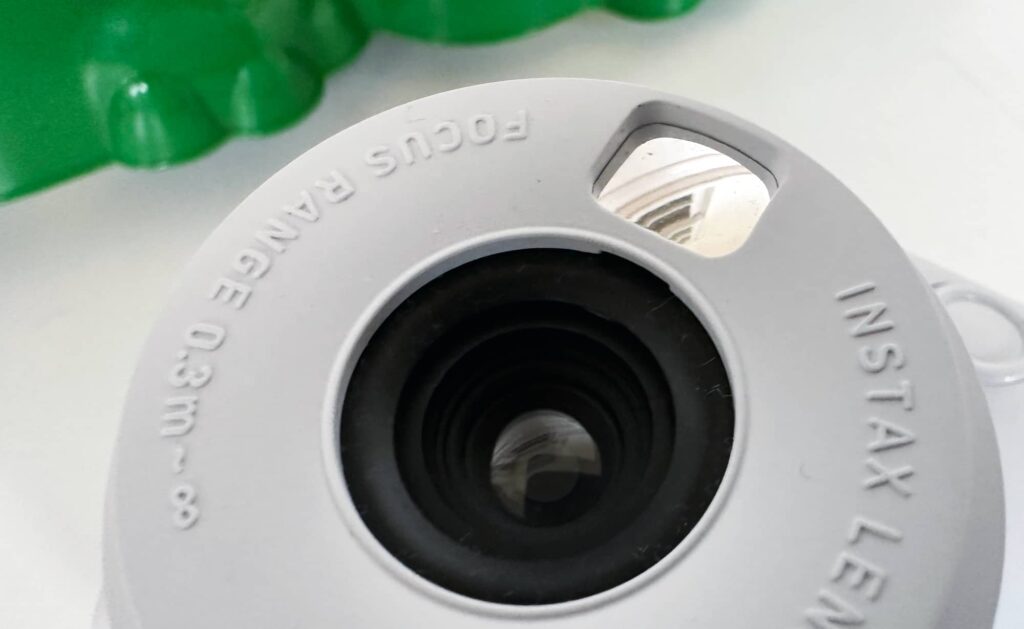 We'd also love a little more to play with, at least on the hardware side.
Fujifilm could have included some colour filters in the design, such as the kind you might get on a Lomo camera. Red, green, blue, and yellow wouldn't be out of place for the flash, with a switch to let you turn them off and just have the natural colour.
You only get that simple white flash to speak of, so while the Instax Mini 12 is fun, it's not as fun as the playful Lomography toy cameras. If Fujifilm had offered some of that, you might get a little more craziness out of the images, with different colour over your photos for fun.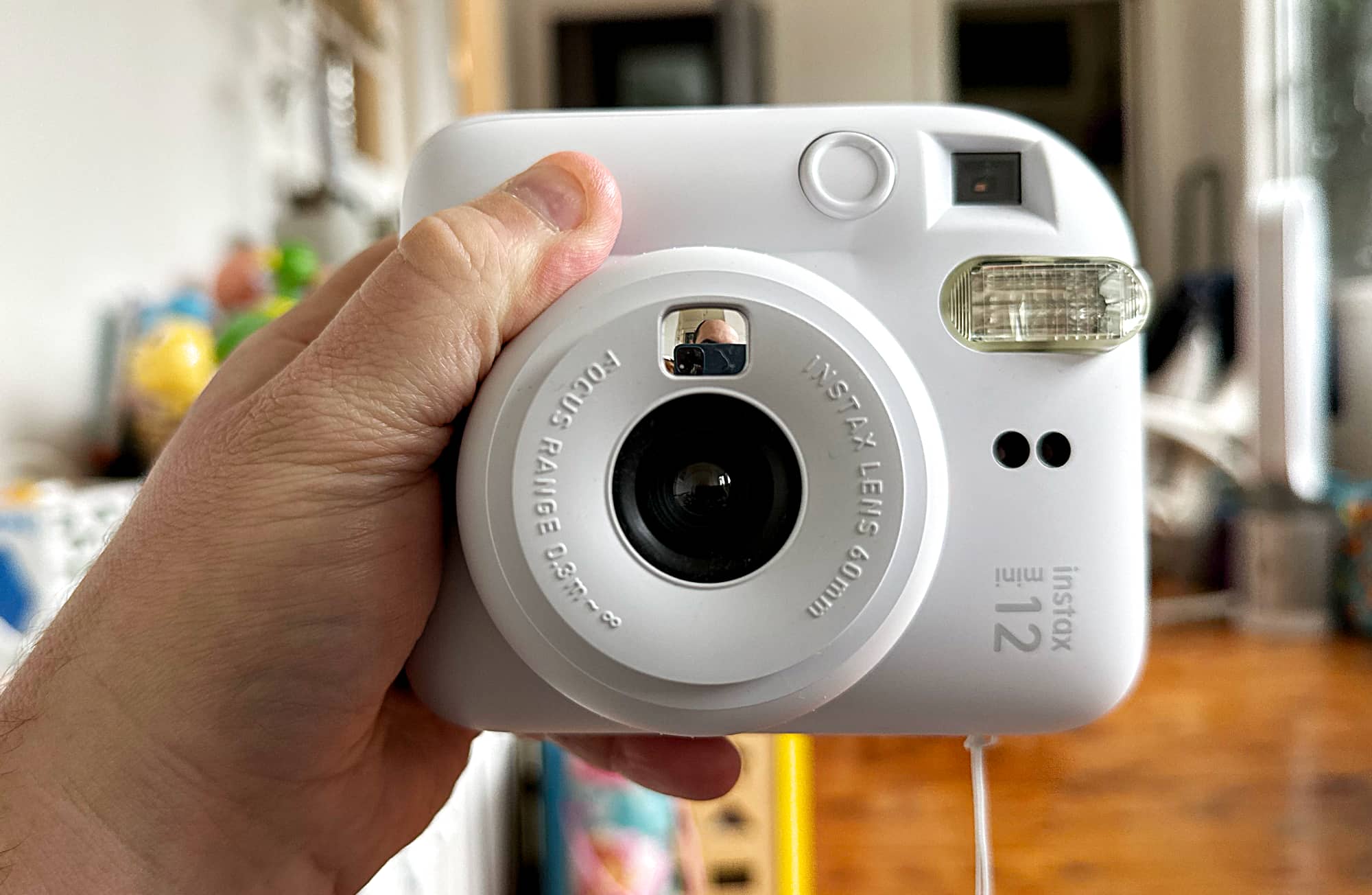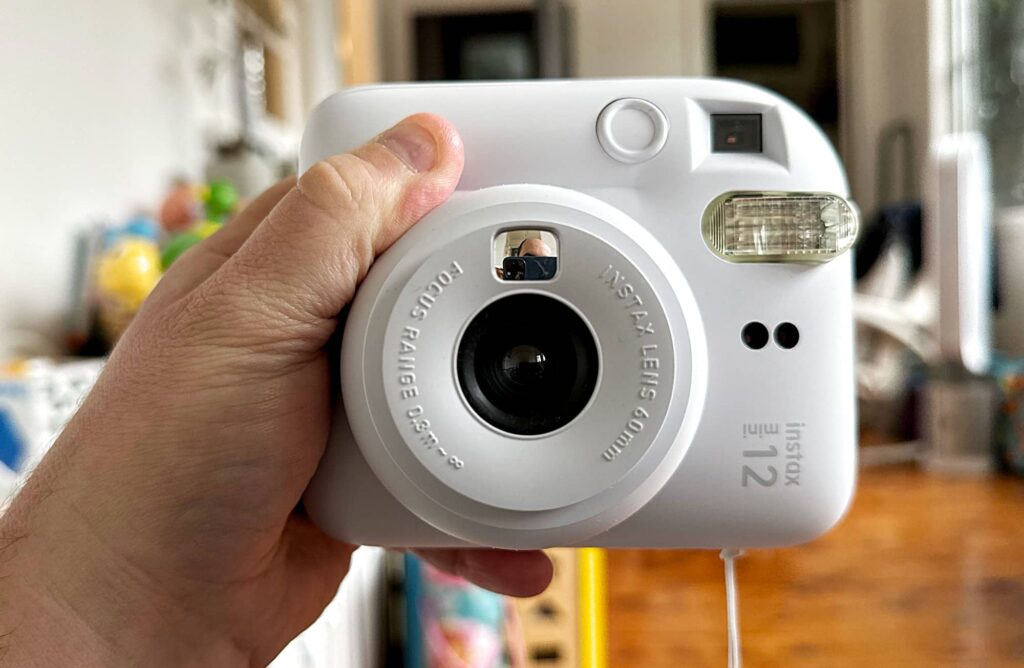 Final thoughts (TLDR)
While we still think there are other ways Fujifilm could make its Instax Mini 12 more fun, it does succeed in being a neat little camera, especially for little folks who have never grown up with the joy of film.
The app helps make the Instax Mini 12 more fun, and makes it easy to share photos beyond the obvious gift that an instant image is. It's also great fun for kids, because not only can they learn about how cameras used to work, but they can see the results and paste them into artwork.
Ultimately, if you're after a camera that's a little more fun than just another phone app and don't mind spending on the consumables, the Instax Mini 12 is worth checking out. It's big fun for people who love pictures.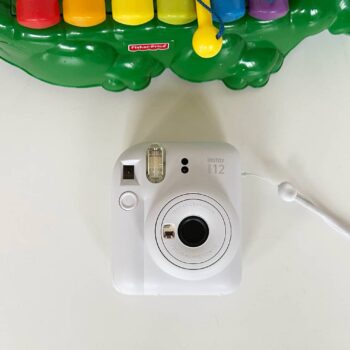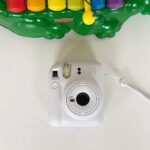 Fujifilm Instax Mini 12
The good
So easy to use, even kids can get the hang of it
Surprisingly durable
There's a little mirror on the lens to use for selfies
The app is a fun addition
The not-so-good
Film/paper isn't cheap
"Close-up" mode doesn't do a whole lot of anything close... certainly not macros