Quick review
The good
Good build and design
Better hinge
Performance is excellent
Windows Hello is included
MicroSD slot included at the back to upgrade storage
The not-so-good
No USB Type C or Thunderbolt 3 ports
Surface Pen is no longer included
TypeCover is still not included
Expensive
It's been four years since Microsoft decided to build a Windows tablet that it could show to the world as evidence that it knew a thing or two about producing the right hardware for Windows, four years since the Surface Pro first appeared. And now here we are at number five, only it's missing a number.
What's different about the latest generation of Microsoft's flagship tablet-laptop hybrid, the Surface Pro for 2017? Does it deliver more best-in-class performance, or is it merely just this year's edition of Microsoft's tablet?
Design
The latest take for Microsoft on its long-established Surface Pro computers, the fifth-generation may lose the numerical moniker, but it hasn't lost the design, with Microsoft keeping things around just the way they were for the past few.
Well, mostly anyway, because while the almost-trapezoid shape is back, the corners are slightly more leveled off, curved and shaped to come across softer, while the back sees a slight change to the hinge, with smoother action and a slightly different design, folding back even further so you can draw on the tablet in a studio mode reminiscent of Microsoft's larger Surface Studio desktop computer.
However, outside of these minor changes, the design of Microsoft's Surface Pro 2017 is largely reminiscent of every Surface you've probably seen prior, with the trapezoid magnesium casing, a large 12.3 inch display with a 3:2 aspect ratio, and a magnetic strip at the bottom of the machine to connect Microsoft's TypeCover keyboards, turning the Surface into an actual tablet-laptop hybrid, rather than just a tablet.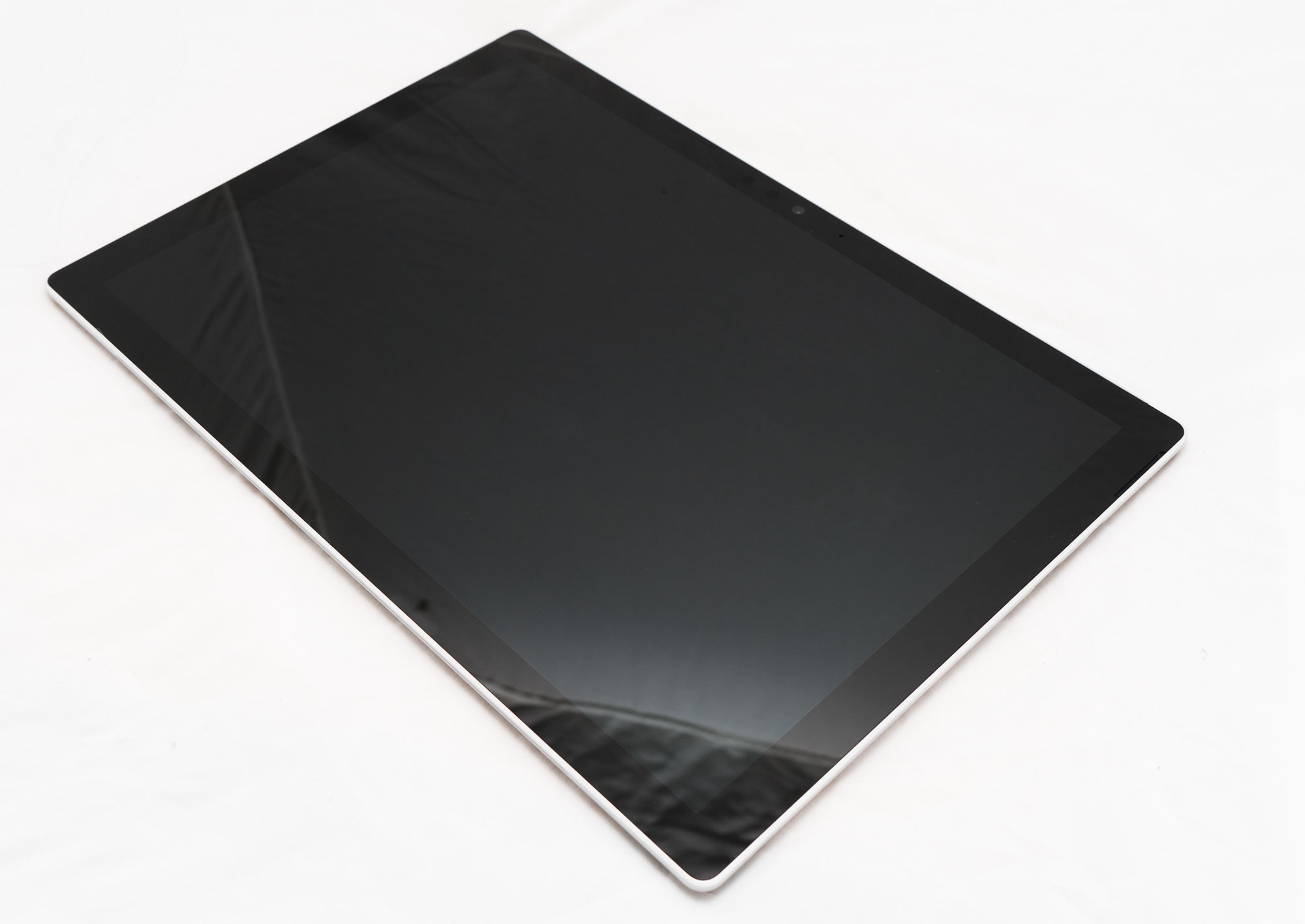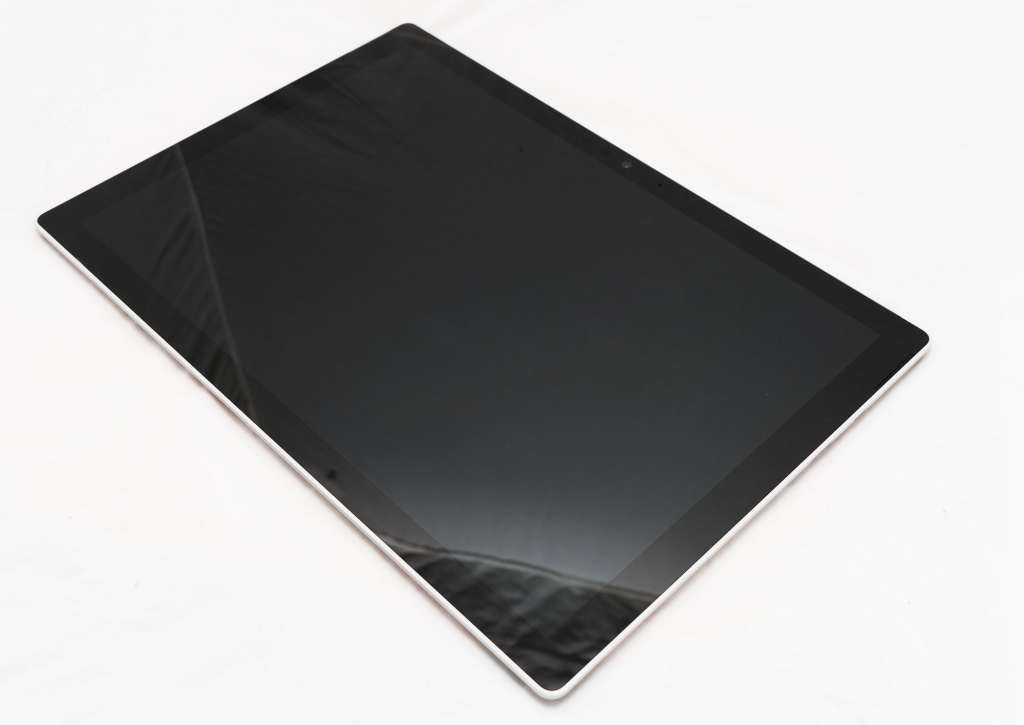 Features
Under the hood of this new Surface, Microsoft has upped the specs, updating and upgrading as the Microsoft Surface Pro 2017 edition sees Intel's seventh-generation processors, the latest of the latest with a choice of either the m3, i5, or i7, and pairing this either with 4GB, 8GB, or 16GB RAM.
Storage options run the gamut of either 128GB, 256GB, 512GB or 1TB of solid-state memory working with the high-speed NVMe technology, giving us an idea of how fast the storage in the Surface Pro 2017 will be, with Intel's latest graphics also included in the package.
Unsurprisingly, Microsoft's Windows 10 Pro arrives on the Surface Pro 2017 out of the box, a change from the Windows 10 S the Surface Laptop sports, meaning you'll get the full edition of Windows, not the slightly handicapped edition to start with.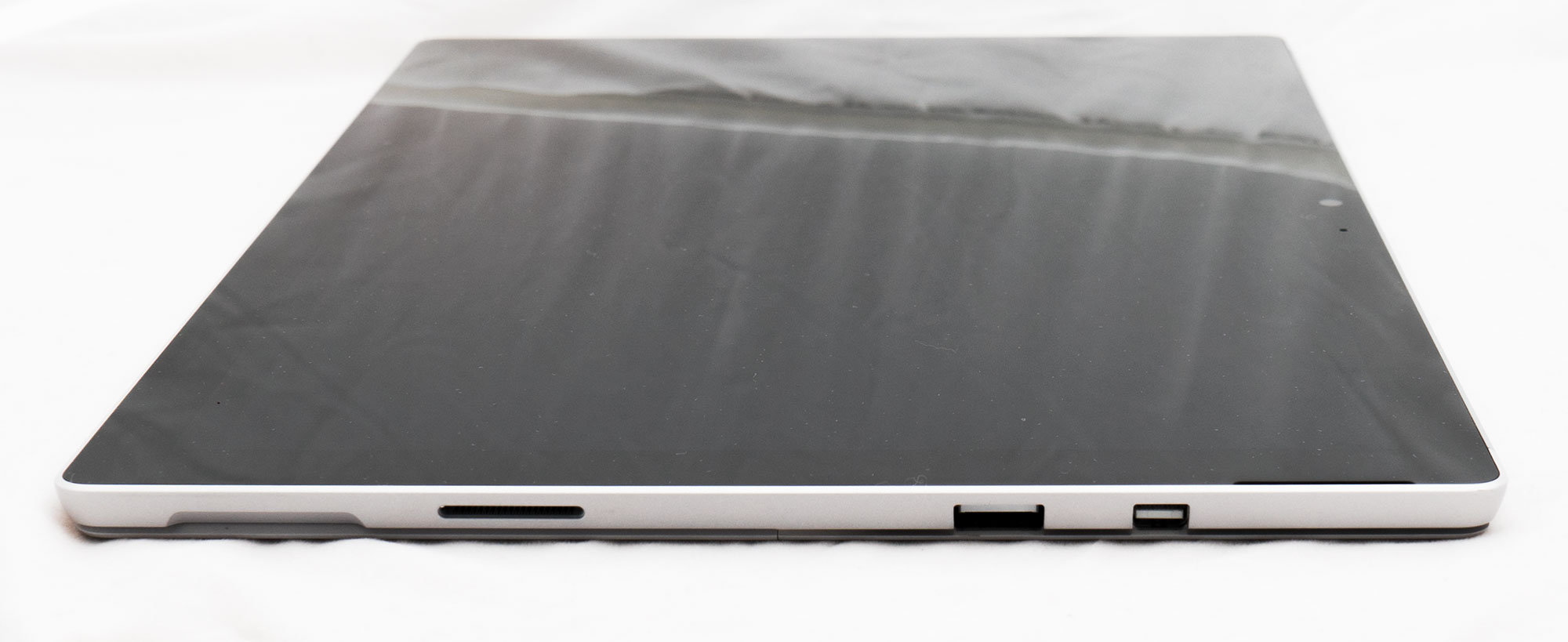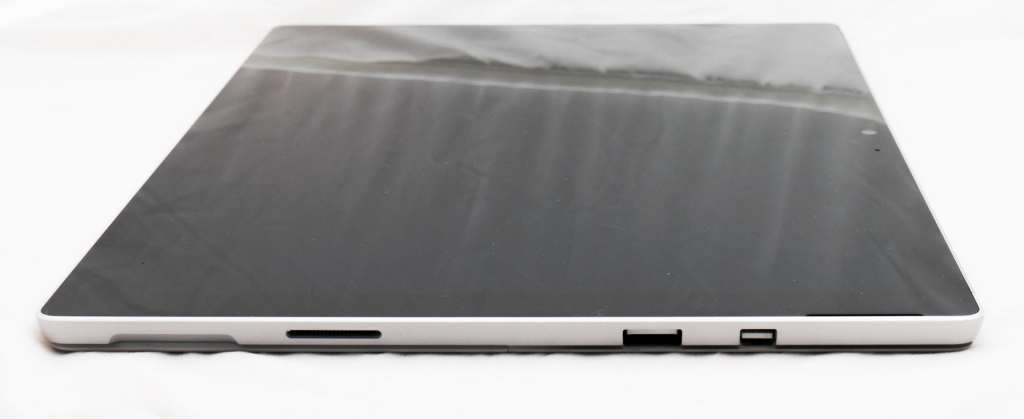 Outside of this, however, it's all fairly standard fare, and some of which actually might feel a little outdated, with only one USB 3.0 port, a Mini DisplayPort, and Microsoft's proprietary Surface charge port, all of which can be found on the right side, while a 3.5mm headset jack sits on the very left. Unlike most computers found today, you'll find no USB Type C or Thunderbolt ports here, something that is becoming quite a standard, and yet is left out of the Surface Pro 2017.
You'll also miss out on something else that used to be included with the Surface Pro computers: the Surface Pen. No longer part and parcel of the package, this is now optional, even though the new edition feels smoother and more like a pencil than ever, hanging off the left side of the Surface Pro with a strong magnetic connection.
Performance
Switching on the Surface Pro, you'll find the latest version of Windows 10 greeting you back, and a combination of system specs that make the system run probably the best we've heard yet.
Armed with Intel's latest and greatest, Microsoft's Surface Pro for 2017 doesn't have any problems getting work done, and while we tested on one of the best spec'd machines in the line-up, the rest seemed suitably armed for work and then some.
For the review, Microsoft let us play on its $3299 model, the Intel Core i7 variant with 16GB RAM and 512GB storage, and a model that seemed matched more to the pro-level Surface Book the company has out.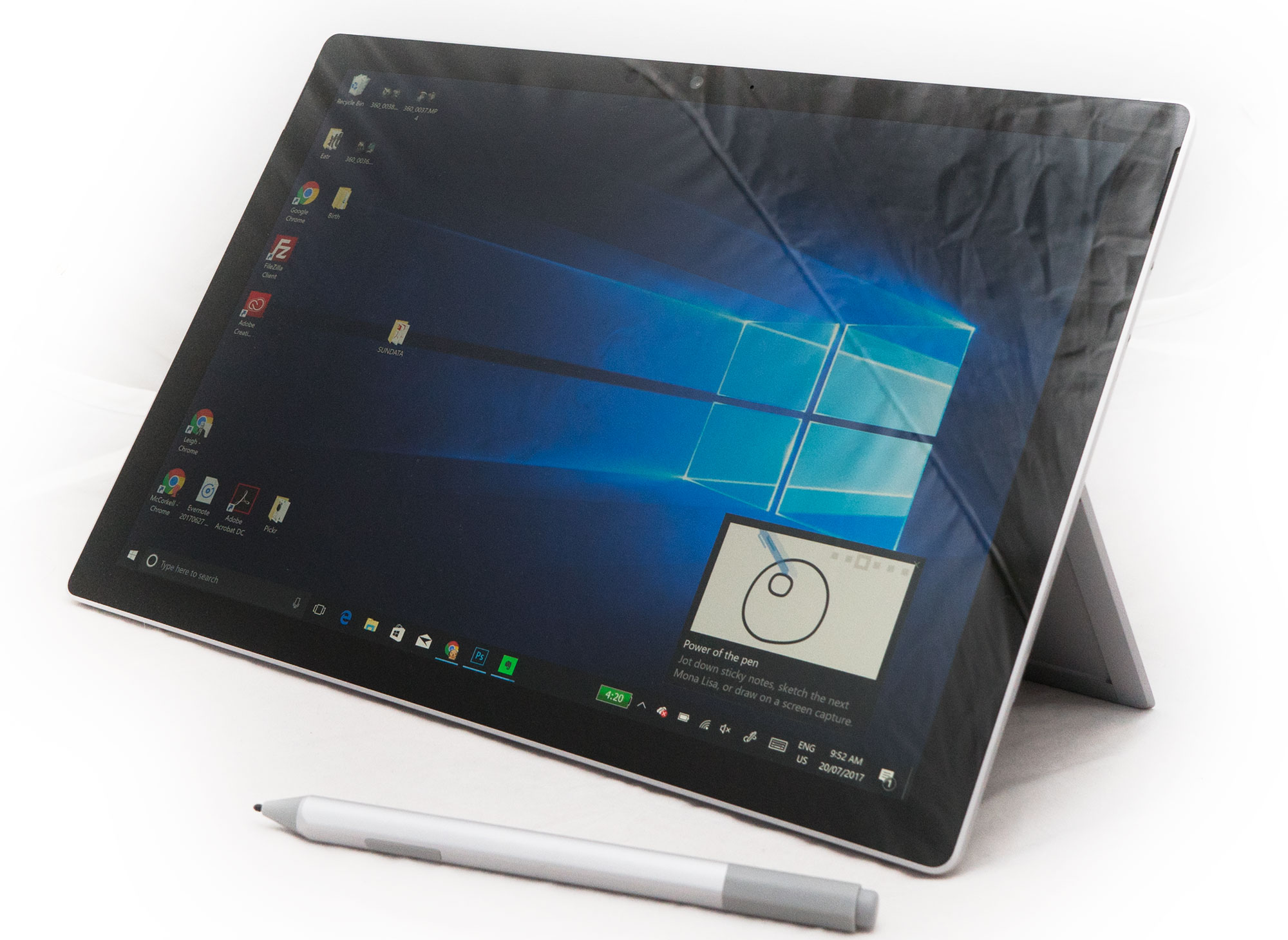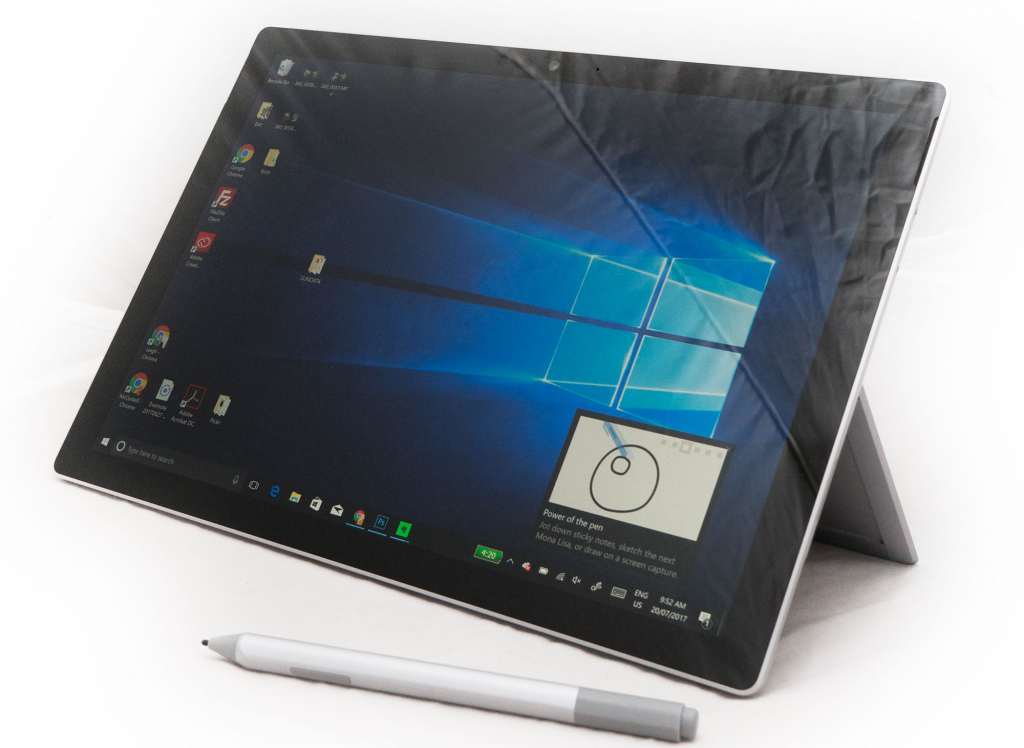 With that level of system spec, we found the Surface Pro 2017 made short work of pretty much anything we threw its way, handling our addition to Chrome tabs without problem, playing with a little Unity, and just generally using the tablet.
Logging on is also a rather special inclusion, because just like the Surface Pro 4, Microsoft has left in support for Windows Hello, making it possible to login solely by glancing at the screen and having it work out who you are.
We've seen this before in the Surface Book and a few other computers, but two years into Windows 10, it's remarkable how few Windows machines support the technology, so it's always good to see it again.
Keyboard, mouse, and pen
The one area that has become completely optional on Microsoft's Surface Pro machines is that of the keyboard and pen, both of which are now extras and not included at all.
That's a first for the Surface machines, which never included the TypeCover keyboard, but did originally include the Surface Pen, and yet now doesn't.
And yet these accessories help complete the package, but they're not part and parcel of what you receive when you plonk down the cash for a Microsoft tablet.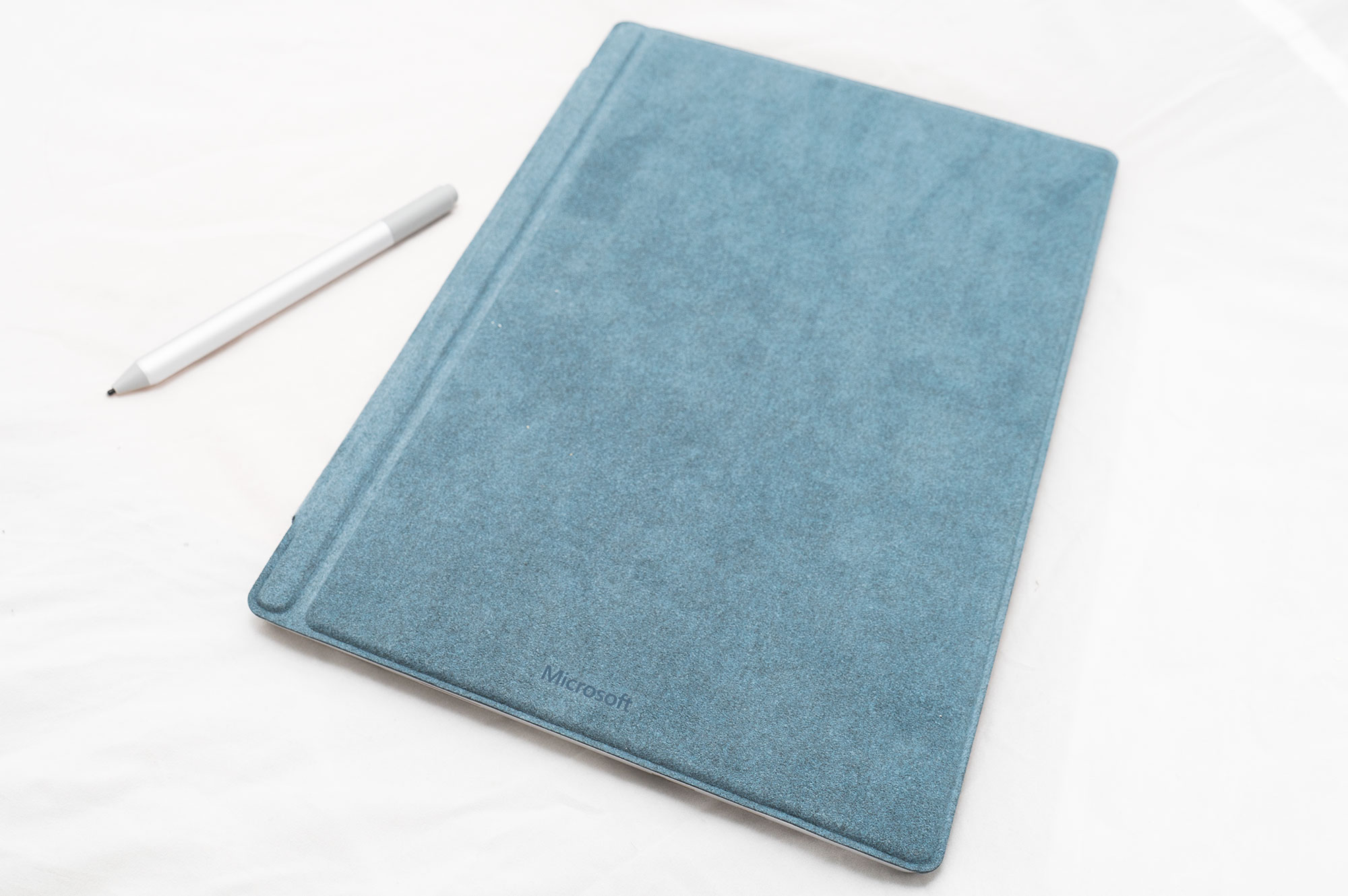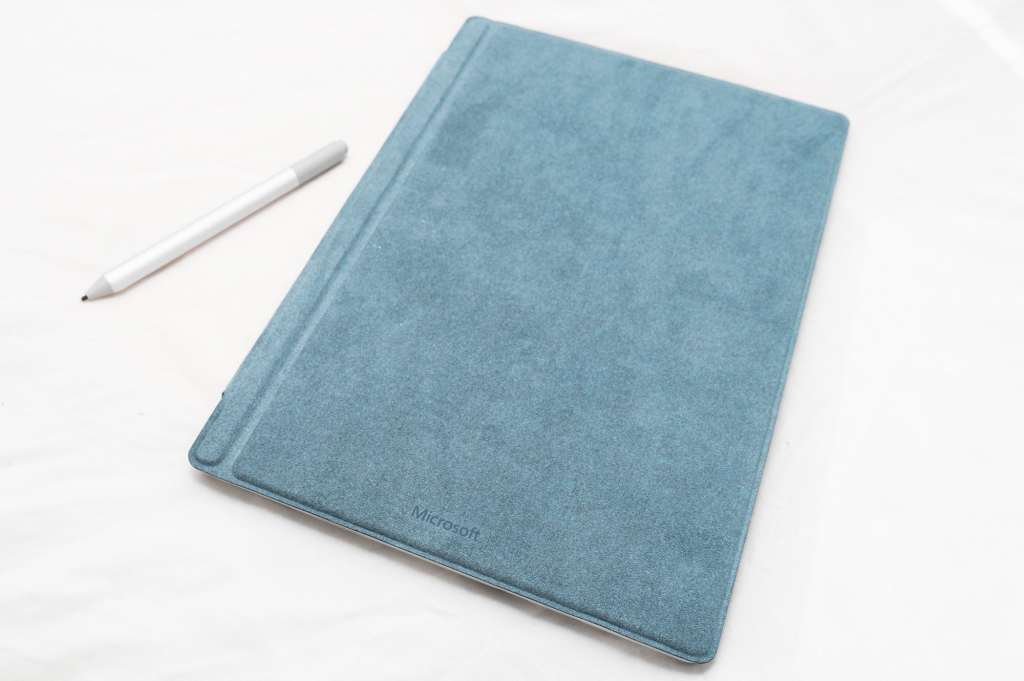 Rather, you'll need to spend an extra $100 on a Surface Pen and an extra $250 on a Surface TypeCover keyboard, whether you opt for the fingerprint edition or the one covered in fuzzy Alcantara fabric. That's a good $350 extra on accessories, and bits and pieces that help make the Surface Pro 2017 come alive.
For instance, if you go without the Surface Pen, you'll miss on the ability to scrawl notes or draw with up to 4096 levels of pressure sensitivity, not to mention see how strong the magnet is on the new edition of the Surface Pro tablet.
Frankly, after a few weeks with both, we could probably skip the Pen, but that's simply because we didn't use it. Creatives who like to draw and edit with a stylus will likely see the point better than we will.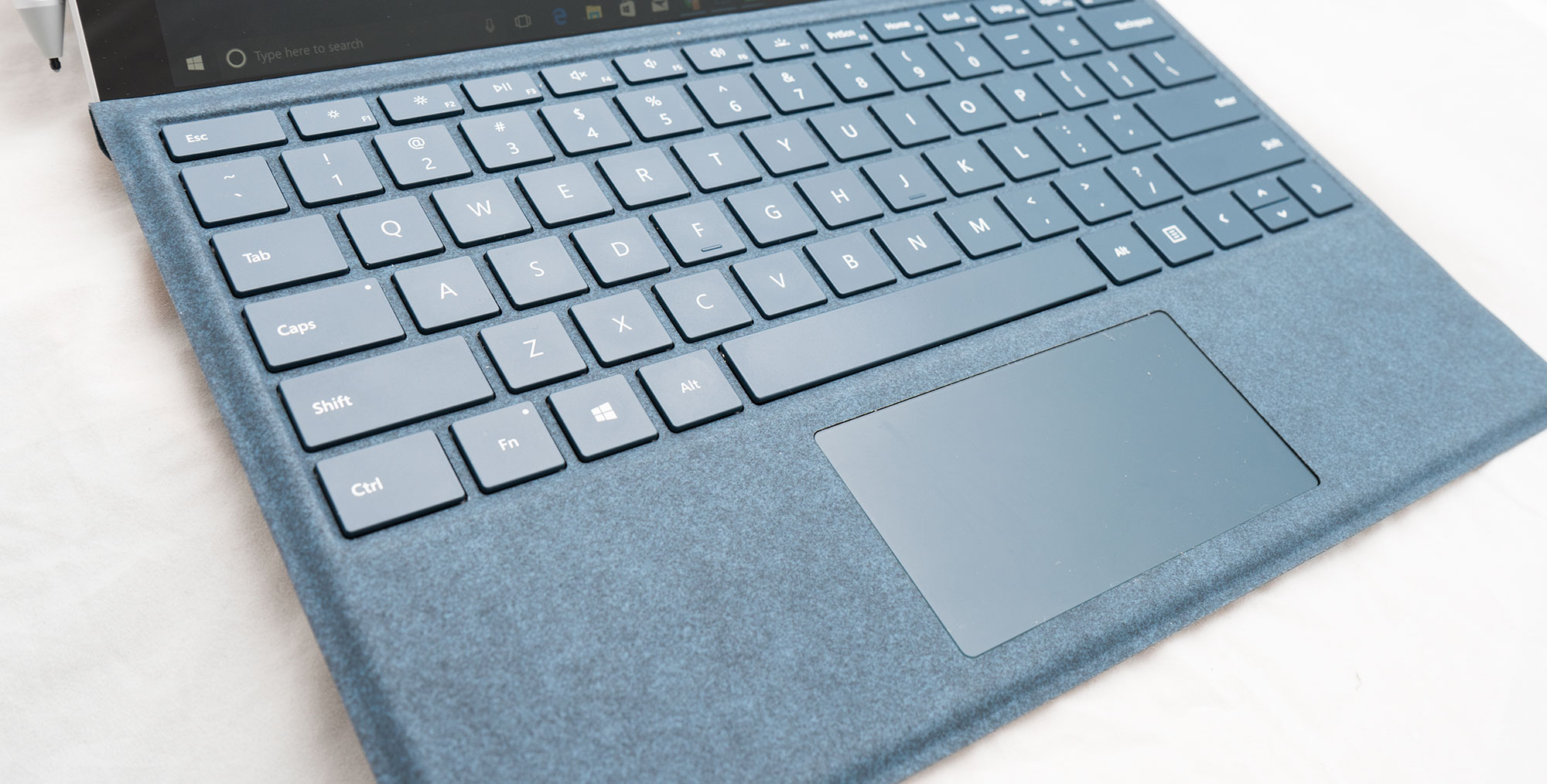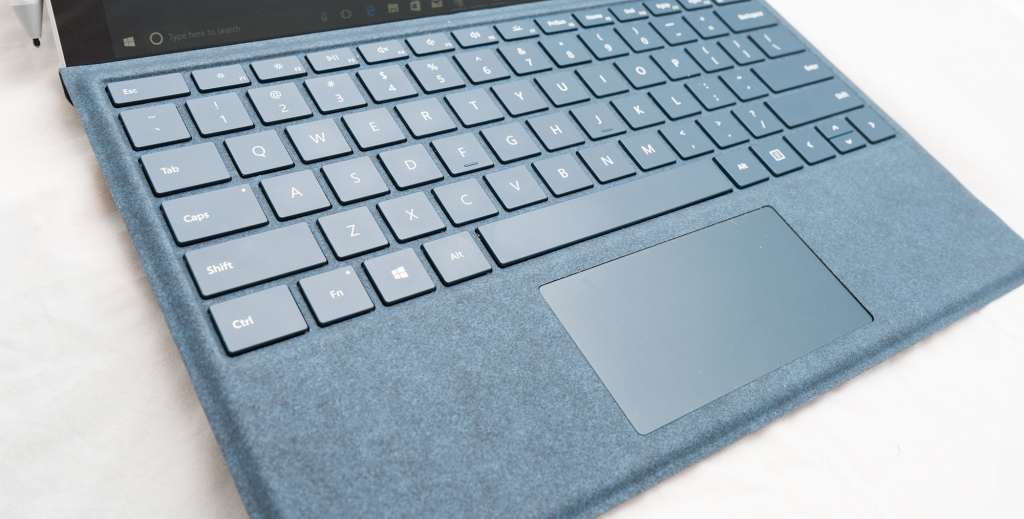 The keyboard, on the other hand, is definitely needed, converting the Surface Pro tablet into a fully established laptop that works in tandem with that excellent hinged stand on the back.
Microsoft's latest generation is soft to the touch thanks to the use of Alcantara, a luxurious fabric used in cars and speakers that aims to feel like suede, while the keyboard itself offers island-shaped keys with a comfortable travel, enough spacing to make for a solid typing position that won't confuse your hand positions at all, and three levels of backlighting.
It is, frankly, the one part of the Surface Pro package you should not be without, and it's just a little frustrating that it will cost you an extra $250 to get it, raising the price of the Surface Pro computer significantly.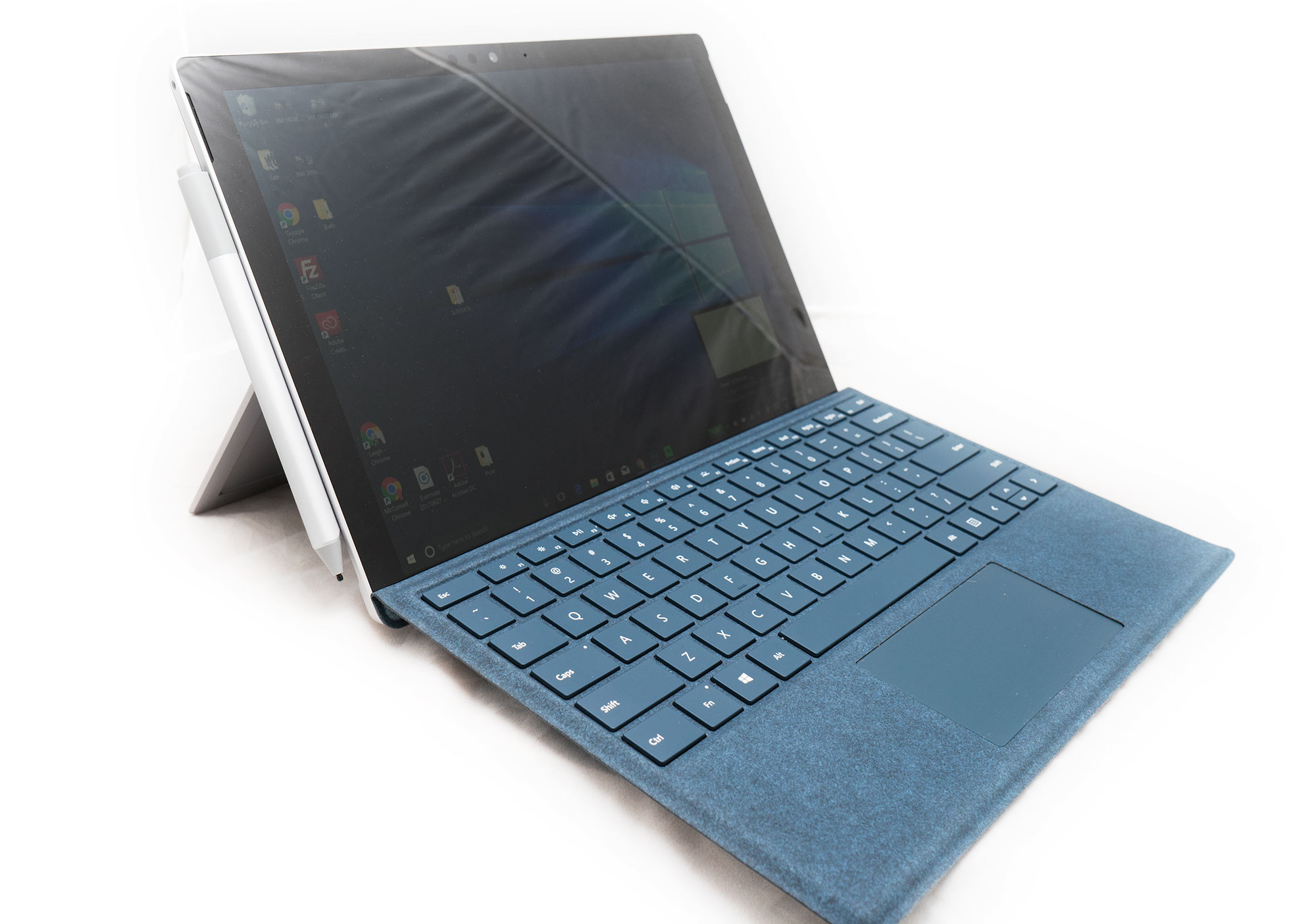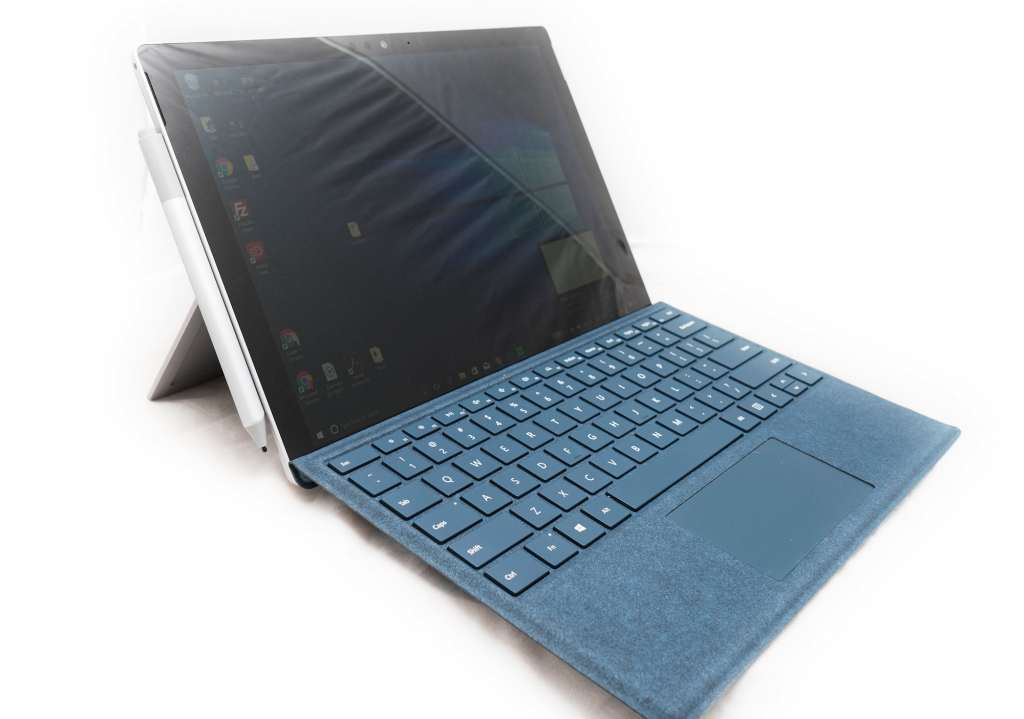 Battery
Over on the battery side, we found Microsoft's Surface Pro 2017 edition to be good, delivering around six hours of battery life with the screen up to a moderate amount, while switching on the battery saver mode achieved closer to eight or nine hours, which should be long enough for most.
You'll still find Microsoft's proprietary magnetic connector used for the Surface Pro, changed over since Microsoft made the jump in version 3, and while it's a little annoying to not have it be a standard like USB Type C, it does do a fairly speedy job of charging the battery inside.
Value
While Microsoft has nailed the design, the biggest question over what needs work in the Surface stems from value.
Simply put, it's one of the best portable Windows machines on the planet, and yet it doesn't seem to nail the overall value, delivering a solid tablet provided that's all you need.
Unfortunately, you need to factor in the cost of a keyboard with it, meaning the price of the Surface Pro is its cost plus that of the keyboard, since everyone will likely need to buy one of those, too.
Just keep that in mind for the moment, because our review unit was priced at $3299 without the keyboard and without the pen, two additions that would push that over the $3500 mark.
Granted, you're getting a lot of computer in a small package for the price, but it's still a very expensive purchase, and it doesn't get all that much cheaper if you knock down the specs, something which can see the price tumble as much as two grand to an $1199 starting price for an Intel m3 processor.
We suppose that will be fine for many, but for others look for value, there's a bit question mark there, and we're not so sure it's going to be easy to dislodge.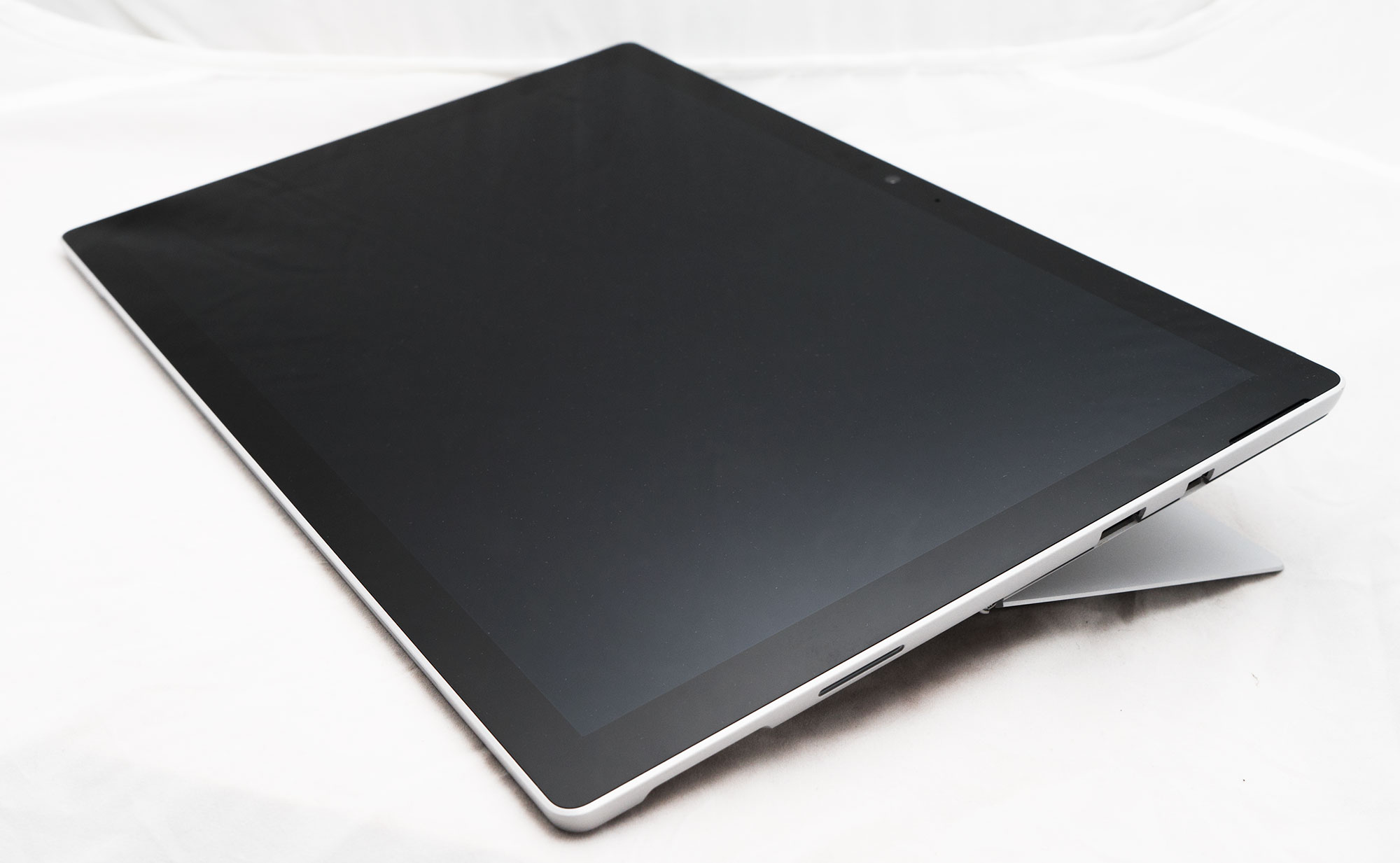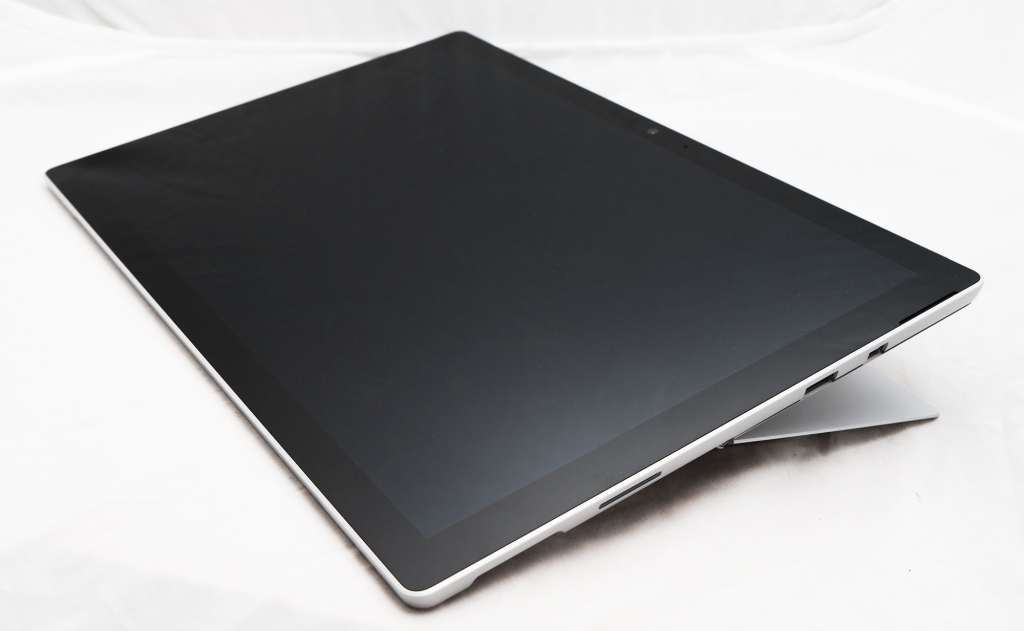 What needs work?
Aside for the question mark hanging over the value of the machine, Microsoft's other dilemma stems from what the latest generation of the Surface Pro really has going for it in comparison to its older siblings.
The problem is simple: not much has changed, and outside of a couple of slight design tweaks and an update to the processor, everything else is largely the same.
It's still rather surprising that Microsoft hasn't brought in USB Type C ports yet, as it's one of the last companies to delay the move.
So what needs work? The overall spec and feeling of future proofing, because as great as the Surface Pro is, it doesn't feel like it leads the charge into the next year, more or less just powering through the current one.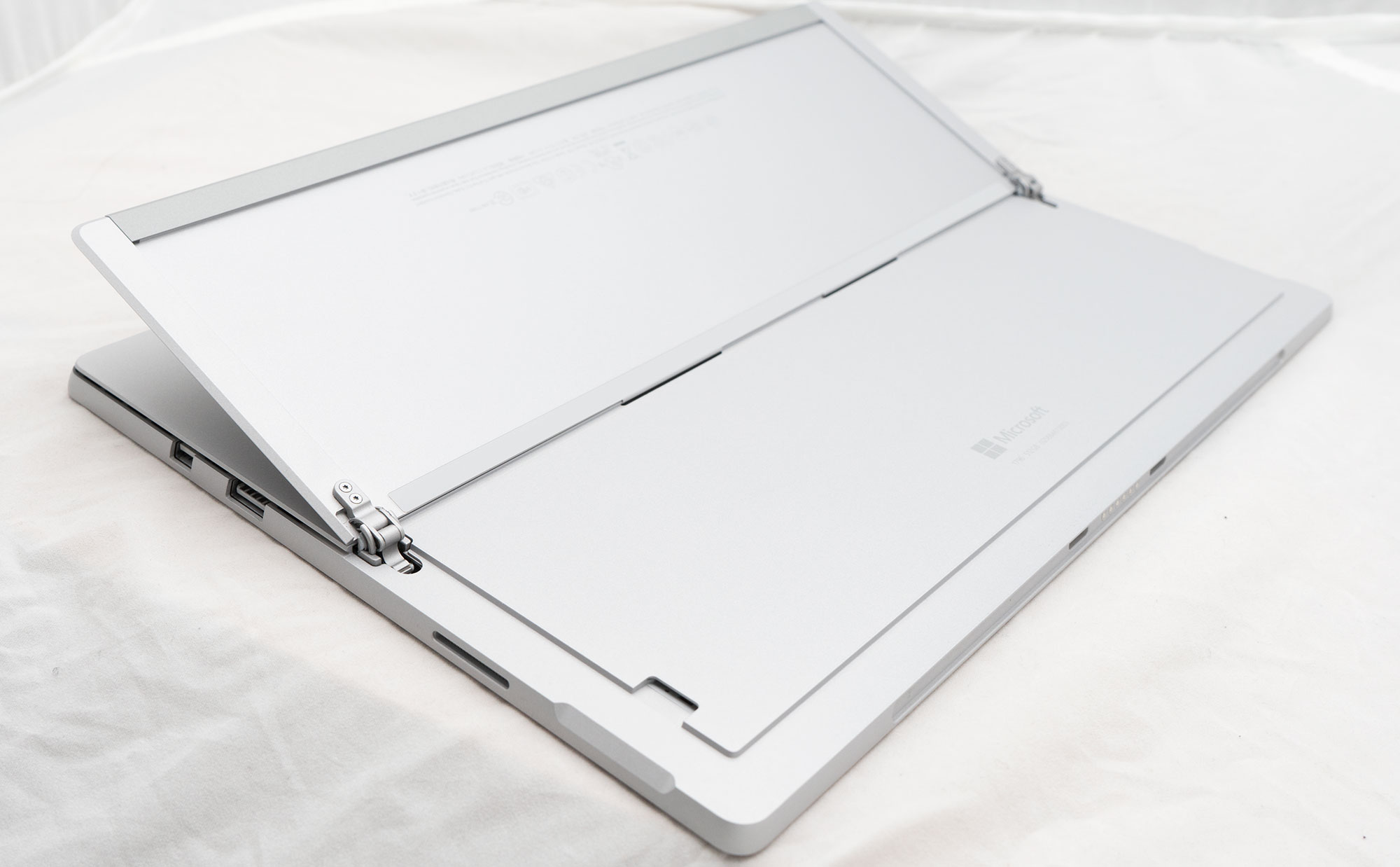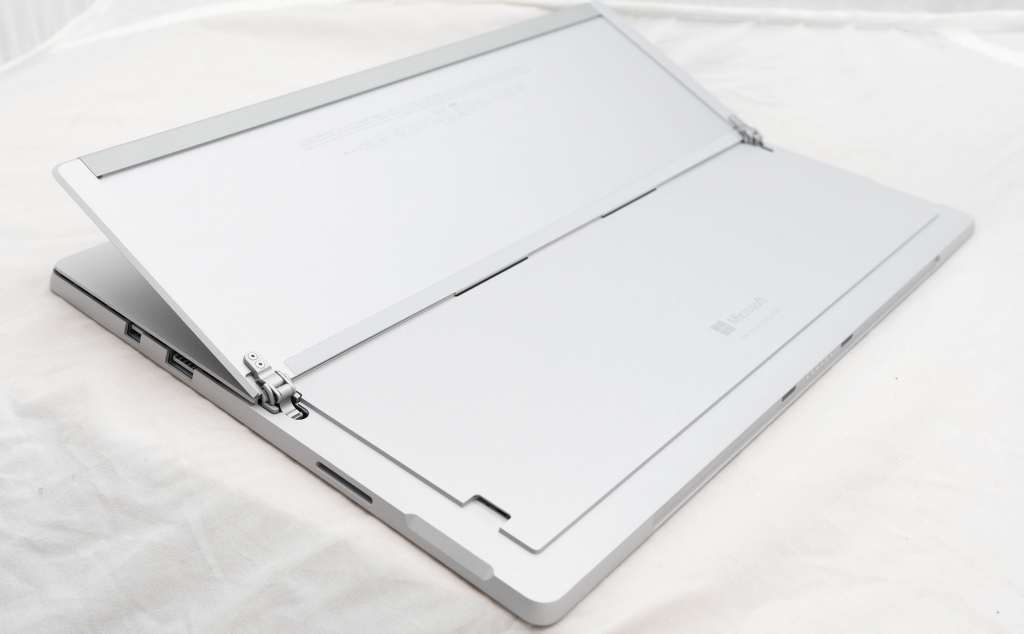 Final thoughts (TLDR)
Now in its fifth generation, Microsoft's Surface Pro keeps getting better, as the maker of Windows finds a way to refine and engineer its tablet to be among the best of the best.
There's only one catch: Microsoft needs to do more.
We have no doubt that the latest incarnation of the Surface Pro is an excellent machine, but it just needs that something else to make it shine, and newer more future-friendly ports would probably have been it. As more phones and tablets make their way to the awesome universal standard that is USB Type C (and by extension Thunderbolt), the updated Surface Pro would have benefited greatly from this, and could have easily switched out the Mini DisplayPort for one.
Providing that extra option could make all the difference, especially since you're technically getting less in the Surface box than you used to, now that the Pen has gone walkabout and become an optional extra.
That's the problem Microsoft's Surface Pro has, because as excellent a computer as it is, it's not as forward thinking as we'd have hoped.
There's no doubting that Microsoft's Surface Pro is still one lovely little tablet, but whether or not it has the guts to say it's 2017's best, that we're not sure about. Still, it's definitely worth checking out if you fancy yourself a hybrid machine that is made for today, and still has a little left in its tank for the next year or two to come, just make sure you don't mind spending a bit on accessories.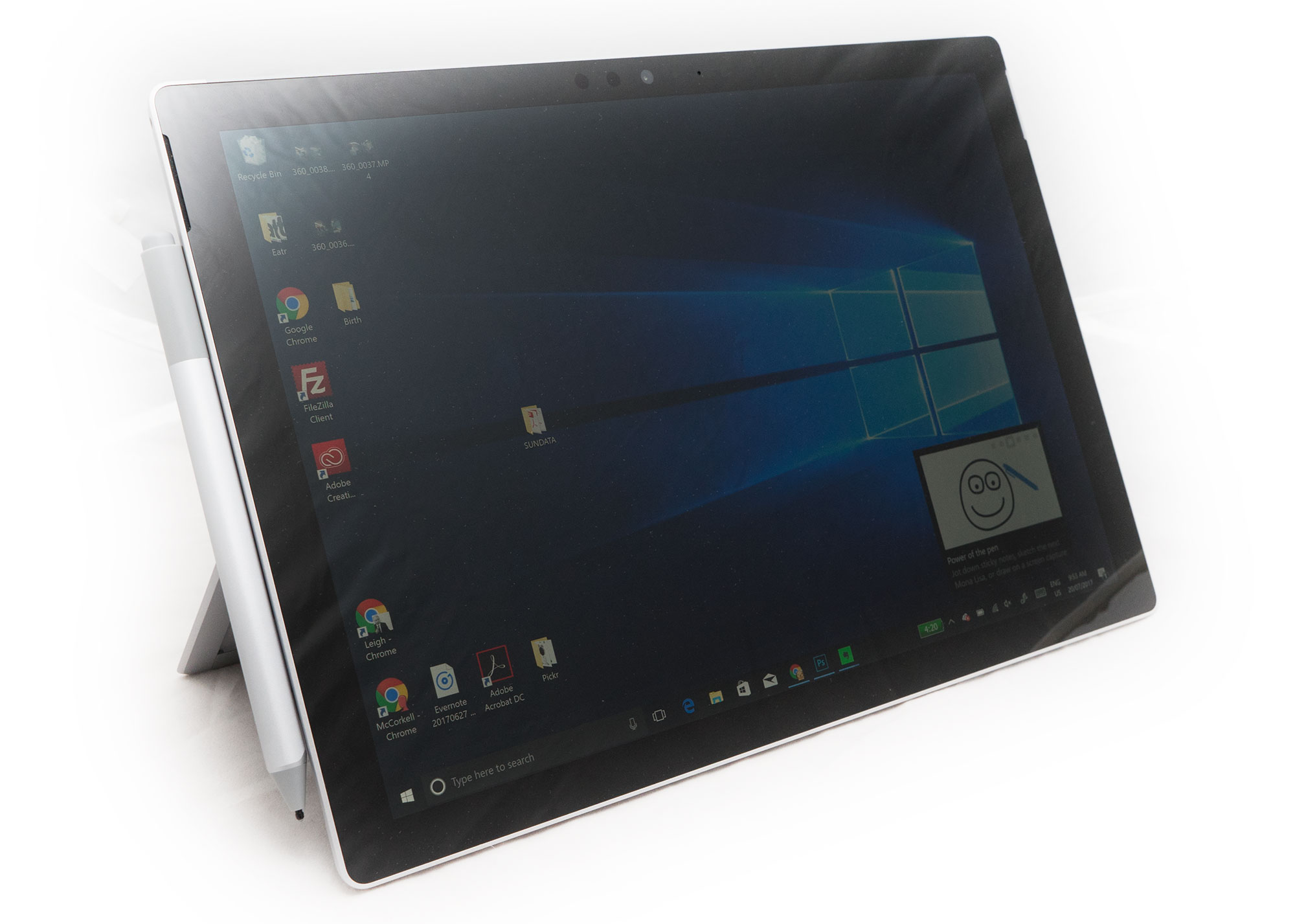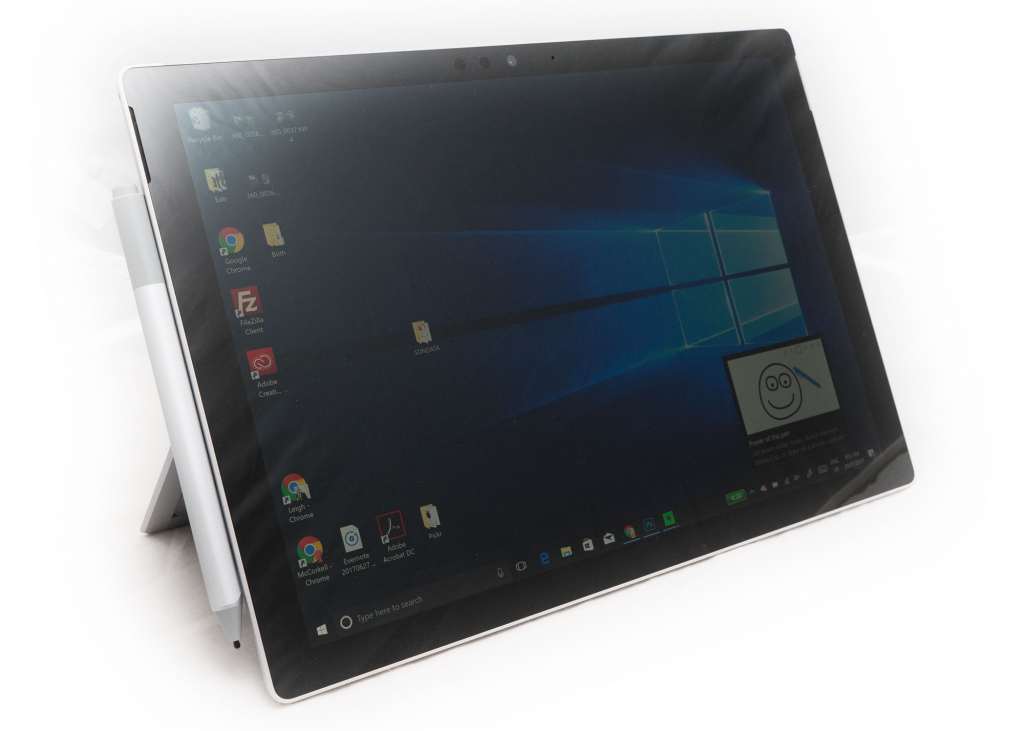 Good build and design
Better hinge
Performance is excellent
Windows Hello is included
MicroSD slot included at the back to upgrade storage
No USB Type C or Thunderbolt 3 ports
Surface Pen is no longer included
TypeCover is still not included
Expensive