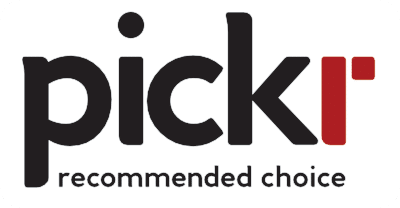 One of the last major phone releases for 2016 should be interesting, as Google kills off the "Nexus" brand and starts anew. This is the "Pixel", and it's bigger than the name can possibly suggest.
In the world of smartphones, there are two major players as far platforms go: Apple and Android (sorry Windows, you're just not big enough).
The Apple side is fairly obvious, with Apple making the only devices that run this operating system, and they call come with the name "iPhone".
Android is the other massive entity, and Google makes that environment, releasing it for free to be used by any and every manufacturer keen to have a mobile out in the world today.
Most brands outside of Apple have dabbled in or released an Android device, including Samsung, Sony, LG, HTC, Motorola, Huawei, Alcatel, Oppo, ZTE, Acer, and so on and so on and so on. Even Nokia's dabbled a little, though not released an Android locally.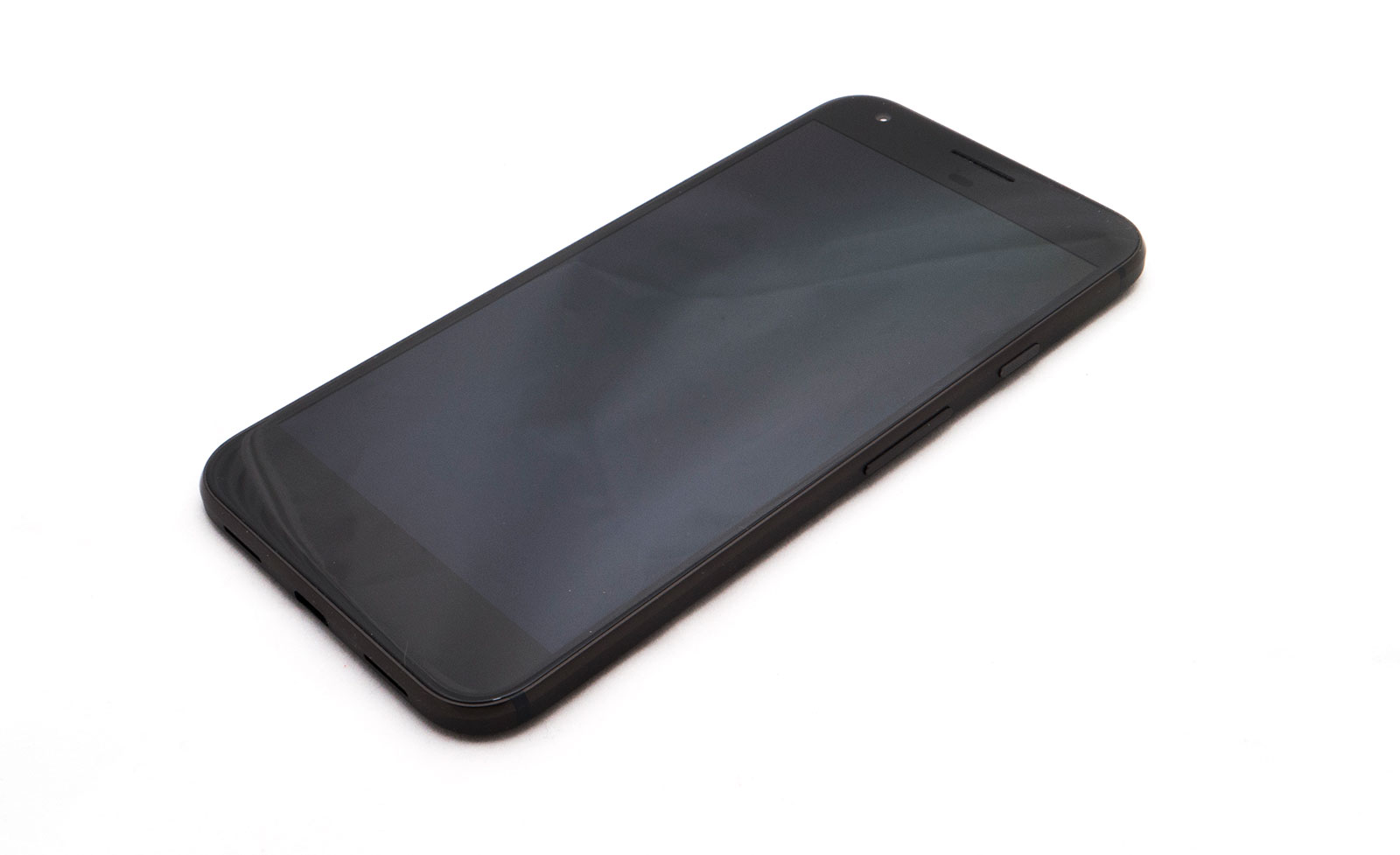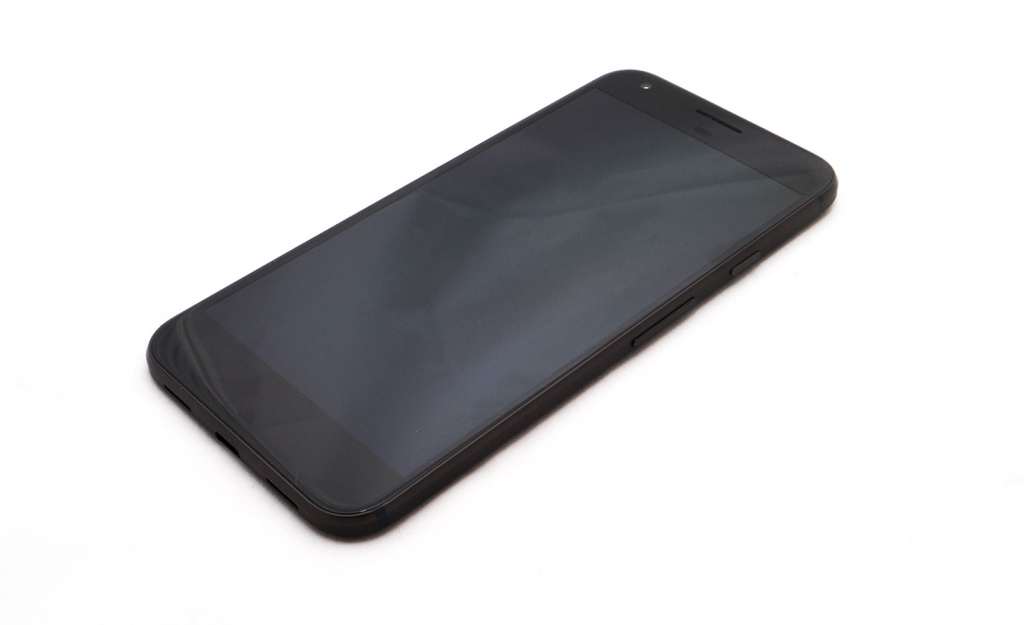 Google is also into releasing phones, though it never really "makes" the hardware per se, choosing manufacturers to make the phones it wants to represent the Google Android edition it releases each year, something it has done for the past few years.
Previously, these have included Samsung, LG, and Huawei building the "Nexus" phones, smartphones which either got people into the Android ecosystem by way of an inexpensive entry point or something that represented exactly what Google had in mind for its Android vision.
This year, however, the company is undergoing a change, and even shifting to be more than just sitting on the sidelines. This time, it's getting involved, relying on HTC as a manufacturer and purportedly designing more than just how it works.
This is the Google Pixel, and it's possibly Google's most interesting smartphone yet, revealing a new emphasis on software beyond merely that of the operating system. Rather, it's a glance as to how Google thinks smartphones should connect with your life from here on in.
Specs
A new phone deserves new specs, and that's exactly what you'll find here, as a similar strain of the stock standard sets of silicon for smartphones this year is used in another new phone.
We've previously seen the Qualcomm Snapdragon 820 on a few phones thus far, and in the Pixel XL, we have a new variant of that chip, the Snapdragon 821, providing four cores of power and some graphics grunt, too.
This is shared with a whopping 4GB RAM and either 32GB or 128GB storage, with Android 7.1 "Nougat" included on the handset out of the box.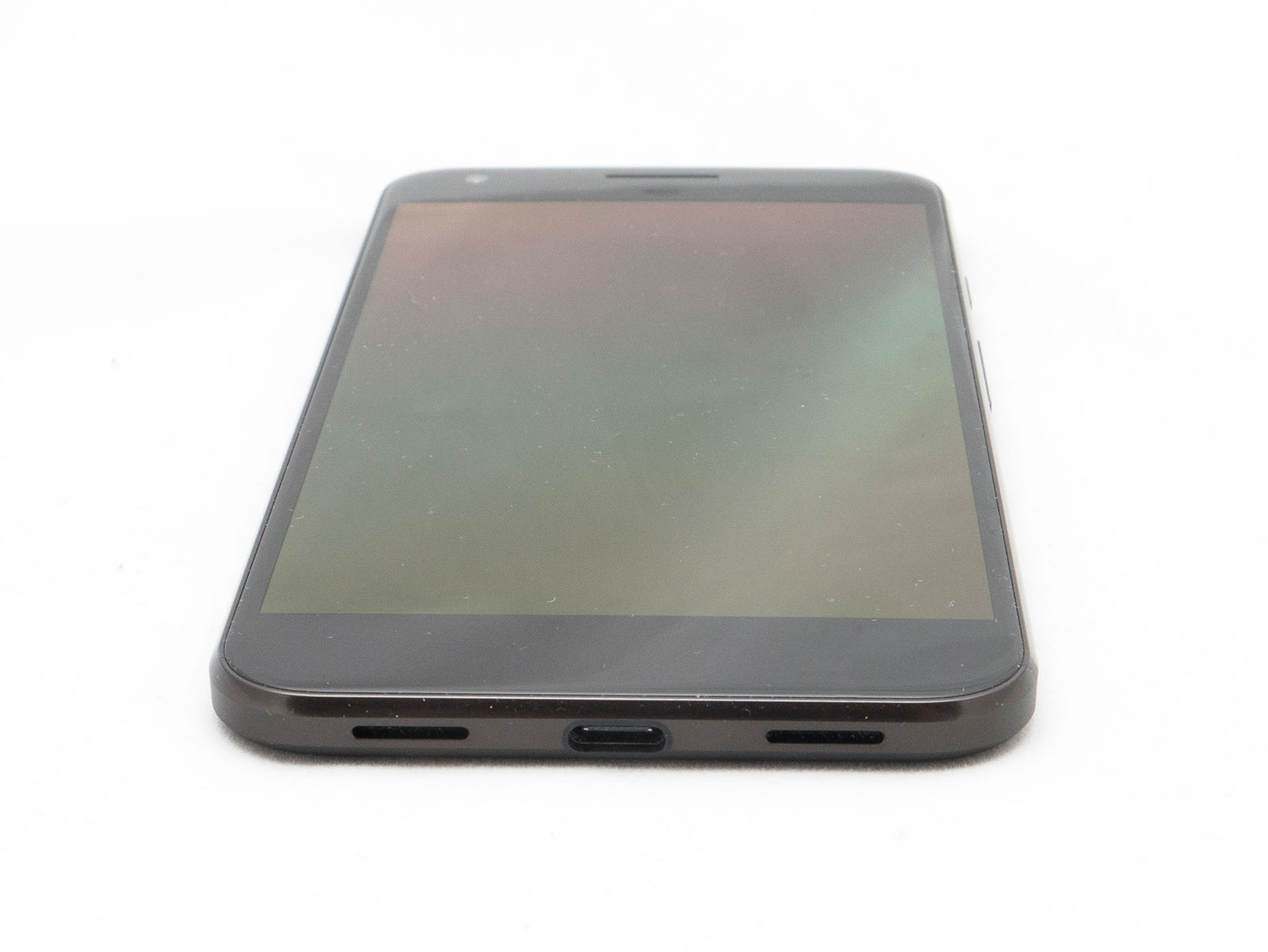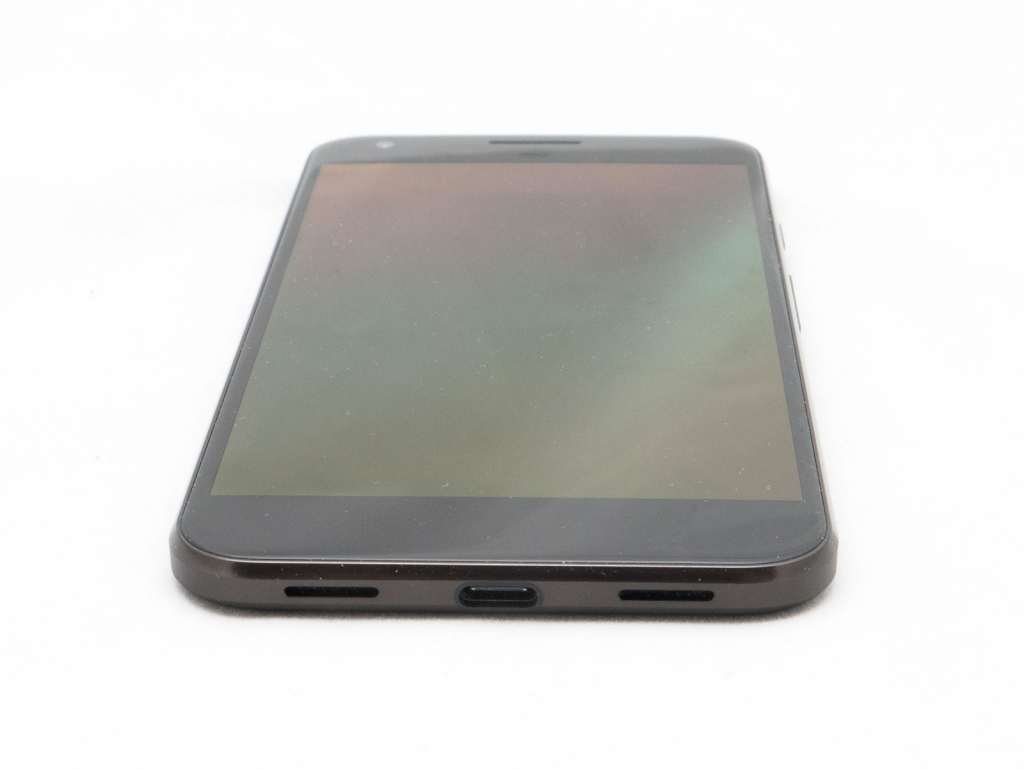 Connections for the phone are just as high end, with support for 802.11a/b/g/n/ac WiFi, Bluetooth, GPS, Near-Field Communication (NFC), and a pretty staggering boost of 4G LTE with this running at Category 11 speeds pitching as high as 600Mbps down and 50Mbps up.
Wired connections are what we would define as "standard", offering a Type C USB port at the bottom of the phone for data and charging, while the 3.5mm headset jack is still very much a part of this phone and hasn't been removed.
The camera also attempts to draw people in with similarly high specifications, offering a 12 megapixel rear camera with Ultra HD 4K capture, while the front-facing camera sports an 8 megapixel sensor for fairly high resolution selfies.
Google hasn't built the Pixel itself, either, employing HTC to do most of the heavy lifting, which has used metal and glass to make this phone a reality, bringing together an aluminium shell, glass display, and adding a glass cover to the top back for something different.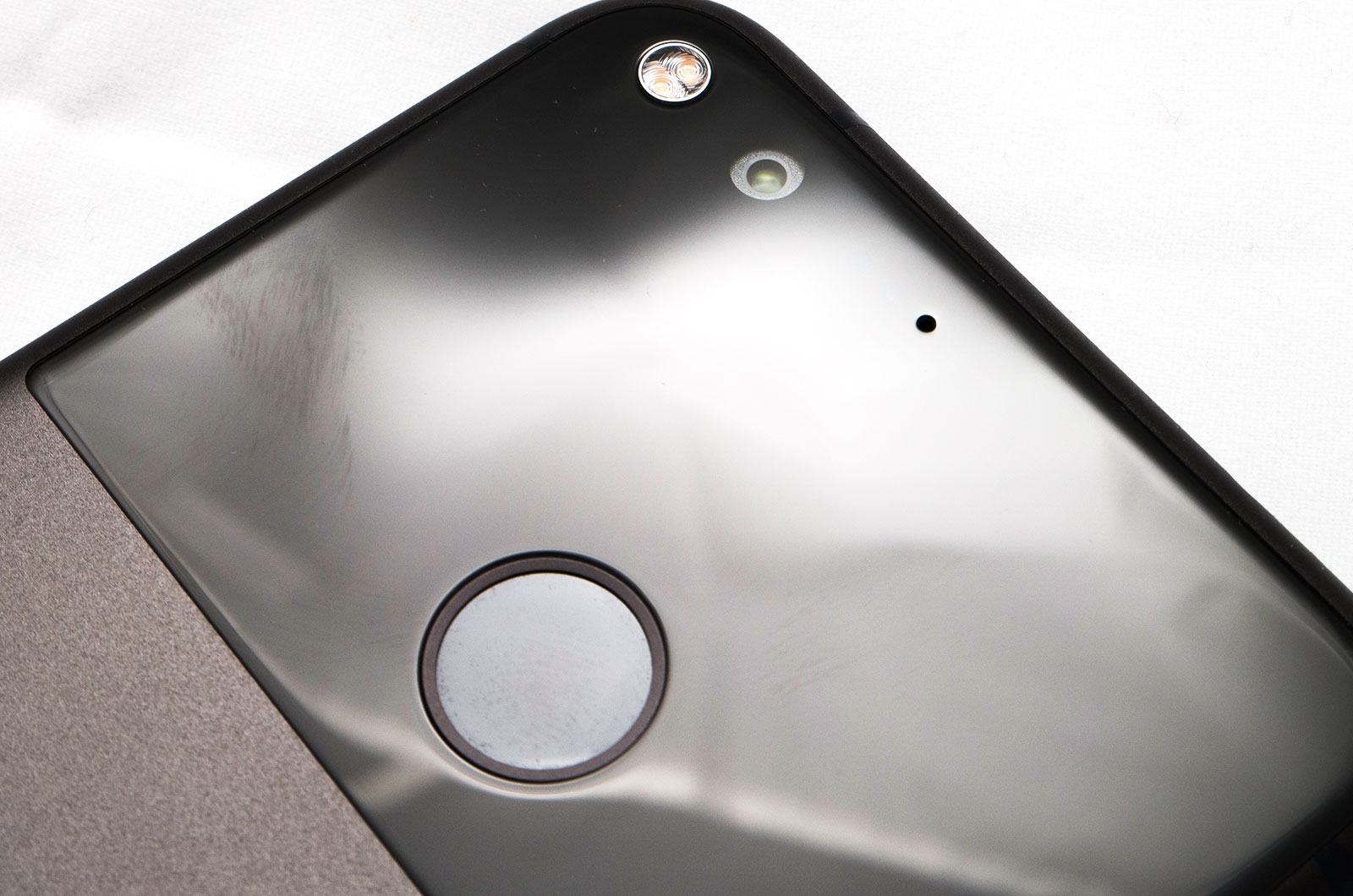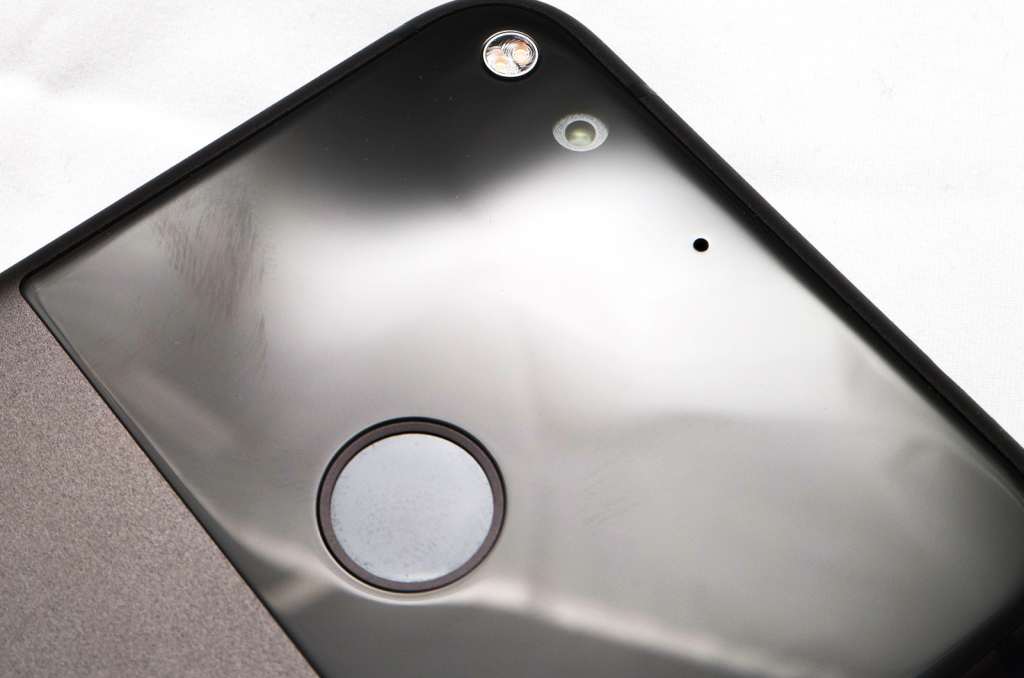 This covers the fingerprint sensor which is located on the back, while the whole phone weighs in at 168 grams and measures at a thickness of 8.5mm.
Google's choice of screen is the final section, with the same sized-screen as the iPhone 7 Plus except with a few changes, running a 5.5 inch display utilising the Quad HD resolution of 2560×1440, which in turn yields 534 pixels per inch.
The Google Pixel XL takes a nanoSIM using a pin ejectable tray and is not upgradeable on the storage front, meaning the nanoSIM is the only card you can put inside the phone.
As for the battery, you'll find a 3450mAh battery inside the Google Pixel XL that cannot be removed.
Design
It's 2016 and by now, we've probably seen nearly every conceivable smartphone design that a company would have in its arsenal, outside of what happens when flexible designs start hitting shelves.
Here we are, though, with a new phone as Google embraces a manufacturer it hasn't previously used for its smartphones before: HTC.
Whle we're not seeing the design normally reserved for the One M8, One M9, and 10 — with its curved back — HTC has tapped into its more Apple inspired design, which is next to impossible not to notice from the front.
Think of it like the iPhone 6/6S/7 Plus, with a big metal body and very little texture lending itself well to feeling slick enough that you'll want to grip it quite tightly when you're out and about.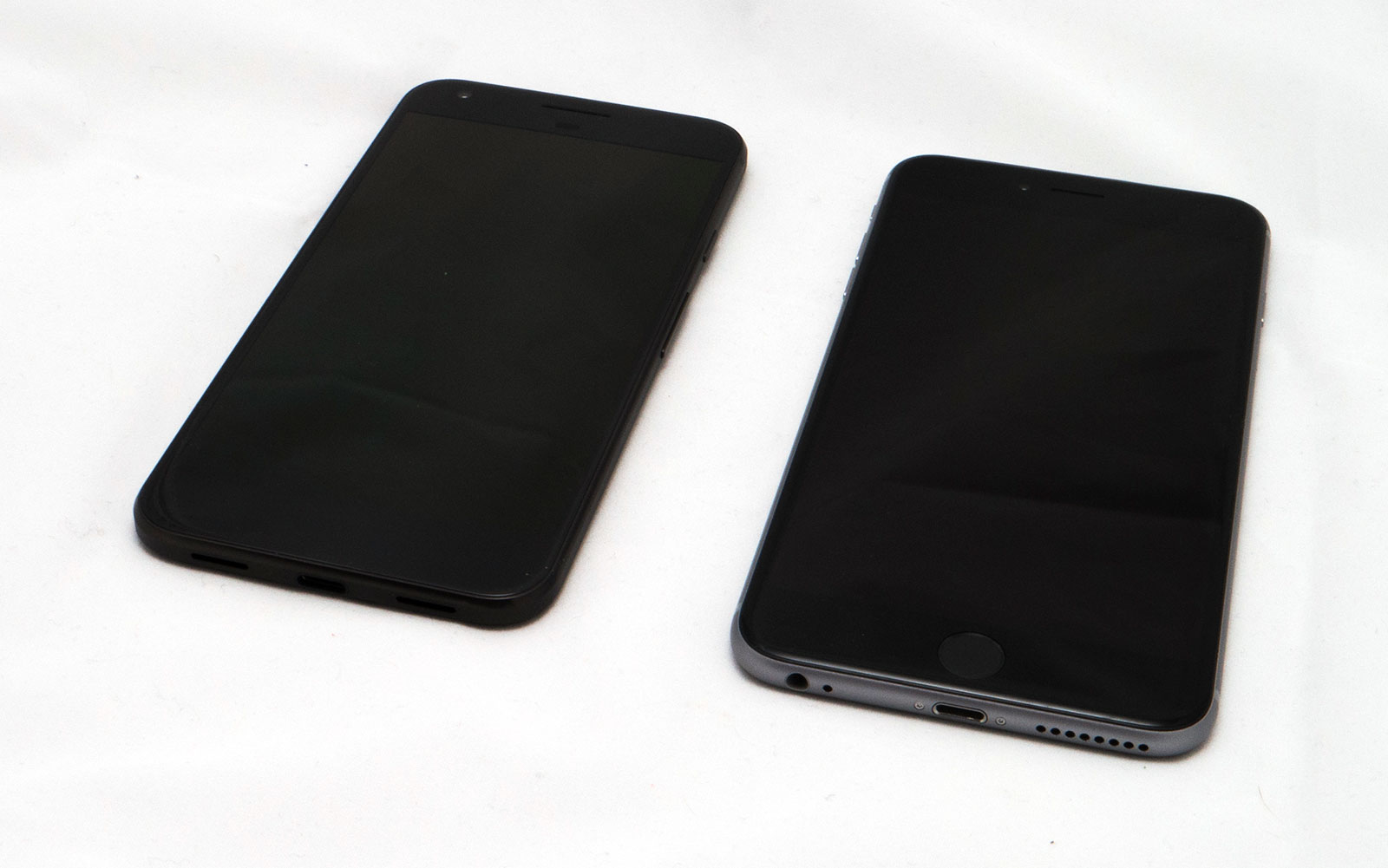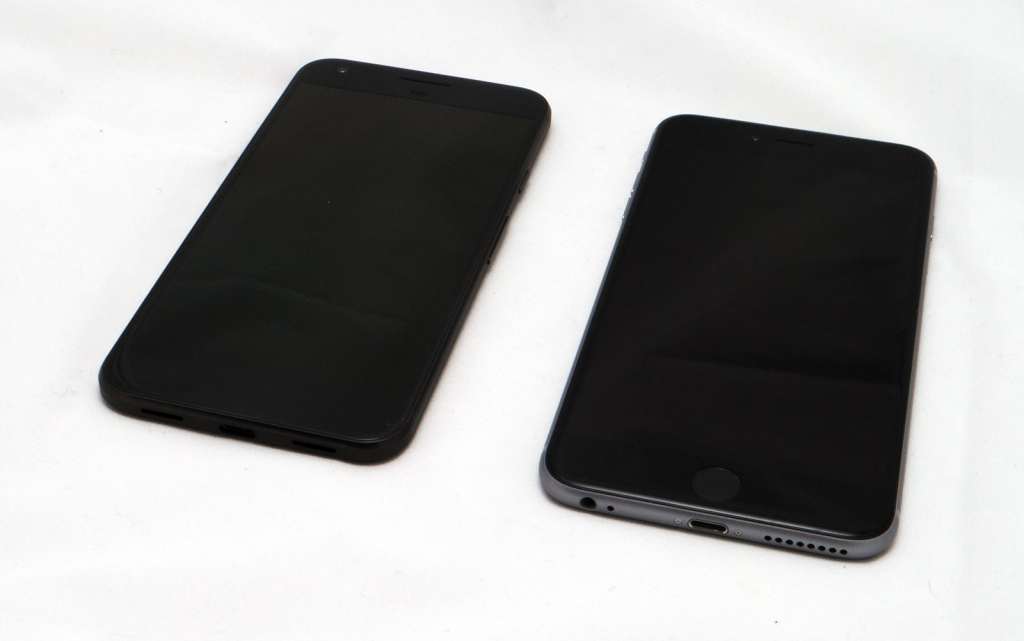 At least the back is a little different, as Google taps into the design it previously used on the Nexus 5X and 6P, with a simple back and a circular print spot, ideal for your fingerprint and unlocking your phone.
Overall it's nice to see a fully metal body, and the glass covering along the top of the back is nice, but the phone can be a touch slippery.
That said, it's still thoroughly comfortable, with a design that is a cross between the iPhone and the Nexus.
In other words, you're not going to find the most original smartphone design ever here, but it's definitely comfortable and made for 2016, which is the sort of year where this design is expected.
Performance
Switching the phone on and putting it in use, you find Google's combination of a thoroughly updated version of Android, a decent processor, and 4GB RAM appears to be the new sweet spot for meaty smartphones.
Make no mistake, this is a "meaty smartphone", offering a gutsy Snapdragon chip, a big screen, and a drive to take pretty much anything you can throw its way for the better part of the next year or two.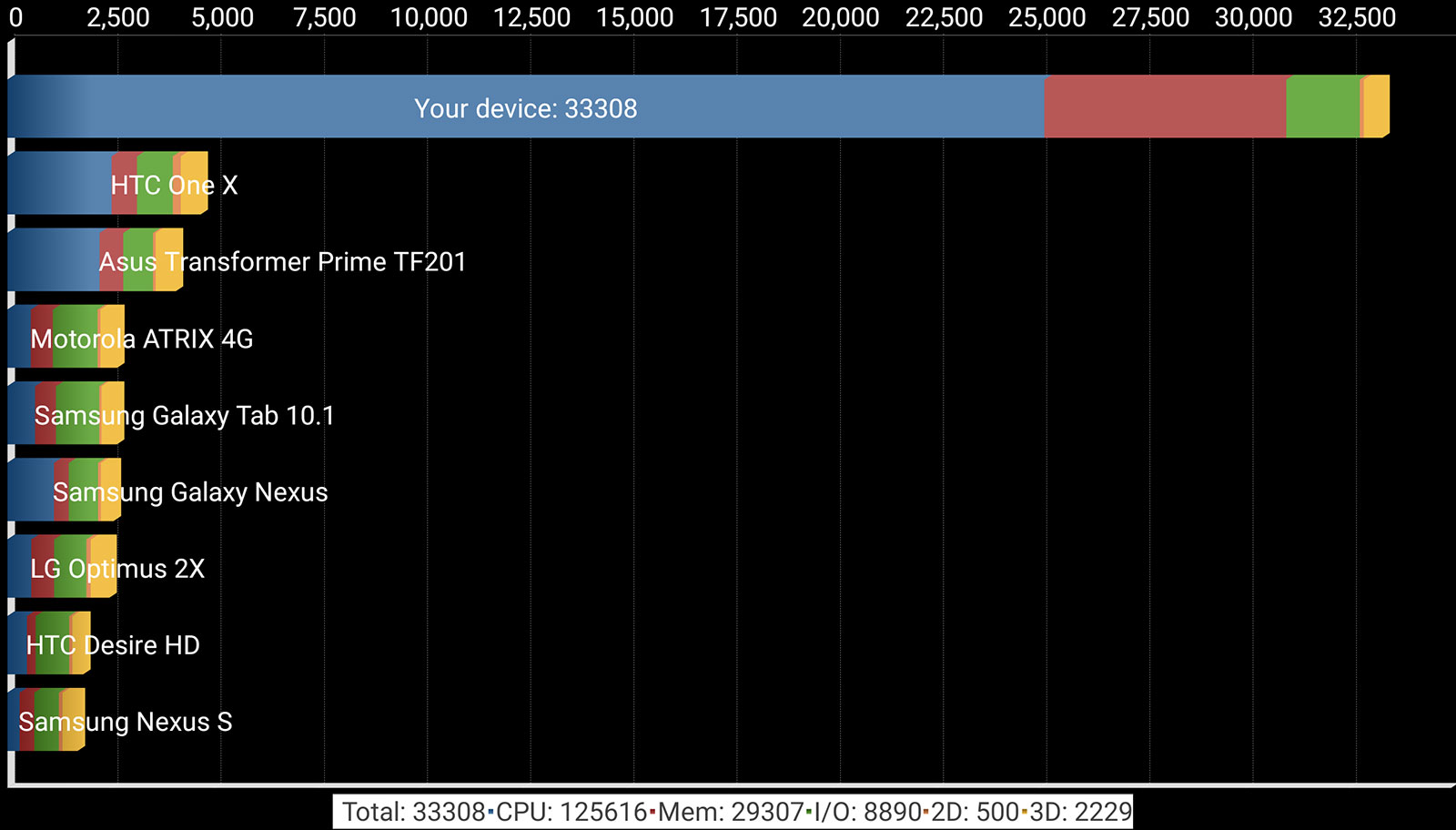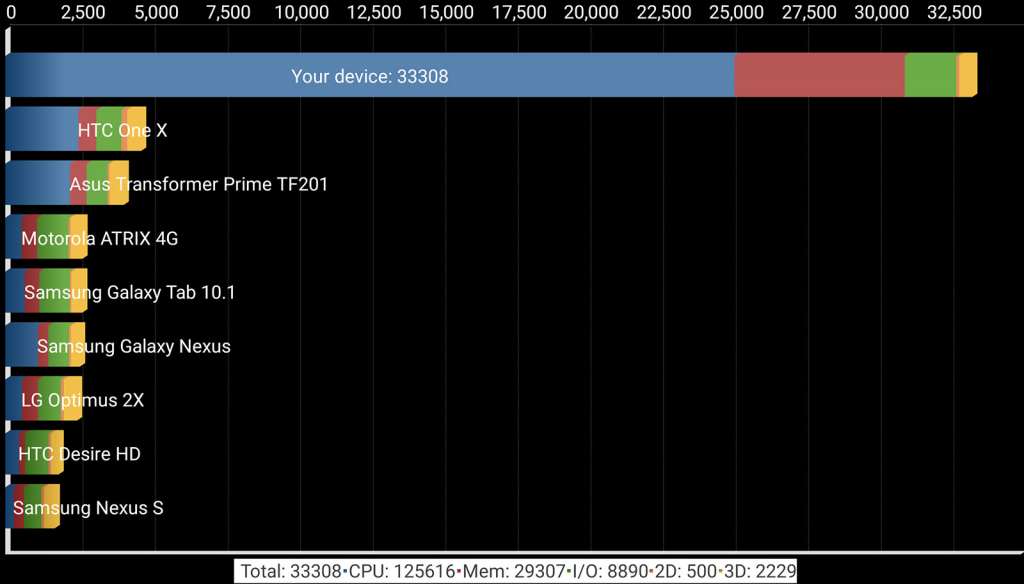 Testing with the typical benchmark, it's quite clear the Pixel XL is fast enough for the games and apps of today, and easily of tomorrow, those like the iPhone, it's vital to remember that this Android phone offers fixed storage, not upgradeable, with the storage size set to 32GB and 128GB only out of the box.
Despite this minor pitfall, the system still comes together, and thanks to some high-speed connection options — 802.11ac and a blazingly fast 4G LTE modem that offers a theoretical 600Mbps download — you'll find Google at the top of its game.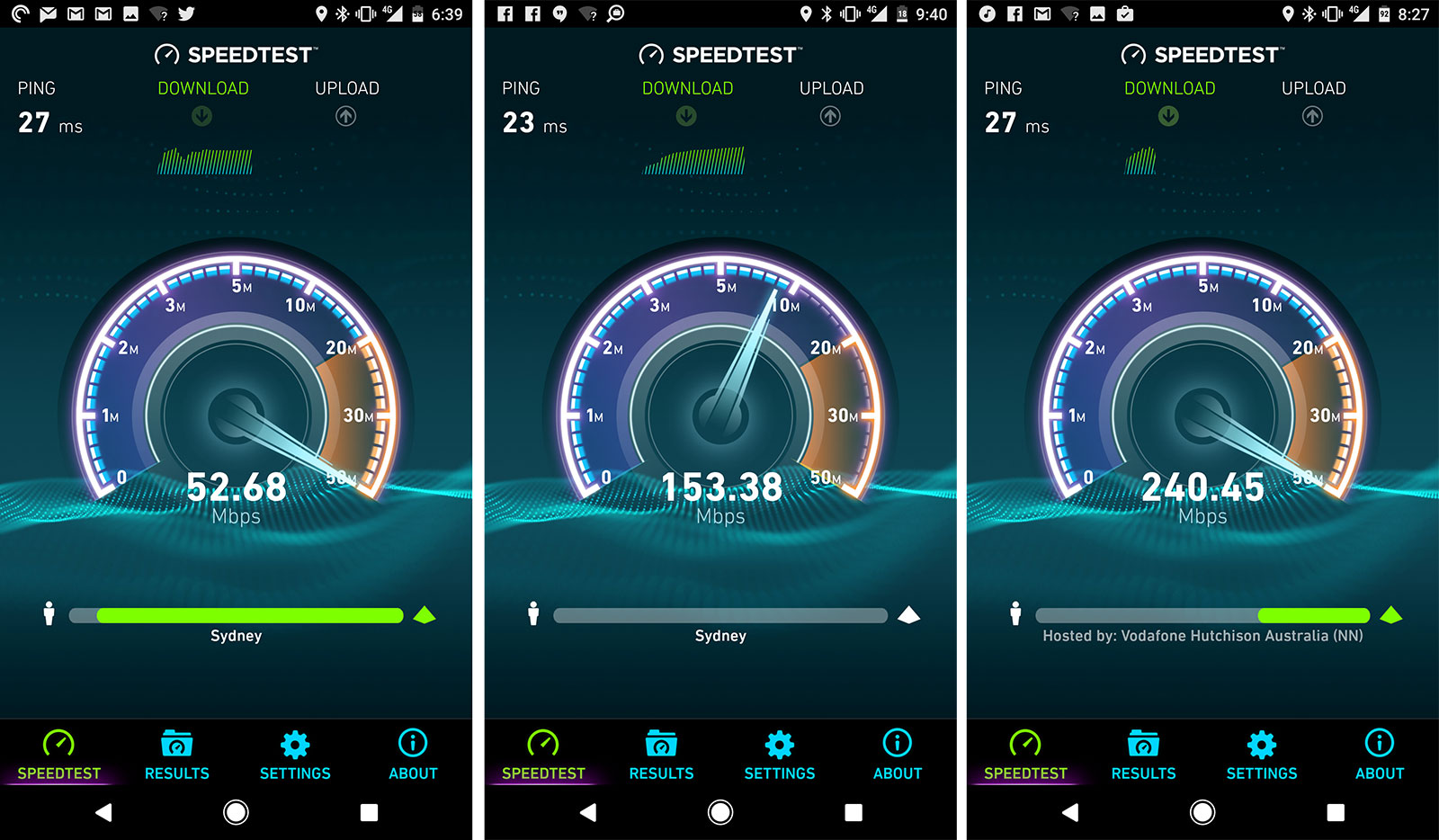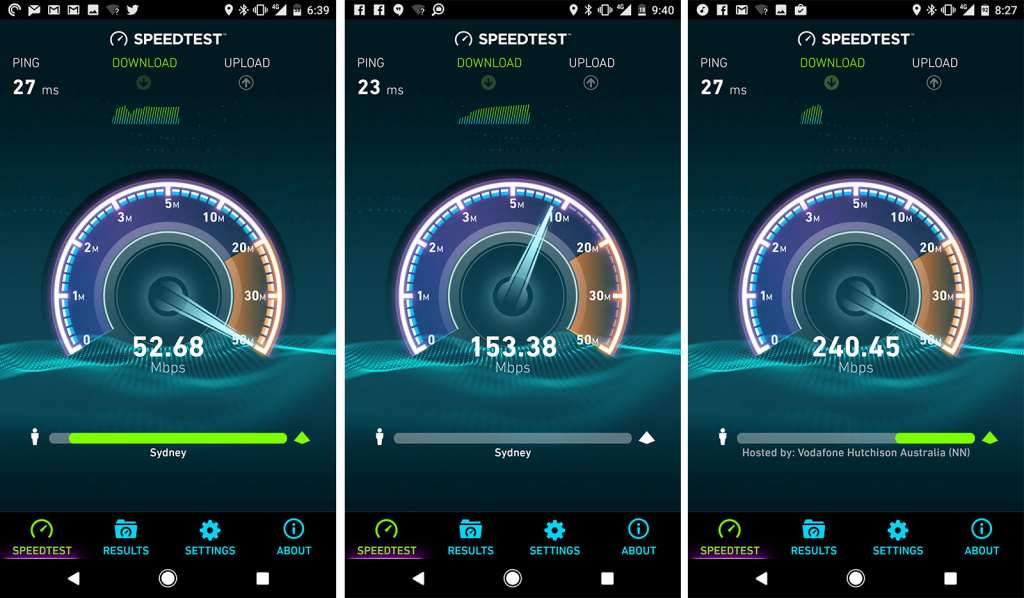 As a result, the combination of parts here appears to have been well thought out simply because everything just works.
It's normal in a review environment to see even the slightest amount of lag on a new phone — every product has bugs, and every device is at one point going to slow down even a little — but the Pixel XL rarely let up, with apps loading with no issue, multitasking working without fail, and the whole phone really just coming together.
It's a beautiful thing when you see something work this well.
A different type of Nougat
Android has also been through some changes, and while we're used to Google including a "stock" edition of Android on its phones, the Pixel doesn't come with Android the way it currently exists on the Nexus 6P.
Far from it, in fact, because instead of the slight enhancement and evolution to Android's launcher that we've seen over the years — with an app menu that feels like it runs across several screens — Android 7.1 "Nougat" on the Pixel almost comes across as a one-screen wonder, with your typical "you'll pry them from my cold dead hands" widgetised homescreens, the left Google Now menu that you can easily slide to, and all of your apps available at any time by sliding up from the bottom of the screens.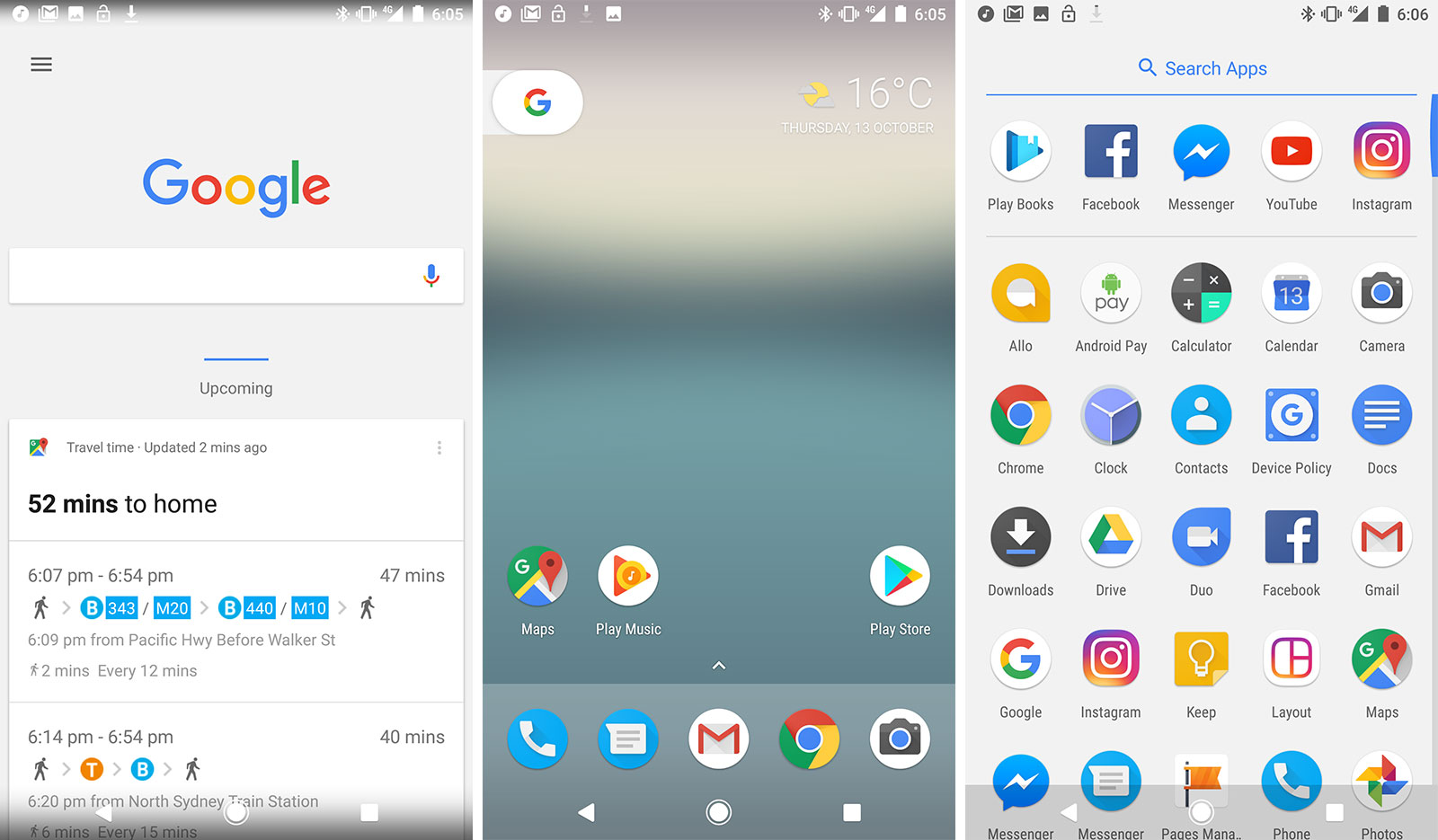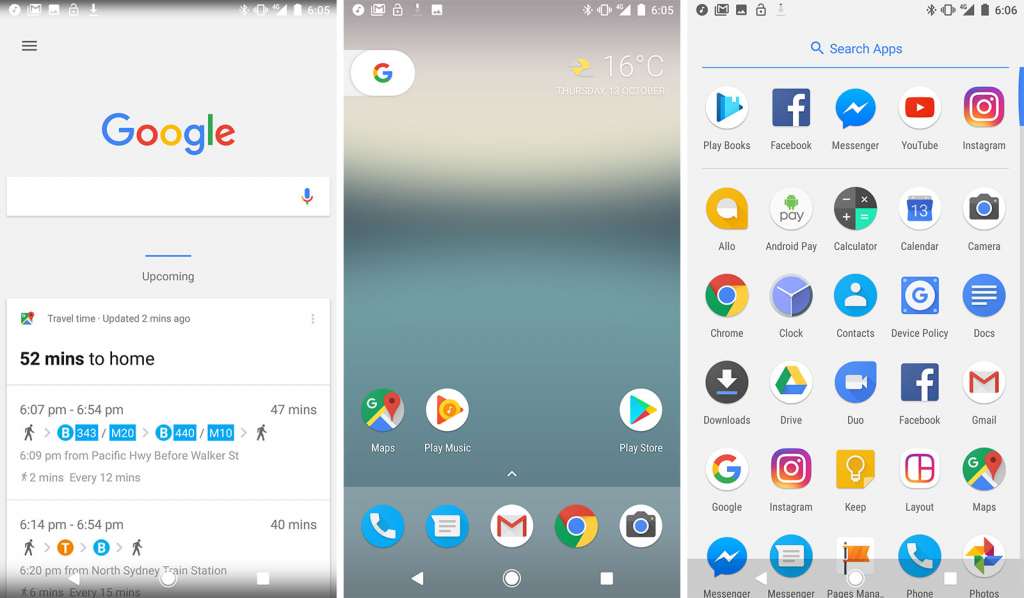 It comes across as a bit of a minor change, but in many ways, it can feel major, providing a seamless operation that involves swiping up in a similar fashion to the swipe left and right that Apple's iPhone achieves so well.
You'll even find a sort of a "force touch" mode for some of the icons, with an extended press revealing extra options for certain applications much like how the iPhone 6S and beyond receive when you push a little harder on the screen.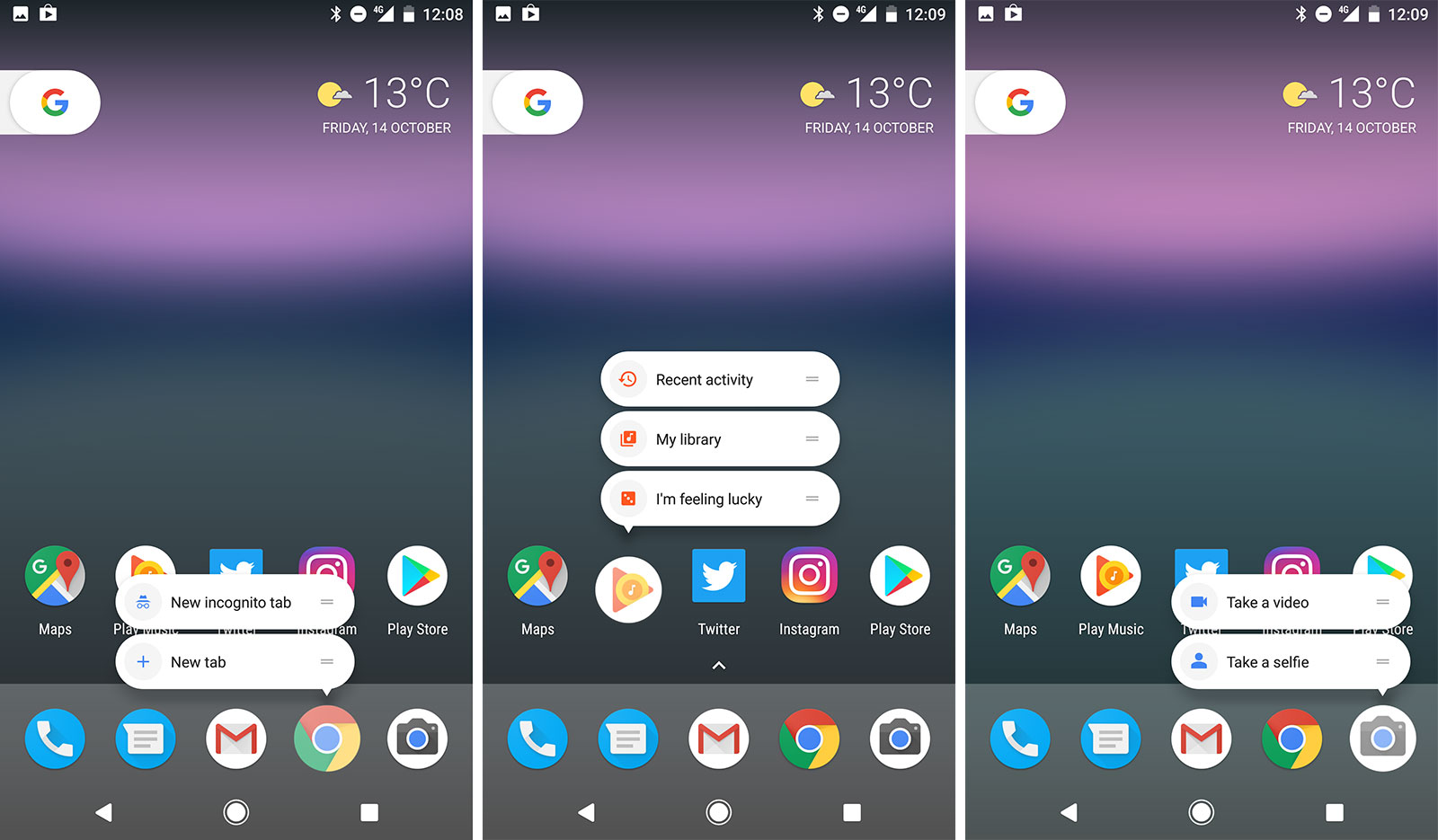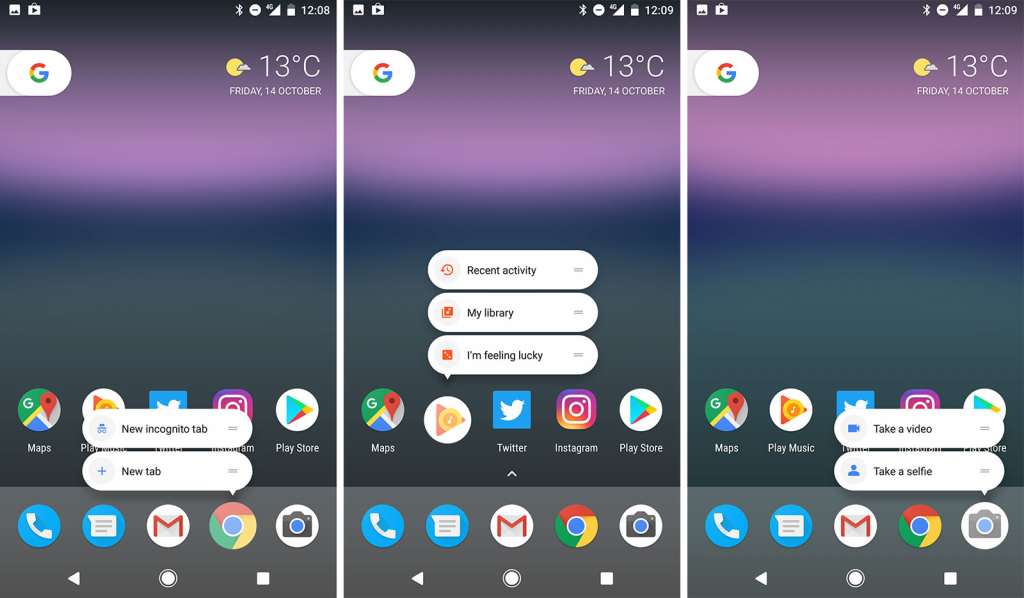 Really, though, the point of the tasty chewy Nougat found inside this phone is not to even provide a different interface, but to explore Google's major addition, the Google Assistant.
Meant to replace Google Now, the Assistant is essentially the culmination of Google's research into artificial intelligence and search technology, emptying the Google cards previously seen with Google On Tap and providing your entire screen with the help of the assistant, while also acting like a new assistant you can rely on.
In-use
These changes help Nougat 7.1 to feel like a different beast, and one that almost feels as if Google is trying to revolutionise the interface of phones to be simpler and easier to adapt to, so that these devices that remain a part of our lives do so with the least amount of interference possible, while keeping an assistant in play so that you always have a digital presence to help out in your life.
It's almost as if Google is saying "we know you use the phone as a tool already, but here's the phone as it means something more, as if it's a part of your life and more than just another throwaway electronic component".
Despite these good intentions, you may not find Google Assistant much more useful than Google Now, and while it offers some positives on what it can do, some can come off rather gimmicky.
For instance, telling Google Assistant what to do is easily more seamless since "OK Google" starts the conversation at any time, but doesn't always keep it going. Technically, Google Assistant is contextual, meaning it will know what you referred to last so you don't have to keep saying the subject of the conversation every time you ask a question.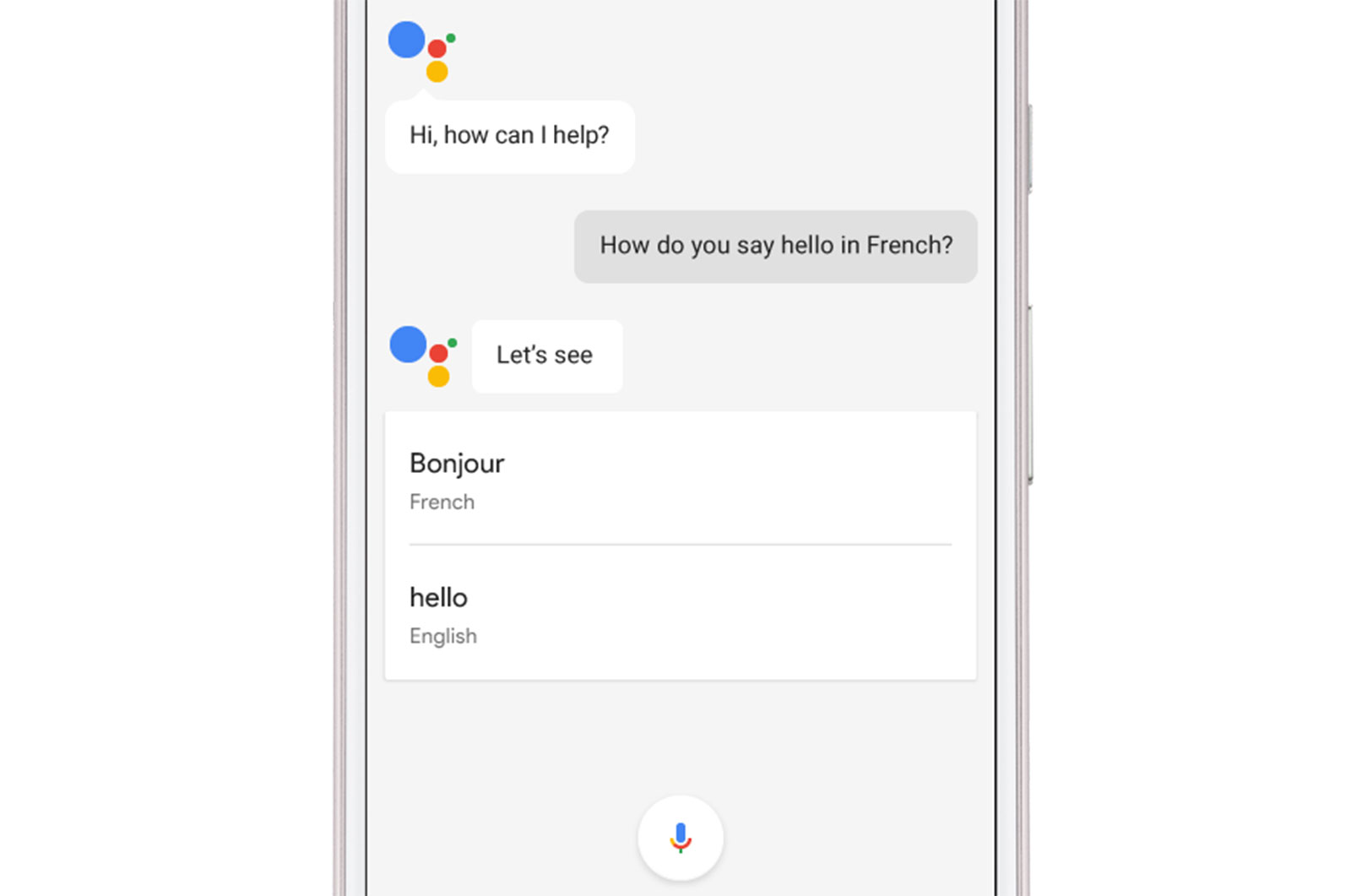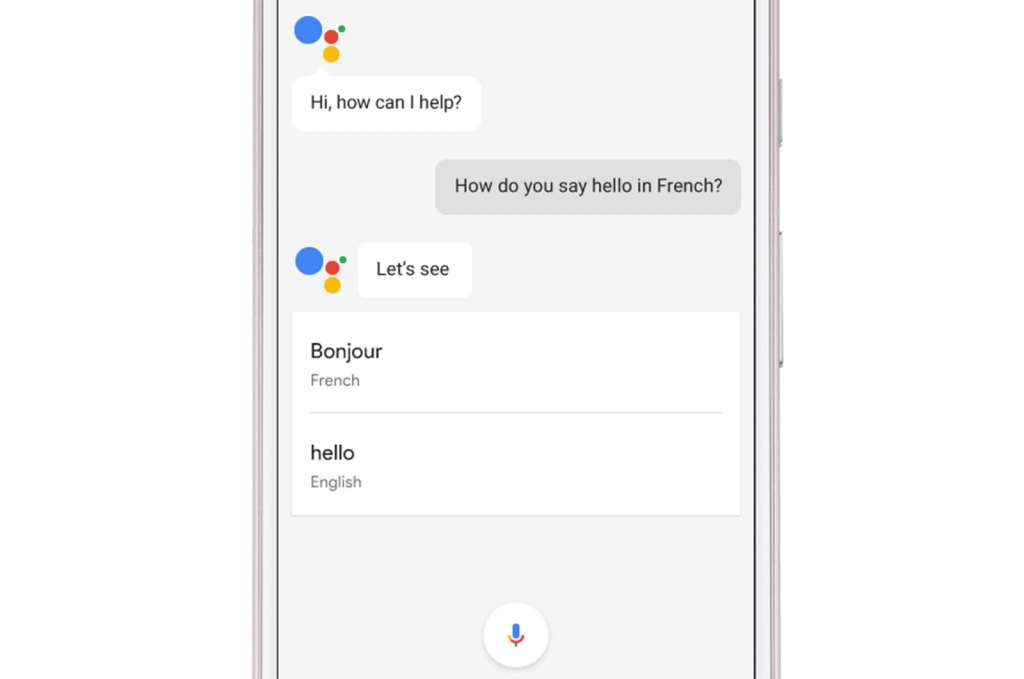 Unfortunately, you do have to keep saying "OK Google" or it wont seem to know that you're talking to it at all.
Even getting around this, the line of questioning you throw to Google Assistant can either be an overwhelming success or a glaring failure, and the strangest part of this is that Google's other assistant — Google Now — is still along for the ride, and so can be compared against it.
Bizarrely, they don't always send back the same answers, and in this journalist's opinion, they don't even sound the same, with the better sentence structures most of the time arriving from Google Now.
Take asking for the weather or getting the phone to take a selfie, both of which get the phone to do the right thing and provide a weather forecast or run into the selfie mode and fire the shot of yourself for you (respectively) easily.
That's an example of Google Assistant working.
Strangely, we have more examples of Google Assistant not quite nailing it, including asking if it was raining outside when we were being rained on and being told that no it actually wasn't, asking when a Sydney bus number was coming and receiving a Google search for a Perth bus on the other side of the country, and asking what music Google Play Music was presently playing and being told that the service doesn't actually do that yet. At one point, the same request even brought up a download to Shazam, despite the text clearly translating our voice as Google Play Music.
These are some pretty problems, but we were especially confused when Google Assistant was told to do a little reading to us, one of the new tricks.
Specifically, you can ask Google Assistant to recite a poem by saying "recite me a poem", with the Pixel XL responding in kind, reading out loud to you a random poem. It might be Shakespeare and it might be Ralph Waldo Emerson, but heaven forbid you tell it a specific poem or author to read.
In this situation, it will do what every good search system does: it will search for the topic online.
Ask it to recite Robert Frost, "The Road Not Taken", or the Robert Frost poem "The Road Not Taken" and you will get a Google search revealing a video every time. So much for reading a specific poem.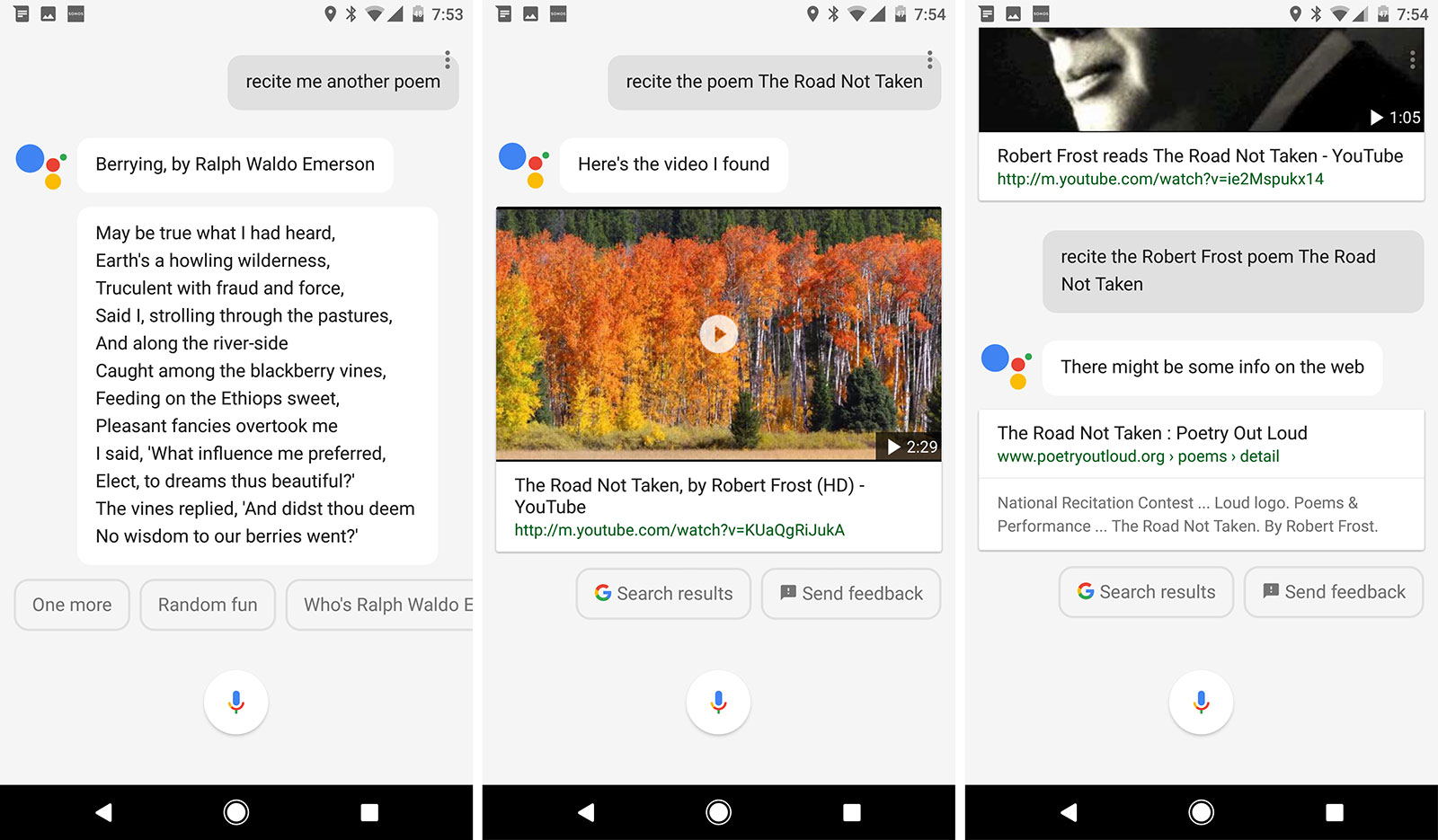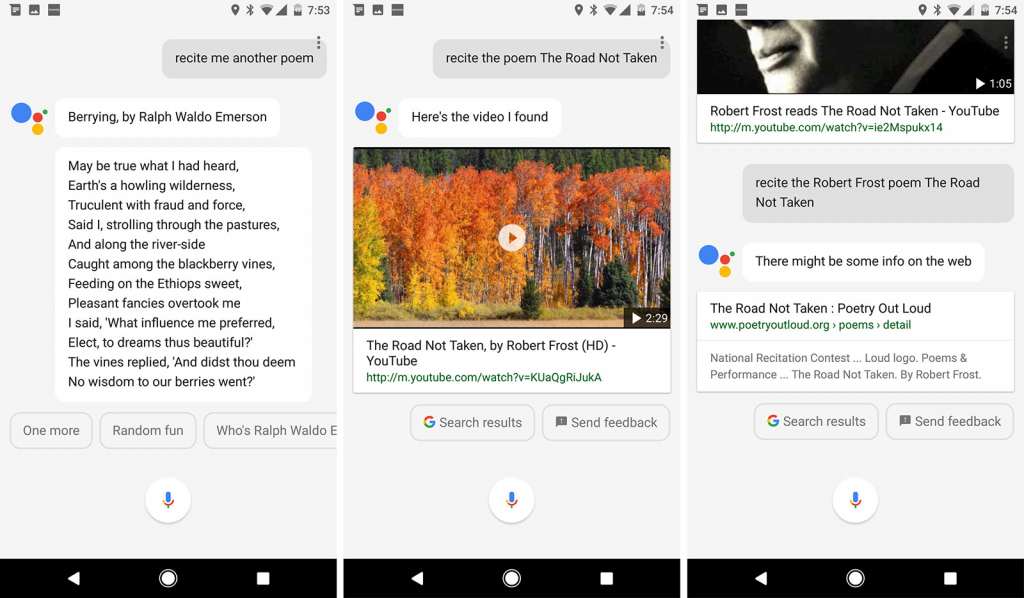 Google's whole philosophy for its Assistant software is that it's an evolving AI, an intelligence that changes and adapts and learns how to respond better, but when you ask it to recite a poem and it can, but then you ask it to recite a specific poem, it's hard not to see that Google's contextual conversation technology hasn't quite succeeded where it probably should have.
It can work, but it may not, and for something so simple where it can recognise the words and yet not put them together to execute the search, dig up the text, and then send that through to a text-to-voice system, one has to wonder how much is gimmick and how much is artificial intelligence.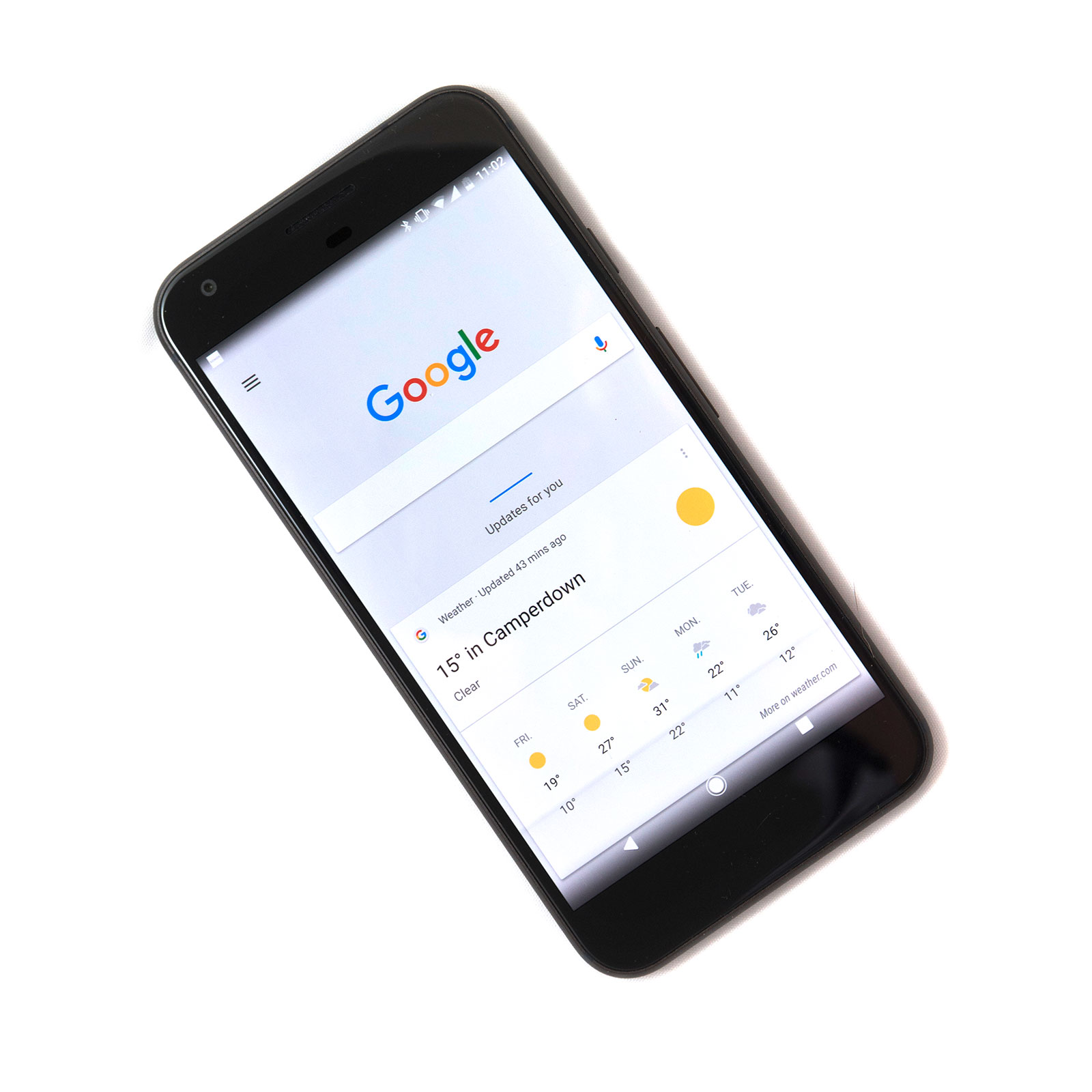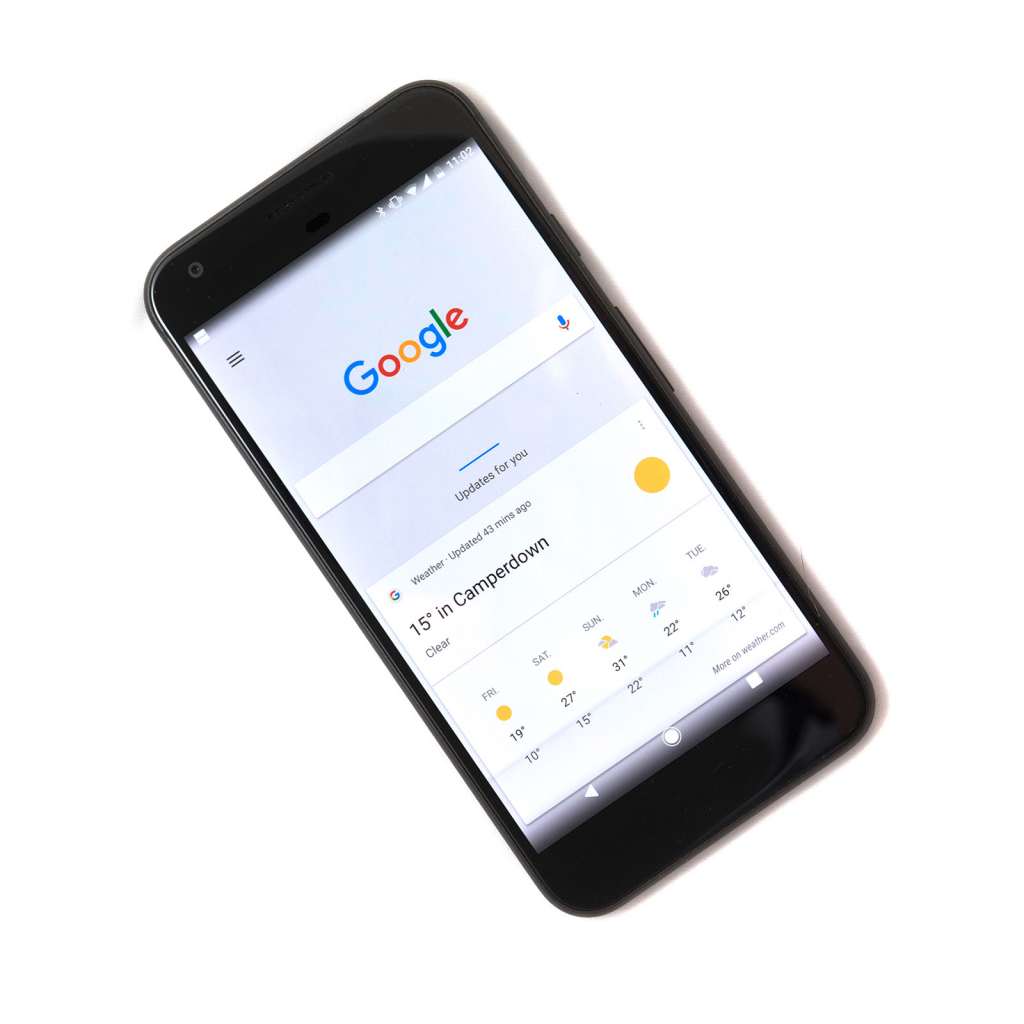 So does Google Assistant change anything you do in your life?
Right now the answer is more of a "maybe" instead of a definite "yes".
Already, one of the changes we like most is how the Assistant casually glances over things to provide information on instead of providing it all in a card-based feature that feels separated.
Last year, when you held down the home button and used the phone, it would look over your topics and text and provide various cards about what you saw. That was Google On Tap, and while it was a cool concept, it could also be otherwise clunky to operate.
This year, the home button brings up the Assistant, revealing information in a clear scrollable interface based on what's on your screen and moving on from there.
It's a better design overall, and one that feels less cut off, which is one of the reasons we rarely used it in the last Google phone, and is easily a welcome change.
As for whether Google's changes will do more to make the phone part of our life and change things accordingly, that's something that only time will tell.
Camera
Smartphone cameras this year have on the whole all been pretty impressive, and the Google Pixel XL is no different, even claiming a title before we get to tell you how it responds.
Announced at the launch Google's Pixel smartphones have received the highest sensor rating yet from the DxO sensor tests, making a mark with a score of "89", which is higher than any other smartphone prior.
Comparatively, this is barely a point or two from where the other big flagships sit, so in reality it's not that big a deal, but benchmarks are benchmarks, so it's still important that we report them. More importantly, however, is how it performs in tests, so how does it handle the real world experience?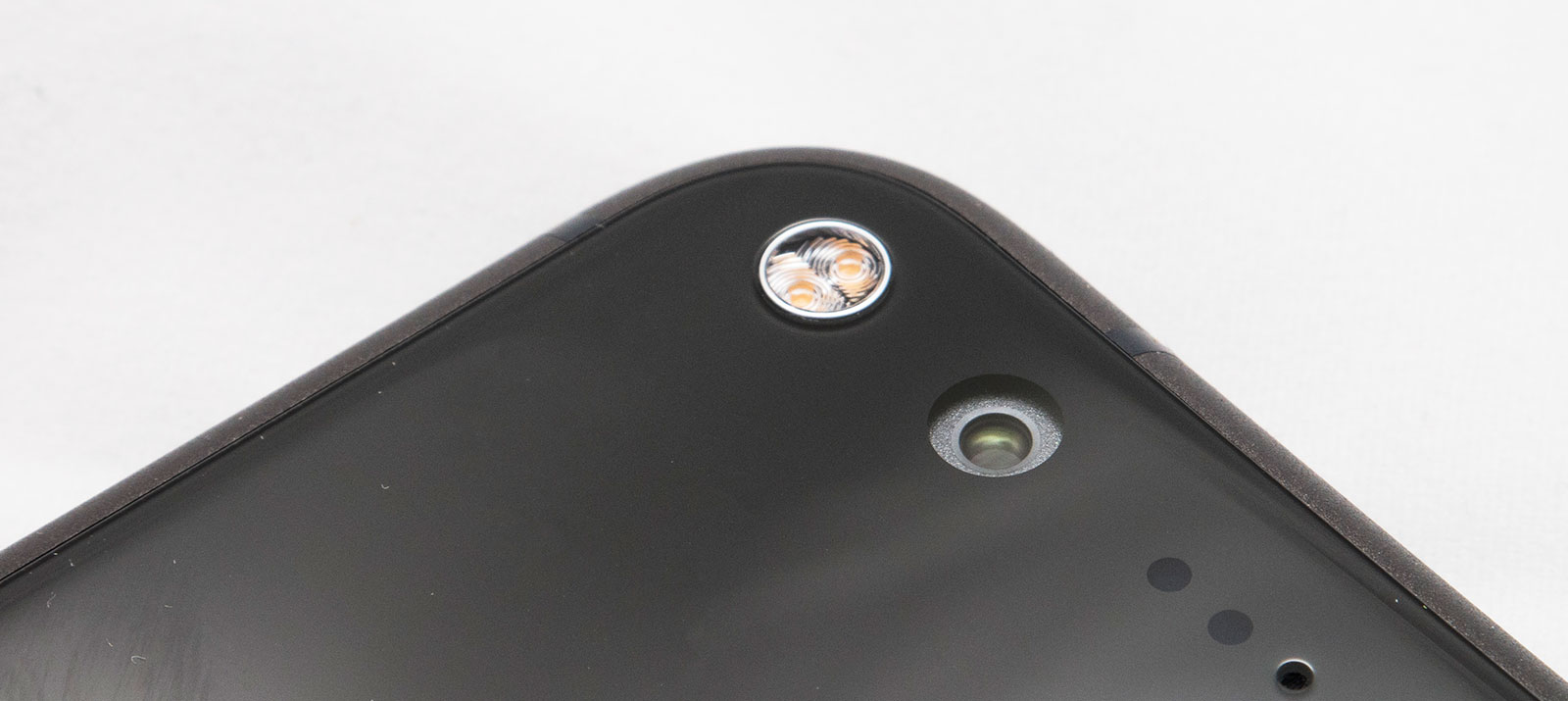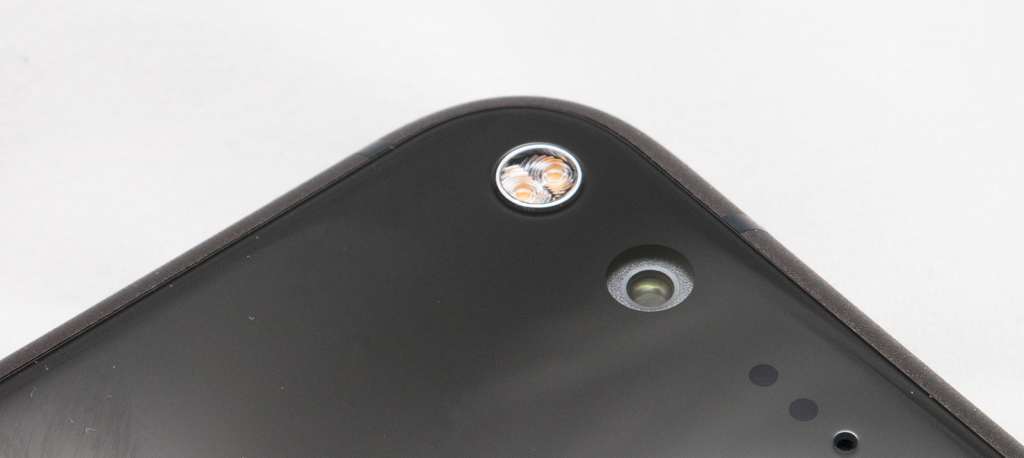 The answer is very well, with the combination of Google smarts and decent imaging sensor and glass working together to provide crisp colours that are about as dynamic as when you first saw them, and some pretty sharp images, too.
From what we can see, every shot appears to have the high-dynamic range (HDR) mode switched on automatically, and that's good if you happen to like images that have a little detail in areas that are normally too dark or blown out from the light.
In the tests we had from the Pixel XL, almost every shot was a winner in our eyes, and all was taken very, very quickly.
Speed to capture is becoming one of the areas smartphones are playing to win in, also, because while the sensor obviously can improve with more developments, so too does the overall performance of the phone and how quickly you can switch it into the camera to start taking photos.
Just about every brand has made promises in this regard, but it feels like this year only Samsung and Google have really delivered, as the speed to open the app and hit the camera button (or press the physical volume key which also works) seems to be about on par, with the Pixel maybe edging out in front by a hair.
Back to the image quality, though, because in daylight you'll find this thing works a charm, while at night, the image quality is more than acceptable too, just make sure to hold still.
Video quality isn't bad, and to Google's credit, the interface is very simple without being patronising, with a nice gesture up and down changing the exposure value, while a simple twist of the hand will switch the phone's camera from back to front.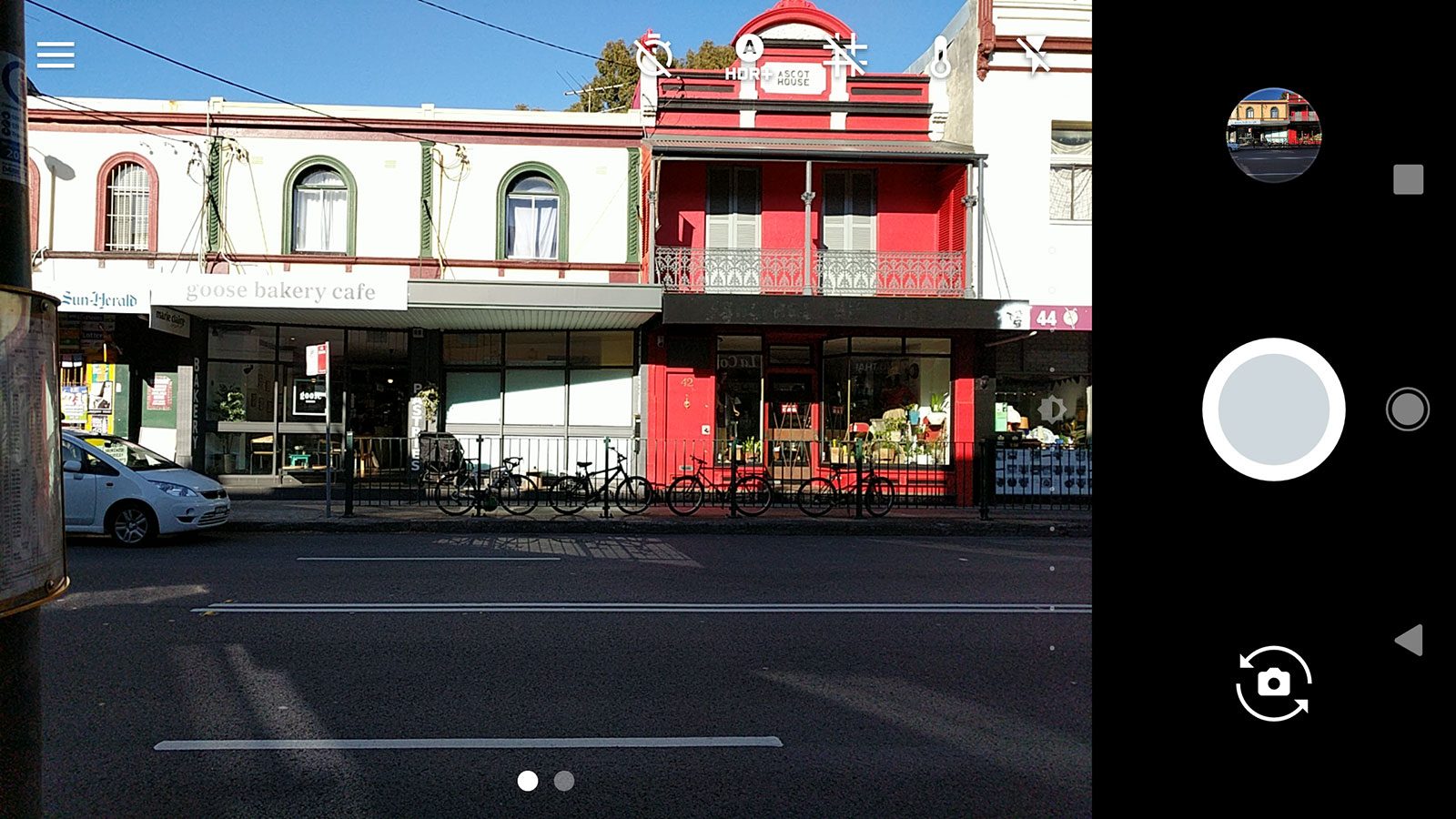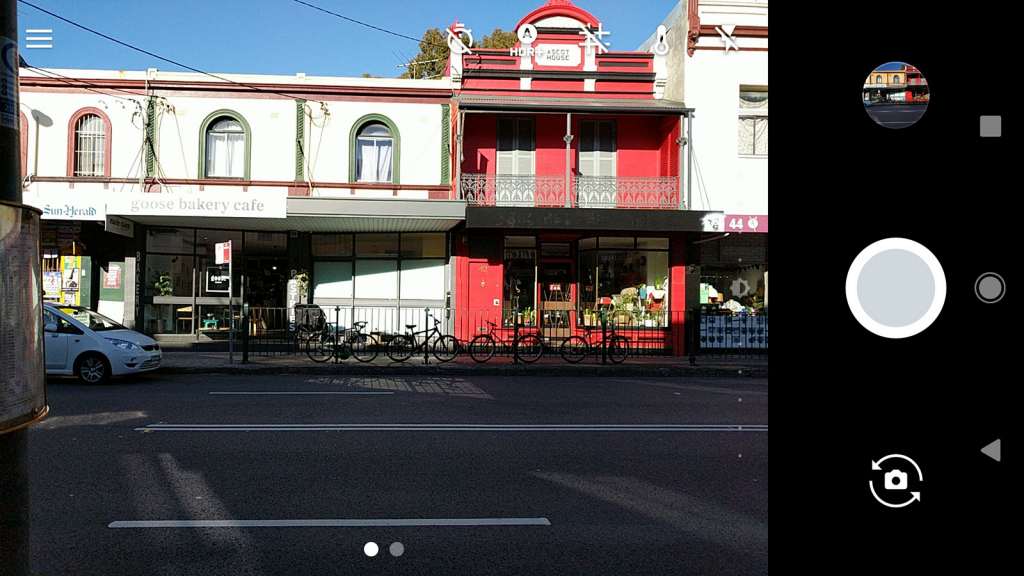 Battery
With a 3450mAh battery in the Pixel XL, we already had expectations about how the phone would perform going in, and these were matched.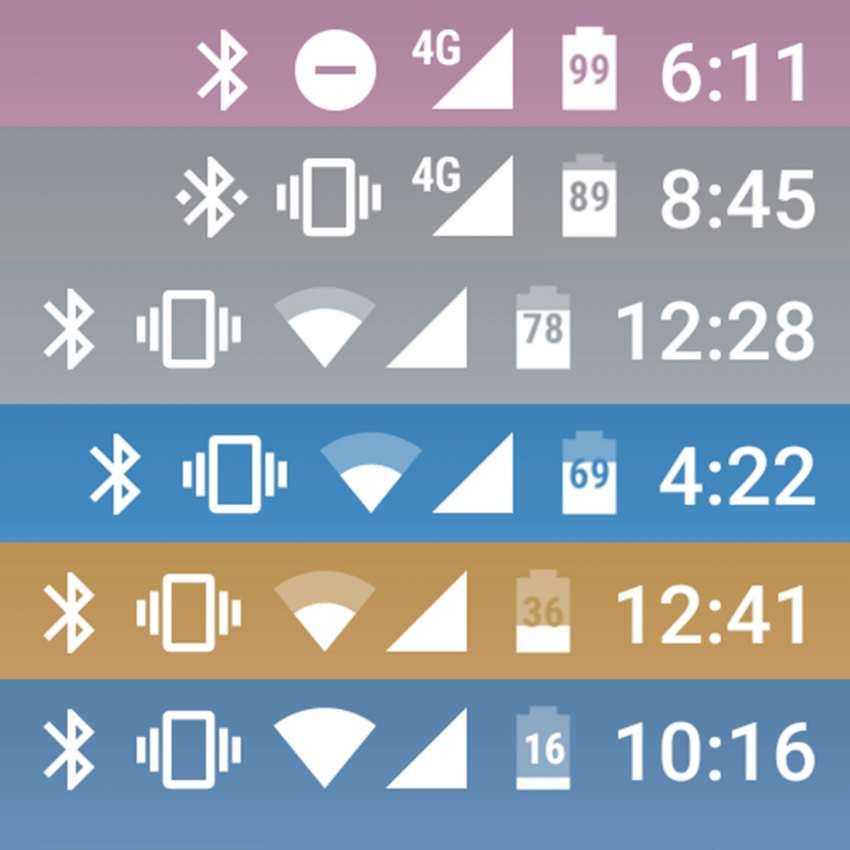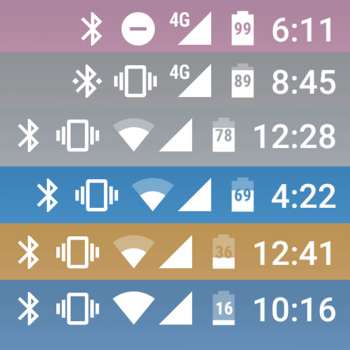 Larger phones tend to achieve at least a day of battery life, and that's exactly what you'll find here, with normal uses seeing as much as a day and a half before needing to put the phone on charge.
We tested the phone throughout the course of a typical work day, keeping it connected over Bluetooth to an Android Wear watch while we typed, texted, and search, while also made and received a few phone calls, surfed the web, took photographs, did that whole social media thing, and generally did what many would consider "using the phone".
Pickr used the Pixel, and a day and a bit — close to a day and a half — was easily found, and that's pretty much exactly what we expected.
That means you can think of this phone as something that will survive a night on the town and a little bit more if you happen to forget to stick it on the charge.
We are a little surprised to see no Qi wireless charging here, though we guess you can't have everything in a smartphone. Still, what a shame given that it's beginning to appear more frequently on phones.
Value
Overall, the whole thing does come together, but one of the parts we grit our teeth at is the price, because with the Pixel XL carrying a starting price of $1269 for the 32GB model and $1419 for the 128GB model, this is not a cheap phone.
In fact, we're in iPhone pricing land with this one, as Google moves to distance itself from the excellent value devices it produced a few years ago in the Nexus 4 and 5 models. Last year it did some of the distancing, there's no doubt about that, and the 5X didn't offer great value at all.
This year, we're a little better if only because there appears to be no major difference between the Pixel and Pixel XL except for screen size, resolution, and battery, but the pricing of these phones is still so high, it's hard not to view them as intended specifically to match the iPhone and not undercut it.
And that's hard to qualify, it really is.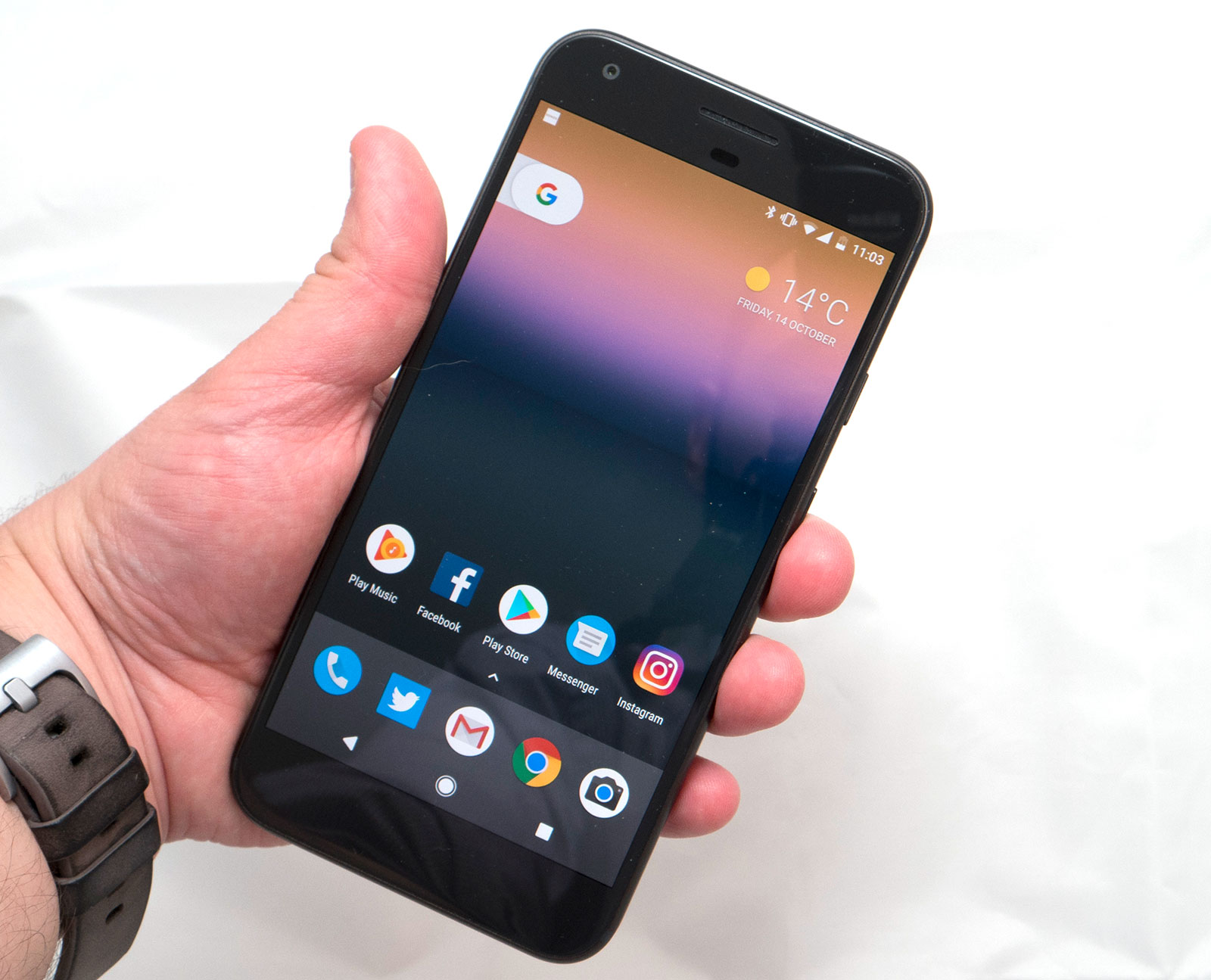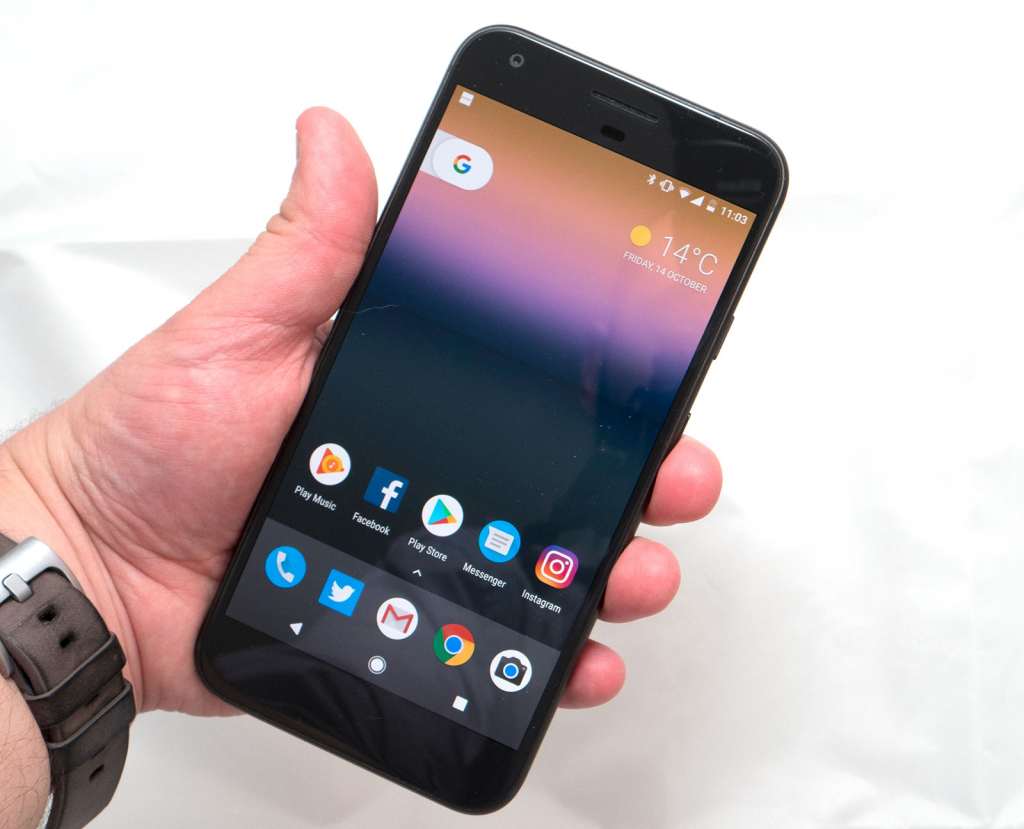 There's no doubting that Android is very good, and Google has certainly shown just how much finesse it can apply to an operating system evolving as well as this one, but with hardware that isn't necessarily as feature-packed as it could be — without a microSD slot to upgrade the storage, without a stylus, without any sense of water resistance — as struggle to see why Google has made the pricing as high as the iPhone when it's quite clearly not an iPhone.
We're not saying Android phones can't be as highly priced as Apple's phones, either, but it just feels like Google is targeting this price range because Apple is, and that's a little hard to justify.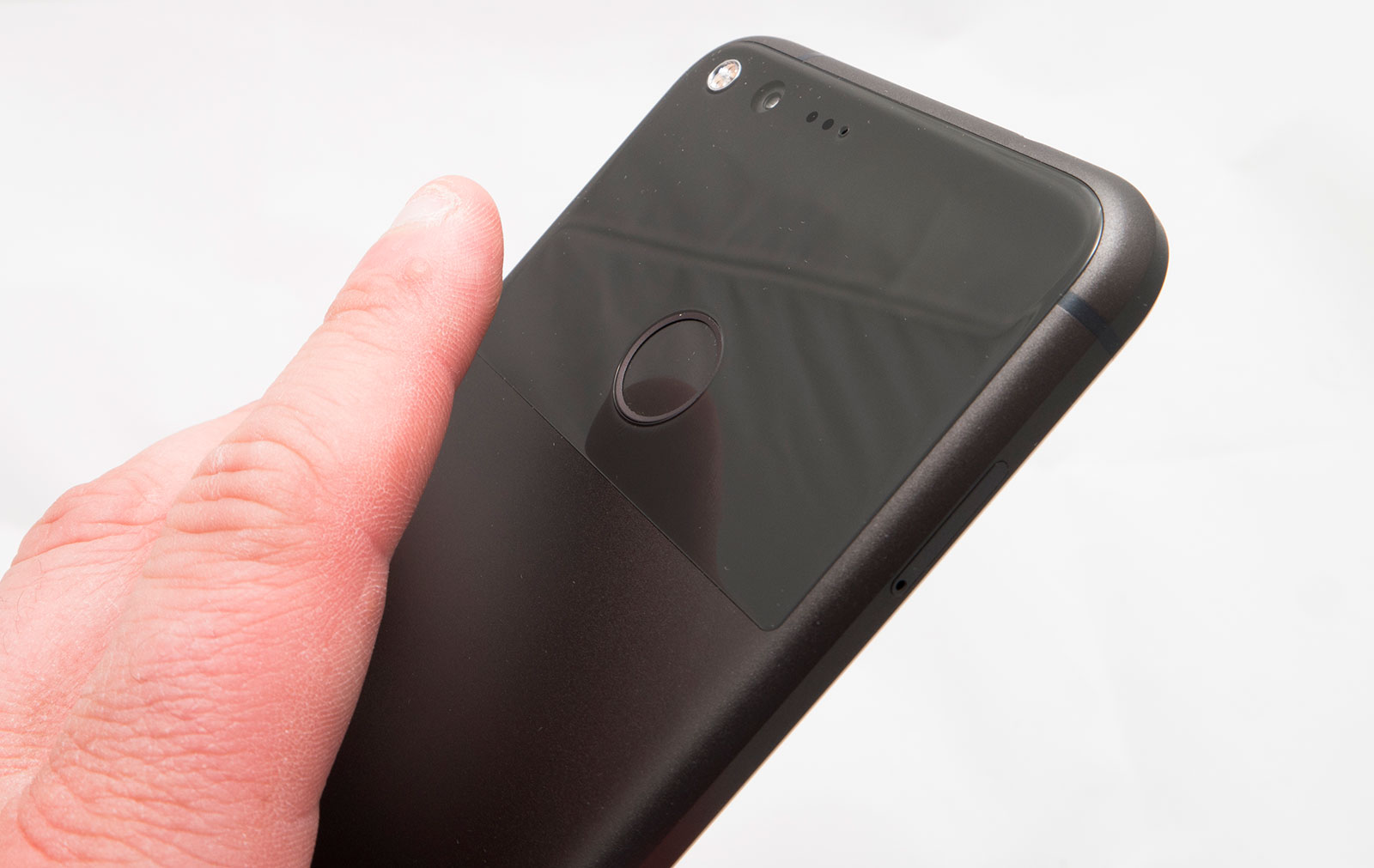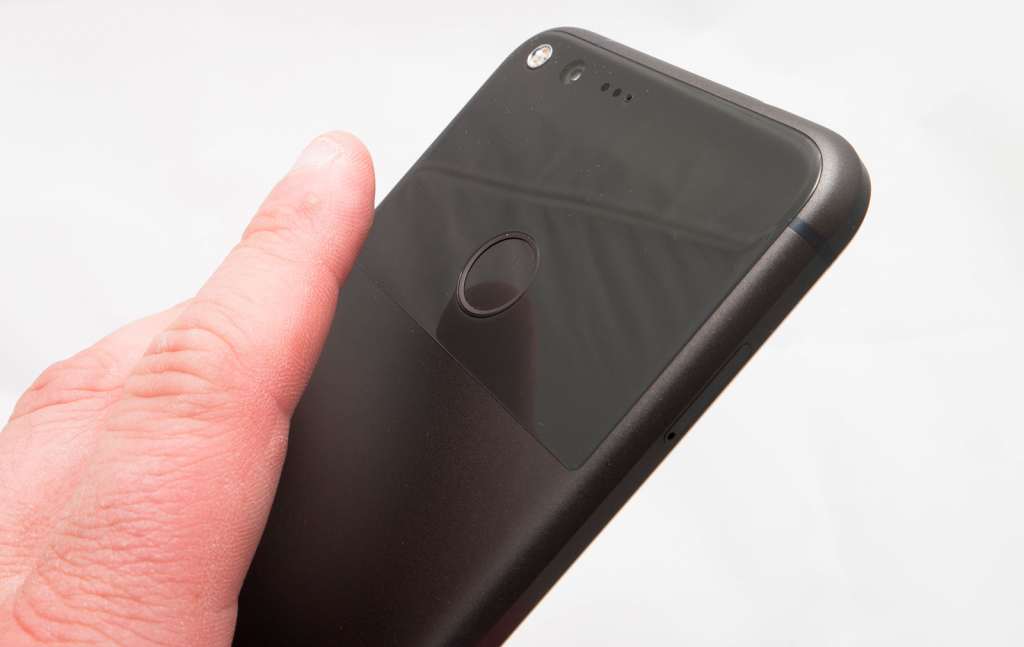 Final thoughts (TLDR)
As good as the package is — and it's good, there's no doubt about it — you can't help but feel it needs that special something to make it stand out.
Right now, that's clearly just the software, with Google's Pixel no longer just running a "stock" version of Android the way Google thinks it should be built, but rather imbuing a different style of launcher, and indeed, it's different to what last year's Google Nexus 6P currently runs as far as Android 7.0 looks on that device.
It is totally different, as the screenshots below indicate, and between that and the "evolution" of the Google Now assistant — which is just now called "Google Assistant" — you get the feeling that the majority of what makes the Pixel special is the software side of things.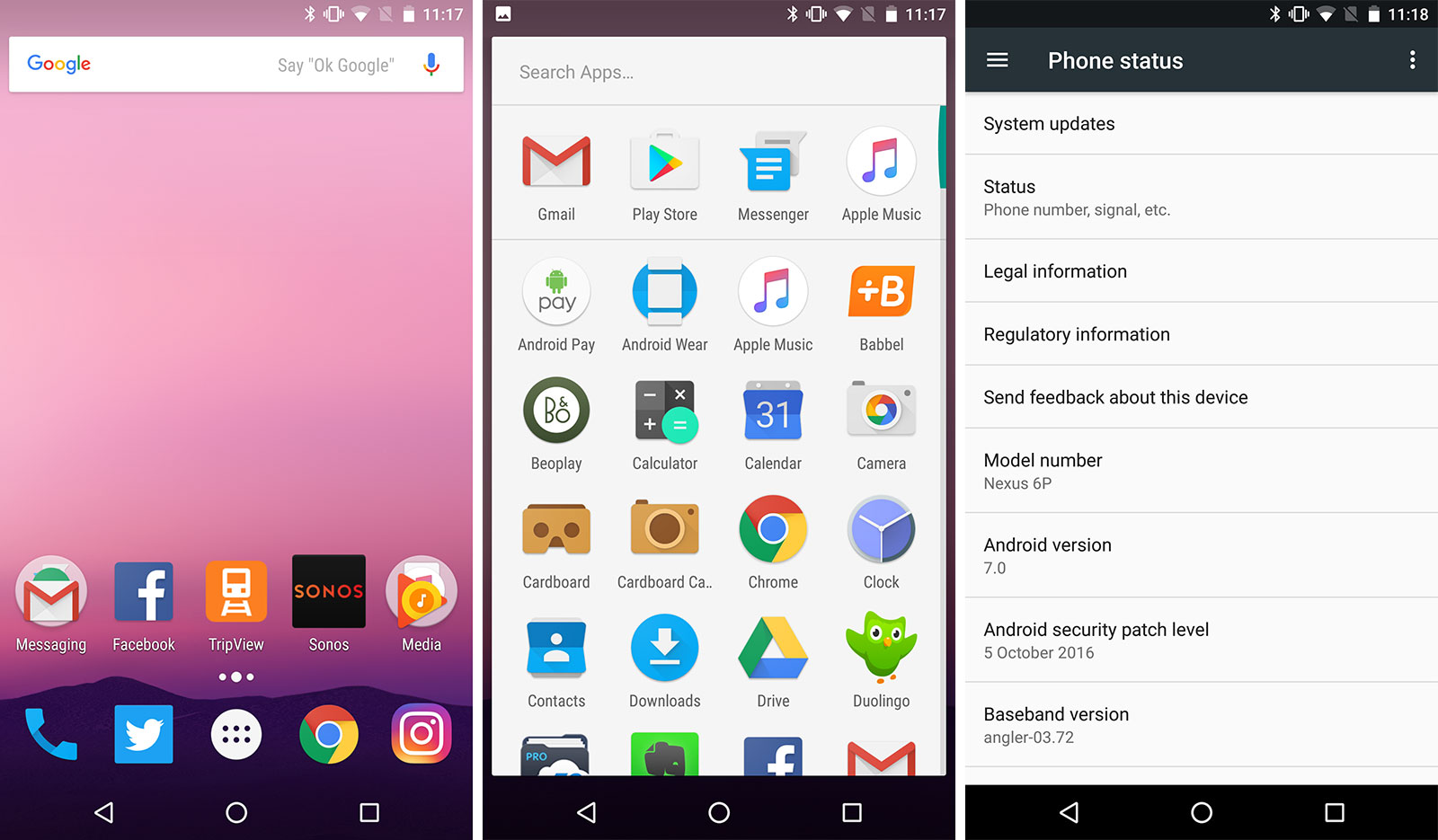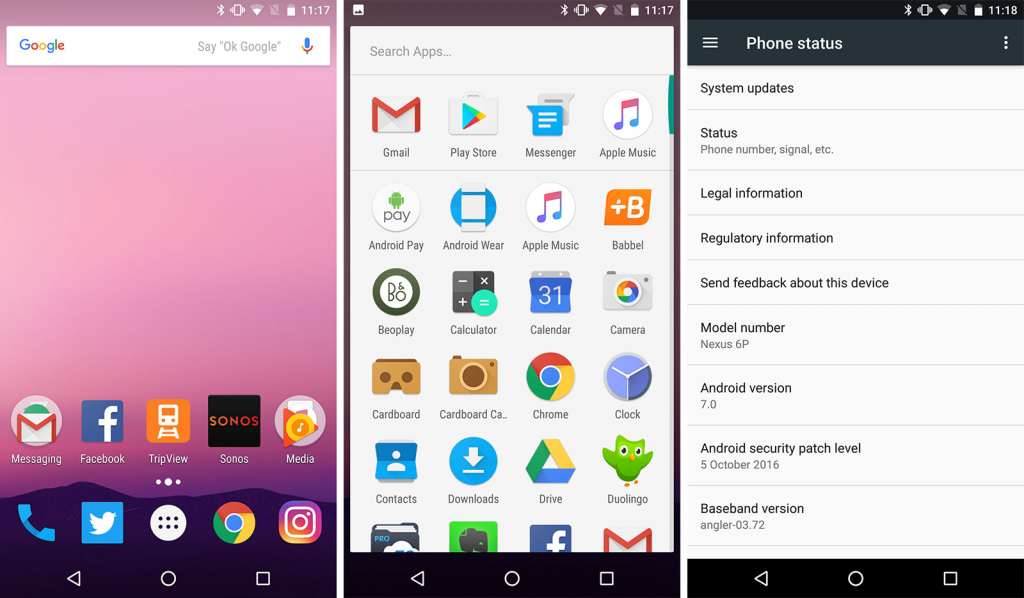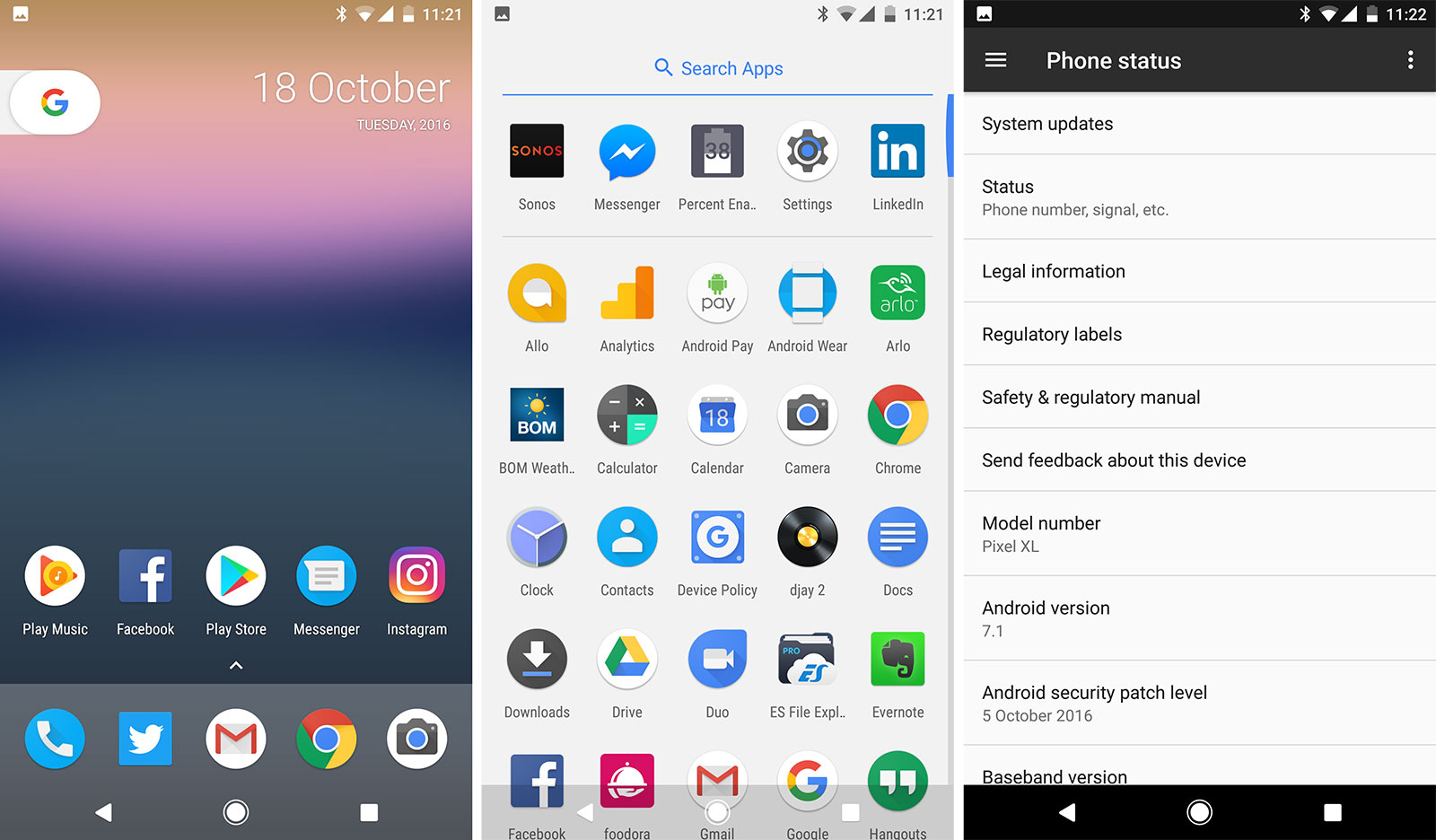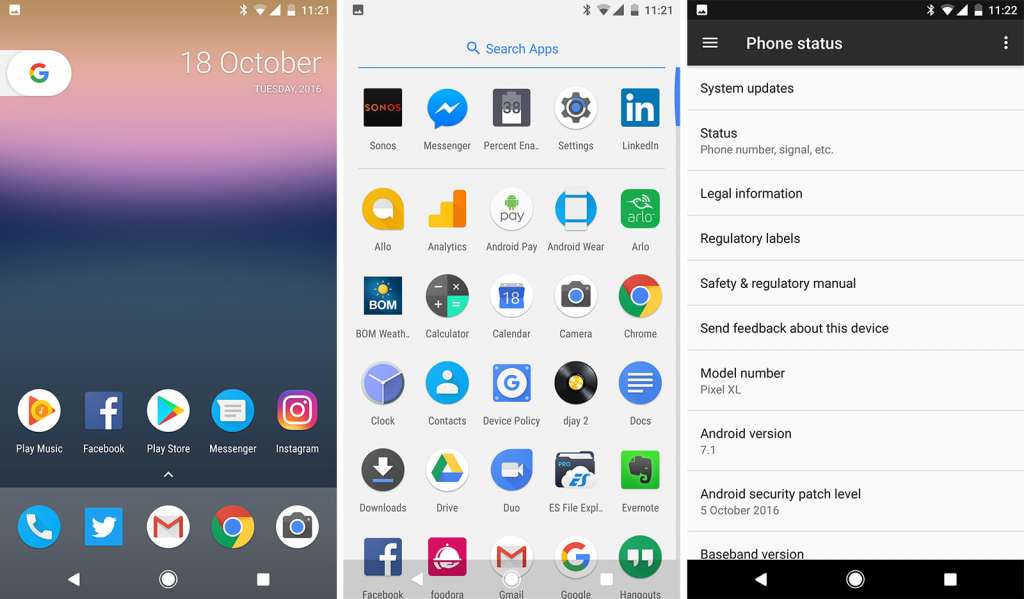 There's also that excellent camera, sure, but it's mostly a software side of things, and that draws to mind a very good question: how long until this unique software experience is rolled out to more devices, and the Google Pixel loses its main differentiator against the rest of the competition?
That's the struggle with the Google Pixel, because as good as the phone is, it lacks that special something to make it stand out from the competition.
For instance, there's no stylus for the crowd still burned by the explosive death of the Samsung Galaxy Note 7 recall, so it's just like all the other big phones in that you're forced to use your finger.
There's no water resistance, as one of the major features of 2016 gets ignored by Google in its latest handset. Sony has had it for ages, sure, but with Samsung and Apple both getting behind water resistance — and the feature really driving interest in each — it's one omission we're genuine surprised by, though in fairness, the Pixel's manufacturer has never really tried a waterproof phone.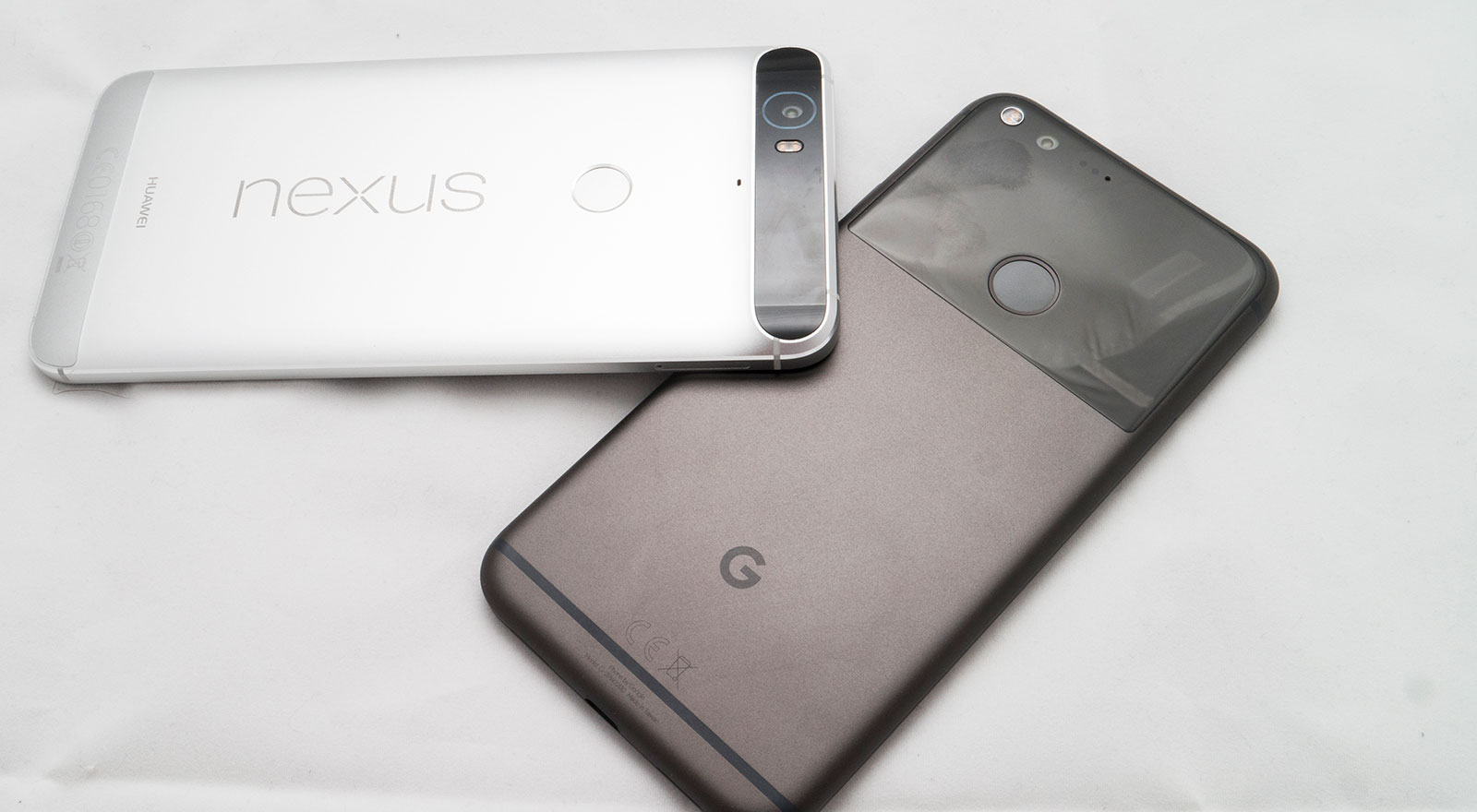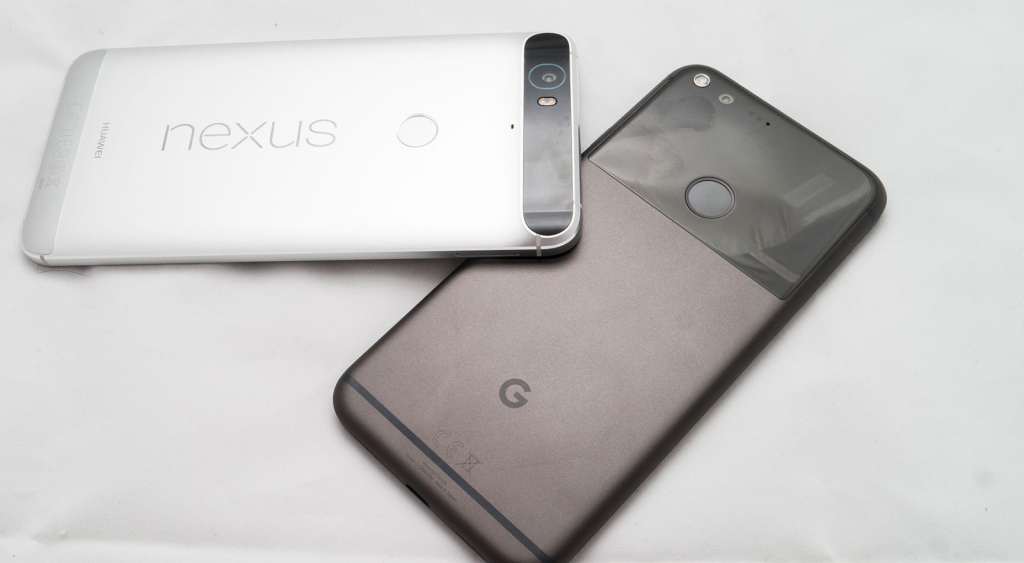 The Pixel's manufacturer is not some new company, either, and it's been doing phones for quite a while. Evolving into a company that has made some of the world's best phones a few years ago, what used to be iMate and is now more recognized as HTC isn't new at this, and knows how to design a good phone.
A few years ago, HTC's One M7 and M8 were instrumental in pushing more smartphones to adopt metal casings, especially at a time when most manufacturers were resistant to premium casings and stuck with the cheaper polycarbonate (plastic) option. These phones weren't just built well, but designed excellently, too, and they started a style that has become synonymous with HTC.
But the Google Pixel doesn't feature that style. Instead, it's a little more inspired, though not necessarily inspired by anything inspirational, but rather aspirational.
You might call these the same, or pretty close, but what seems to separate them is where they want to be. Where HTC's flagship phones try to evolve that curved back style with the large rear camera and front-facing speakers, recent smartphones from the brand have been going for a combination of Samsung and Apple, with a very heavy leaning on the latter.
And that's partly where the "aspiration" feels like it is for the design of the Google Pixel XL, because if anyone saw you with in on the street, if you were to take it out, they'd automatically think it's an iPhone, until they saw the back.
Gallery: How sharp is the camera in the Google Pixel XL? Take a look at our 100 percent crops above to find out!
In fairness to smartphones, that might be what constitutes the "generic smartphone look" these days, but there are also little things. There are the edges which seem like a slight geometric take on the curved rolling edges of Apple's iPhone, and there are the bottom antenna lines that run across the lower portion of the handset.
About the only thing that makes the Google Pixel XL stand on its own in design is the top quadrant, with a glass covering for the fingerprint sensor, which is one of the better locations for your finger, and much easier than the front-facing buttons either Apple or Samsung use (in this writer's humble opinion).
But if you look at HTC's non-flagship phones in the past year or so, you start to chart a trend to this design towards Apple-like phones, and that makes you wonder: are HTC devices like the One X9 and the Google Pixel part of a portfolio to help HTC land the iPhone production contract?
This isn't necessarily a problem for Google, nor is it a problem really for anyone, and if you like the look of the iPhone but aren't a fan of iOS, then Google's iPhone really does become a solid choice.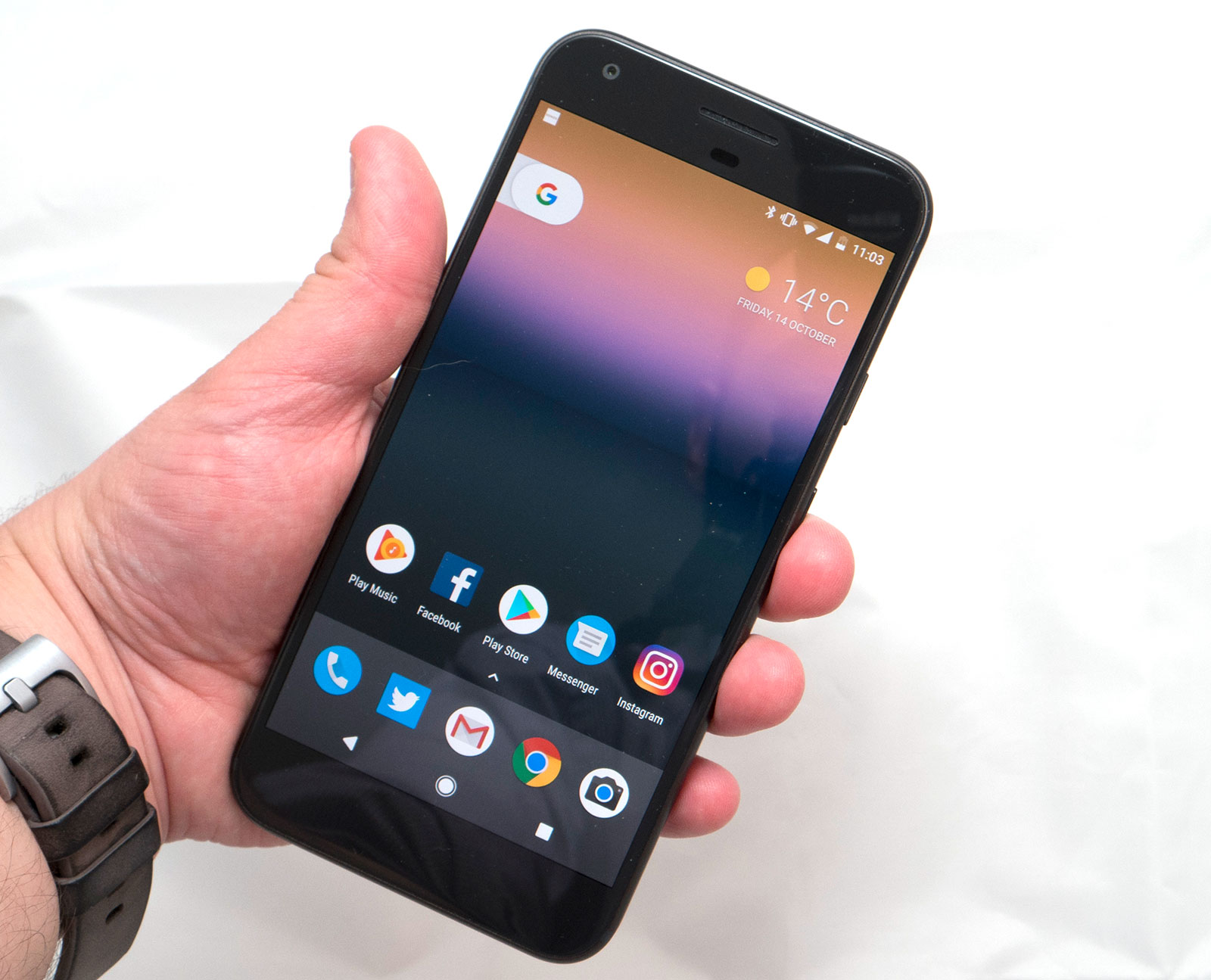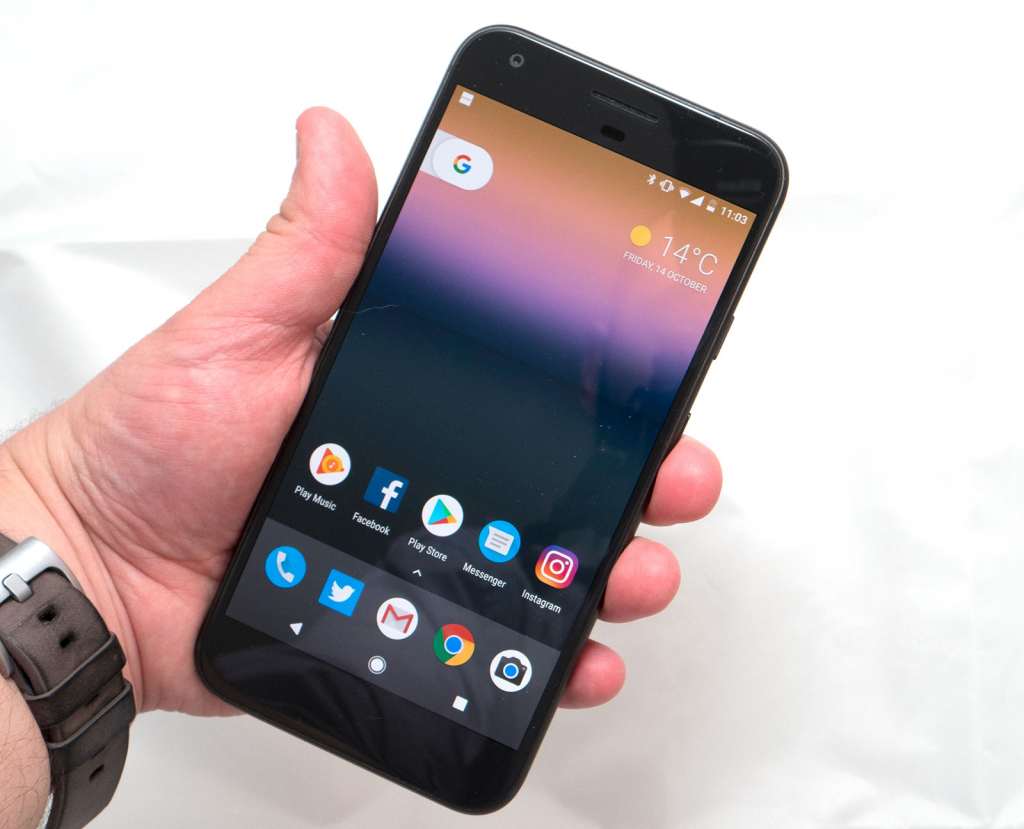 The good
Feels great in the hand
Lovely and bright screen
Google's "Pixel" edition of Nougat operates more smoothly
Performance is top notch
Excellent camera offering very solid colour recreation
Blazingly fast 4G speeds
The not-so-good
Expensive
Lacks water resistance
Fairly ordinary design
No major differentiator outside of the software or camera
Can't upgrade the storage, one of the few Androids that is built this way