Better images, long videos, listening to music, talking on your phone, and live-streaming are coming to the second-gen Ray-Ban Facebook glasses.
Two years ago, the tech world had a bit of a surprise: Meta's Facebook had been working with EssilorLuxottica's Ray-Ban on something fun, resulting on a pair of smart glasses to connect with your social life.
They had speakers. They had a microphone. They had cameras. They were essentially "smart glasses", and they didn't sound do either of these things too badly.
If you were looking for a wearable to keep you connected in the summer that had a style you might want to wear, the Ray-Ban Facebook glasses were an intriguing idea, with a pair of smart glasses you might actually want to wear. The images weren't high quality and the videos were short, but it was a neat idea and one that was highly wearable, thanks in part to Ray-Ban lending a hand on design.
That was two years ago, back in 2021. Now in 2023, we have a taste of what's next, as version two looks set to arrive.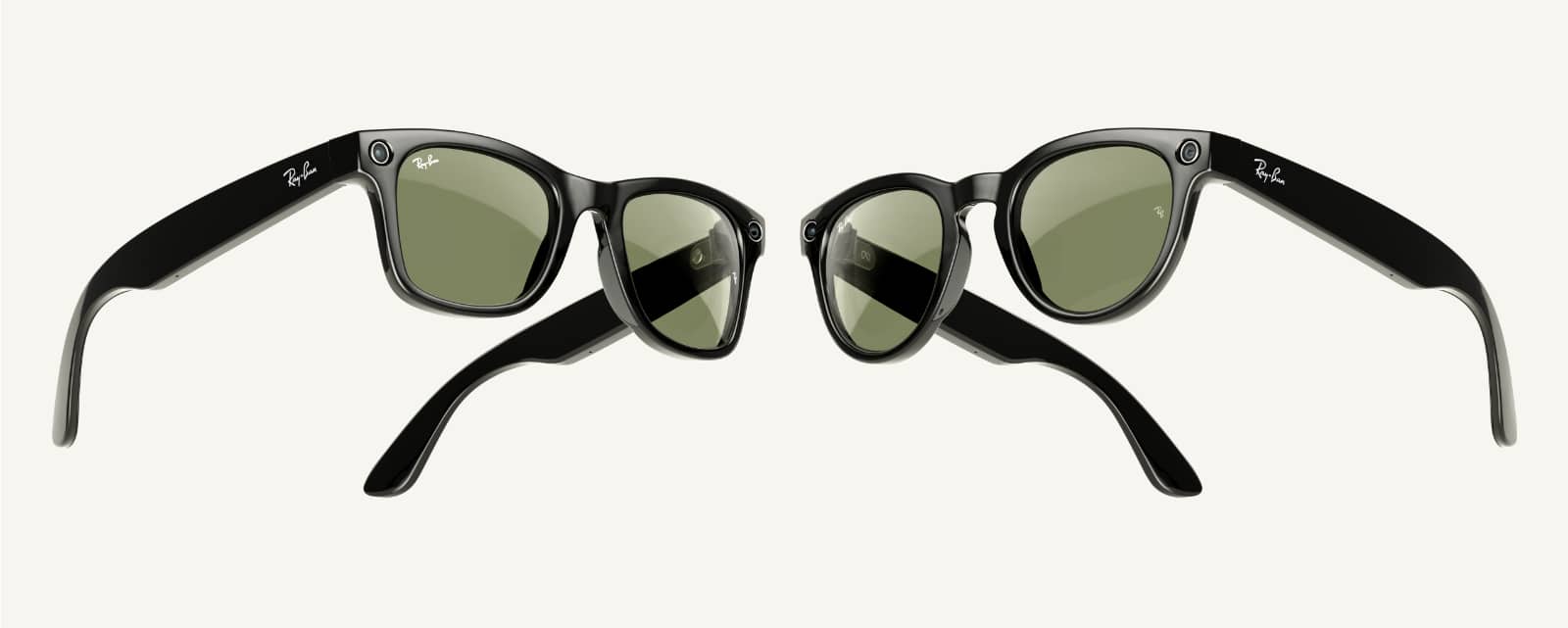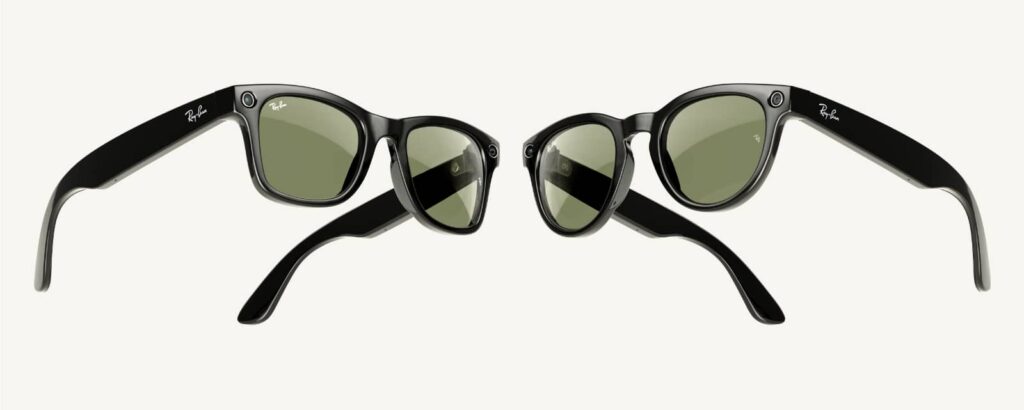 The next take on that idea, the RayBan Meta Smart Glasses come in more than one design and more than one colour, giving users a few options for what is essentially a much needed update and refresh of basically everything.
The cameras are the first change, jumping from 5 megapixel cameras to 12 megapixel ultra-wide cameras, while the 30 seconds of HD square video you had on the old model has been updated to as much as 60 seconds of 1080p video in the new generation. That's an improvement everywhere, and so is support for live streaming, which will allow the cameras to go live to air, so to speak, for Facebook and Instagram.
Next up is the audio, which Meta has improved with new custom speakers for improvements in volume, bass, and directional audio, designing them so they'll aim at your ears primarily and cut back on audio leakage.
No doubt, that's a handy design consideration, because the speakers in smart glasses are just that — speakers — and sit near your ears, rather than in them. Sharing audio and creating noise pollution is hardly what you'll want to do (or should do), so developing more targeted and controlled open audio ideas is refreshing.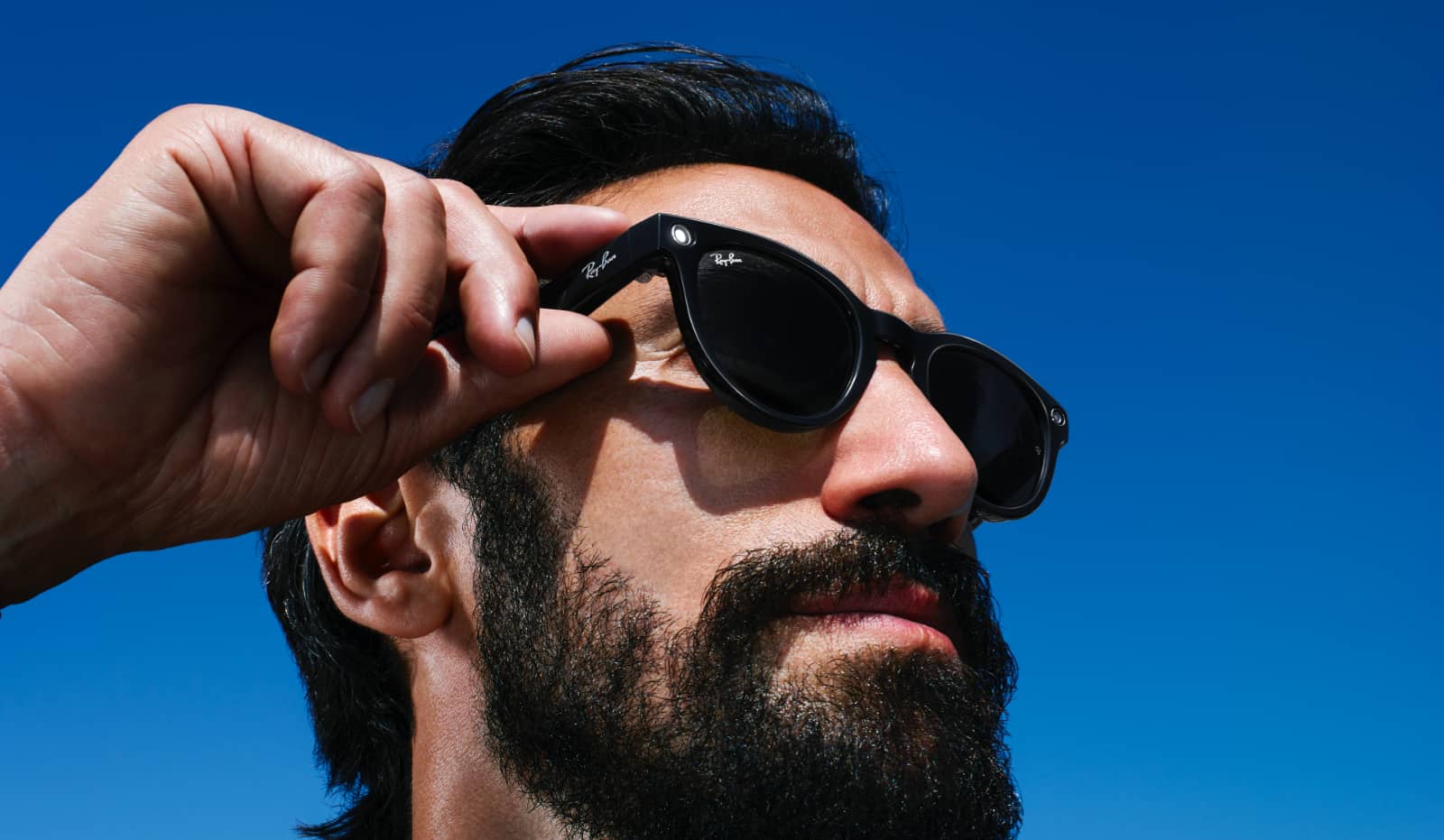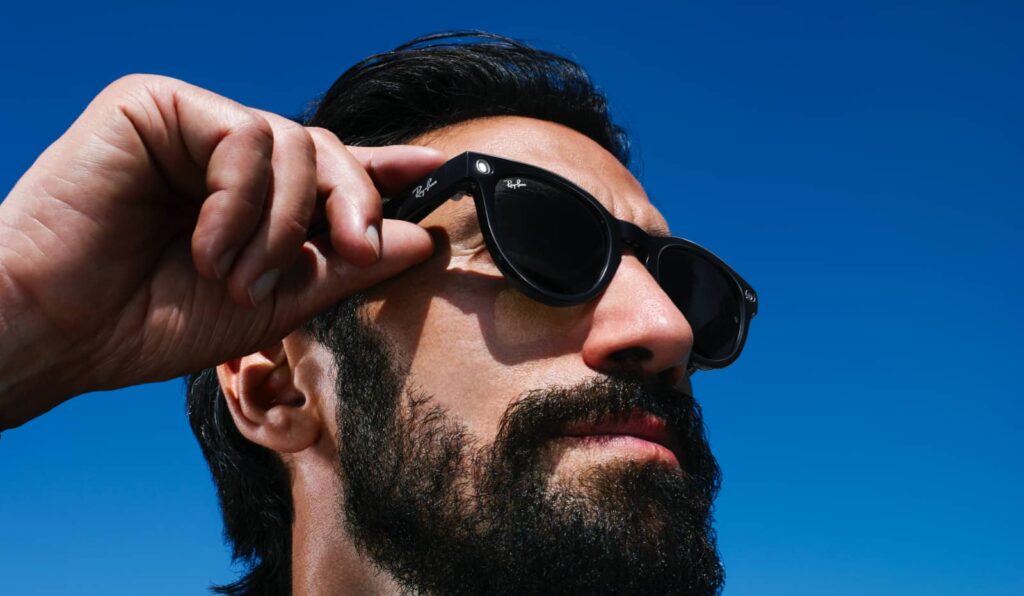 Meta is also adding a newly designed five-mic array to help those video recordings, delivering spatial audio while also likely improving calls and the support of a voice activated feature set, which the original supported, as well.
You'll be able to do more with that this time thanks to AI, though instead of "Hey Facebook", it's now "Hey Meta" following the name change. Also, while the AI side of things will eventually let you do more with your glasses like get information rather than simply fire it to take a picture, Meta AI features will be available in beta in the US only at the moment, so you might want to get by using the touchpad on the frames.
Good news, though, because the touchpad is also faster and there's a sensor to pause music when you take your glasses off, because wasting battery to an audience that isn't there is just that: a waste.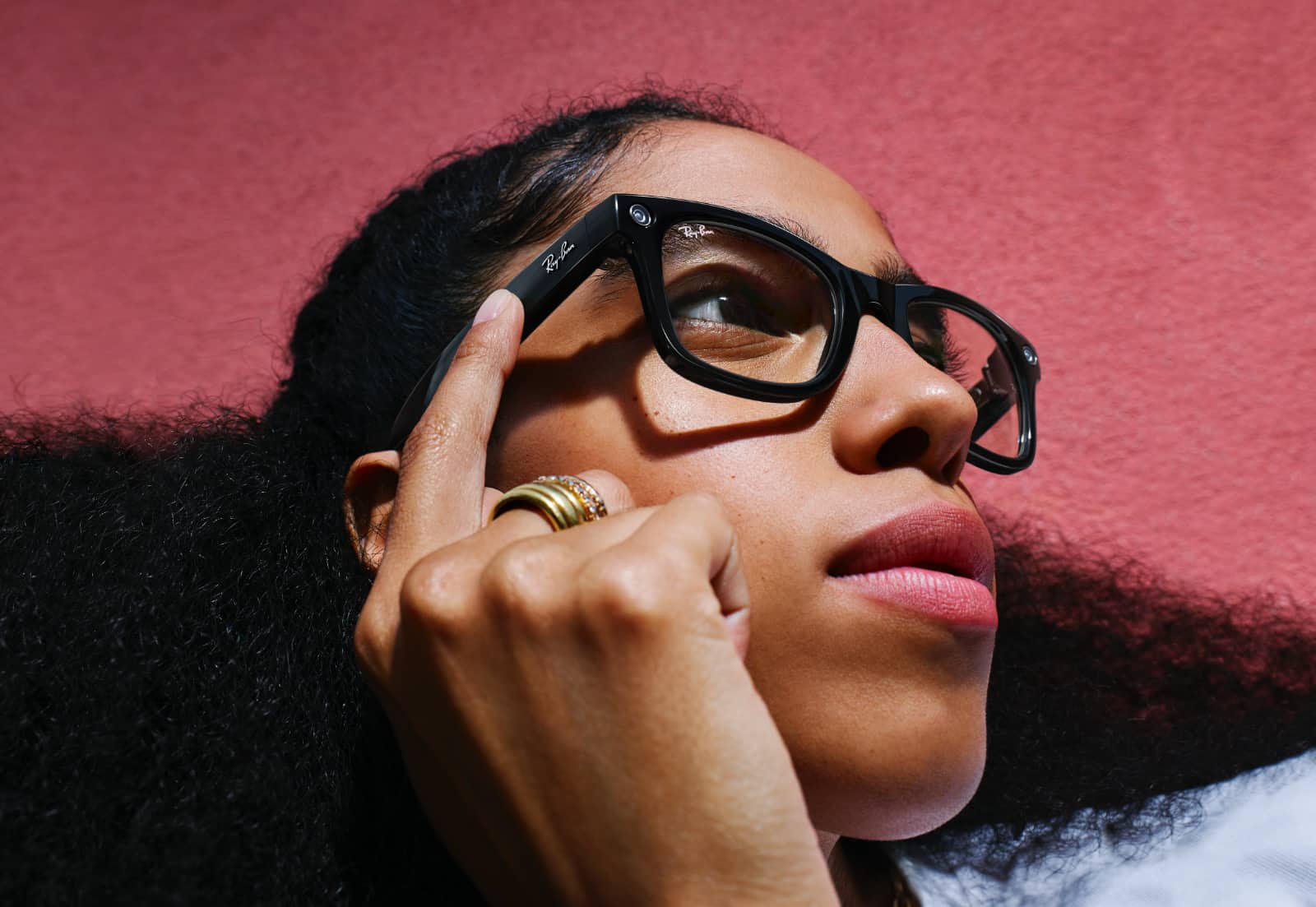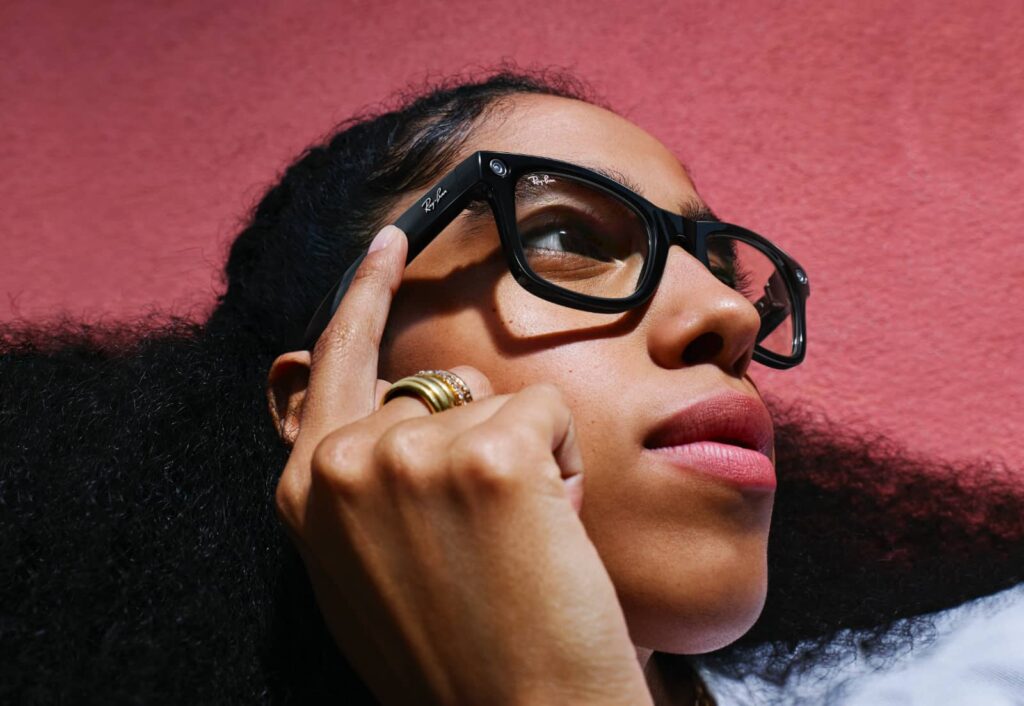 Meta is also using a new chip for this pair, the Qualcomm Snapdragon AR1 Gen 1, which results in faster processing time and should help the battery life, with the case getting a total of 36 hours of battery life.
If you wear your glasses all day, that might be needing a charge every couple of days, but if you only wear it sparingly, you could get close to a week before you need to charge the whole thing.
Outside of the obvious cameras and a light in the frame to let people know you're wearing smart glasses, some people might have no idea you're wearing a camera equipped design. That's because the new 2023 model will look and feel like Ray-Ban glasses, coming in both the standard Wayfarer design in black plus transparent colours including a blue "jeans", a "rebel" black, and a caramel that helps show off a colourised take on the digital. Those colours will also be available in Ray-Ban's Headliner design, giving you choices, with lens choice also a thing.
They'll also be slightly slimmer, slightly lighter, and IPX4 water resistant, all of which matters not just in sunglasses, but wearables in general.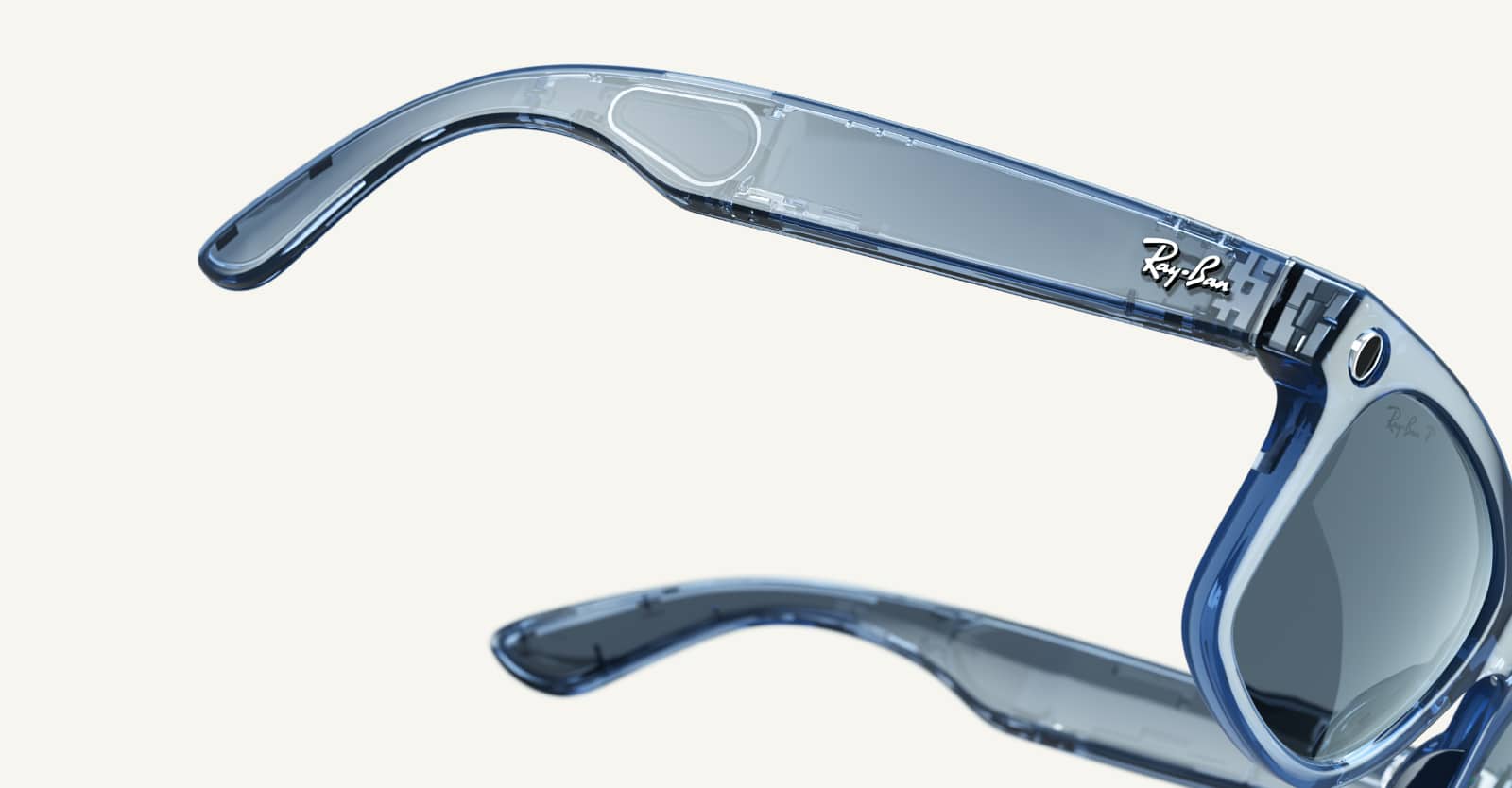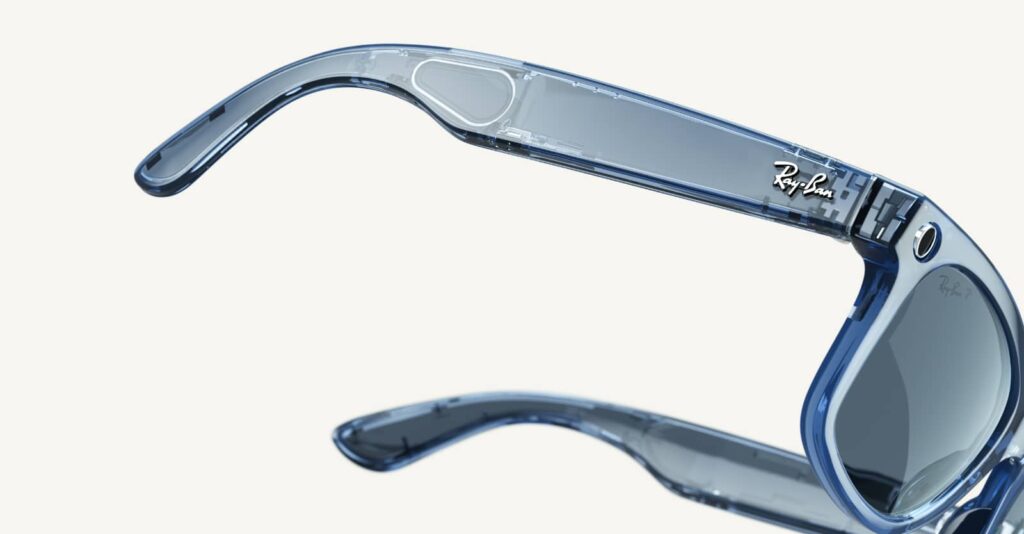 What they won't necessarily be is inexpensive, but given the hardware inside, Meta's price of $449 in Australia doesn't seem like too much of a stretch. In fact, they are an identical price to the previous Ray-Ban Facebook glasses, so it's more of a surprise that Metas has kept the price where it is rather than increase in the space of two years.
Australians can expect to find the glasses from mid-October, with the Ray-Ban Meta smart glasses launching on October 17.