We've been writing about security practically since the site started, but writing about security might not be enough. And that's why Pickr's creator is starting something else.
Take a glance around Pickr and you'll see a familiar writing style: it's one that attempts to convey how much its writers yearn to help people. Whether it's helping them pick the next phone, helping them make sense of the complexity of headphones, or helping them take a better photo, much of what goes online at this website and what its creator has spent the past decade writing and building has been about help.
It's one of the reasons Pickr was built in the first place: to help people pick a phone while assisting reviewers in getting their messages across, because the two needed to be connected.
Writing security is part of that passion, and it's partly because security is big, complicated, and can be very messy.
Unfortunately, it's not always easy to get your head around security problems, and between scams, phishing attempts, dodgy SMS, social engineering, malware, ransomware, and every other security problem I've missed, it's easy to understand why security isn't a friend of the regular person.
Technology journalists tend to spend a lot of time writing about security on the whole, and much of it repeats the same lessons: use great passwords, check your emails carefully, take messages with a grain of salt, and don't click on links you're not familiar with. If it looks sketchy, don't just click in a hurry. Instead, look at the message and see if it makes sense.
Despite these messages, scammers are still getting away with money. Lots and lots of money.
In fact in the past year, the Australian Competition & Consumer Commission reported that Aussies lost around half a billion dollars to scammers. That's a massive number, and it's one that's growing.
It means we need to step up the fight, and it's one that might need different tactics.
A more direct approach to educating on scams
We're not going to stop writing about scams or recording podcasts on security, but we are trying something a little different.
As such, we're launching How Scams Work, a site dedicated to exploring and teaching how scams work.
There's a database of scams that we're beginning to grow there, and this will sit alongside Pickr in what it provides, but it also does something a little different. How Scams Work educates on some of the commonly used principles of scams, informing and teaching by using simulations of scams.
To start with, we've built two, with an email scam simulator and a phishing scam simulator, and you can test whether you know what to do with each.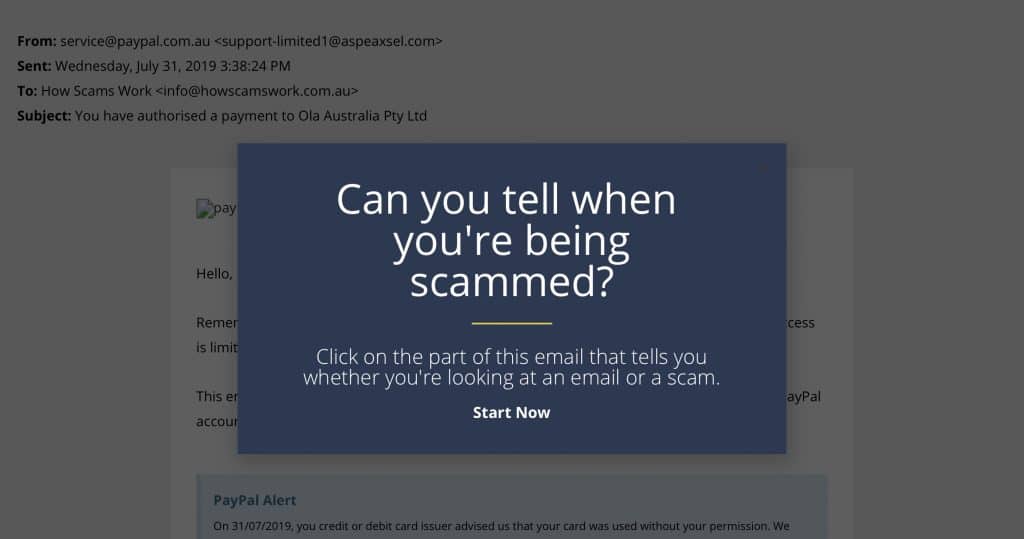 Do you know what to do if you get a scam emailed to you, and are you clicking on the right part to find out whether it is indeed a scam?
And what about with a phishing attempt: do you know how to work out whether you're at a phishing website, and what the right course of action?
The simulators in place at How Scams Work are designed to help people get the message of what to do when they encounter a scam, using the same teachings and methods security writers are talking about regularly, except found in a more direct and interactive way.
Find your scam or send it in
The scam database is one area we'll be looking to grow at How Scams Work, with the idea being that you should just have to type in a few words about a scam and have it pop up.
But if you don't find your scam, we'd love for you to send it in.
On the front page (and scattered about the site), we've provided a "send us your scam" section, where you can upload your scam for us to look at. We'll take a look, and if it's something new, build out a story to help other people who might be affected.
The aim is to help
Like Pickr, the aim of How Scams Work is to help people, providing a resource for people looking to find out about personal security.
Pickr will continue to write and analyse security alongside How Scams Work, but How Scams Work is a dedicated resource for security, and we'll be including tips, tricks, and hopefully more safe security simulators as time goes on.