The latest mirrorless camera from Fujifilm is built like a compact, but with an interchangeable lens, making it ideal to carry versatility on the go.
While you might rely on that phone camera for most things, if you want a little bit of versatility in how and what you capture, there's a good chance you need to go bigger. The question of how much bigger is a complicated one, because everyone's phone camera situation is a little bit different, and everyone's camera needs are individual, as well.
The simple day-to-day shots can probably go by without a second thought on anything outside of your phone, but for anything needing more detail or improved low-light, if your phone is doing just fine and you don't need an update now, a camera might be the solution.
The catch of a camera, however, is often size.
Even though DSLRs are getting smaller, mirrorless is where the size shift is, and even there, most mirrorless models are hardly what you would view as compact. An interchangeable lens makes that difficult, of course, but the body can be smaller.
And that's where the latest from Fujifilm is hoping to change things, with an entry-level in Fujifilm's X-series of mirrorless cameras delivering a smaller size with some high-end features, producing a compact mirrorless interchangeable that weighs 320 grams before you choose your lens. That makes it less than the weight of an iPad, which might be something you're already carrying.
That's coming in the Fujifilm X-A7, a 24 megapixel camera sporting an APS-C sensor, which is half that of a full-frame sensors. APS-C sensors have been used in many cameras, and that's a fairly sizeable sensor for a small camera, with this one including some features that not every interchangeable lens camera has yet.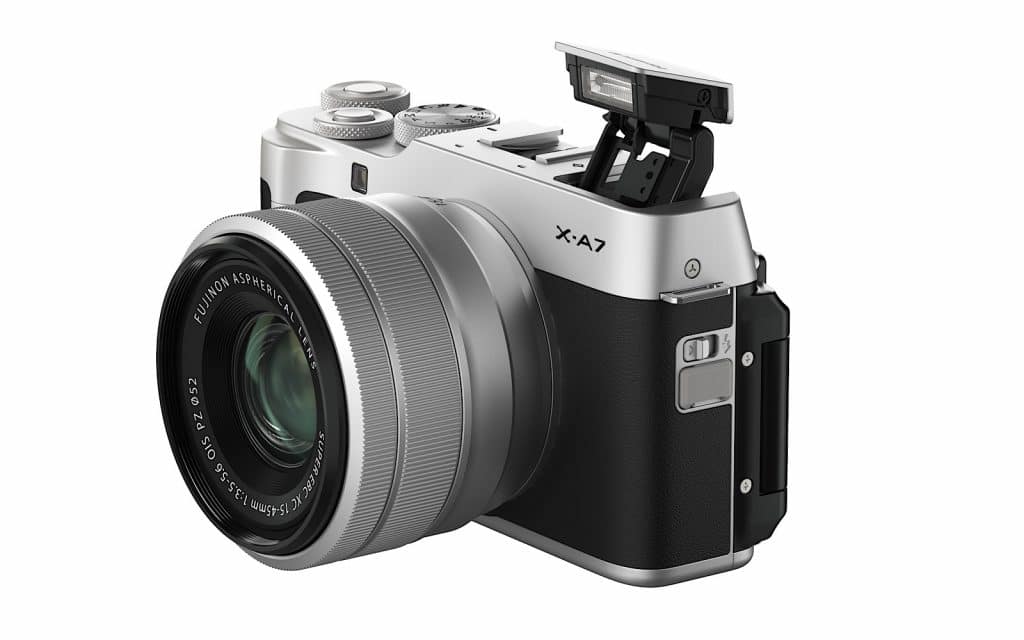 One of those is support for 4K video, over-capturing footage equal to 6K before downscaling it back to 4K, similar to what Sony does in its mirrorless cameras when it captures in Super35mm and downscales back to 4K.
Focusing on the video side is partly what the Fujifilm X-A7 has been built for, thanks to a "Countdown Video" mode which captures video for a preset duration you can pick of either 15, 30, or 60 seconds, and a 3.5 inch touchscreen you can angle your way showing you how much time is left. That means if you're capturing video of yourself, you'll essentially be cut off before you go over Instagram's maximum recording time, forcing you to cut those stories off.
It's not just a video camera, with the X-A7 offering 24 megapixels and more phase detection autofocus pixels, improving focus, as well as face and eye detection to keep subjects in focus.
Folks who prefer a more film-like look will probably appreciate the inclusion of Fujifilm's film profiles in its film simulation modes, even if they may not necessarily know what Asia, Provia, or Velvia are straight away. Of course, that's nothing a quick Google search won't fix.
There's also a somewhat high ISO range hitting a maximum of ISO 51200 in the Fujifilm X-A7, though you won't find in-camera stabilisation here. Something has to give, and that's likely something reserved for the larger and more expensive models.
However size and price are big parts of Fujifilm's focus, with the X-A7 hitting a local price of $1049 next month (October), arriving in silver, dark silver, brown, and mint green, and with a 15-45mm lens bundled in.