If you own a Google Pixel, 2, 3, or 3a, you might want to check your updates today: you have the latest version of Android waiting for you to try.
We're not all beta testers, and some of us just want a phone to work instead of having to worry about bugs all of the time. This is a fairly normal approach, which means if you want to see things coming to your phone on the bleeding edge, you probably need to wait, and maybe read about what's coming, waiting with anticipation until it does.
If you're an Android owner, good news: that day might be today.
Folks with a Google Pixel phone should have an update waiting for them, coming in the form of a new Android release before all the others, as Android 10 goes live and final.
In beta for the past few months, Google has finished Android 10 and released it to both manufacturers and the public, with Google Pixel owners seeing it first. We imagine Android One devices probably aren't far behind, while other manufacturers that have been testing the updates — such as Samsung, LG, and Huawei — probably have an update coming for their already released products. That said, now that Android 10 is out, you can expect quite a few upcoming phones to tout it out of the box, though probably not for a few months.
However it does tell you that the next Google release will have Android's dessert-less version 10 on-board for when it does get announced in the coming months.
You can probably expect more features there than just what Android 10 brings, though there's quite a bit to get excited about, as well.
One of the most exciting additions is that of a dark theme, meaning you can turn the menus and many apps into a darker shade than just white and beige. Dark modes can help save the battery on your phone — because black can use a little less power, especially on OLED and AMOLED screens — as well as being easier on the eyes at night.
Android 10 isn't just about being easier on the eyes, but also on the ears, supporting a feature called "Sound Amplifier" that can filter out background noise and boost volume to let you improve what you hear. The feature even includes support to adjust what each ear hears separately, handy if one ear might not be quite as good as another.
Google is also rolling out improvements to its navigation, which now gets gestures, helping you to get across apps and screens with ease, while it also adds the ability to suggest actions in Smart Reply, such as getting sent an address and having Google Maps know what to do with it from the messaging screen.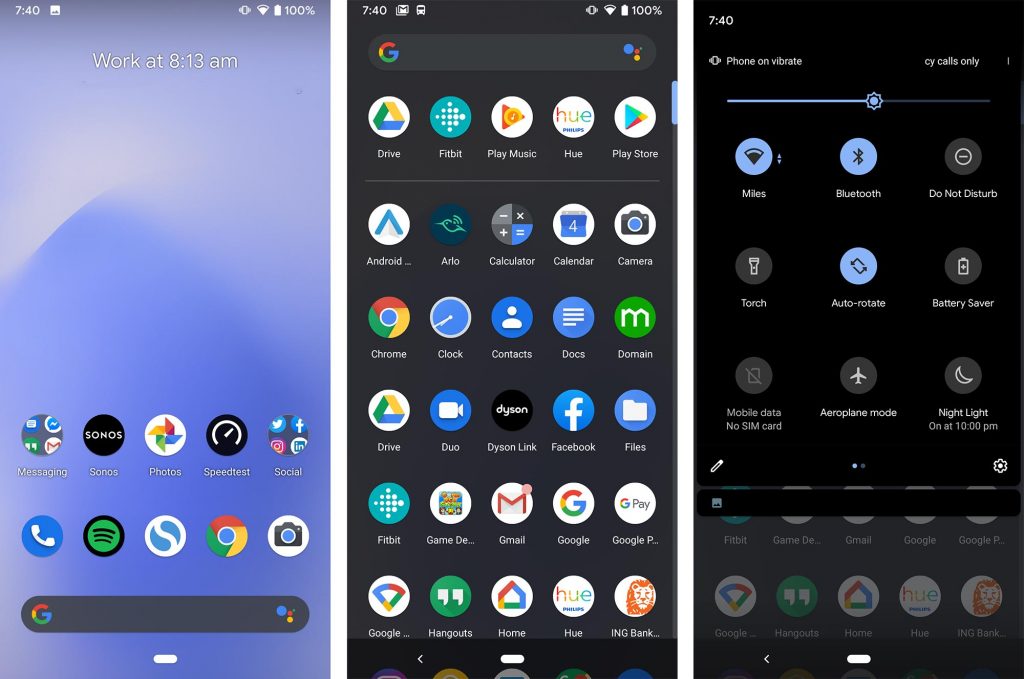 There's now more control over notifications, and you can silent specific apps so they don't bother you, while Digital Wellbeing will not only give you an idea as to how long you're using devices, but how long your family members are, too. Included as part of Family Link, parents that use Android devices can place time limits over children's devices, and even review the apps they install.
Security is also a big point here, with more control over location sharing, ad settings, and regularly security patches made available in much the same way as apps do, meaning faster security updates altogether.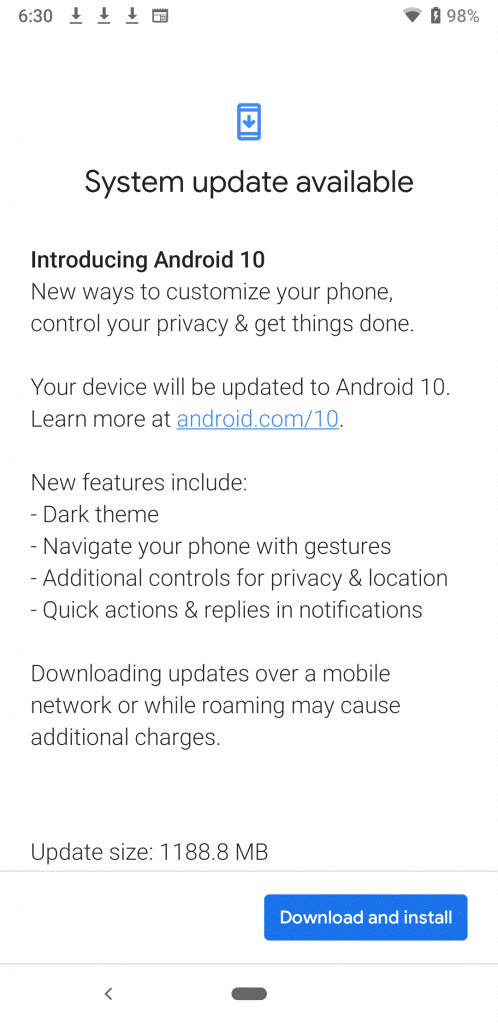 Some of the more interesting stuff coming isn't there at launch, however, such as automatic transcribing for media, such as phone messages, videos, and podcasts. That's coming in Live Caption, which will start rolling out in the coming months, possibly alongside a new Pixel phone announcement.
Also on the "coming soon" list to Android 10 is a "focus mode", which will let you silence apps you find distracting — like social media apps, for instance — until you decide to leave.
There are other things included that developers have been pinged on, such as being able to send audio from other apps into recording or streaming, making it ideal for live-streaming Android games. WiFi has also been improved, supporting high performance modes with less lag, and Android 10 is better optimised for HDR, with support for HDR10+.
Google has also included support for foldable devices, something we haven't see much as yet, though the current rumours suggest the models Samsung and Huawei both showed earlier in the year should see a release by the year's end. If foldable phones don't make it out until 2020, at least Android 10 is ready for them.
Until then, Google Pixel phones will get it first, meaning the Pixel, Pixel XL, Pixel 2, Pixel 2 XL, Pixel 3, Pixel 3 XL, Pixel 3a, and Pixel 3a XL, with other devices to come after.