If the $500 mark is your limit for a smartphone, Nokia is going to try to tempt you with a mid-range mobile offering pure Android and more.
It's going to likely be a week of phones, but before we get stuck into the big deals from Google and co, Nokia has something ready for Australia.
Sure, all eyes will be on flagship phones over the next week or two, but that doesn't mean they'll come in at a price point for all people.
In fact, if you don't see yourself buying a phone over the $500 mark, Nokia's latest might be for you.
A brand that offers quite a few models to choose from, its latest is a mid-range device offering two cameras on the back, Google's pure Android One experience, and support for high-dynamic range picture quality on its screen.
The phone is the Nokia 7.1, and it's another biggish phone, sporting a 5.8 inch screen adopting a 19:9 ratio, making it a full-view screen. That means the display runs mostly from top to bottom, and you'll even find a notch up the top similar to what we saw on Apple's iPhone X and Huawei's P20 Pro, to name but a few that have adopted this design.
Under the hood, the specs are suited to the price point, with a Qualcomm Snapdragon 636 processor, 3GB RAM, 32GB storage, and support for a microSD if you need to upgrade things.
There's also WiFi, Bluetooth, GPS, and Near-Field Communication (NFC), as well as the USB Type C standard to charge from as well as a standard 3.5mm headset jack.
But the main features to get attention on the Nokia 7.1 will be the aforementioned cameras, OS, and screen.
On the back, Nokia has equipped a 12 megapixel camera alongside a 5 megapixel, both working together with Zeiss optics, leveraging that Carl Zeiss heritage.
The Android experience is also an interesting inclusion, simply because it means that it's about as close to a Pixel phone as it gets without being made by Google. Android One is basically Android the way Google wants it, and while the Nokia 7.1 isn't the next Google Pixel, adopting a similar experience and ready for Android 9.0 "Pie" suggests the next major update or two will keep the phone feeling fresh.
There's also the screen, which supporting of high-dynamic range video can make it feel more like a TV, especially as online services and the camera both support HDR.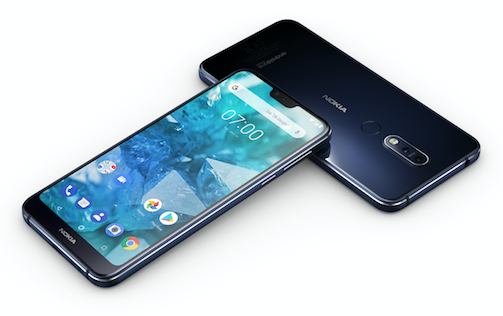 Nokia's 7.1 will be available in Australia from next week, rocking up at Harvey Norman and JB HiFi from October 17, where it will retail for $499 outright.