We all have WiFi, but some of us need better WiFi at home, and WiFi everywhere, and protected WiFi. So how do you do this, and what sort of devices can make WiFi better overall? D-Link thinks it has a few answers this year.
WiFi is one of those things we all can't live without, but it's not the same in every home. Depending on the router you use, the technology it uses, the design and build of your home, and the type of smartphone, tablet, laptop, or any other wireless-connecting gadget you have, your experience may vary.
In fact, the greatest line for wireless networking may actually be "your experience may vary", because it almost definitely will, and there's a very good chance that your home will not have the greatest of WiFi. It's bad enough that Australian broadband is troublesome at best, but wireless needs to be better.
This week at CES, however, D-Link thinks it has a few answers, and much like your experience, they vary, but only because there are different reasons for making your home better.
The fastest WiFi
The fastest WiFi for D-Link works over in the 802.11ax technology, a relatively new wireless technology that will gradually be making its way into products this year boasting strong speeds.
Devices using 802.11ax will still support 802.11ac, as well as 802.11a/b/g/n — the standards — but 802.11ax can deliver speeds in the gigabits, with one of D-Link's routers capable of churning out a staggering 11Gbps (11,000Mbps) across the entire router.
That's what's happening in the router-only DIR-X9000, a triband router built for high-speed gaming, 4K transmission, and virtual reality, adopting the same pyramid-like design of the D-Link Cobra we liked so much, but boosting the technology overall everywhere else.
A slightly less powerful version will arrive in the DIR-X6060, offering two bands and combined speeds of up to 6Gbps (6000Mbps), which will see 802.11ax available to more people at launch, particularly those who may not be keen to spend up big on routers, because this is a router first and foremost, and you'll still need a modem if you still need one.
The homewide WiFi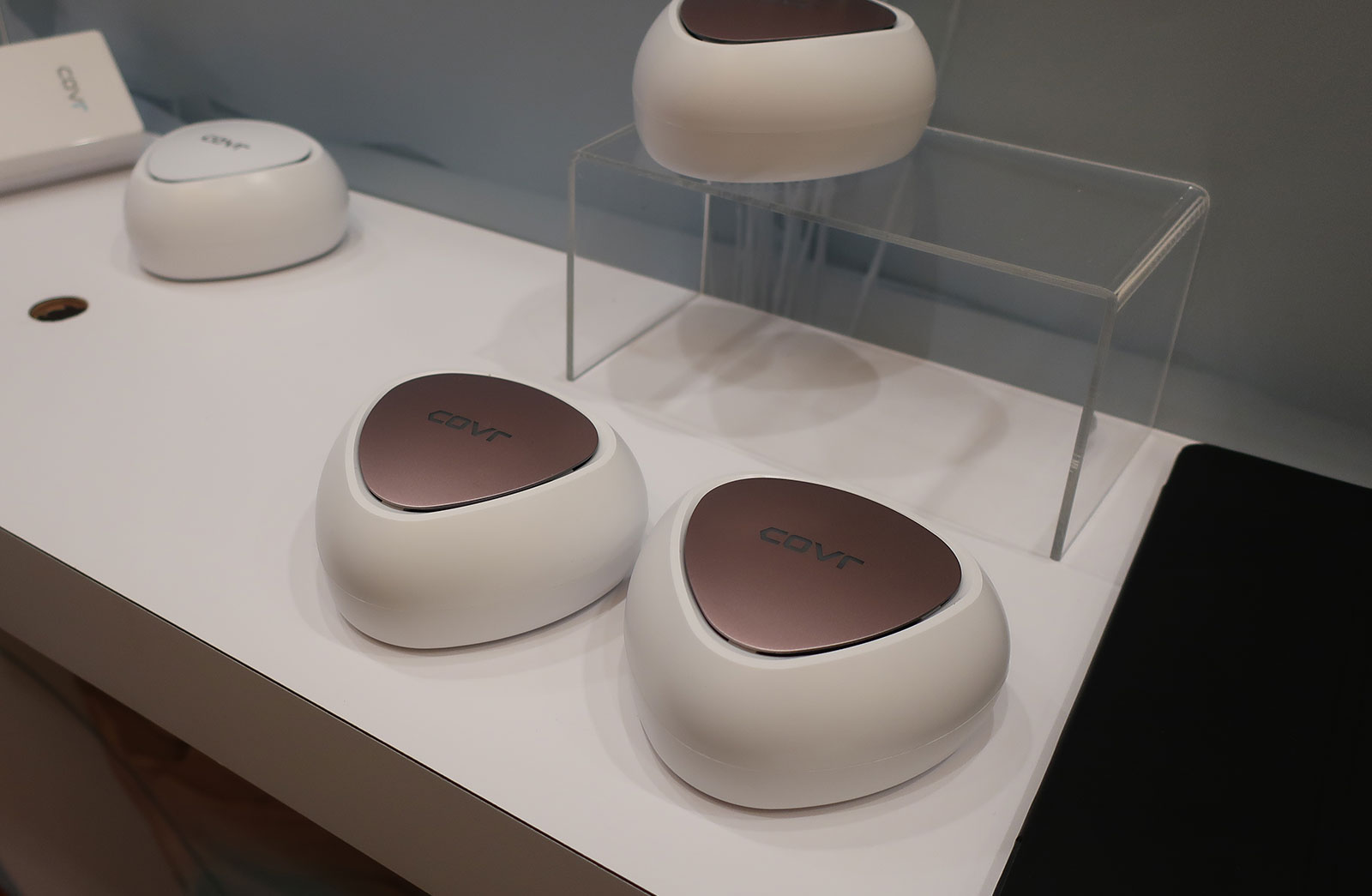 Different from the fastest WiFi, the homewide WiFi is about getting as much penetration as possible, sending WiFi signals everywhere you can, and that's something mesh network technology can help with.
We've started to see companies capitalise on this in recent years, though not every mesh is created the same. While the idea is about having multiple points that feed into each other and strengthen the network overall, some devices don't work this way, and rely on an extra band of WiFi to transmit the information almost like a back channel.
That's not what D-Link will be offering in the Covr, however, with a mesh network product made of multiple points positionable anywhere, complete with replaceable covers to stylise them a little more.
Covr will reportedly be proper mesh network, and powered by Qualcomm's Mesh Networking platform, but that means it comes with one caveat: it won't work directly with other routers, only devices based on the same technology.
This won't mean much if you just rely on the two or three device system, but if you already have a high-speed modem router or router, it means this won't just slot in and improve connectivity, as the two networks won't necessarily play nice. Instead, you'll just replace the old one with this one.
The safer WiFi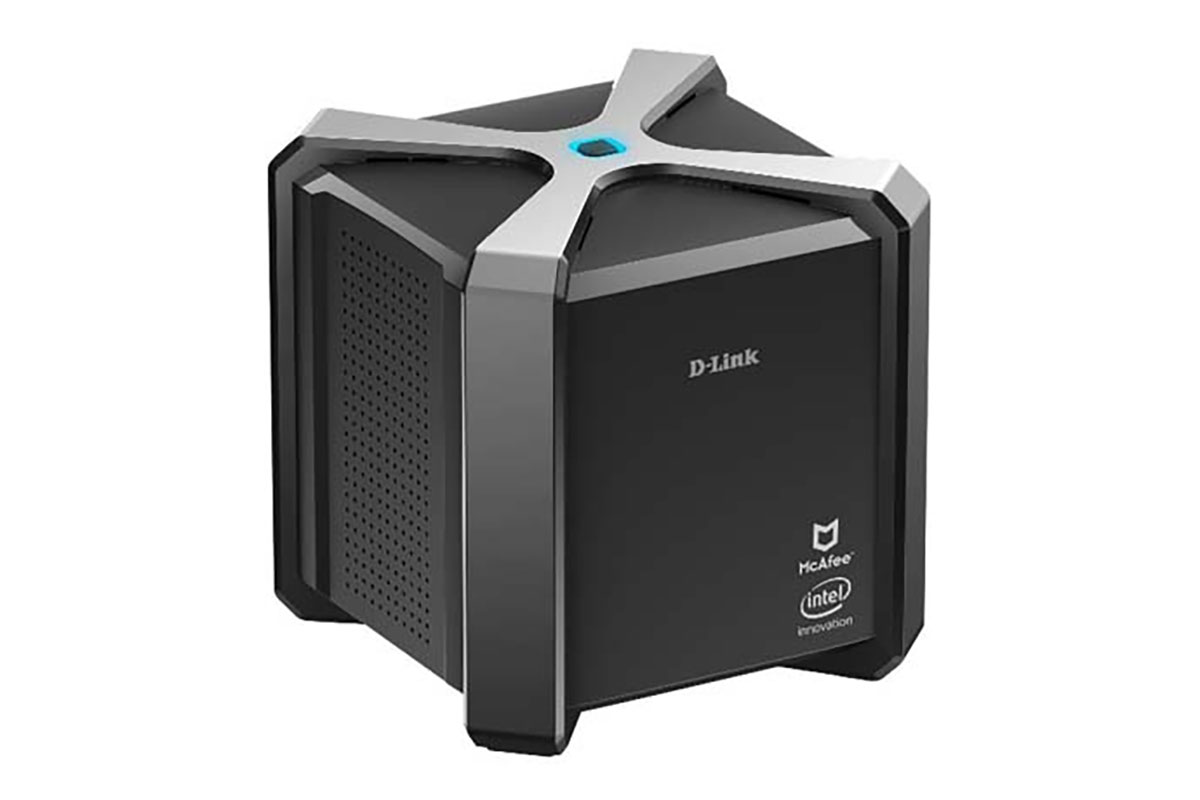 D-Link's other focus for the CES 2018 releases is on a safer network, and that's something families are probably looking for.
Whether it's through the help of parental controls or just a form of security watchdog that looks over the network traffic, D-Link's AC2600 WiFi Router Powered by McAfee — yes, that's actuall the name — not only delivers a small cube of an 802.11ac router, but it does so with McAfee's security platform to protect devices on the network.
Protection here isn't necessarily handled by installation of security software, either, with this about the traffic and what's being communicated. If you do have a compromised device, however, the McAfee system will stop the bad data from going out, helping to keep a network safe.
Meanwhile, devices that may not be secure can be gently nudged to install a security solution, something that isn't forced, but could still be handy all the same.
A good two years of security is included with the device, though after that you may be forced to buy a subscription to keep the McAfee and D-Link collaboration working away.
"As the number of connected devices in homes increases, consumers are increasingly concerned about online security threats," said Graeme Reardon, Managing Director for D-Link in Australia and New Zealand.
"D-Link teamed up with McAfee and Intel to address these concerns with a powerful, easy to manage, all-in-one solution," he said.
"The new AC2600 Wi-Fi Router Powered by McAfee is our solution for consumers to help protect their homes and children from evolving online threats."
Availability
Getting these products won't necessarily be quick, however, with availability likely to be a few months away yet.
That means you may have something to look forward to in the networking department, though hopefully it won't be a staggeringly long time, and more like a few months.
Leigh :) Stark travelled to CES in Las Vegas as a guest of Dell.