When is a TV not merely a TV? When it's also a picture you can hang on the wall, and that's what Samsung has made with The Frame.
Samsung has sure been making a big play for televisions this year, and between the bright flagships of the QLED series and the mid-range where the MU series plays, there is a reasonable amount of choice solely from the one company.
This week, there's another, but it's not your ordinary Samsung TV.
Called "The Frame", it's a concept that takes a Samsung 4K Ultra HD TV and mounts it to the wall, including Samsung's one-cable delivery concept hidden in the wall and turning the LCD TV into something a little more art-centric than another TV.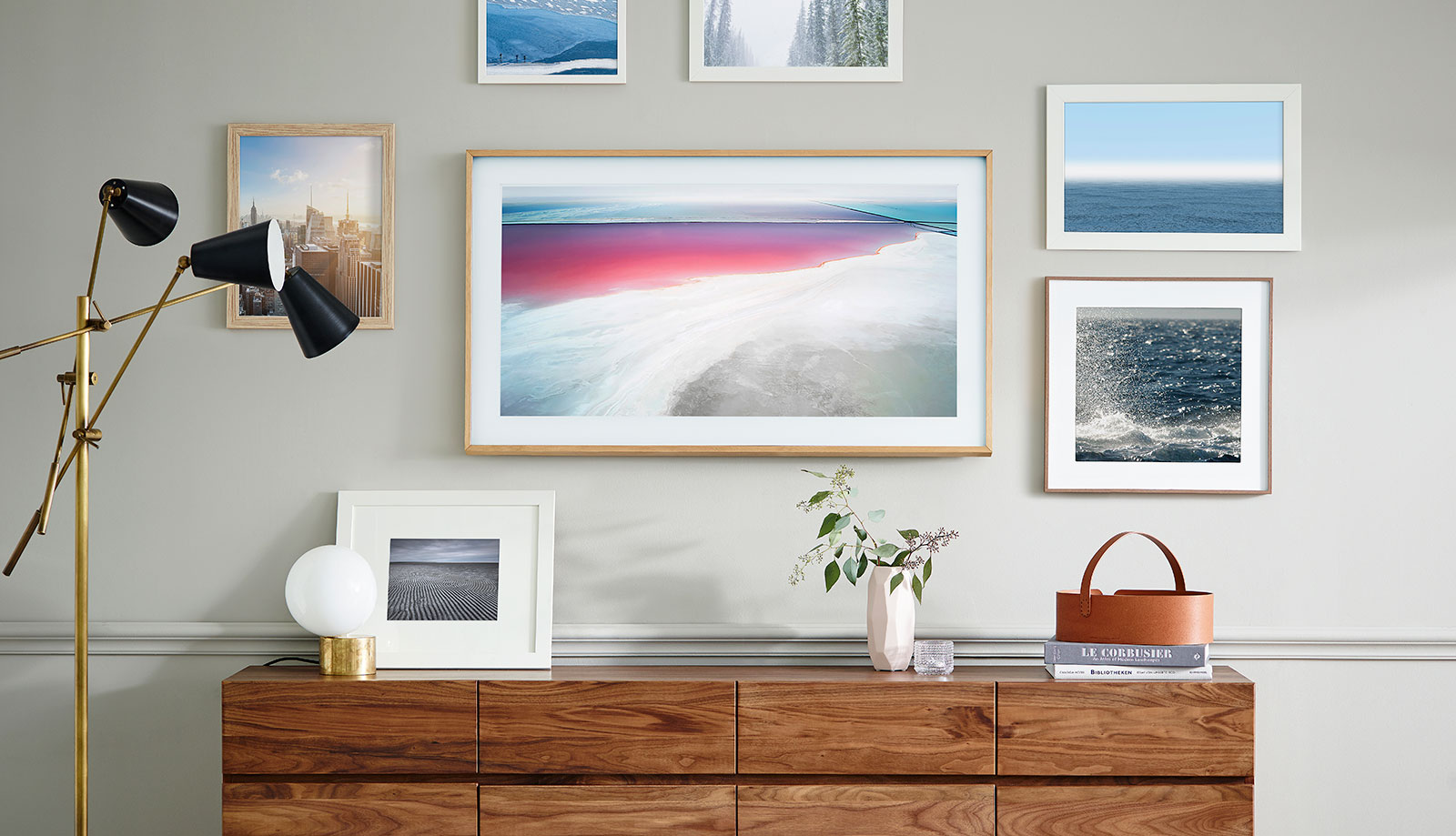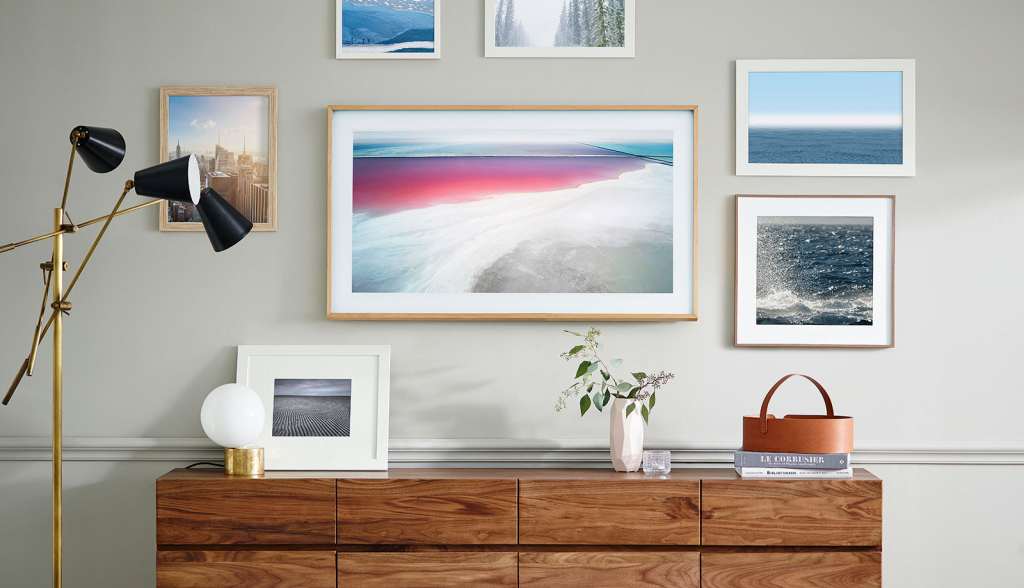 You see instead of just making The Frame into a television, Samsung has made it possible to encase the edges of The Frame in magnetic decorative panels, giving the TV a frame of white wood, or beige, or even walnut.
Those frames give off the appearance that this is a picture you can mount to the wall, but it's more than that, because while The Frame is obviously a TV, Samsung's latest isn't just a rebadged edition of what was launched earlier in the year.
In fact, The Frame isn't a QLED TV, nor does it appear to be an SUHD television like those found in the MU series. It is definitely a 4K Ultra HD television supporting the "one remote" functionality and hidden cables of the new wall mounted QLED TVs, but The Frame is still very different.
And that difference is most obvious when you turn it off.
Turn the TV on and you'll be greeted with crisp colours and the ability to watch anything your typical 4K screen might be able to let you take a gander at, complete with Samsung's Tizen Smart TV interface, and anything else that Samsung has thrown into a TV in the past year.
Turn it off, however, and the screen still basically stays on. Similar to a Kindle with a passive "on" display, Samsung's Frame TV presents a slightly muted colour image when it's off as if was still on yet turned down, keeping images powered up and displaying them at 30 percent of the electricity needed to run the TV.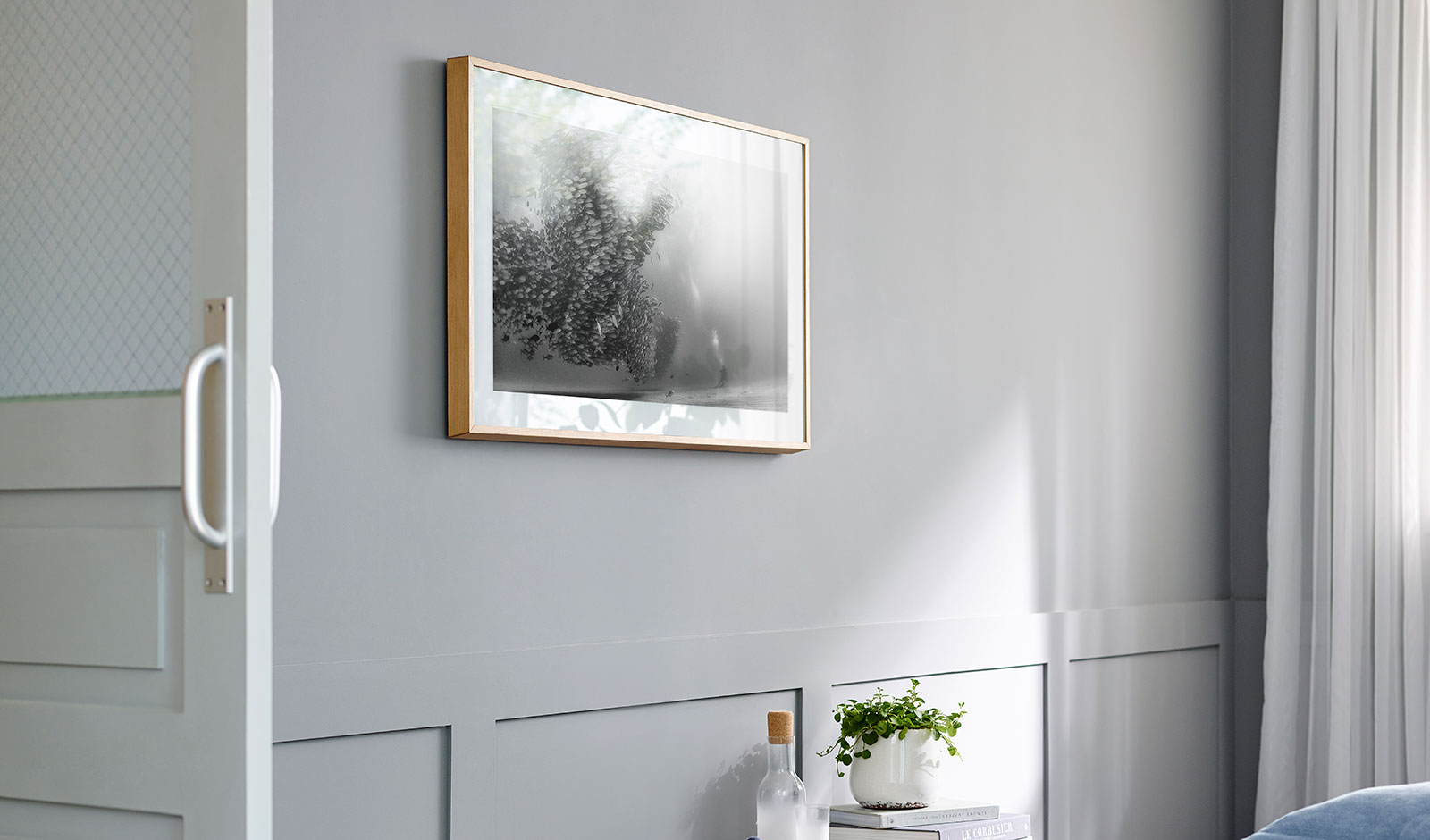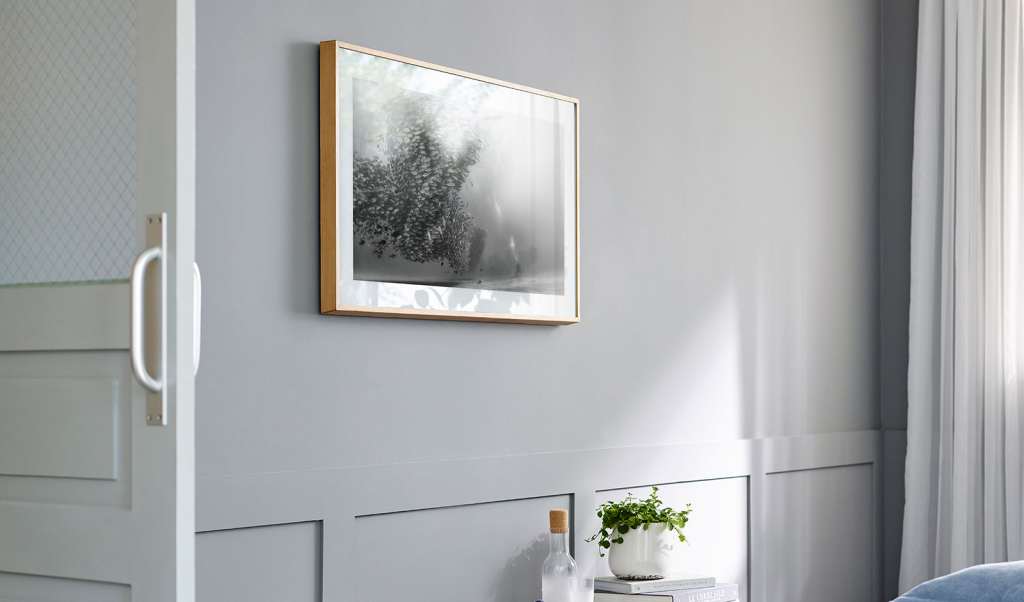 In this version of "off", Samsung showed Pickr that it still runs a small operating system, allowing you to select artwork and have the TV digitally mount it behind digital mat board, and this can include your own family photos as art, or anything else you want.
However, Samsung will also be including 100 pieces of art from around the world, including Australian artist Sarrita King, with more digital artwork able to be purchased for The Frame TV from an online Samsung store at either $24.99 each or a $5.99 per month subscription price.
We should note that technically, The Frame will turn properly off at points — not just off with a coloured screen, but off and black and properly off too! — but there has to be no one in the room, something the TV does courtesy of a motion sensor. Meanwhile, a light sensor picks up on ambient light and works out whether the display needs to be brighter or darker, doing all of this while the screen is technically off.
That's the thing that kind of messes with your head in the screen, because Samsung has managed to find a level between on and off that is both on and off, and yet is also kind of somehow neither.
It's a curious conversion of a TV, and revitalises the concept of the TV as a frame to art, or even a window to the world.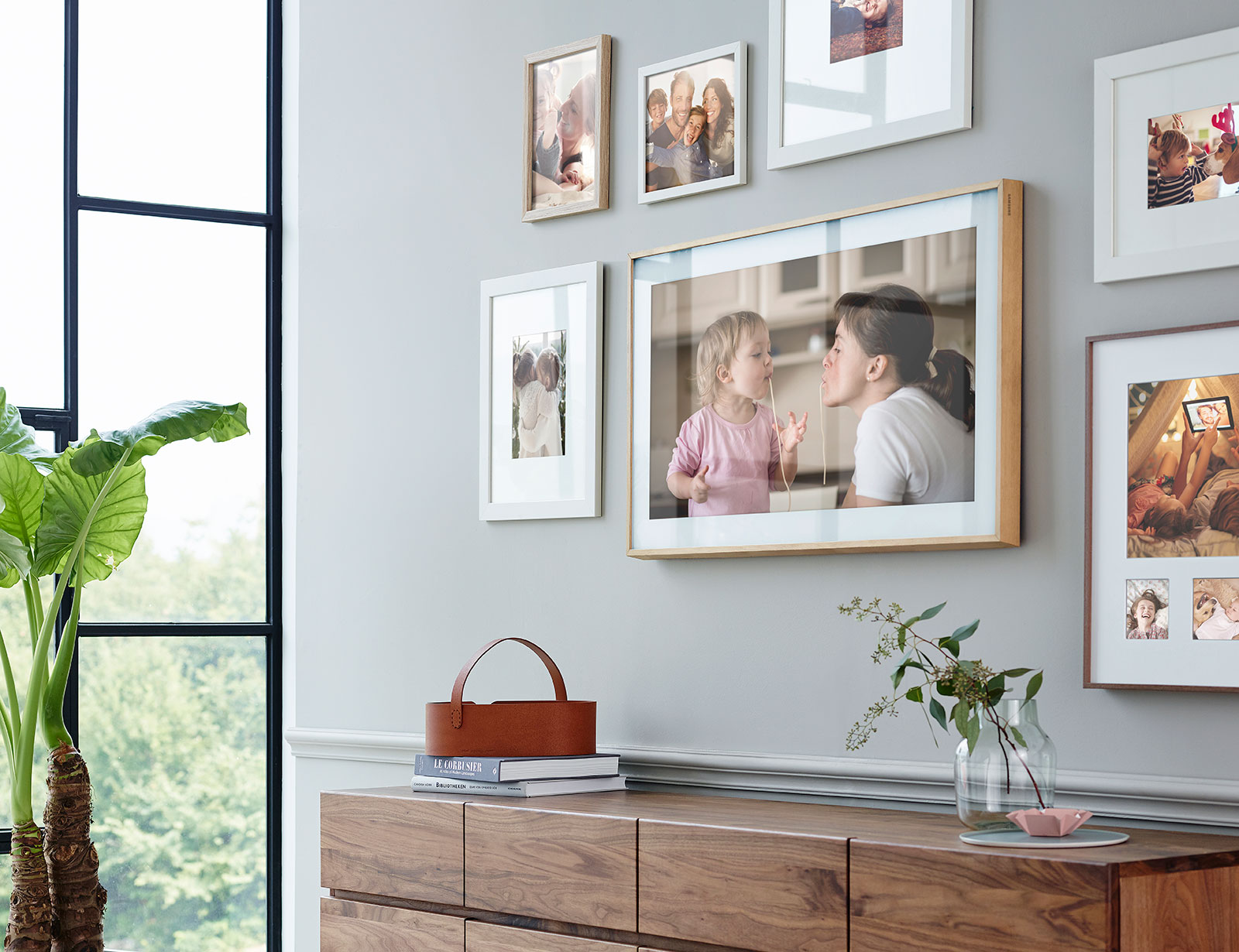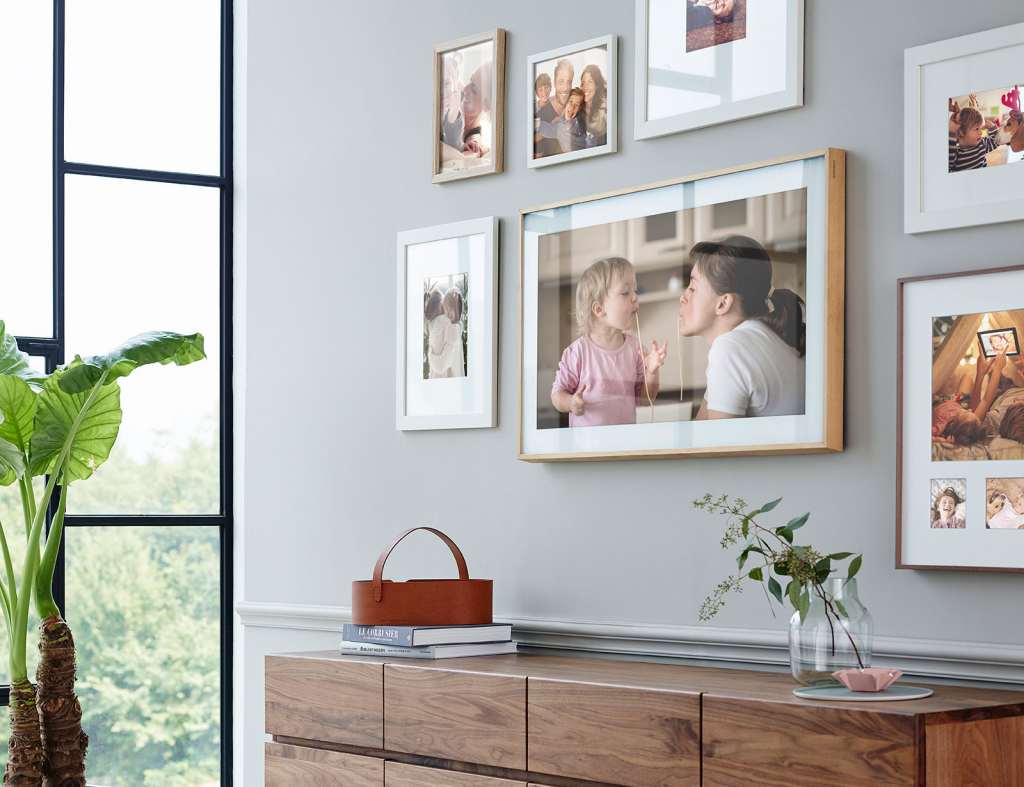 Seeing it in person is a little surprising, too. In corners of the room, viewing The Frame is a little strange, because it really can render modern artworks — bright and rich colour canvases and beautifully captured images — as they might as well be a picture, muting the image slightly and allowing the mounted frame to come across as flat, while the light of a room makes the image render flat and yet not, especially when presented on a wall.
That's one thing about Samsung's The Frame that needs to be pointed out, because you don't have to mount it. You can opt to buy a separate $799 stand to hold the television up, and it will sit in the stand much a little like an easel, but the feeling overall for this TV is that it has been made to be wall mounted, and made more for imagery than TVs.
In fact, while it is a 4K Ultra HD TV, the quality for watching 4K content won't probably equal that of what you can find in its latest QLED TVs, and that's because they're made for different purposes.
However, if your biggest question in buying a TV is "how can I make the TV fade away and leave the room when it's turned off", Samsung's The Frame is basically for you.
"The Frame brings new purpose to the television as it can complement any space, at all times," said Carl Rose, Vice President of Consumer Electronics at Samsung in Australia.
"The Frame also reflects Samsung's vision to integrate design and technology with purpose. In today's ever-evolving world, consumers are looking for technology that fits seamlessly into their lifestyles and The Frame is the epitome of this," he said.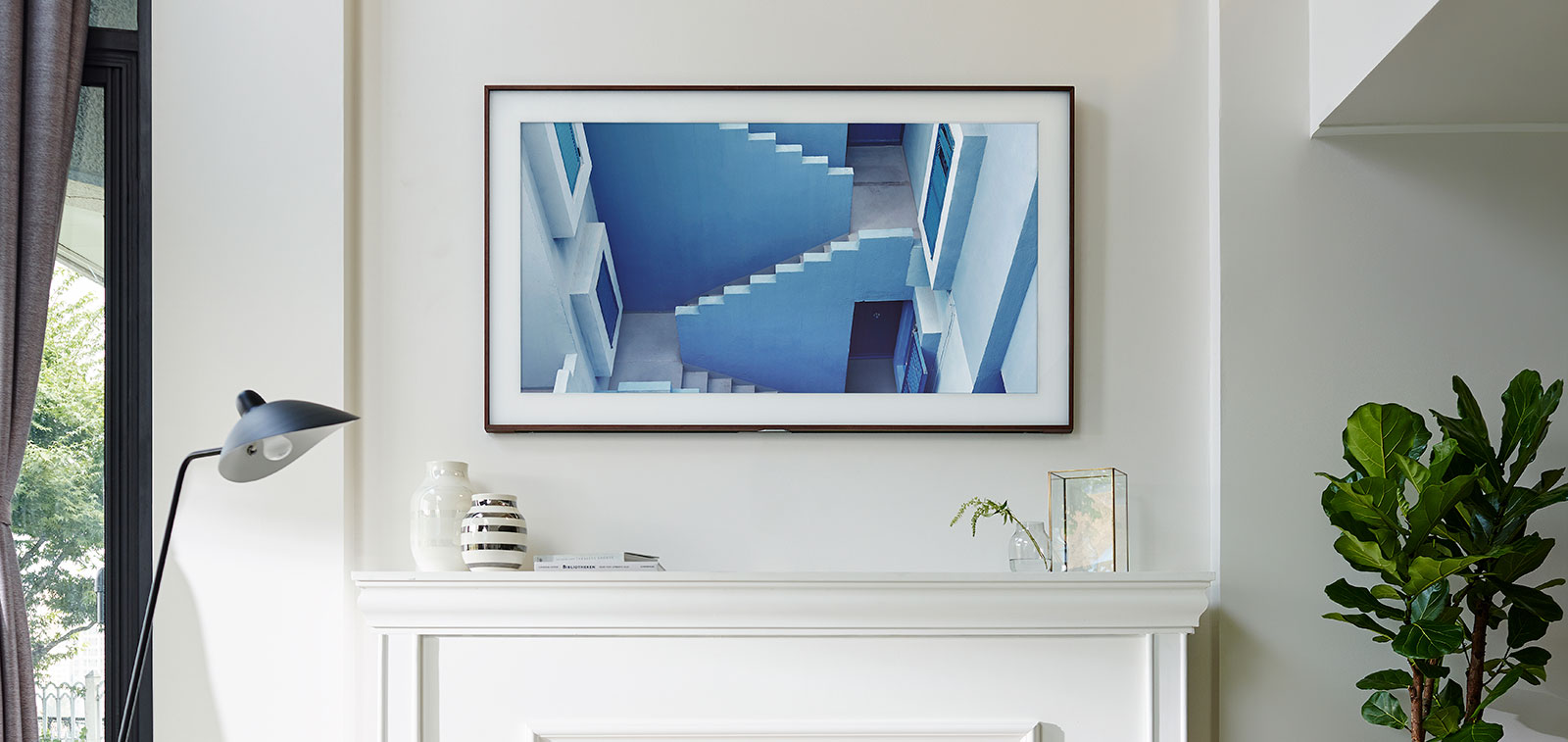 Pricing of The Frame TV will start at $3299 for the 55 inch model, while a 65 inch model will also be made available for $4699. Those frames are also interchangeable thanks to being magnetic, but they will cost money, and whether you choose white, walnut, or beige, they'll set you back $299 each.