The next iPhone is likely only a month or so away, but case-makers are still slogging away trying to make Apple's beauty always protected without the heft.
Smartphones can't usually be sleek and sexy and metal and glass without giving up a bit of resistance to the world. It's just part and parcel of how these things have to be designed, because when you're building a phone to be as small and thin as possible, and you want to use slick materials like aluminium, steel, and glass, you're going to lose out with durability.
That's the case right now, anyway. Who knows what it will be like a few years from now, because it's altogether possible some amazing material will be invented that feels like metal and glass, and yet has the resistant properties of plastic and rubber.
For now, that's a far off dream, and so if you plan to protect your phone, you need a case, and that's going to add a little bit of bulk. It might just be the borders, or it might be a full-on extra casing that slips around the phone, and that's something manufacturers are working hard to change.
OtterBox has recently unveiled what it thinks could solve that problem with its new "Pursuit" series, a range of ultra-thin yet still quite rugged cases made to provide what the company claims is the highest level of protection, but without the bulk.
Built in a two-piece design, OtterBox's Pursuit is made with what the company called "PursuiTech" (see what the company did there?), relying on shock absorption liners on the inside of the case, including an impact liner made of foam built for drops and smashes, while the top part of the phone case seals against the screen entirely to block out dirt, dust, and snow.
Made specifically for the iPhone 7 and iPhone 7 Plus, OtterBox doesn't need to worry about resistance to the wet as Apple's recent models take care of that for them, both including water-resistance.
"OtterBox leads the market in developing rugged, smartphone protection, and we continue to innovate our products," said Rob Kovacs, Vice President of Business Development for OtterBox in the Asia Pacific region.
"Our new Pursuit Series brings an evolution in extreme smartphone protection, with a slim design that fits perfectly into daily life, but still provides the rugged protection needed when you want to hit the road or go off the grid," he said.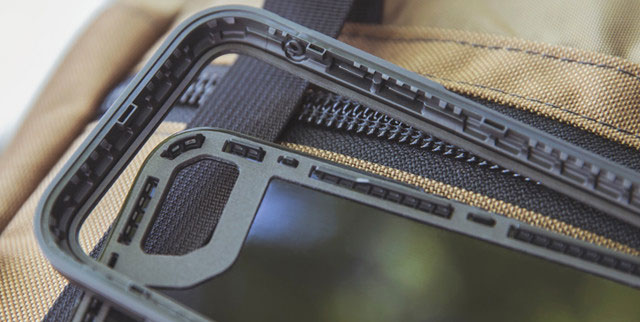 While OtterBox's Pursuit is designed to be slim, one thing you can't really call it is cheap, with this unlikely combination of dieting-yet-durable revealing a price tag of $89.95 for the iPhone 7 variant, and $20 more at $109.95 for the larger iPhone 7 Plus option. There's no doubting that's a relatively pricey smartphone case, especially on the verge of a new iPhone being made announced, expected in September.
That said, if you're pretty sure you'll be sticking with your current iPhone for the meantime and you have this model, plus you want a thin-yet-rugged case, OtterBox's Pursuit is worth checking out, if only to keep that iPhone from looking so scratched and broken, you'll wish you were upgrading now instead of next year.