Some of the games on Nintendo's new Switch console sure do look fun, but if you're thinking you can play on your PC, think again.
Symantec Security — the team behind the famed Norton Internet Security and Norton 360 security packages — has put out a warning, and if you're a gamer or know someone who is, it's time to listen up, because it might affect you.
The team has discovered that scammers are using the promise of free emulators for Nintendo's Switch console have been going out to get people to download potentially dodgy applications while grabbing information.
For people who don't know, an emulator is exactly what it sounds like, with a piece of software designed to emulate something out. More often than not, emulators are found for video game systems, replacing the game systems we remember from our childhood especially now that our computers have more than enough power to drive them.
If you remember arcade machines, the Sega Megadrive, Nintendo's Super Nintendo, or other systems, fans of the systems have coded these into emulators to run what are called "ROMs", tiny pieces of software that encapsulate the software titles you'd normally find on the gaming systems.
It's not unusual for gamers to have these, but the catch is they generally take time to make. Lots of time. Months to years, and usually the latter.
Unfortunately, scammers have seen fit to start duping gamers keen to play the new Nintendo Switch titles by tricking folks who want to play games on a system that has only been out for a month, resulting in one devious little trick.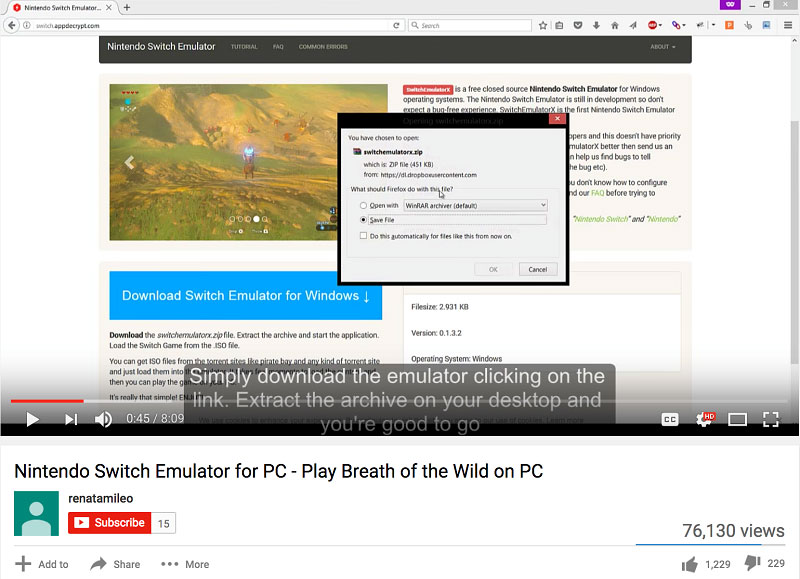 As such, scammers have even started putting out videos on YouTube showing a "Nintendo Switch emulator" revealing how to download the files using a step-by-step process.
And if you guessed that these were all fake, you'd be right, with websites asking you to fill out surveys and hand over your information, while the file you're given that is supposedly the "Switch_Emulator" is actually some form a dodgy application, possibly a Trojan virus hiding a different payload or something else that downloads other software to your computer, Mac or PC.
Yep, this is one of those scams that can affect either computer, so if you don't have internet security, don't go searching for "Nintendo Switch emulators" or "Nintendo Switch ROMs".
We're checking with Symantec to find out whether the scam is out to trap users with ransomware, but so far there's been no information on that yes.
What Symantec has said, however, is that the scammers aren't just using this trick to get you to download a dodgy file, but are using the survey scams to likely drive affiliate programs, which net them some money while tricking you in the process.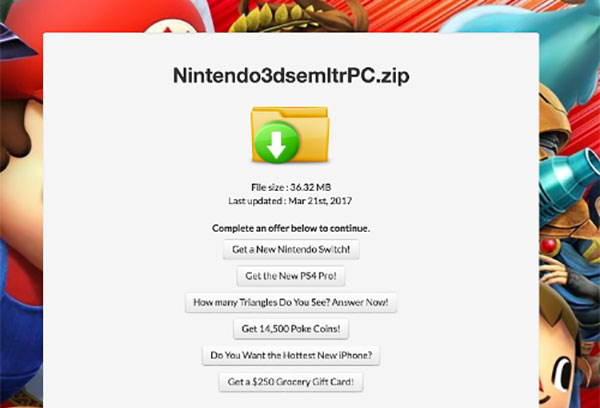 Yep, it's about as dodgy as it gets, so don't fall for their files, and if you want to play a Nintendo Switch title, you're going to either have to pony up the cash for both the hardware and software, or wait the few years it will take for fans to emulate the console.