If there was ever doubt that LG planned to do more of the same in phones this year, that should well and truly be thrown out, as the company previews what's coming.
For LG, the future is right around the corner, with a new smartphone set to be announced late in the evening on February 26, a time which will be the morning for those journalists attending Mobile World Congress in Spain.
With the smartphone competition more or less centred around what the likes of Apple and Samsung are doing, it's critical for manufacturers to get it right, and this includes LG.
While 2016's G5 was an interesting concept, its early take on smartphone modularity wasn't quite the success the company had hoped for, and thus it has reportedly been shelved.
This year, LG will be looking for a new take to drive its flagship G-series phones to success, and until the launch at the end of February, the company is drip feeding features here and there.
That brings us to this announcement, with LG showing off what it believes will be a big deal in smartphones with a trend it is trying to start: larger screens.
If you thought the 5.5 inch screen of the Apple iPhone 7 Plus and the 5.9 inch of the Huawei Mate 9 were big deals, the screen of the LG G6 aims to push even further, boasting not just a similar size, but a thicker aspect ratio.
Most phones — including those ones listed — rely on the standard widescreen 16:9 aspect ratio, a display size that is tall but also wide enough be used. LG's G6 looks to be using an even taller aspect ratio, with 18:9 channeled here, delivering what the company describes as a "FullVision" display boasting 2880×1440, a larger screen size than even the Quad HD 2560×1440, something it gets due to that extra couple of numbers in the taller ratio.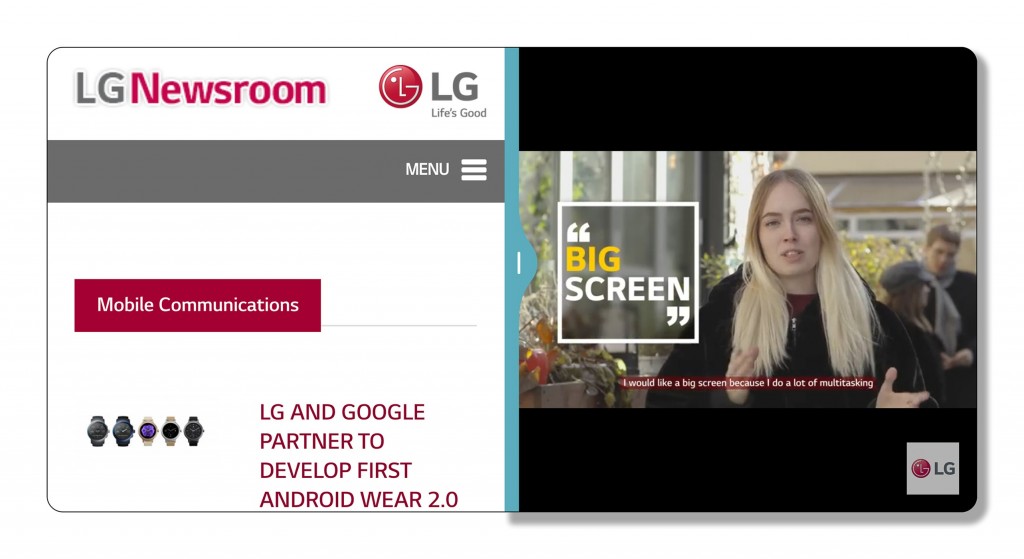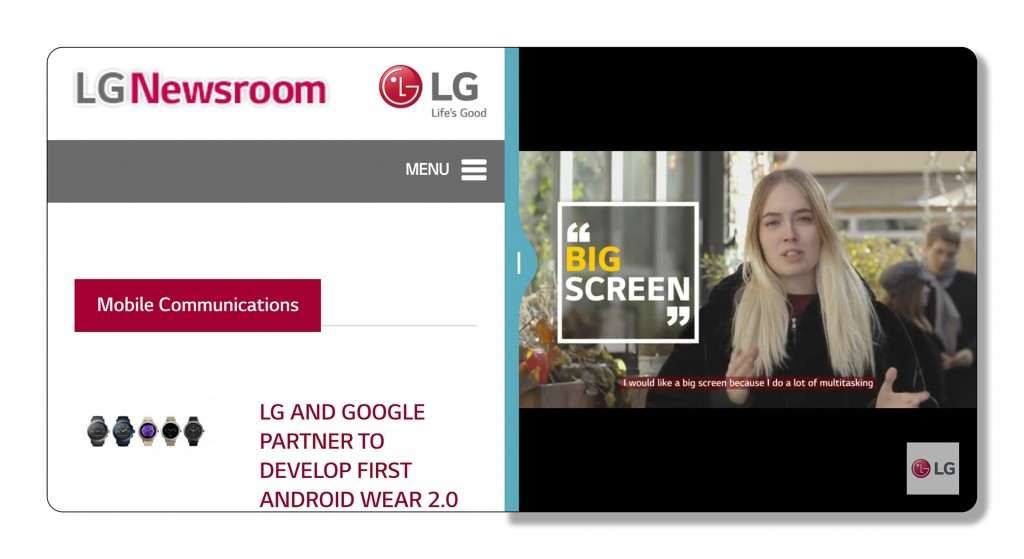 That extra bit of length will reportedly give the phone more ways to consume content when viewed horizontally, meaning you should be able to view two windows side-by-side, operating both at once.
LG suggests that this includes running the phone call window next to the calendar app, or a photo gallery alongside the messaging app, or even reviewing images immediately after shooting them alongside the camera window.
Currently, Android devices that are big enough (and with a relatively recent operating system) can do something similar to this, though the apps usually overlap, with the windows taking on a more picture-in-picture approach.
For LG to take this route, it would almost be a page out of its ultra-wide monitors, which can display two sources side-by-side, also.
"The LG G6 with FullVision was inspired by the philosophy of experts in the movie industry who believe that an 18:9 ratio screen would be the best solution for viewing both old and new cinematic content in the digital age," said LG's Juno Cho.
"We've not only embraced that philosophy in our newest smartphone but taken it to a whole new level by incorporating the 18:9 format in many other ways. I think users will appreciate the many ways we've made the LG G6 more productive."
As far as interesting ideas go, this one is definitely that, though we'll be curious to see what else the G6 has going for it, because it'll need more than an extra wide screen to get people convinced.
LG's G6 will be announced at Mobile World Congress in Spain on the evening of February 26.