There's a general push in audio design to make things exciting and new, but Klipsch isn't necessarily buying into that this year.
Our CES coverage is over, but we're jumping on some of the gear we missed during our initial writing spree, and Klipsch was one such company.
The long-established audio company used CES 2017 to introduce a few high-end pieces of audio gear right at the end of the show, focusing not just on the more premium technology, but on a retro level of aesthetics you might expect to find in someone who thinks the old school trumps that of the new school.
Given the name some of the products are coming with — Klipsch's Heritage series — it should come as no surprise that these are about the design legacy by the namesake of the company, Paul W. Klipsch, and while there are quite a few products, we'll do our best to sum up a few before they arrive, which should be within the next few months.
The range is predominantly based around an aesthetic which looks back to the 1930s for its design, arriving as several speakers: The Fifteens, The Sixes, The Three, The Demi, The Two, and The One.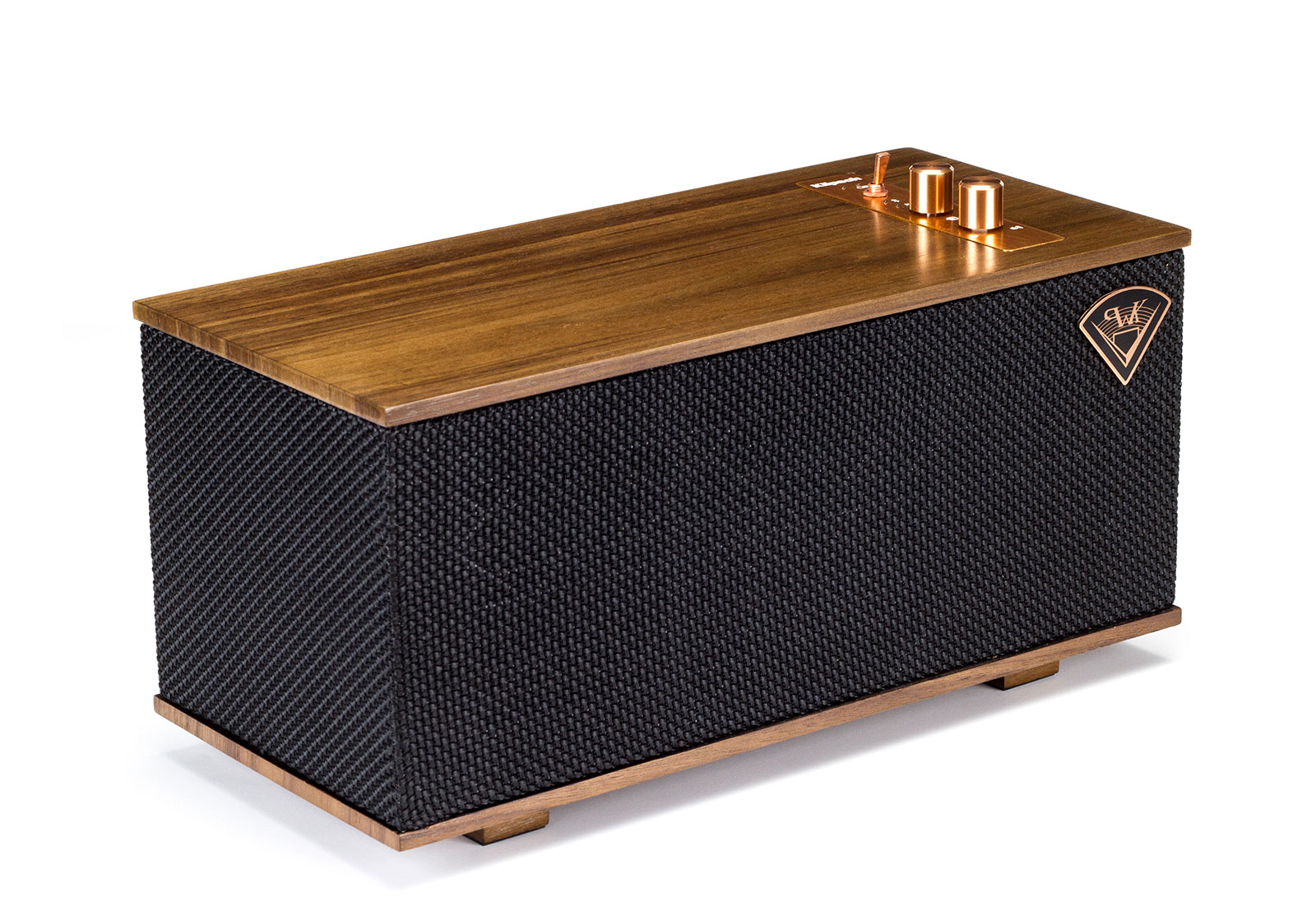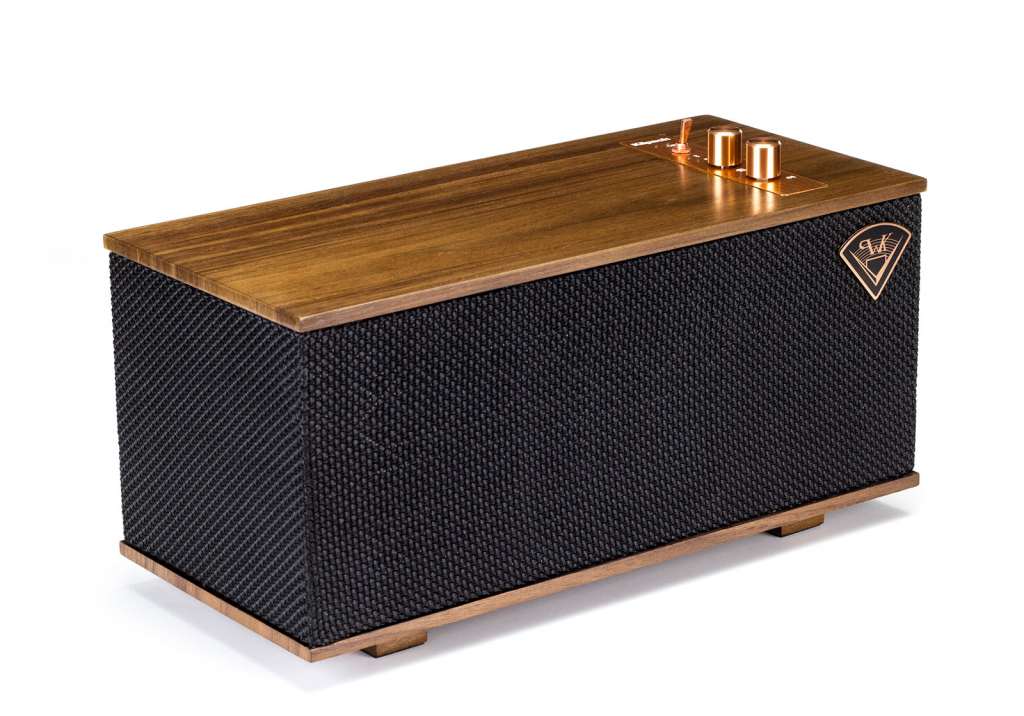 Starting with "The One", for instance,  you'll find a rechargeable wireless speaker built to look old and sound great, using a more luxurious design thanks to wood veneer and spun copper to create something that acts like today yet looks like yesterday, making the Bluetooth speaker more than just a wireless box that makes sound. Inside is a 2.1 system with two 2.25-inch drivers and one 4.5-inch woofer that has been balanced by Klipsch's acousticians, with the system controllable using either a smartphone or tablet's Bluetooth, or even that of the standard 3.5mm audio jack.
Alongside The One, The Demi and The Two channel that one speaker tabletop stereo speaker design, again utilising more wood, more wireless, pushing one with one source for one level of sound.
But where The One is portable, others are not, and The Three is even larger again, taking those two 2.25-inch drivers from before and updating the woofer to a 5.25-inch long-throw woofer, with dual-opposed 5.25-inch passive radiators to bump up that bass a touch.
If one speaker isn't enough and you need two for real stereo, Klipsch's The Sixes deliver two wireless speakers that talk to each other but yet won't be portable, delivering a phonographic-ready and Bluetooth-friendly audio system with 1-inch titanium tweeters and 6.5-inches woofers, again in the old school heritage design. There's even an RCA output so you can connect a subwoofer, making these as about as wireless a stereo system as you can get.
Or it would be if not for The Fifteens, Klipsch's floor-standing wireless speakers with 180 watts per channel, 15-inch woofers, 1.75-inch tweeters, and support for press much source that a modern-and-yet-also-old school speaker needs.
Why there's even a 24-bit 192kHz DAC, handy if you actually buy high-resolution audio (like us).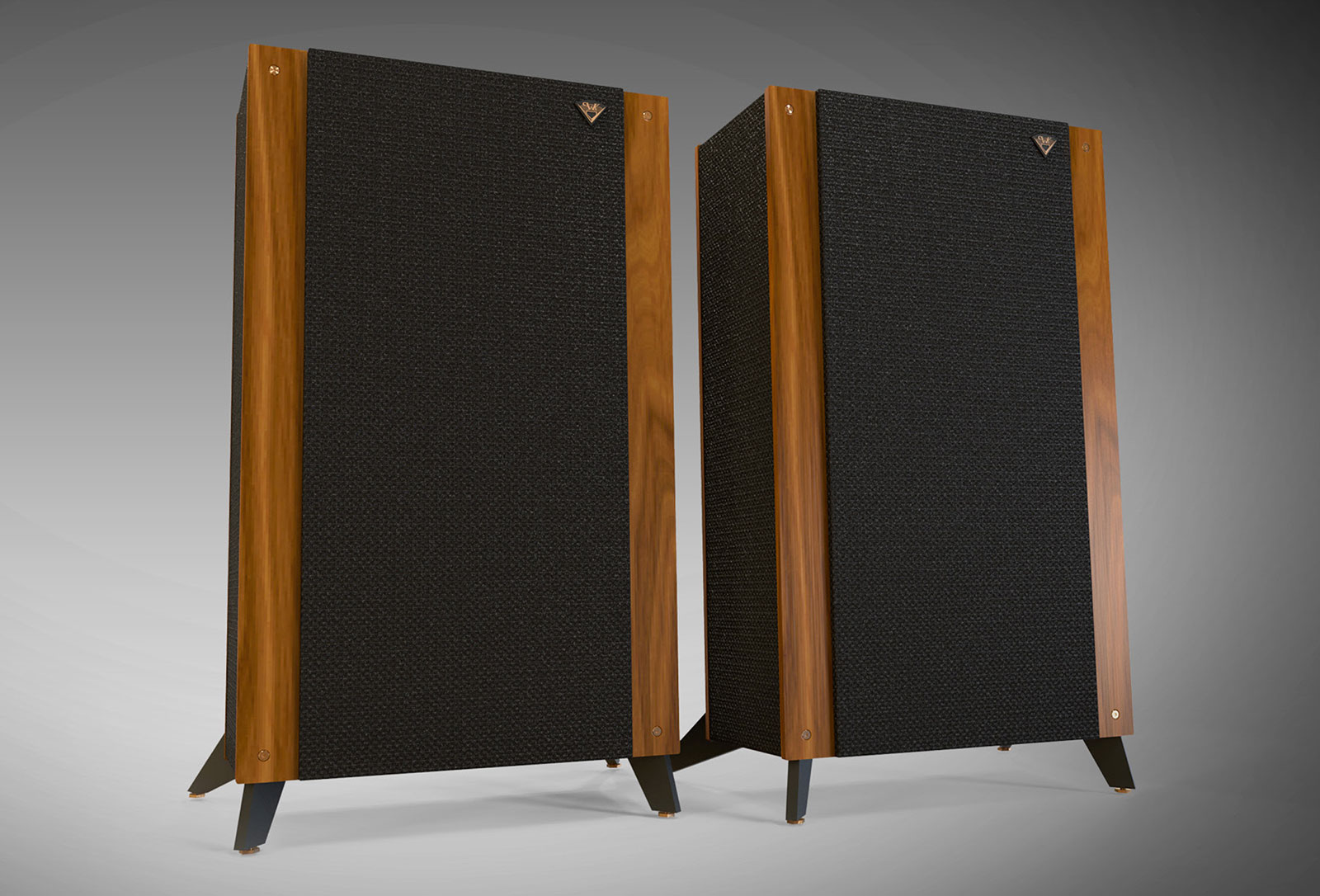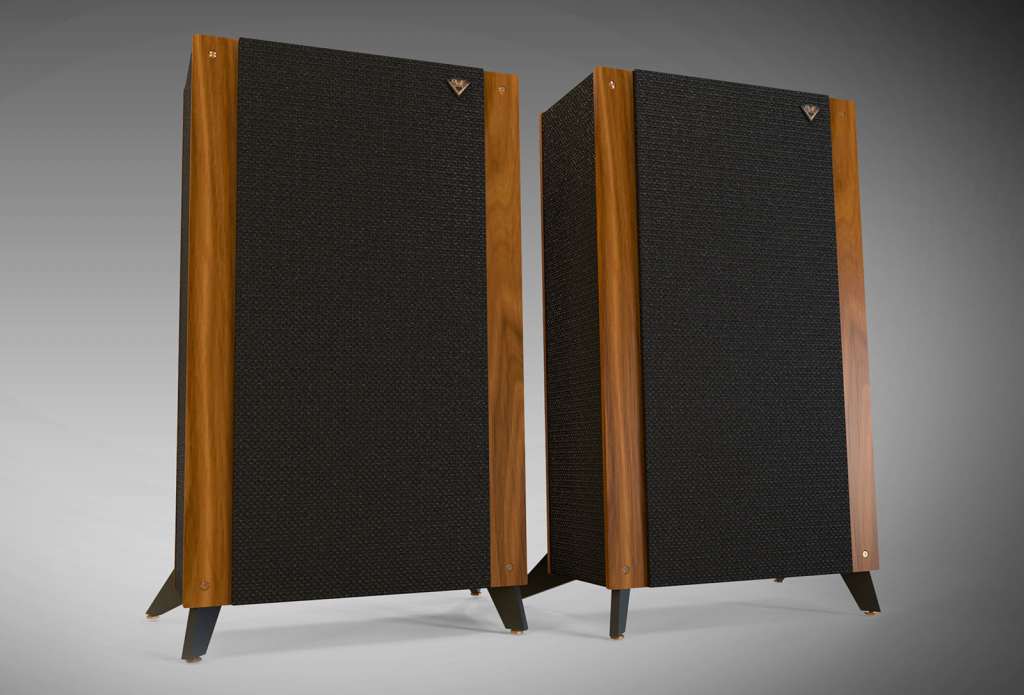 "The Klipsch showcase of products illustrates our commitment to incorporating luxury materials, such as real wood veneer and tactile spun copper switches and knobs, blended with the acoustics and the classic design legacy of Paul W. Klipsch," said Paul Jacobs, President and CEO of Klipsch Group.
Speakers aren't the only area getting a touch of that Heritage style, with Klipsch also building some retro-inspired headphones which again blend wood, copper, and leather, giving off that feeling of the old and combining it with what's inside for the new.


The new headphones should arrive later this year, and while the outside feels like a splash of the old has been applied, on the inside there's a biocellulose driver, a concept we've see on few high-end headphones that usually brings out a warmer sound, while the diaphragm has apparently been designed more like a HiFi speaker driver.
The really modern take on Klipsch's headphones isn't even in the Heritage series, but in the neckband models, the X12 and the R6.
You know those Bluetooth earphones you normally wear with a strap around the back of your neck, not just for comfort but to hold them in position so they don't go anywhere?
Klipsch has taken these and made them a little cooler, with a steel casing leather neckband, copper accents, up to 18 hours of battery, vibration when you get a phone call, and a balanced armature driver (KG-926) for better sound.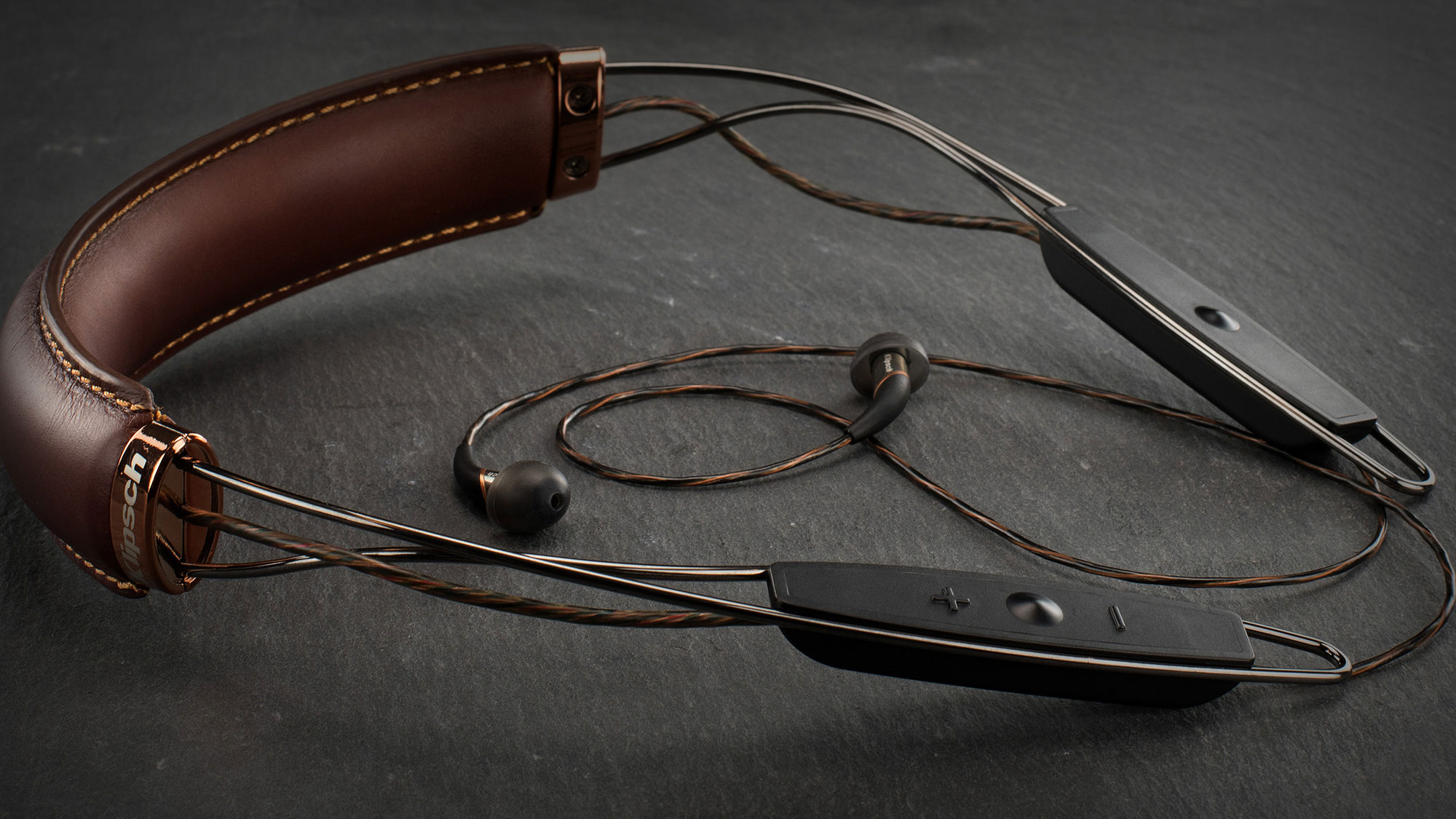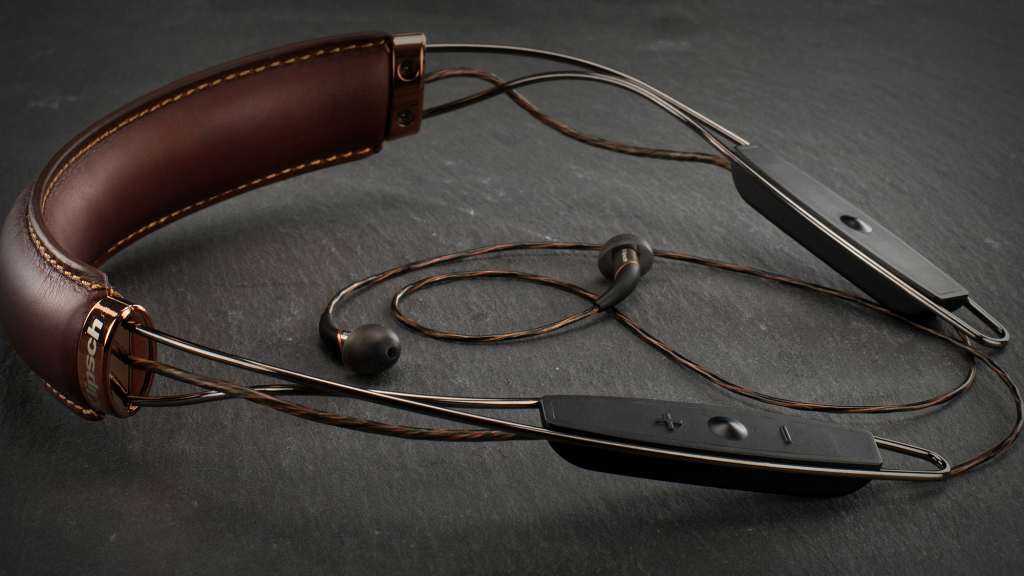 Without doubt, these are among the nicest looking wireless Bluetooth earphones we've ever seen, though don't expect them to be cheap.
And that's generally the feeling we're getting from most of the line-up, though we'll know soon enough when Klipsch's local distributor gives us the prices for all of these units, which should be along any time in the next three or four months.