The iPod may have restarted Apple's path all those years ago, but now that we all have phones, the "pod" has changed. Forget the iPod, it's time to look at the HomePod.
The state of audio is changing rapidly, and while Apple hasn't really pushed the "pod" name much in the past few years, that looks to change. As a company that rebuilt itself based on music players, keeping itself in the music game is integral, and more than just a supplier of music itself.
When you think of "music" and "Apple", you'll probably find yourself dwelling on the most recent product offering of Apple Music, the all-you-can-hear music smorgasbord Apple competes hard against Google and Spotify. Alternatively, there's iTunes, the online store that lets you buy the music for your phone or tablet with individual tracks or albums.
Unfortunately, gone are the days where "Apple" and "music" brought up imagery of the iPod, as the iPhone and iPad have taken the place of that original bastion of mobile music playback.
However, the "pod" concept isn't dead at all, and Apple has this week decided to bring it back for the home, previewing its take on the "HomePod".
Different from a giant media player with a scroll wheel and large hard drive — which you might initially think it was — the Apple HomePod is a wireless speaker that uses sensors to analyse its location in the room and adjust the sound profile accordingly.
With six microphones in use on the speaker and what the company calls "automatic room-sensing technology", Apple's HomePod can analyse the sound appropriately, which sounds a little like technology both Bang & Olufsen and Sonos have each dabbled in previous, albeit in different ways.
For Sonos, the technology was with TruePlay Tuning, firing off a test sound and analysing the profile of what's heard back, adapting the audio profile accordingly.
Apple's use of the concept sounds closer to what B&O has tried in the past, with microphones used to change the profile of the speaker, a technology called "Adaptive Sound Technology" that has been used on numerous products in the BeoLab series.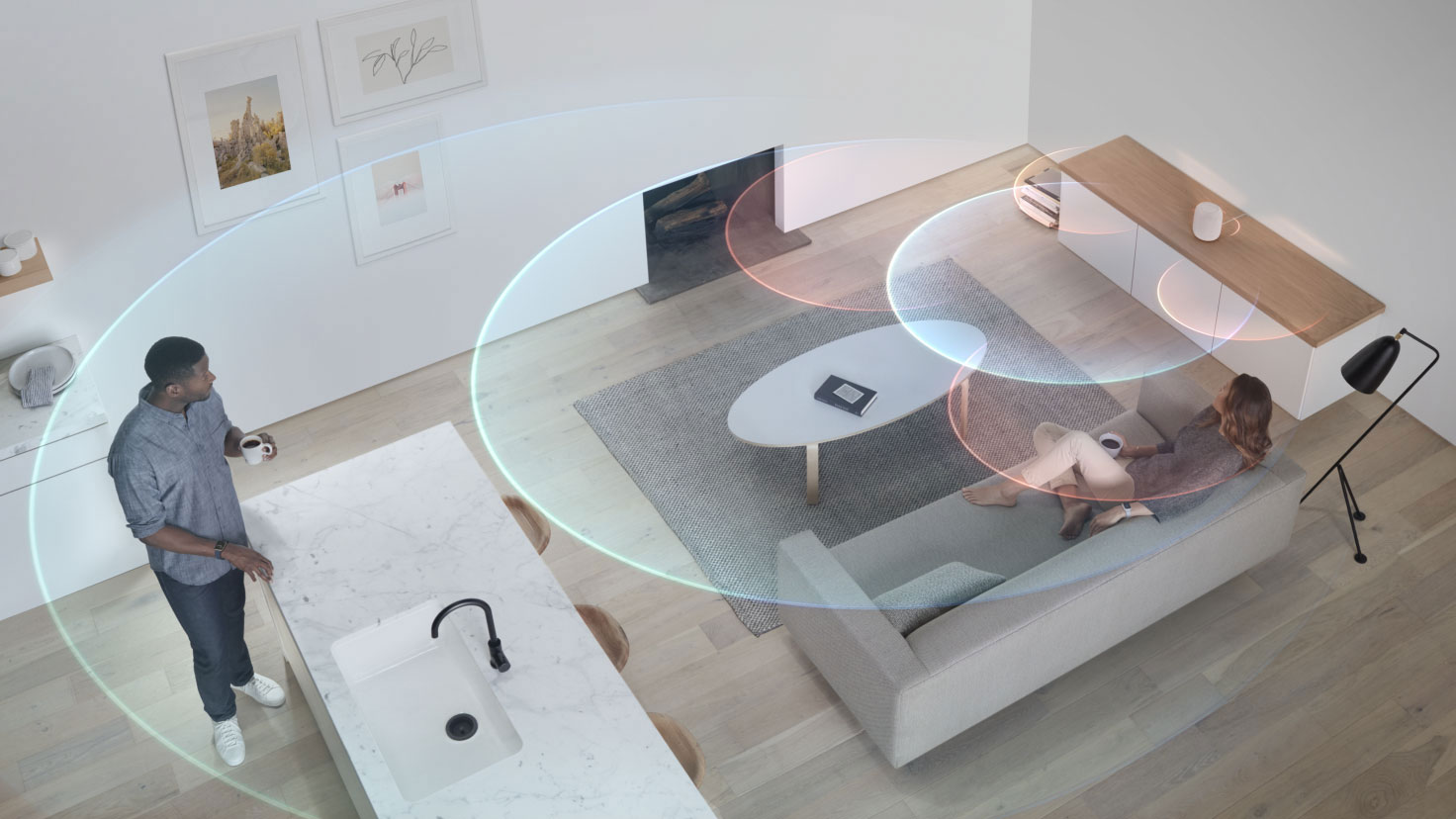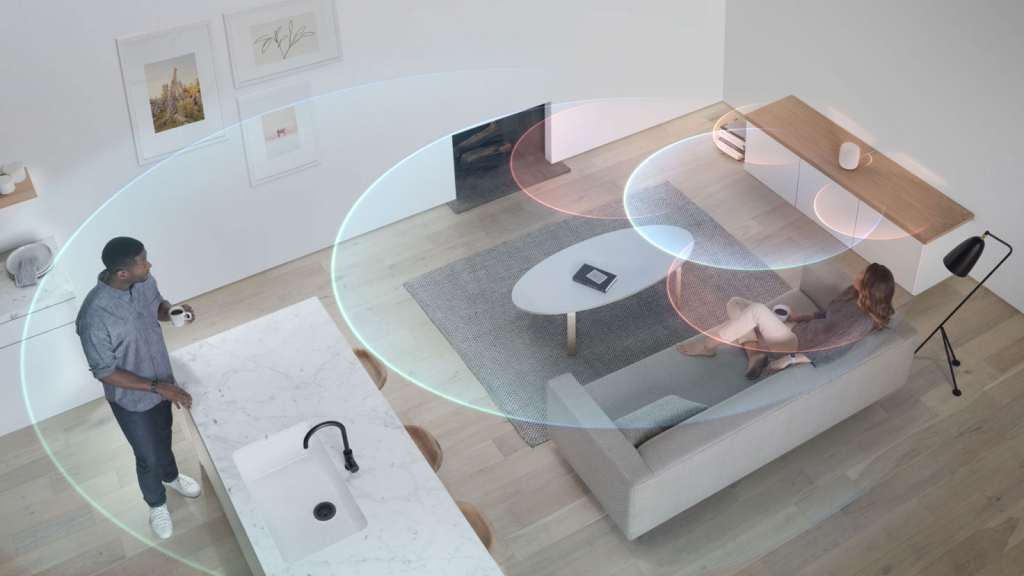 Apple won't just be relying on the microphones for sound profile adaptation, either, with support for Siri also thrown in, allowing you to talk to the HomePod speaker and get it to like songs and skip past others, and even answering questions that would normally be trivial, such as who played what in the song.
"Apple reinvented portable music with iPod and now HomePod will reinvent how we enjoy music wirelessly throughout our homes," said Philip Schiller, Senior Vice President of Worldwide Marketing at Apple.
"HomePod packs powerful speaker technology, Siri intelligence and wireless access to the entire Apple Music library into a beautiful speaker that is less than 18 centimetres tall, can rock most any room with distortion free music and be a helpful assistant around your home," he said.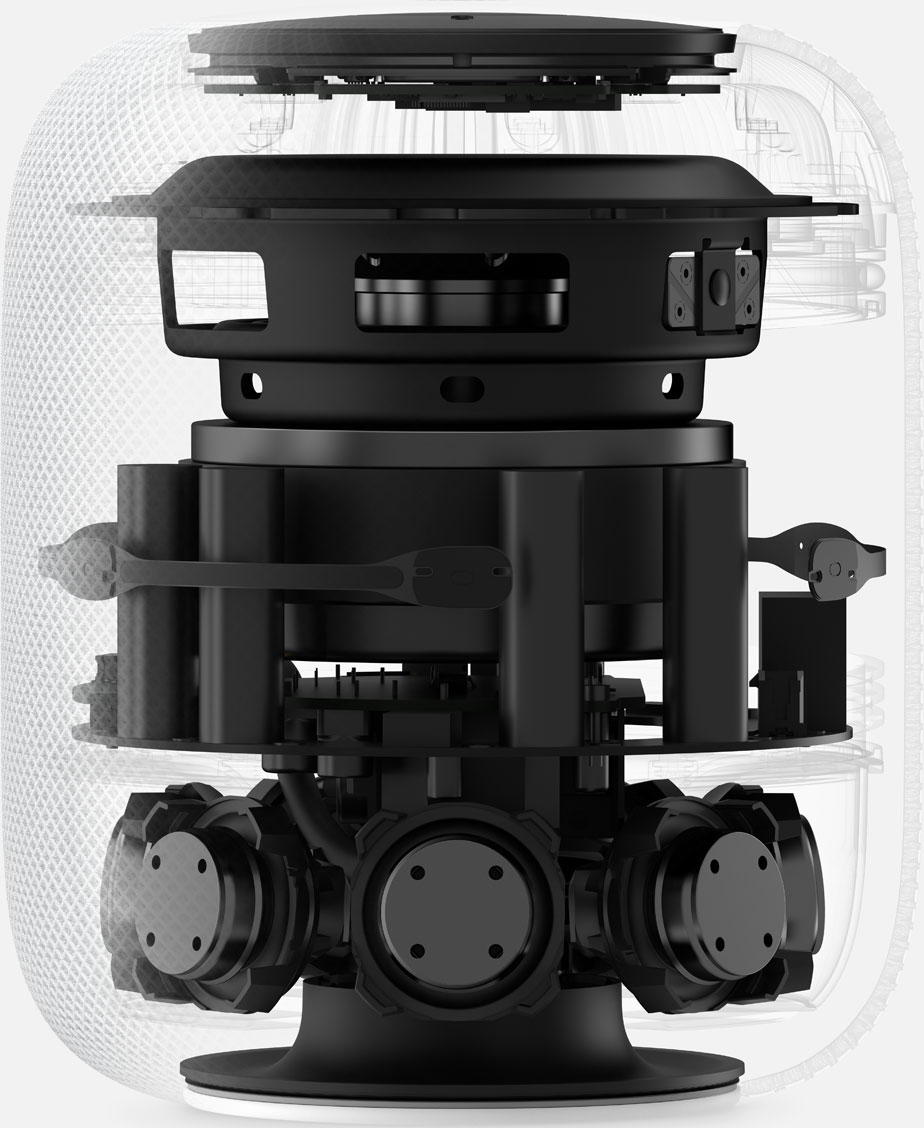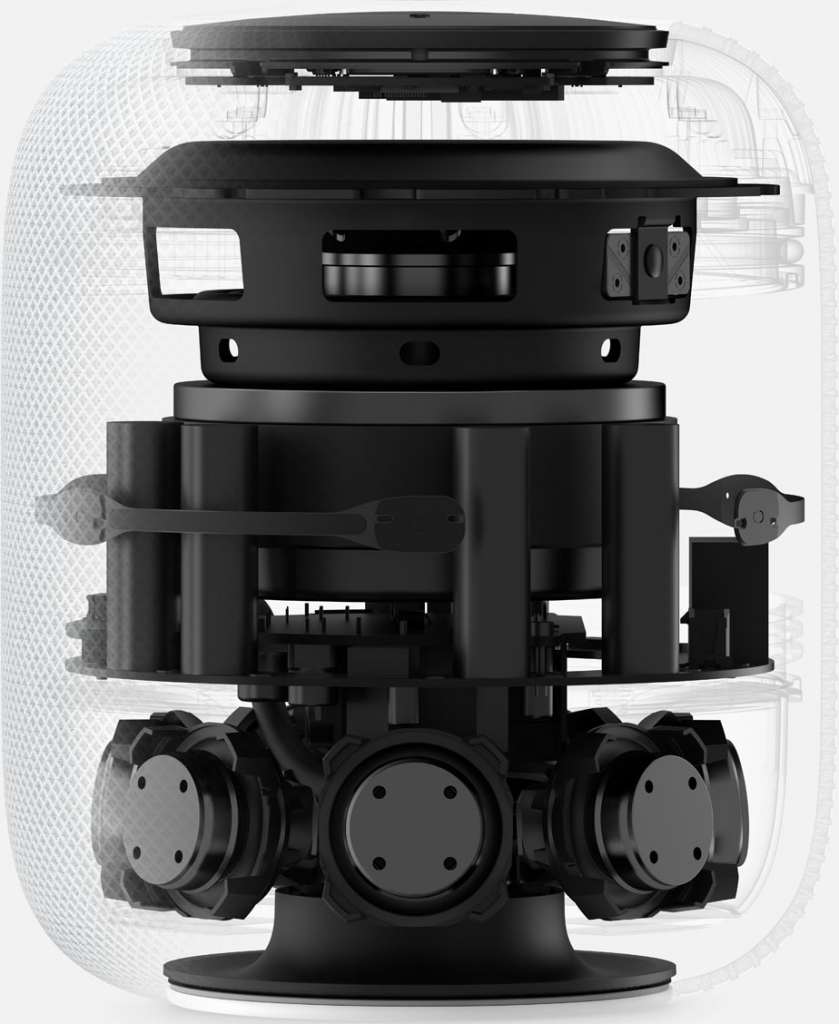 The powerful speaker technology Schiller speaks of is specifically found in the form of seven beam-forming tweeters each with its own amplifier, as well as an upward-facing woofer, and when paired with Apple's A8 processor — which can be found inside the speaker and controls the technology inside — apparently provides deep bass and directional audio.
In a way, the whole thing feels like Apple's take on the Sonos, and it will be designed to work with Apple Music, the buffet of 40 million tracks you can already subscribe to, though thanks to Apple HomeKit, it will likely also work as a way of controlling your home, similar to what Google is doing with its Assistant technology.
As for availability, you can expect it in Australia later this year, with December the expected month we'll see this, just in time for the holiday season. There's no pricing just yet, though with a recommended retail price of $349 in the US (USD), expect it closer to the $500 mark locally when it does arrive.