With the release of the Samsung Galaxy S9 comes something new for repairers to fix. Just like last year, the mostly-glass Samsung smartphones are a risk to carry, so how can you limit that risk?
There's a recent trend in smartphone design, and it's one that might cause alarm: glass. It's everywhere, and it now wraps smartphones as if it's the premium material that makes everything slicker, shinier, and more future-friendly.
From a design point, it certainly achieves that purpose, and from a technical standpoint, it nails some goals, as well, making it possible to integrate technologies like Qi wireless charging, while also being slick to clean, too.
But glass smartphones carry a risk much like that of the glass screen on the front: they're much easier to break.
Back when your smartphone was made out of metal or plastic, there was a chance that when you dropped it, if it landed on its back, the glass of the screen would be fine, and you'd see only a handful of scuffs or scratch marks on the back. It's a hassle, sure, and it may not look as good, but at least it's not like the burden of a broken screen.
With an entirely glass-based design, however, that burden becomes more problematic. A broken screen is a pain in the proverbial, but a broken glass back is just as bad, and while we're not fans of watching people touch broken screens on their phones, it somehow feels worse when there's a broken block of glass in their hands as they hold their phone, or make and take phone calls.
Much like last year, Samsung's Galaxy S9 is an all-glass affair, as the Galaxy S9 and Galaxy S9+ take what worked on the Galaxy S8 and amp it up a little more, meaning you get higher specs and a better camera, but an outside that is just as risky to break, as well.
So what can do you to ensure your phone doesn't suffer the fate of a shattered screen or back?
It's time to make that thing a little more rugged, and protect your Galaxy S9 from the world.
3Sixt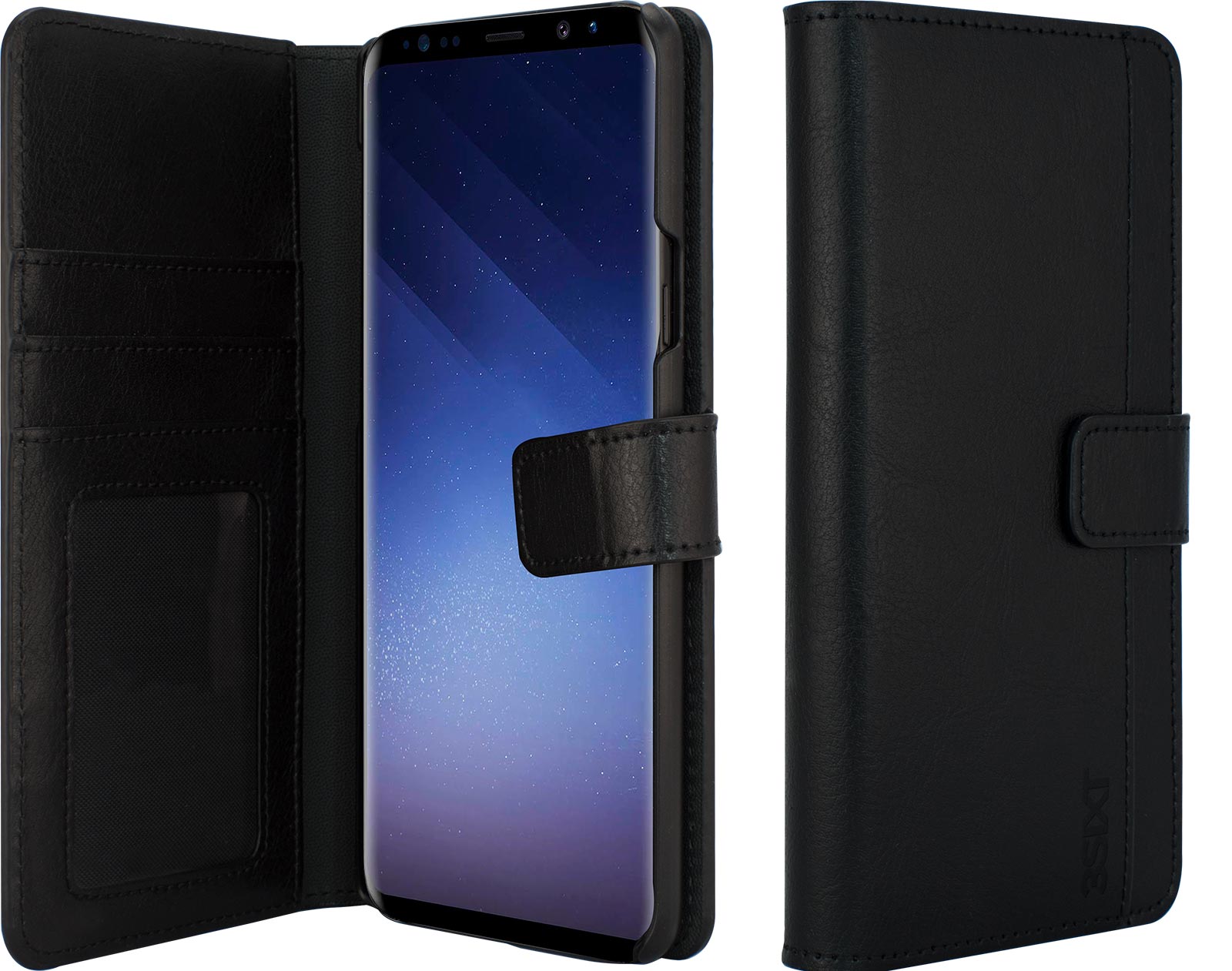 One of the starting points for cases, 3Sixt will offer a good assortment and do so relatively inexpensively, delivering resistance for under $30, and then a little more if you're happy to spend it.
As such, 3Sixt is offering four cases, including the $25 PureFlex case, the $30 SlimFolio with a rubberised cover to protect your phone, while both the NeoCase and NeoClutch both feature leather and protect the phone with a flap for $40.
You'll find these in stores shortly, along side two screen protectors, a curved clear film and a curved glass screen.
Bodyguardz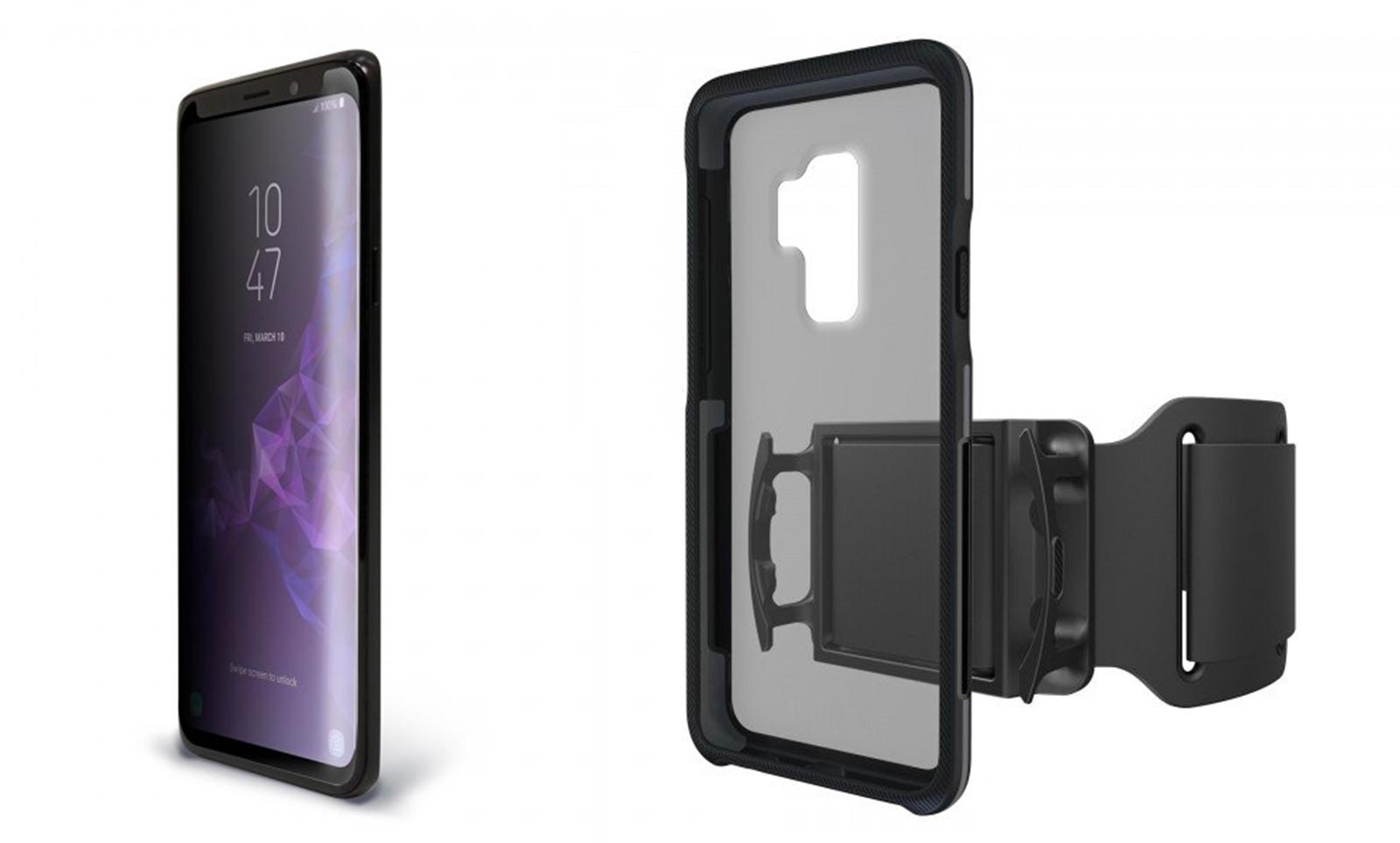 Bodyguardz will also chime in with its own technology for cases and screen protections, and unsurprisingly, just like the curved model Bodyguardz offered for the S8, the S9 and S9+ will also get a taste of that, too.
That means you can expect to find the Pure Arc Glass screen protector, Bodyguardz cases with the its "Unequal" technology made up of impact-absorption gel to absorb impacts together with flexible plastic, as well as some clear skins that will stop scratches across the entire body (though won't stop breakages from drops.
Depending on your needs, you'll find these from around $50 locally.
Cygnett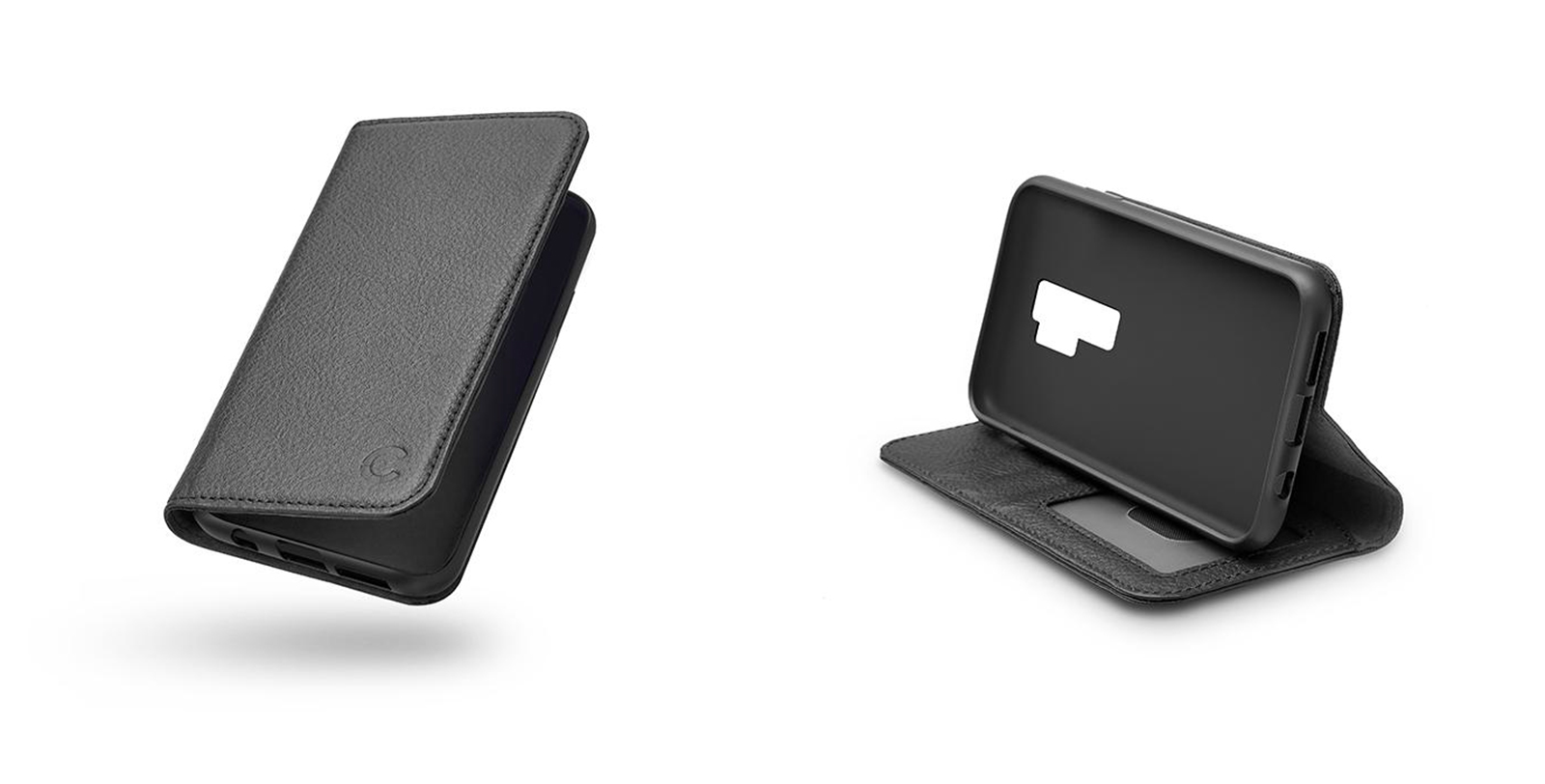 One of only a handful of Australian case and peripheral makers, Cygnett will offer a few options for the Galaxy S9 and S9 Plus, with slim-line transparent plastic cases, slim-line coloured plastic cases, and cases with a leather wallet flap.
Cygnett's range will be in stores shortly from $25.
EFM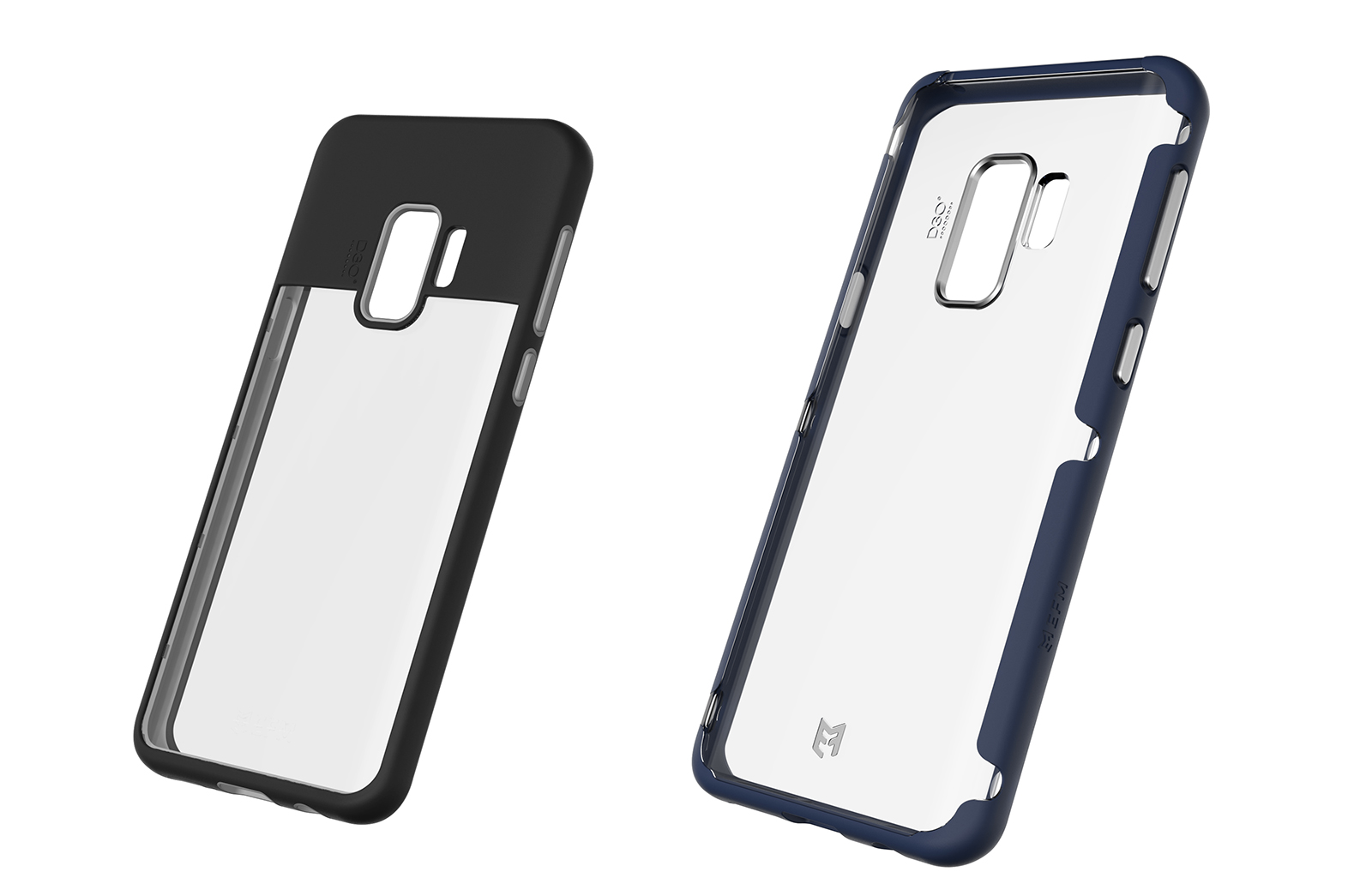 Another Australian maker, EFM's cases will bring the shock absorption properties of D3O to the Galaxy S9 and S9+, and that means cases rated for various levels of drop-proofing.
If you're the sort who worries about dropping a glass phone — and given the replacement screen cost of curved phones like the Galaxy S9, it's very easy to do — EFM will have two armour options, found in the EFM Aspen and EFM Carmen, and while each rely on the orange goo of D3O to absorb impact, they also feature improved impact resistance to survive drops from over a metre high and feature a reinforced flash ring to protect the camera.
Both EFM Aspen and Cayman cases will be available from $50.
Incipio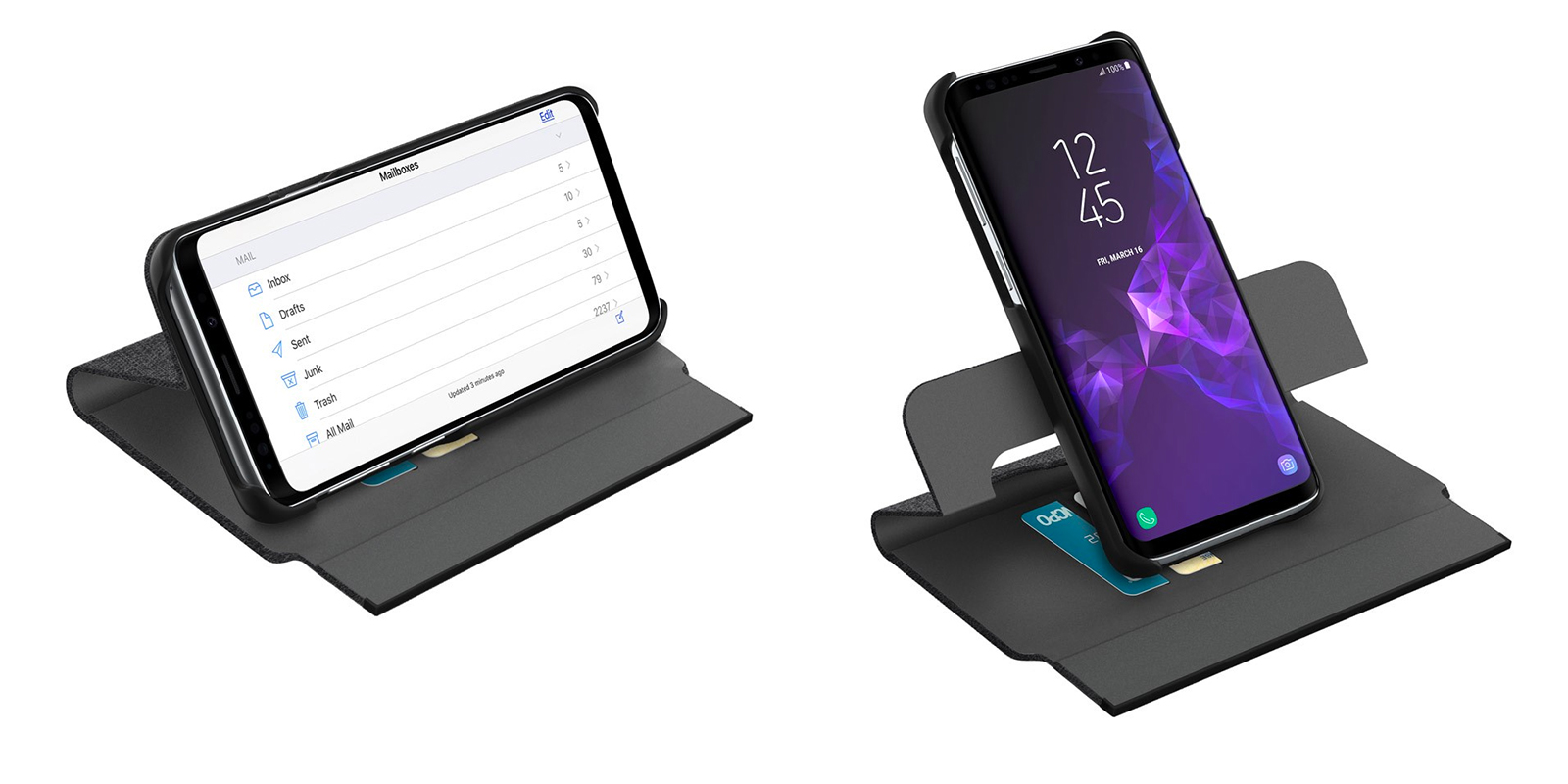 A big name in cases and accessories, Incipio will be offering quite a few options, with plastic cases, plastic cases with reinforced corners decorative plastic cases, cases with fabric backs, and cases with flaps.
The one that has our attention most of all, though, is the Incipio Carnaby Folio, a fold-over flap case that can hold cards, stand up your phone, and rotate the phone in the case. That means it can stand up horizontally or vertically, and could make video calling friends that little bit easier when you're doing other things.
You'll find these around the place, and with varied options from Incipio, the range starts from around $35.
LifeProof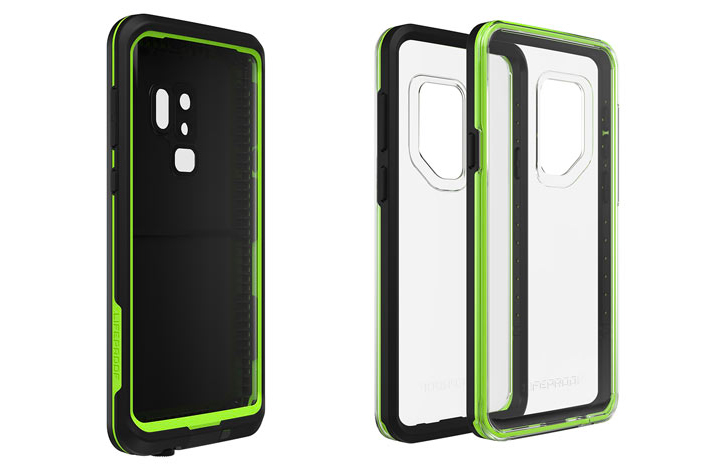 A case maker that once specialised in water-resistance casing and battery-connection options (though not at the same time), LifeProof has grown, especially now that more devices have water-proofing all the same.
For the Galaxy S9 and S9+, there are three options, with a rugged waterproof option with a built-in screen cover in the LifeProof Fre, a highly ruggedised casing for the sides and back in the LifeProof Next, and then something a little slimmer.
The slimmer one piques our interest simply because LifeProof's cases are rarely that, and yet that's what the LifeProof Slam aims to be, providing a two metre drop resistance and a slim case that doesn't block ports.
LifeProof's Slam is drop resistant, while the other two add dirt and snow resistance, too, and you'll find all three in stores, starting from $50.
Otterbox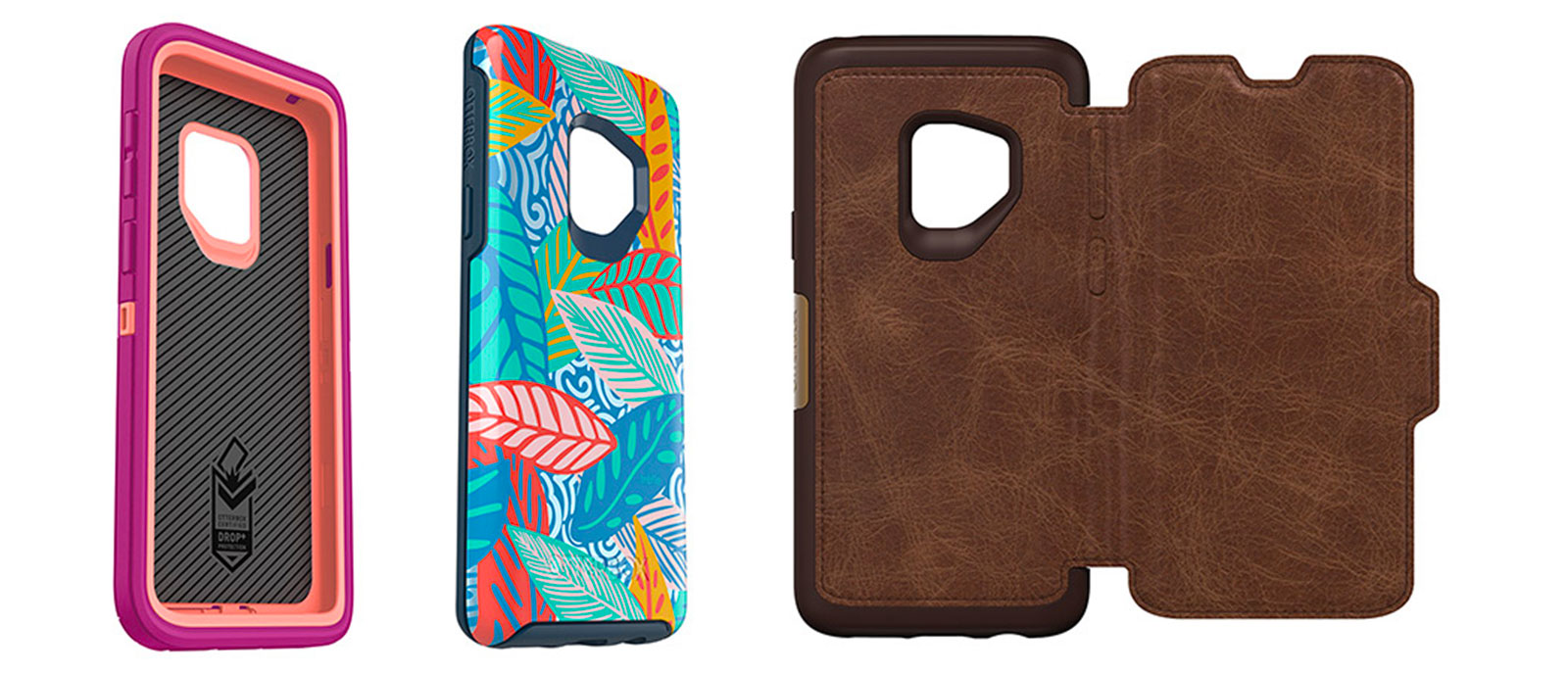 One of the most recognised names in protection, OtterBox's line-up unsurprisingly includes the Galaxy S9 and S9+, and as such, provides much the same assortment it has across other phones, including its Alpha Glass screen protector, as well as other casing option, too.
That means the Commuter, Symmetry, Defender, and the highly ruggedised Pursuit cases are all provided, as well as OtterBox's Strada with its fold-over cover and a magnetic to keep it closed.
On the iPhone X, we've been using the Strada series simply because of that magnetic connection, because it means the phone's flap cover stays closed without any extra intervention from us.
OtterBox's range will be in stores shortly from $50.
Pelican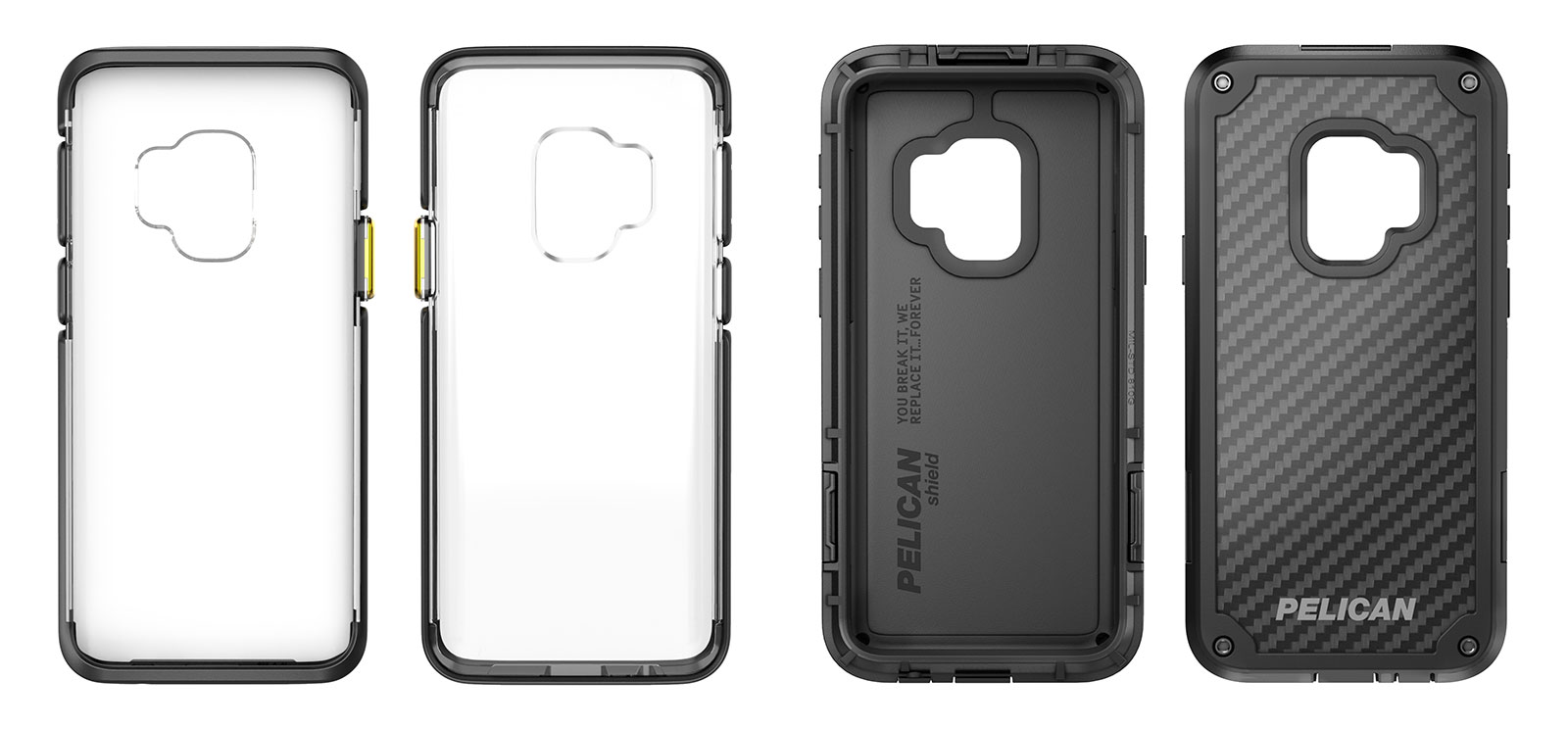 A lesser known name for smartphone cases (and more known for cases that protect bigger pieces of gear), Pelican's Galaxy S9 and S9+ cases will cater to the basic all the way through the severe ruggedisation, and include the simplicity of the Pelican Ambassador which uses a proprietary shock-absorption honeycomb-structured resin called "HPX" to handle drops, while the Pelican Shield improves the casing so that it can provide three times the military-grade drop protection with five layers.
Pelican's range actually includes five different models for each of the phones, and depending on how much resistance to the world you need, you'll find these from $50 locally.
Tech21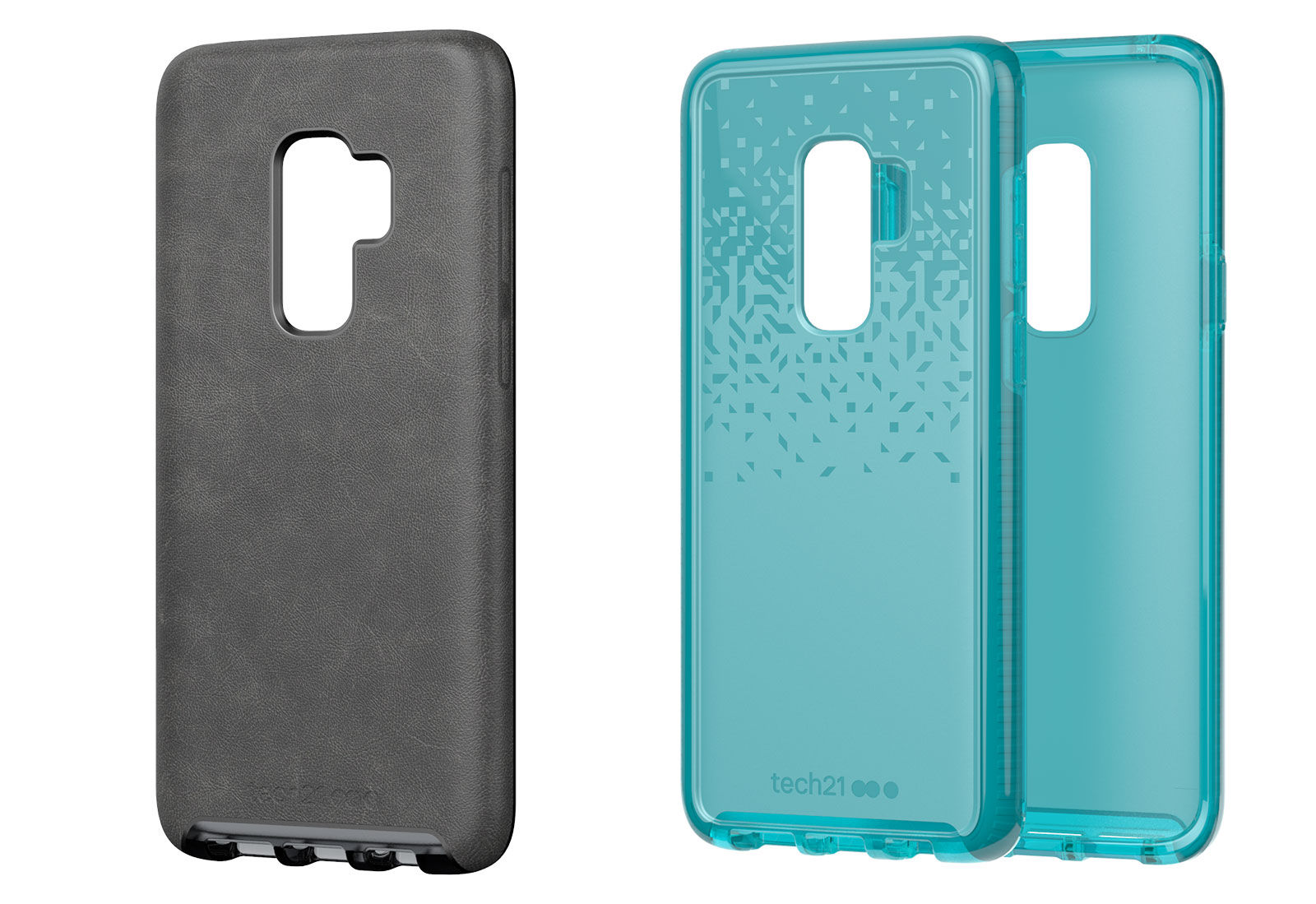 One of the heavy-hitters of phone protection isn't missing out on the opportunity to increase the resistance of the Galaxy S9 and S9+, as Tech21 brings its heavy-duty know-how to the Galaxy smartphone game.
As such, you'll find older Tech21 favourites like the Evo Wallet, Evo Check, Pure Clear, and Evo Tactical, with the new options being the Evo Luxe bringing a dose of "premium vegan leather" (read: nice textured plastic), as well as the Evo Max, offering four metres of drop resistance.
All of the Tech21 Galaxy S9 and S9+ models are in stores from this week, found for a starting price of around $50.
Samsung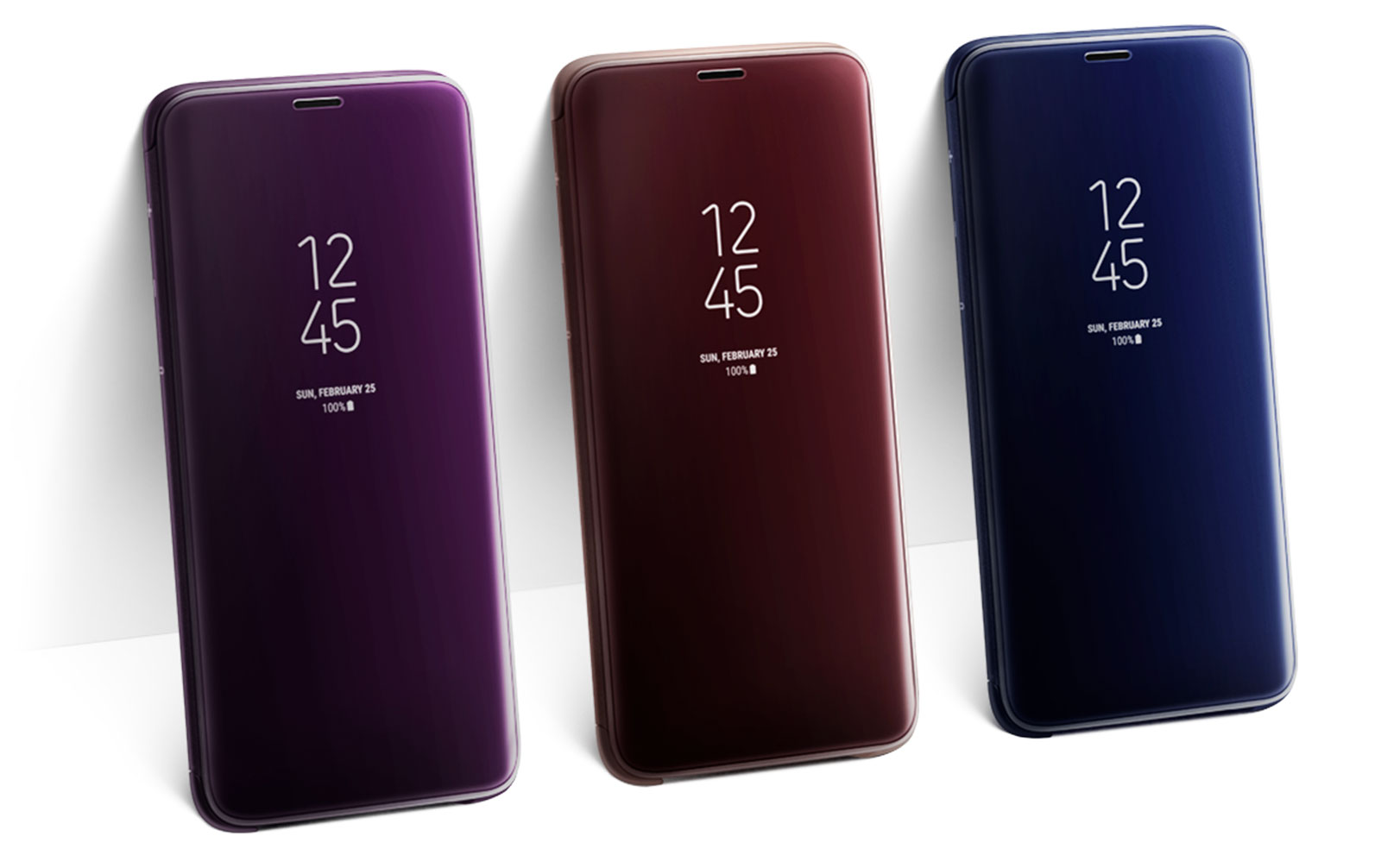 Finally, we come to the company producing the Galaxy S9 and S9+ handsets, and we're sure you're shocked to find out that it, too, is making cases for its phone.
Samsung will offer a few of these, and they range from the Clear View Standing Cover that can show the time and date through a coloured flap and stand up, while the LED cover is like that but without the stand and showing the LED time like an old alarm clock.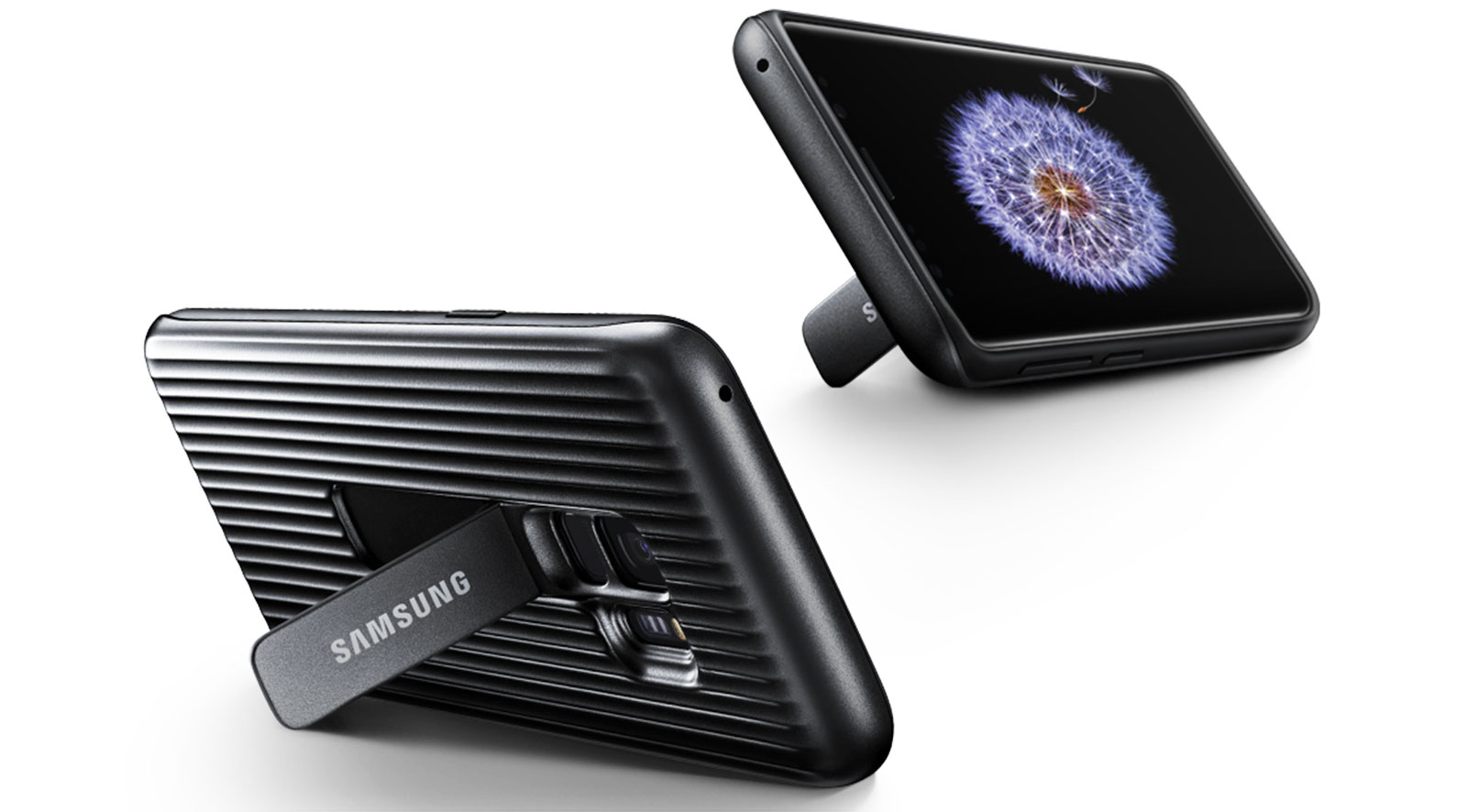 Folks keen to switch the glass back for something fuzzier and more like out of a luxury car will appreciate the Alcantara which coats the back in the fabric used in premium cars, while the Hyperknit cover uses the same material in shoes for a soft feeling on the back that doesn't add much to the weight.
And if you need more durability, Samsung will offer its own military-spec case in the Protecting Standing Cover, and it even includes a kickstand that pops out the back, too.
Just in case you didn't know…
There is one other case out there that you may not think about, and that's the one that comes in the box.
Yep, because just like Samsung did with the Galaxy Note 8, it is including a transparent smartphone case for the Galaxy S9 and Galaxy S9+, giving you something to protect the phone with in the beginning, even if it's not much to write home about.
But something free is better than nothing free, so we'll take it.