Did you know that 14 million new cancer cases are found each year in the world? And did you know your phone can help solve it?
Astonishingly, cancer is one of those illnesses that just won't go away, and the complexities needed to fight the condition and break it can actually be helped by a smartphone, using the idle time of the device to crunch the numbers with distributed computing.
That's something the Vodafone Foundation found when it teamed up with the Garvan Institute, building an app called "DreamLab" that allows people to help contribute to cancer research while they sleep, putting a phone's time for doing nothing to good work, and making it crunch the numbers.
The technology doing this isn't seriously new, but it is something that has largely disappeared in recent years, originally appearing popular in SETI's "Search for ExtraTerrestrial Intelligent life" program on computers, and then rolling out for medical and AI efforts on other devices, including video game systems.
Vodafone's DreamLab app works in a similar capacity, but while most distributed computing is about chewing all idle time, DreamLab is about churning through chunks of hard data and processing it while you sleep, and while your phone is charging.
Relaunched last year, DreamLab's first effort — Project Decode — is nearing completion, with representative for the app telling Pickr that "researches at the Garvan Institute of Medical Research have already begun analysing results of data crunched via the DreamLab app".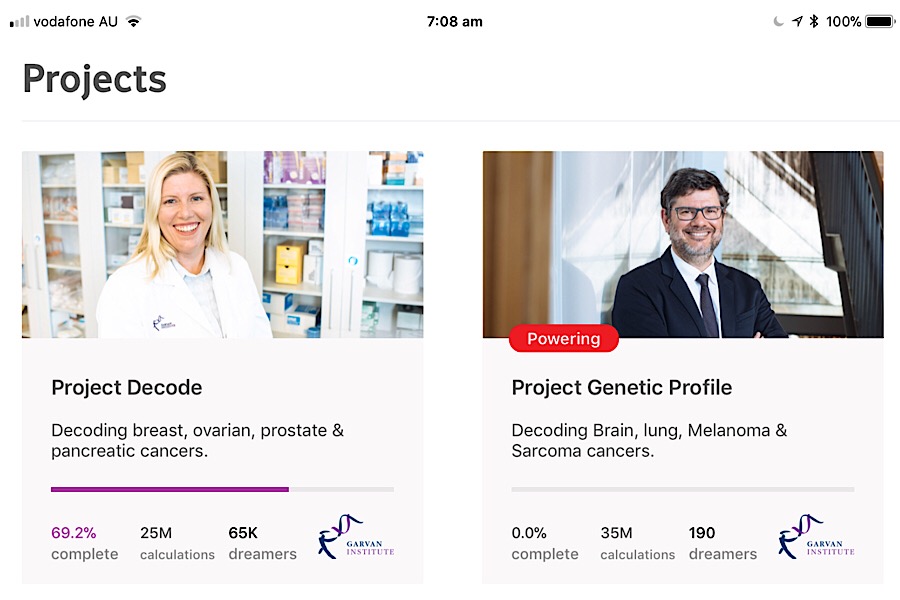 Pickr was told that thanks to these processed calculations handled while phones were recharging and their owners sleeping, "scientists have now compared more than 300 breast cancer patients to each other", looking for similarities in breast, ovarian, prostate, and pancreatic cancer that they help will give them new ways to treat, fight, and break the cancers.
With today — February 4 — being World Cancer Day, it makes sense to download the app and give it a try, letting the app use your idle sleep time to help solve a problem researchers are working madly to solve, adding to the over 25 million calculations crunched by the application thus far.
DreamLab is available on both iOS (iPhone, iPad) and Android, and currently works for two specific decoding programs from the Garvan Institute, with Project Decode working on breast, ovarian, prostate, and pancreatic cancer, while Project Genetic Profile aims to break down lung, melanoma, sarcoma, and brain cancer.
You can pick the program you want to contribute to most, and then just run the app before bed, letting it go to work and turning your phone into a science laboratory processing system all while your phone recharges.